Spring is in the air so brighten up your front porch for the spring season. From colorful planers to spring wreaths, there is plenty of inspiration here for spring porch ideas. Spring leads the way to warmer weather, beautiful blooms, and lots of sitting out on the porch listening to the birds! And it's no surprise I love decorated spring front porches! Spring updates to your front porch and outdoor living areas aren't difficult either. All you need are a few cheery items to really brighten up the space.
50+ Porch Home Decor Ides For Spring
If you're looking for beautiful spring front porch ideas, I've rounded up the best of the best I could find. These cute spring front porch ideas provided me with plenty of inspiration to recreate the looks on my own porch. I'm sure you'll find decorating ideas for your front entry too. One thing is for sure: these 25 spring front porches and outdoor spaces really have me wishing we aren't going to see any more cold days coming up! I'm ready for spring!
1. Framed Hanging Basket Decor Idea
A freestanding rectangular wooden frame is easy to DIY out of spare plywood. It can be transformed into a charming porch piece by installing a hook and hanging a basket of cheerful flowers. The top of the frame is the perfect place to paint or inscribe an inviting slogan that is unique to your home.
2. Quirky Throw Pillows Reflect Your Personality
Source: thepleatedpoppy.com
Nothing bids a cheerful welcome to springtime like a burst of color. Soften up the hard lines of your outdoor furniture with a collection of vibrant throw pillows. Your guests will be charmed and feel at home when they are surrounded by comfort. Choosing a few whimsical pillows can make your porch look more exciting.
3. Easy Fruit Crate Porch Décor Idea for Spring
Source: livingmallorcadeco.com
Don't know how to arrange your miniature potted plants? Find wooden fruit crate and paint it to suit your porch décor. Stand it on its side. There is room for two smaller pots on top of the crate, and one bigger one inside it. It's a thoughtful way to upcycle your old crates into something beautiful.

4. Upcycled Chandelier Flower Pot Decoration
Chandeliers are an interior decorating staple. What happens when you bring them outside? Pick a chandelier with candle trays wide enough to support small flower pots. Give the chandelier and the pots a matching spring paint makeover. Then fill the pot with flowers and put them where the candle would go. It's a gorgeous, unexpected decoration for your porch.
5. Cute Spring Birdcage Floral Decoration
Source: masymasmanualidades.blogspot.hu
Old birdcages have an attractive shape; they look like miniature palaces. If you're not a bird person, turn the cage into a small terrarium for flowers. Tiny, colorful blossoms look beautiful bursting through the bars of the birdcage. You can even add a little fake bird for extra cuteness. This is a spring project you'll treasure all year long.
6. Galvanized Bucket Hanging Planter Project
Source: hometalk.com
You have a lot of plants, but nowhere to put them. Why not try a tall wood frame that can fit all your plants at once? Assemble the simple frame as tall as you want it. Then pot your plants in matching galvanized steel buckets that will hang down from the crossbars. It's a veritable plant museum.
7. Lanterns, Chalkboard, and Antique Glass Porchscape
Source: cottageintheoaks.com
A multimedia project will make your porch stand out this spring. Scribble a spring-worthy message on a small chalkboard. Continue the vintage vibe by adding old lanterns with candles. Branches full of flowers take on an old-fashioned flair when balanced in antique glasses. Many different elements come together in this quaint little scene.
8. Giant Clay Spring Flower Planter
Source: tracys-trinkets-treasures.blogspot.hu
Clay is classic. This spring, house your blooms in a huge glazed clay planter. The natural, earthy patterns of the clay offset the blooming freshness of your flowers. Plus, the pot is sturdy and built to withstand the shifty spring weather. A wealth of tiny flowers looks best in this big planter.
9. Antique Lantern Easter Bunny Porch Decoration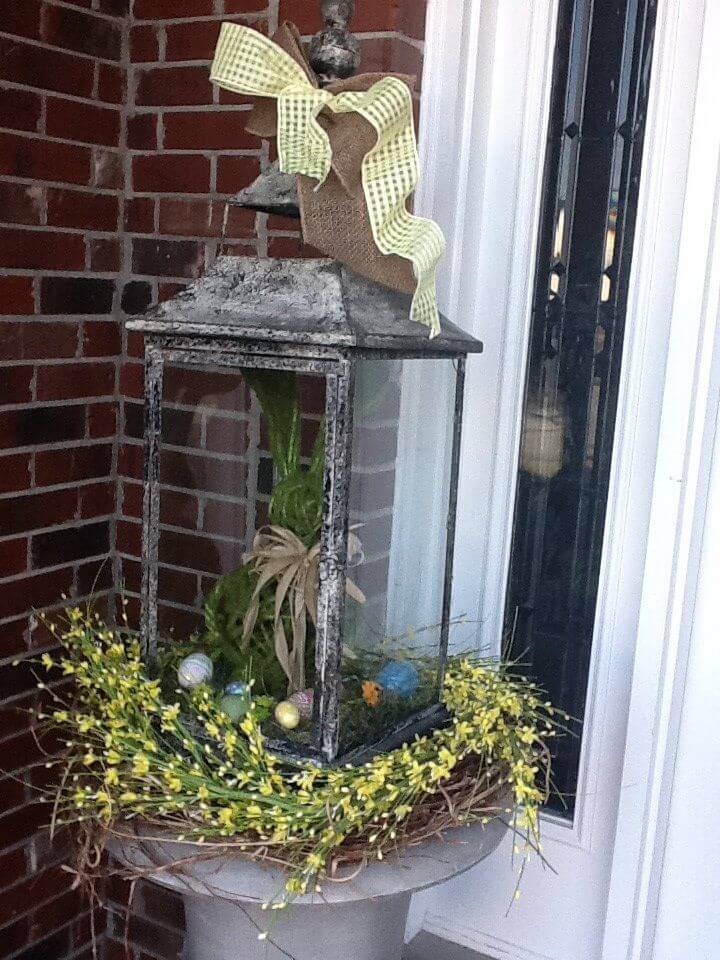 Source: es.pinterest.com
Nothing says spring like the Easter bunny! Easter decorations don't have to be loud and distracting. Place a little easter bunny inside an old lantern, along with his favorite trappings–tiny Easter eggs and baskets. Put the lantern on a bed of flowers or a vibrant forsythia wreath. This subtle, adorable display is sure to put you in the Easter spirit.
10. Shabby Chic Easter or Spring Planters
Imperfections aren't always a bad thing. Faded paint, patches of rust, and dented metal have character that sparkly new stuff doesn't. The glorious greens of spring are even more striking next to shabby textures. So don't be afraid to relocate some plants (and even a few Easter eggs!) into that scrappy old bucket or that half-rusted container.
11. Easy Grapevine and Flower Vase Display
Source: creativecaincabin.com
This project is a simple way to try something new with your vases this spring. Choose a glass container with a wide mouth. A plethora of flowers in vivid spring colors is a must. But the bottom half of this vase is just as special. Fill it with grapevines to make it look like a nest from which blossoms emerge.
12. Antique Milk Can Planter Decoration
Source: indulgy.com
The rusty old milk is a vintage decorator's dream. This time, don't repaint it. Let its faded color enhance the beauty of the flowers and leaves inside it. Your tallest sticks, loopiest vines, and widest, brightest blossoms will coexist nicely in the large, rustic can. It gives your porch a splash of vintage comfort.
13. DIY Monogram Spring Grapevine Wreath
Declare that your house is a home with this cute monogrammed wreath. On a circular base of grapevines, fix your letter of choice to one side. On the other side, let fresh flowers do the talking. Throw in a patterned bow for extra interest. This delightful spring wreath is unique to your house.
14. Tiered Flower Pot House Number Decoration
15. Flower and Branch Planters for Spring
Source: nyclq-focalpoint.blogspot.com
Small, compact flower pots are the norm. But tall branches threaded with tiny blossoms make for a more dramatic spring front porch. Their graceful silhouettes frame the door elegantly. You can play around with different planter and flower sizes to design a stylish assemblage of varying heights. Grasses and regular flowers complete the stunning effect.
16. Pretty Monogram Planter Project for Spring
Source: remodelaholic.com
Monograms are all the rage in decorating. Take your signature letter to the next level by DIY-ing a large wooden initial with depth, not unlike a shadowbox project. Install upturned shelves, and fill them with soil and small clusters of flowers. When they bloom, the effect is gorgeous–blossoms bursting out of the wooden frame, bringing your letter to life.
17. Wagon Board and Metal Bucket Planter
Source: organizedclutter.net
The allure of the wagon board is its rugged individuality. No two wagon boards are exactly alike, and their irregular texture gives your decoration an authentic vibe. The rough wood contrasts nicely with fresh, bright flowers. A metal bucket planter adds another tough texture to this country-inspired design, which can be propped up anywhere on the porch.
18. Floral Spring Planter with Bird Nest
Turn a regular planter into a creative miniature environment that embodies the beauty of spring. A full-bodied plant arrangement includes a variety of shapes and sizes: long stems, tumbling leaves, soft grasses, and many colorful flowers. But the faux birds' nest, with its artful shape, is the cherry on top. This planter is a spring paradise for your neighborhood fauna.
19. Springy DIY Upcycled Drawer Planters
Source: mylove2create.com
Spring cleaning. Downsizing. Minimalism. Whatever you call your urge to purge, it likely puts a lot of your old drawers out of a job. Take them from empty to elegant with a pastel paint job and a bunch of blossoms. A shallow drawer can hold at least four miniature flower pots, and the homey appeal of indoor-turned-outdoor furniture is irresistible.
20. Welcome Sign with Mason Jar Flower Vase
Source: picmia.com
No one is immune to the charms of the classic Mason jar. The iconic glass container has been upcycled into decorations, crafts, wedding favors, etc. You can use it to fashion an eye-catching 3D sign for your front door. Paint "Welcome" onto a wooden board, affix the jar to it with a metal ring, and fill it with fresh-cut flowers.
21. Herb Garden Hanging Basket Project
Source: hgtv.com
Fresh herbs smell great, add flavor to food, and are easy to grow. A hanging herb garden is a fun project that will yield plants you can use. Thyme, cilantro, rosemary, mint, and parsley are some of the herbs that you can plant in your basket garden, which hangs on the porch, giving off inviting aromas.
22. DIY Branch Ladder Flower Display
Brighten up the corner of your porch with a ladder of flowers. Build the "ladder" out of narrow but sturdy branches for a rustic fairytale look. In between each rung, hang small pots of flowers that aren't too heavy. Using the same flowers in each rung will produce a unified look that's part planter, part natural art piece.
22. Flower and Branch Milk Can Decoration
Source: diywhyspendmore.blogspot.com
The milk can, also called a milk churn, earns a place on your porch with its interesting shape and retro appearance. Offset the heavy duty profile of the can by filling it with delicate branches and sprigs of flowers. The milk can is the perfect place to house branches because it's deep yet narrow enough to create a bouquet-like arrangement.
23. DIY Hanging Gutter Planters Project
Source: makeit-loveit.com
Repurpose unused rain gutters into cute planting shelves for herbs and small flowers. They are lightweight, so you can build a multi-tiered vertical display that is compact enough to fit your porch. Punch holes in the gutters at either end and thread them with thick rope to attach them to one another, and hang the top one from two hooks.
24. Pretty Forsythia Wreath For Spring
Source: houseofhawthornes.com
Wreaths aren't just for Christmas. Welcome spring with a radiant forsythia wreath. Brilliant yellow forsythia blossoms adorn bundles of twigs that swirl outward in a sunburst pattern. The undeniably springy wreath will brighten up your doorway for the season. Or, you could place it somewhere else on your porch, to draw the eye outward.
25. Easy DIY Upcycled Chair Planter
Source: blog.evolutionlandscapeandnursery.com
Do you have old chairs sitting around your house, using up space? Take a seat outside and breathe new life into it. Fill the seat with soil, and you've made a unique planter for your porch or yard. The back of the chair provides a nice backdrop for flowers with interesting shapes.
26. Vintage Window Floral Spring Porch Art
Source: debbie-debbiedoos.com
From castles to cottages, we've always loved the way flowers twist and climb up manmade structures. Recreate this timeless, romantic vision with a vintage window frame, usually made of iron and wood. Mount it on the wall as art. Loop your blossoms through the curling metal bars to bring it to life. This is a whimsical way to display flowers.
27. DIY Grass Shadow Box House Number
Source: abeautifulmess.com
A shadowbox is a DIY-able display case that is often used to show off photographs and keepsakes. You can build a springy shadowbox for your front porch that contains something important to you–your house number. Purchase or assemble a wooden frame, and attach a patch of fake grass to the bottom. Then nail your numbers on top of the grass.
28. DIY Milk Can Patio Table
Source: fussymonkeybiz.blogspot.com
Centuries ago, large metal cans with tapered tops and handles were designed to safely transport milk by railway. The milk can may not haul dairy anymore, but its sturdy body and mushroom-shaped lid make it the perfect base for a small patio table. You can paint the can and tabletop the same color to create porch furniture with vintage charm.
29. Add a Rustic Flair to Your Porch
The natural wood that this sign is crafted from looks wild, rustic and unpolished. It is perfect for creating a slightly unfinished look. This sign will not make your porch look sloppy or rushed but it will also not make it look too polished and sleek. It is the perfect addition to a shabby chic aesthetic.
30. Radiate Freshness from a Watering Can
No matter the height of your surface or table, it can benefit from a display of delightful blooms in an old watering can. The tarnished surface of this watering can just speak to how reliable it is, how it has stood the test of time. Change up the types of plants you use in this container to keep up with the seasons. Use seasonal blooms, and match the natural color to the rest of your decor.
31. Give Distressed Wood a New Life
Wood signs are commonly seen as porch decorations when springtime comes around and for good reason. They are charming and can bear a message that says anything you want. Use distressed wood in cool shades of blue and white to make an enchanting message board for the springtime.
32. Jazz Up the Door
Whether your porch is not very large or you do not want to decorate past your door, you can still make a big statement with a charming door sign. Say hello to spring with enthusiasm and cheer. When accented by a spray of fresh blossoms, these words are even sweeter. Accessorize with a pastel palette to keep it light and looking fresh. Paint your door in an eye-catching shade to provide the perfect backdrop for this hanger.
33. Announce Your Love for Your Feathered Friends
If you're looking for a small piece of art to display on the surface of your porch, these ceramic birds flanking a beautiful birdhouse are charming and whimsical. If paired with a dispenser of their delicious treats, you can expect some of your braver visitors to be overcome by curiosity. They might even come over to bid you a good morning.
34. Keep Everyone in the Loop
While a board bearing just one message may be useful, being able to change the message whenever you like is undeniably better. Purchase a large chalkboard porch sign or DIY your own. This decoration will improve the use of your porch and provide a charming surface for all your necessary messages.
35. Say Hello to Spring in a Loud Way
While it can be charming to proclaim a greeting on a big board that leans against a wall, a version you can suspend has its own set of benefits. Use a visually interesting die-cut design that will be beautiful and welcoming to all of our visitors. The flowers around the words in this design echo one of the biggest charms of spring.
36. Add a Spot of Whimsy
Choosing the new furniture for your porch is always exciting. Using sturdy and reliable furniture shapes in bright colors is always a tasteful decision. Try these comfortable mid-century lawn chairs with a whimsical animal on the backrest. This can be a fun choice for those of all ages in your household, from elderly relatives to infants.
37. Fun DIY Project for the Whole Family
If you're looking for an easy, engaging DIY project that will yield fantastic results, look no further than this cut-out tulip. It's an upright flower that can be painted or decorated in any way that you choose. Use paint, glitter, flat-back stones, and more to get the look you crave. You can make it as ornate or as sparse as you like. This flower can be perfect to spice up your porch this summer.
38. DIY Rustic Wood Welcome Sign
Wood is so popular with decorators because it is quaint yet timeless. A slat of wood that reads WELCOME in fresh white letters is a no-frills addition to any porch. This sign isn't hard to make, and it looks natural propped up next to a potted plant. Painting the word vertically instead of horizontally adds an interesting twist.
39. Cute Upcycled Rain Boot Planters
Source: twelveoaksmanor.com
When you or someone in your house has outgrown their rain boots, give them a new home on the front porch by turning them into adorable twin planters. They're already waterproof, and they have enough depth to hold plenty of soil. Their fun colors and patterns complement flowers well. Recycled boot planters are a quirky detail for a one-of-a-kind porch.
40. House Number Flower Pot Decoration
Source: timewiththea.com
Home numbers appear printed on mailboxes and often nailed beside doors. But a more clever way of displaying your address is by painting each number on a pot, filling them with your flower of choice, and lining them up on the front steps. Numbered pots are an artistic way of identifying your house and making it stand out from the neighbors'.
41. Make Your Guests Feel Welcome
A large message board can be effective for spreading a message to a lot of people. Use a board that welcomes your guests to your home to make your porch feel more inviting. This is a smart investment to update your porch for the spring. This board can both provide visual interest and provide a space for you to hang a bag or coat if needed.
42. Full of Character Quaint Porch Daybed
Add some charm and extra seating to your front porch this spring with an inviting daybed. The distressed whitewash finish featuring a touch of rose really makes a dramatic statement to this decorative and functional piece of porch furniture. With a deep and firm cushion, you will delight in many evenings spent in the comfort of this charming and cozy front porch nook.
43. Build Your Own Milk Can Table
Whether you prefer a simpler, more home-like atmosphere or want a sleeker space, milk can table can fit into your style. This is a simple project to DIY and can be painted any color you like. This table can make the perfect surface for your porch or this design can be adapted into another seating option. This milk can table can make your home look more inviting in the spring.
44. Use Simple Accessories to Create a Farmhouse Aesthetic
The farmhouse-inspired decor is sought after whether it is for the interior of the home or the exterior. You can make your porch echo the simplistic, rustic charm of a farmhouse with simple, natural wood accents and cool blue or bright yellow trim. Consider painting a door in an eye-catching shade for a large visual impact.
45. Use Pansies in a Metal Pail
Source: farmhouse40.com
With their vibrant color combinations, few flowers seem happier or are more representative of spring than pansies. These vivacious blossoms can make just about any container look appropriate. Try a large, tarnished metal bucket for an unexpected statement.
46. Repurposed Wooden Headboard to Porch Bench
Source: franceslauren.com
Hand-painted in a vintage pale teal, this porch bench is full of character since it's a repurposed beauty. Formerly the headpiece to a traditional wooden bed frame, this unique and reimagined piece of furniture is reinvented as a place to rest on your front porch. While it's sturdy enough to sit a while, it also makes a great place to decorate with some of your favorite pillows and plants.
47. Keep It Sustainable With Felt
A bright display of strong color is vibrant and can elevate your energy. While a small wreath of fresh blossoms is common, recreating the look with petite circles of felt gives the same effect, but it's more sustainable and portable.
48. Use the Fresh Scent of Hydrangeas
Source: ourhappilyeverhome.com
Wreaths are small accessories that can make a big statement on your porch. Try a bare, natural twig wreath with a few hydrangeas around the edge. Using them sparingly will make their fragrance more haunting.
49. Paper Cone May Day Bouquet
Celebrate spring with this darling paper cone bouquet. It's clearly the perfect way to pay homage to May Day or simply brighten someone's day by placing this beauty on their front door. Use one at the end of each aisle as you decorate for a spring wedding or choose them as whimsical and charming bouquets for the bridal party to carry to the altar. Customization is endless as you can choose the color and pattern for the paper to make this cute combination of flowers really stand out!
50. Add Flowers for a Riot of Life
Wreaths are commonly displayed during the wintertime. However, a wreath of brightly colored flowers fairly bristles with vitality and is the perfect porch decoration for the spring. A wreath can be constructed around the brim of a hat for a portable expression of life. It can be put on any surface on your porch.
51. Artfully Arrange Some Potted Plants
It's a good idea to soften the barrier between your exterior and your interior. Use a few large pots with cheery blooms to echo the vitality of your flower beds on your porch. Arrange them around your lawn furniture to create a mixture of hard structure and a more vulnerable life.
52. Spell it Out Decorative Holiday Board
This board is a bright, simple decoration that can be changed to bear any message you choose. Jazz up your message board with small bouquets of fresh flowers and small cuts of brightly colored ribbon. This is an easy project to DIY and you can easily make it fit into your personal style.
53. Laser Cut Lattice Hello Wreath in Yellow
Breakaway from traditional wreaths this spring and hang this laser cut beauty on your front door. Painted in a bold and bright yellow, this modern wreath screams spring with the use of such a seasonal favorite color choice. The weaving of the lattice frames this wreath nicely and is a perfect way to enclose the center "hello" greeting. You might even choose to weave in a few strands of pink, purple, and/or green ribbon to add a little more pop of color to the overall look.
54. Be the Best Gardener
A small framed sign with an inspirational phrase is the perfect decoration for your porch. Not only is it small enough to be easily portable, but it will bring a smile to the face of all who see it. Use this witty phrase or another of your choosing. This decoration is highly portable and can be transferred easily from one place to another.
50+ Beautiful Spring Porch Decor Ideas to Celebrate the Season
If you are planning to decorate the home for the springs, it simply can't be complete without immersing the front porch in the spirit of the season. Of course, fresh flora and fauna is what everyone thinks of when it comes to the porch, why not get it all done with a few extra touches of creativity? We hope you like these 50 Spring Porch Decoration Ideas That Are More Than Just Flowers and Greens!