The bathroom is a perfect place to cleanse and unwind you after a stressful day. If you would like to enjoy a relaxing bath on your daily basis, take inspiration from delightful rustic bathroom decor ideas below.
Rustic style is typically associated with the countryside. In this article, you will also find modern and farmhouse rustic sanctuaries. Let us have a look at these!
10 Ways to Add Rustic Design to Your Bathroom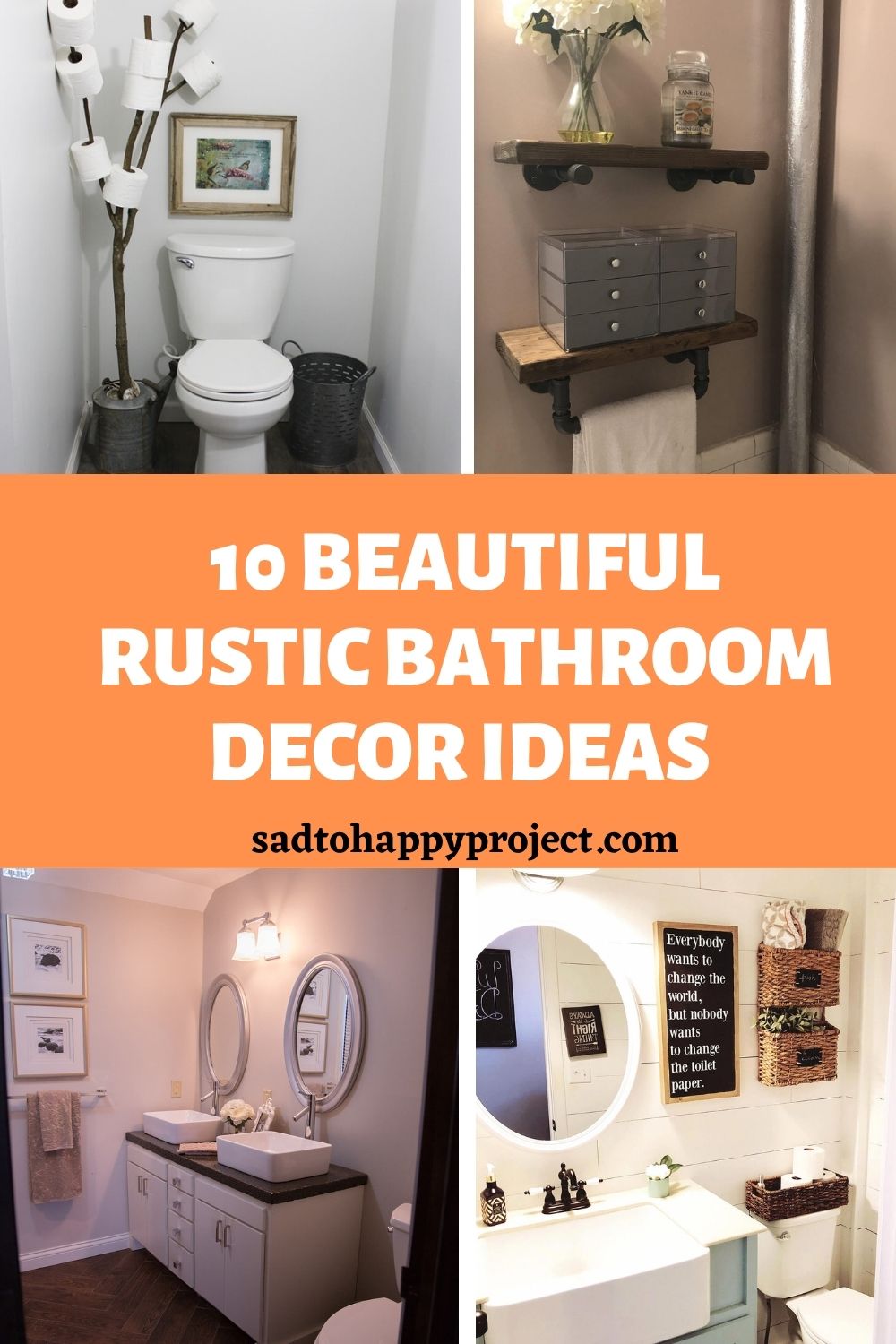 When we think of rustic decor, we think of rough surfaces, weathered patinas, and spaces that evoke a welcoming feeling of comfort and relaxation. So it's no surprise that rustic design can transform a bathroom and take it from stark and basic to soothing and tranquil.
Plus, in a small space such as a bathroom, rustic decor is strong enough to add personality without overwhelming the room and adding unnecessary clutter.
1. Toilet Paper Tree and Watering Can Decoration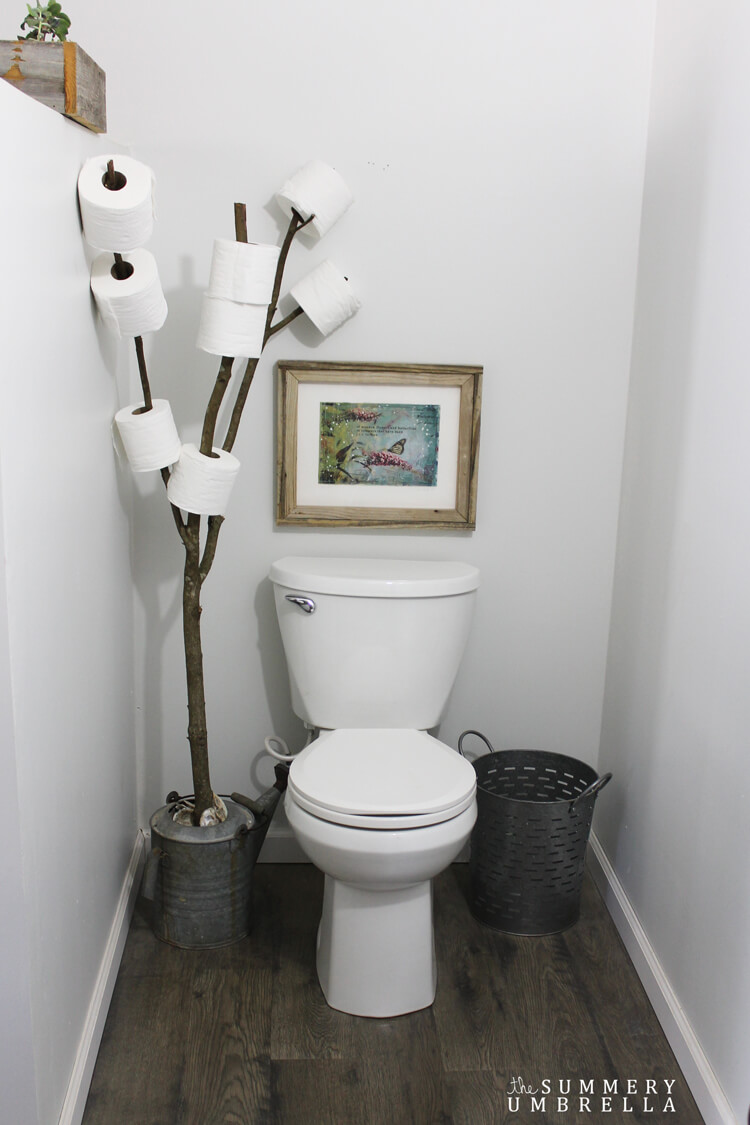 Hit the woods to find an oversized tree branch that is the perfect size for making this DIY toilet paper holder. This might be the only time you'll take delight in toilet paper in one of your trees so make the most of it.
The branches are great for holding a couple of rolls and the base is secured in a metal watering can complete the rustic and shabby chic look. The extra metal waste bin offers just enough of an extra metal piece to make the rustic feel more like home.
2. Open Barn Wood Shelving
Source: palletdiyprojects.com
If you want to add just a touch of rustic charm into your bathroom, this rustic bathroom decor is perfect for dressing up your dull bathroom. It will add additional easily accessible storage as well. Recycled and weathered pallet or crate wood can be used to build this charming little shelf which is perfect for storing toiletries or towels.
To give the wood more character, stain that accents your existing decor can be applied to the wood and sanded around the edges and distressed. The stain will pick up color based on the unique character of each wood plank.
3. Wired for Organizing Your Bathroom Goodies
Check out the unique design of this black metal wired organizer. The double bin format offers more than enough room for your extra rolls of toilet paper or a gathering of your towels all rolled neatly and snug together.
On top, the durable wooden countertop is ready for your lit candle, potted plant friend, or any other extra items you choose to curate into this bathroom space. The lines of the wired bin nearly resemble a chicken feeder which plays nicely into the farmhouse or rustic design you desire.
4. Gray Blue Budget-Friendly Bathroom Update
Don't break the bank when you want to update your bathroom. A can of paint is a cheap way to change your cabinets into the modern masterpieces you need. Rounding out the sink with a small metal bin makes the spare towels a sensational decorative accessory.
Wrapping the large mirror with pieces of distressed boards, the rustic wood is a highlighted feature of this entire bathroom space. Removing and replacing the cabinet hardware is an additional way to make a big impact while remaining on a small budget.
5. Bold Herringbone Patterned Rich Brown Wooden Flooring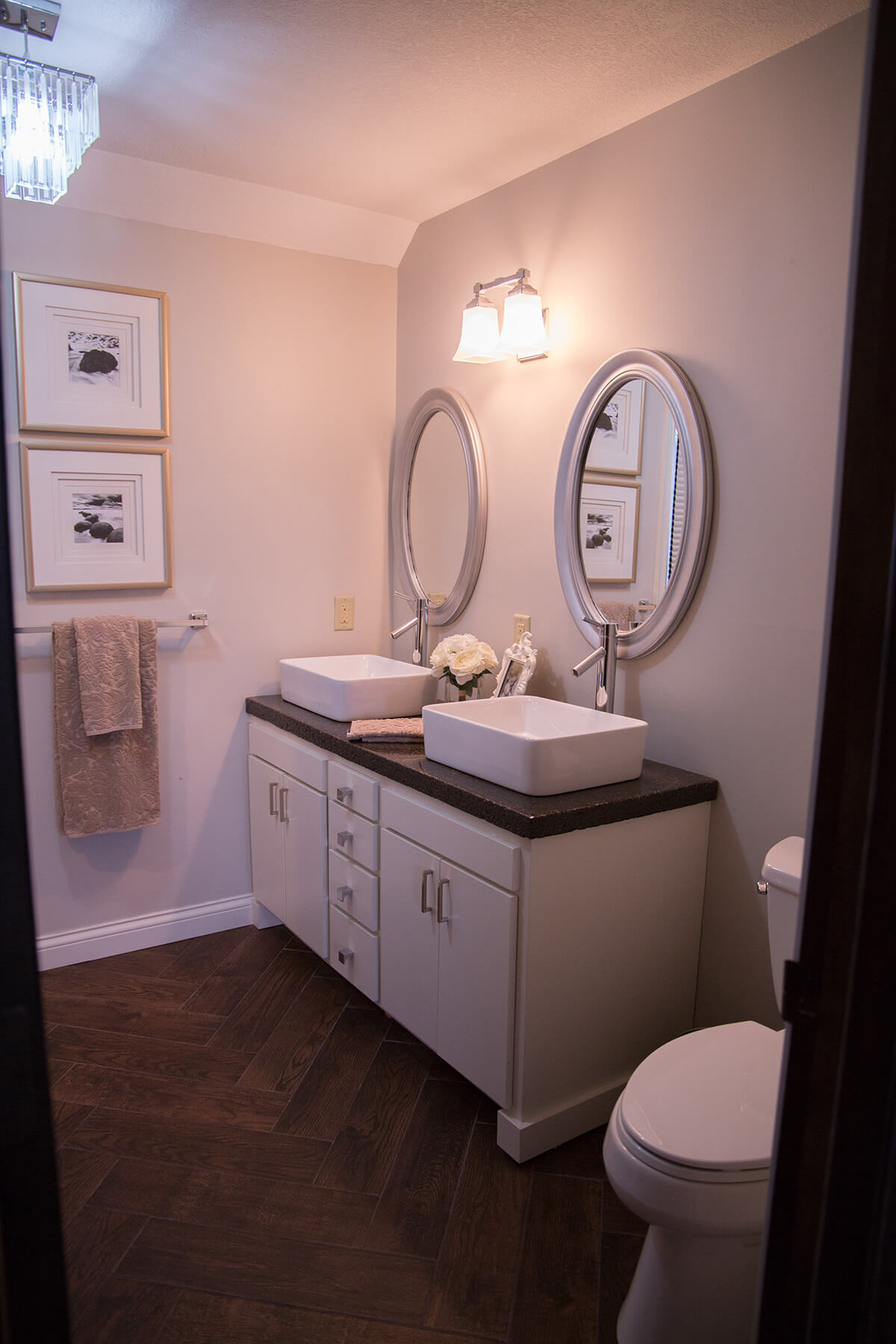 Perhaps you've watched one too many home improvement or design shows and are craving an update to your own space. Why not start by updating the foundation of the room by switching into a new floor. Hardwood floors are durable, look amazing, and should last for years to come so they are a solid investment.
Lay them out in a fun pattern like this herringbone one to make an even bolder impact. The rich brown in this wood makes a great contrast too for the pale gray and white bath decor. Keeping the decorations to a minimum is a perfect way to make this an elegant, rustic rest area.
6. Funny Change the Toilet Paper Bathroom Sign
Source: joyfullysaidsigns.com
Slap some shiplap on the back wall in this cozy bathroom to start the ball rolling on your bathroom update. The large, white farmhouse style sink carries the modern farmhouse feel into the room.
Hanging brown baskets offer extra texture and provide lots of storage simultaneously. For the faucet, a rich, modern bronze finish ties nicely into the rich wooden floor and deep brown baskets. Throwing up a fun "everybody wants to change the world, but no one wants to change the toilet paper" sign is a pleasant touch to make the newly renovated space still feel like home.
7. Scalloped Vintage Metal Bath Shelf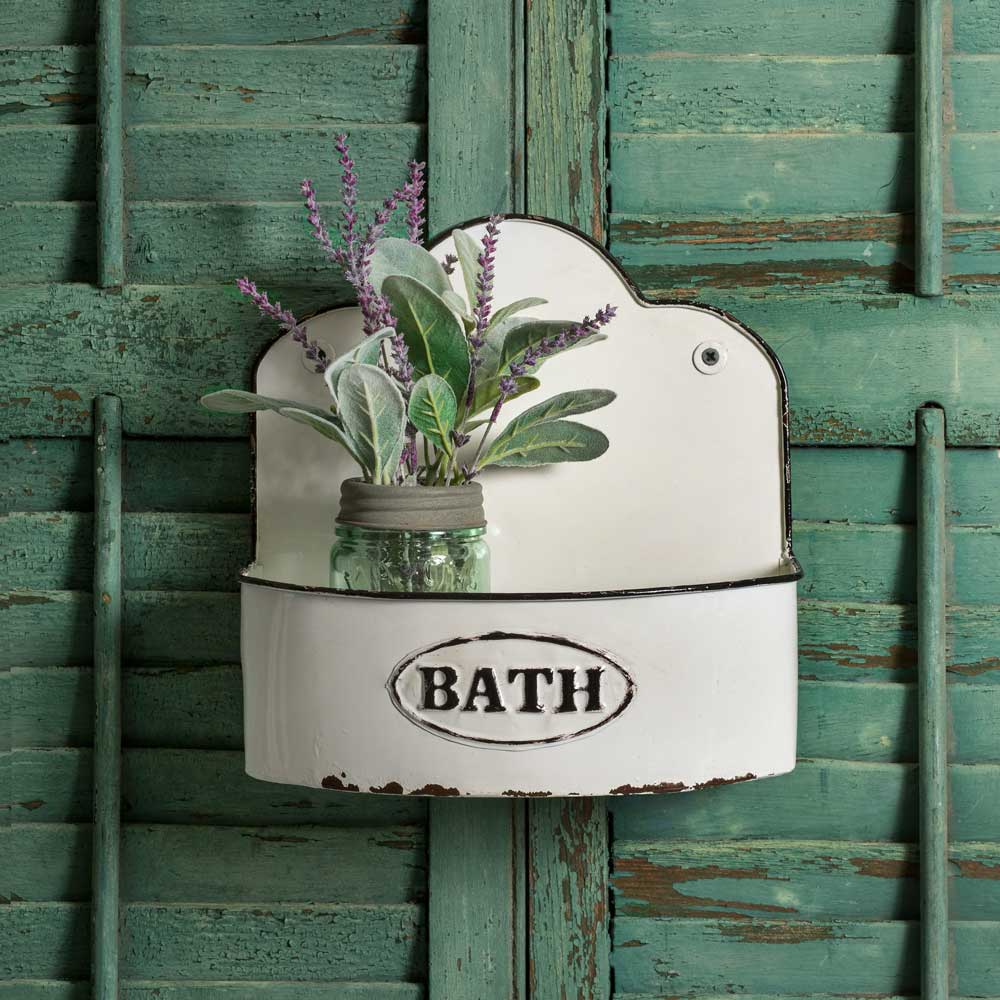 Source: emoryvalleymercantile.com
Bring a little bit of the past back into the present with a vintage-looking metal shelf with a scalloped edge. With a white finish, the edges have some distressing to add some character and charm into the shelf without taking away from its unique charm.
Within the space its built-in shelf provides, you can choose for it to hold some of your favorite things or to use it as a planter where you'd fill it with some of your favorite vining green buddies. You may choose to hang this on the door or wall space of your restroom to feel right at home.
8. I Love Your Face Rustic Bathroom Sign
Welcome some happy smiles to all those who enter with this charming and cute "Hey, you- I love your face" sign. The white shiplap wall needs a brown counterpart and this sign provides just that. It further ties the space together with its rustic wooden frame used around the sink mirror.
It's always a good idea to add a smile to someone's face and this sign brings that upturned lip you need at the end of the day. Another creative use for this sign would be to tuck inside the belongings when moving your son or daughter to college or his or her first apartment. It's a fun way to send a gentle reminder to someone when away and homesickness sneaks in and creeps onto the scene.
9. Steel Pipes and Wooden Shelving Modern Bath
A dark rose gold wall adds just enough color to this bathroom space to lend it a soft, feminine feel. White subway tile at the bottom half anchors the whole room with a neutral foundation. The top wooden shelf has enough headroom to house most any height objects and is ideal for a vase filled with flowers.
The bottom shelf works double duty as a shelf and towel rack. These great shelves would be a much-wanted addition to a bachelor pad or city loft too as they seamlessly transition from the bath to the main living space of the home.
10. Rustic Bathroom Décor with Concrete Sinks and Barn Door
Source: highline-partners.com
This ensuite bathroom is the perfect rustic bathroom idea for a cabin or lodge style home. The walls are painted a warm, creamy color that prevents the room from feeling like a dungeon. It complements the dark colors of the stained wood plank floors, wood cabinets, and wood on the ceiling.
A beautiful sliding barn door with a fabric panel, stone sinks, and farmhouse-style fixtures give this bathroom a warm and cozy feeling that is natural, yet luxurious. Black iron sconces provide the perfect lighting for this lovely bathroom.