Cozy, laid back, comfortable, welcoming—nothing says come and sit awhile more than a rustic living room. Deciding on a rustic or farmhouse theme for your home interior is a perfect choice for many reasons. This style perfectly balances cozy comfy with visual interest. When starting on your interior decorating journey, this list of lovely rustic living room furniture ideas should get you well on your way.
21 Rustic Living Room Furniture Ideas
When creating your own rustic look, you have so many options to choose from. You can dress it up with antique chandeliers and romantic candles, or keep it simple with burlap accents and upcycled farm materials. If you balance your space just right, you may even be able to alternate between these two options simply by adding or removing a few accessories as the seasons change.
However you approach your new rustic decor, remember to keep in mind how you want to feel in your new space. Also consider if you will be primarily hosting in this space, or if it will be a personal escape from the everyday.
Have fun, and keep an eye out for unique vintage pieces at the next flea market. You will be surprised at what sorts of treasures you can find and how well they will incorporate into your classic rustic theme.
1. Inviting Natural Wood Coffee Table
Source: mysocaledlife.com
This large, dark wood coffee table serves as the perfect centerpiece next to the cozy wrap-around sofa topped by a soft throw rug. Inviting guests to cozy up with a cup of tea or mug of cocoa, this table offers ample space for every guest's libation.
2. Boho Chic Trunk TV Stand
Source: uptodateinteriors.com
A great way to add character to your living space is to use fun accent pieces like this rustic trunk turned TV stand. Paired with all natural light wood, this room has a bohemian vibe without having to go over the top. This design has a healthy balance of contemporary elements mixed with vintage flavor.
3. Crisp, Clean, and Modern Living Room Décor
Source: monikahibbs.com
With this slightly distressed light wood coffee table, this room gently nods to the rustic without sacrificing any style or comfort. The multiple seating options are great for hosting, and the cozy fireplace and fluffy pillows will quickly envelop guests in a warm welcome. With natural light pouring in, every white accent is brilliantly lit for a light and easy look.

4. Warm and Cozy Dark Wood Rustic Styling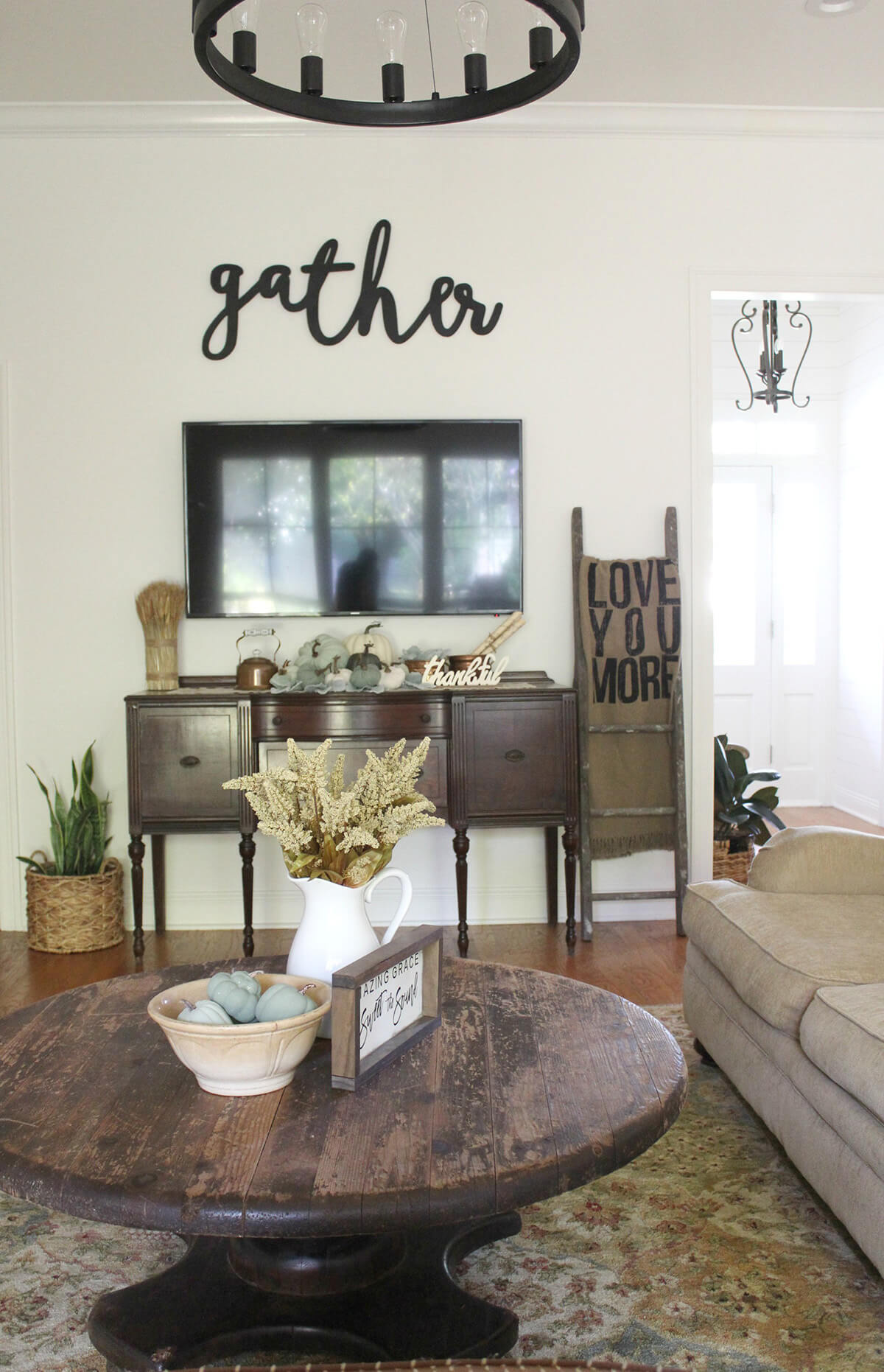 Source: beautyforasheshome.com
One great way to balance a room is to stick with a color scheme and then sprinkle it throughout. This room perfectly does that with the dark wood coffee table, writing desk, wall art, and chandelier. Although they are all different shades and degree of darkness, they each add a homey touch and tie the room together.
5. Cuddle Up With Inviting and Friendly Neutrals
Beautiful French doors accent this perfectly balanced country chic living room. Adding warmth and depth, the curtain framed doors make the room feel spacious. The color palette for this space is focused on warm neutrals, seamlessly mixing and matching textures for a look that is both comfortable and pleasing to the eye.
6. Farmhouse-Inspired Shabby Chic Rustic Décor
Sometimes to create a look as cohesive as this, it takes time strolling through markets then distressing everything to match. Yet, as you can see in this lovely room, the investment in décor really pays off. Remember to select pieces you like even if they all don't match. You can always stain and distress them to match later.
7. Simple and Elegant Coffee Table
Source: fallfordiy.com
This block-style coffee table is a great piece for the center of your room and can be the perfect thread between a hardwood floor and a room of rustic décor. The smooth and polished surface gives a refinement to the look, while the bare iron and grainy wood add to its farmhouse appeal.
8. Lovely Antique Country Chic Farmhouse Living Room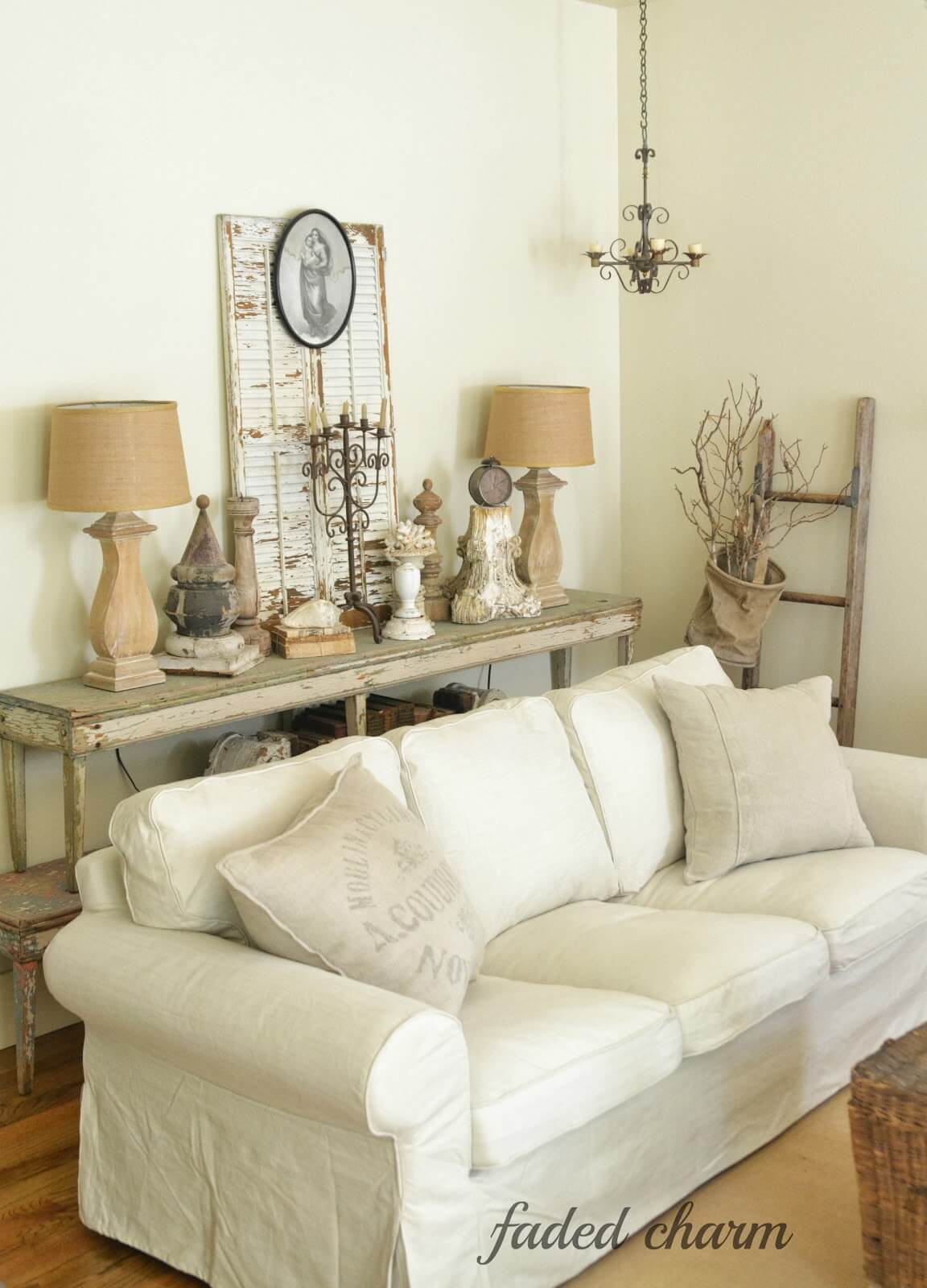 ource: fadedcharmcottage.blogspot.com
When thinking through rustic living room furniture ideas, this living room set will serve as wonderful inspiration. This arrangement is filled with shabby chic décor elements, so you can feel inspired and pick and choose what would work best in your own space. Consider an old shutter, a bushel of twigs, or an antique chandelier, then mix and match to create your own perfect space.
9. Elegant with a Touch of Rustic Charm
Although small, a sweet side table such as this one can add tremendously to the character of a sitting room. Giving the space an antiquated feeling, this side table harkens back to the days of tea time and afternoon visits. Pair this with an old farmhouse ladder, and you will create a welcoming, pastoral setting for guests that exudes an Old World charm.
10. Welcoming and Intriguing Vintage Farmhouse Décor
Looking very chic in cool tones, this autumnal living room décor incorporates vintage farmhouse accessories with cute mini pumpkins to create a complete, sophisticated look. Looking at that couch draped in cozy thrown blankets and pillows, one simply wants to curl up with a warm spiced cider and enjoy looking out the bright windows as the leaves fade and fall.
11. Rustic and Reverent Bright Living Space Set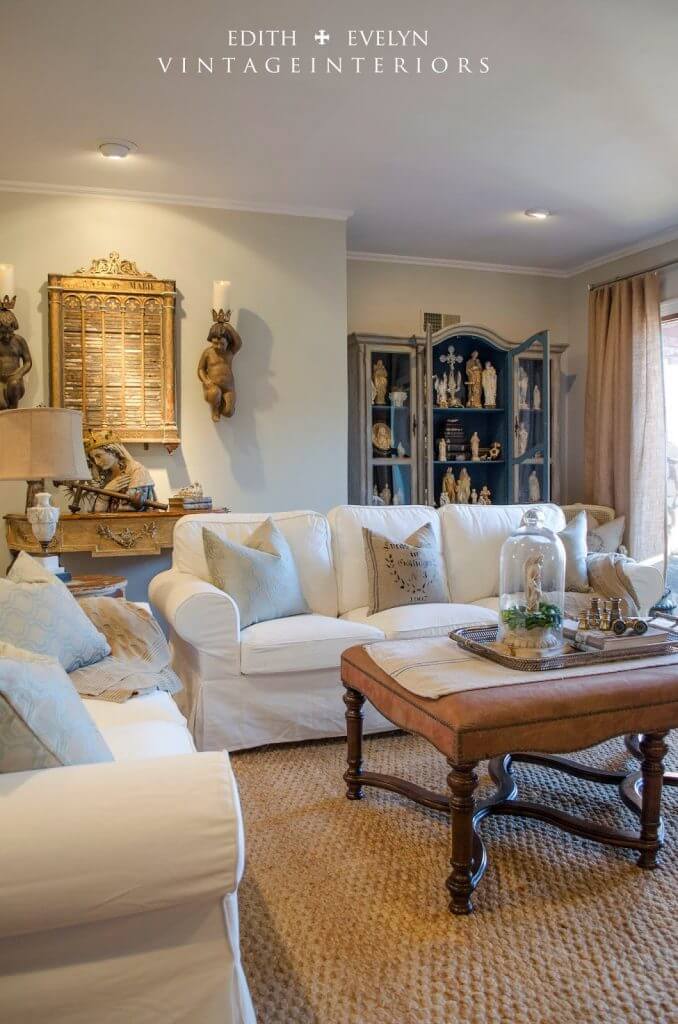 Source: nominimalisthere.com
When selecting a theme for your décor, consider styling the room to match. In this living room set, we see décor that has tastefully been matched to the room and that is incorporated seamlessly throughout. Everything matches a humble palette of distressed browns and beiges, which brings cohesiveness to this space and allows the standout pieces to shine.

12. A Nod to Simple Times
This beautiful, picturesque display looks as though it could have come straight off the set of a Jane Austen film. The simple and sweet décor makes one feel at ease, giving guests space away from the modern day to relax and breathe. The large bright window gives the room a fresh quality, while the dark wood features add depth and warmth.
13. Natural Décor with Woven Accents
Source: rusticandwoven.com
A great way to incorporate a rustic look is to use woven natural fibers for your décor. This living room, featuring a brown woven rug, a piece of wall décor, and multiple baskets, perfectly creates a country-chic vibe. All the while, the look is completed by dark brown elements sprinkled throughout to tie everything neatly together.
14. Heartfelt and Inviting Farmhouse Living Room Décor
With wood-paneled walls, this living room fully embraces a farmhouse theme. A distressed wooden coffee table adds to the look and the lovely wrap-around couch sports burlap-themed pillows. A cozy candle is always a welcome addition, as is a tasteful black and white photo display. Be sure to remember personalized elements when considering rustic living room furniture ideas.
15. Lovely and Contemporary Rustic Chic Home Décor
Everything about this gorgeous living room works in perfect unity to create a warm and welcoming rustic farmhouse feel. From the bright and airy curtains to the woven rug, this look will make guests feel welcome. With each piece individually available on Wayfair, you have the option of incorporating one or many elements to bring your own country décor dreams to life.
16. Comfy and Cozy with Fine Rustic Accents
Source: wayfair.com
With Wayfair's quick and easy "shop the look" feature, you can recreate this divine rustic living room in your own home. If you are so lucky to already have farmhouse chic pieces that you love, consider instead mixing and matching these unique elements with your current style for a beautiful blend. Mixing multi-colored woods add to the intrigue of this design.
17. Hunting Lodge-Inspired Home Living Room
Akin to an old-school hunting lodge, this look incorporates stylized pillows, macramé braiding, and lush succulents to create a fun and festive atmosphere. Dress this look up or down with your choice of accessories, and make it your own by incorporating your own color palette. You can easily mix and match the available styles to make the perfect blend for your home.
18. A Fun and Funky Rustic Interpretation
Offering multiple exact matches on Wayfair, this eclectic rustic-themed room can be yours in no time. The creative and whimsical coffee table is reminiscent of vintage carts, and the super fun studio style lamp will make you feel like a star. Keep this look rustic by incorporating brass or wood, light brown elements, and neutral tones.
19. Luxurious yet Rustic Warm and Cozy Design
This lovely styling, with its cool lighting and appealing exposed timber, will make your home feel as cozy as a mountain cabin. One great feature of this set up is that it works well for smaller living rooms, utilizing mirrors and wall spaces perfectly. With candles and a cozy blanket, you will be happy to cuddle up for a warm night in.
20. Romantic and Pastoral Shabby Chic Décor
A beautiful nod to the best of country living, this living room décor has just enough do-it-yourself elements to make it look homey and unique. With cool colors and romantic touches, you have a great space to cozy up and read, or to share a cup of tea with a loved one.
21. Gorgeous Hardwood Multi-Tiered Coffee Table
Source: wayfair.com
A great Wayfair find, this two-level coffee table measures 18 inches high and 46 inches long, making it a great fit for any sized home. Whether you are looking to revamp a space or are just decorating a room for the first time, this table is the perfect addition to an established look or serves as an anchor for a brand new space.
We hope you like theses Rustic Living Room Furniture Ideas.