I love these 'DIY Ways To Make Decorative Plates' collection so much that I decided to share this with you today. A delicious meal can be serve in a boring plate. If you think to buy a new set of designer plate for every other occation then it will cost you a lot.
So how about making these designer looking plates at home? Does this sound interesting?
It's time to dust off those boring plates and give them a makeover with one of the creative DIY Decorative Plates tutorials!
Follow the links after each diy for step by step instructions. Have a crafty day guys. Enjoy!
1. DIY Color Edged Plates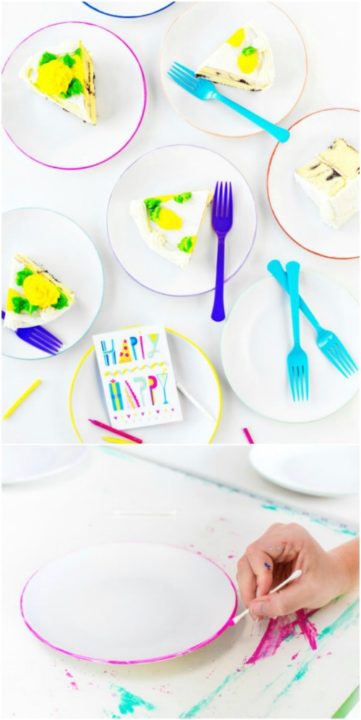 The project is so crazy easy, you could whip up a whole set in no time for all your sweets-loving friends, too! Take some acrylic paint and color just the edges of your plain white plates. And thats it you are done. Feel free to chose any colors of your choice. I think this is an elegant DIY way to reuse old plates. Source/Tutorial: studiodiy
2. Decorator Hanging Plates
To make this DIY project, be ready with a couple of decorative plates. Visit a thrift store if you wish to buy some plates for under a dollar each and then use those to make this wonderful kitchen decor. Start by cutting out stencil letters for the message that you wish to display. Any letters you as per your wish. One your stencil letters are ready, then use them to draw the letters on your plates. Last part is decoration and painting. Interesting right? Source/Tutorial: angelinthenorth.com
3. Summery DIY Citrus Plates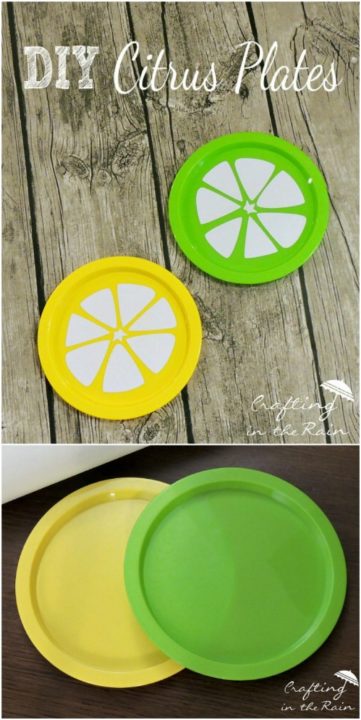 Citrus fruits taste good as well as look good. These DIY citrus plates are wonderful for any summertime outdoor get together. This DIY project is cheap because you can reuse used plastic plates. Green and yellow plates are suitable for limes and lemons. But I may give a try to watermelon plate and what about you?  Source/Tutorial: craftingintherain
4. DIY Ikat Inspired Plates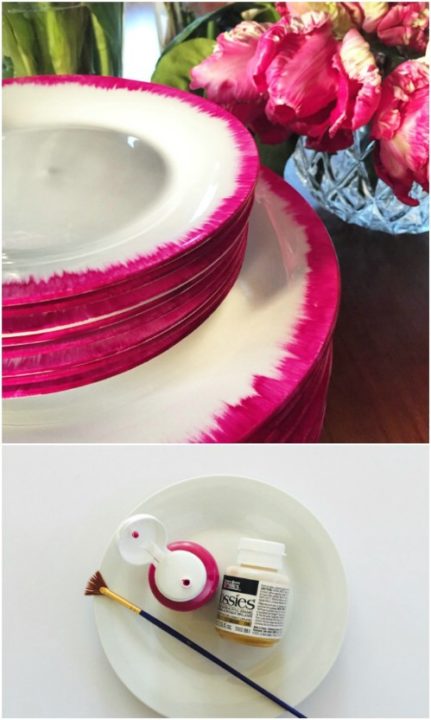 This craft will help you to turn your ordinary meal plates into an Ikat inspired ideas. All you need is some nice paint. I like its simplicity. The main part is to give nice brush strokes show for a gorgeous edging on all of your plates. You can do these in any color and also paint your bowls, saucers and cups to match so that you have a complete set. Source/Tutorial: nouba
5. DIY Gold Star Plates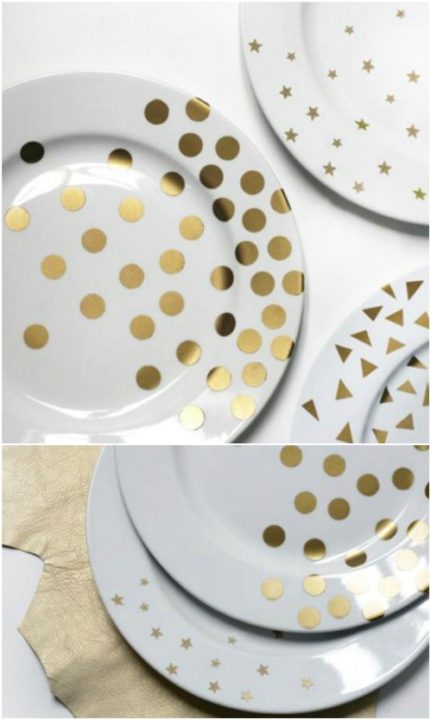 These polka dot theme golden plates are perfect for brithday parties or special occasions. Very cheap and easy to make. All you need is plain white ceramic plates,gold markers and some gold star stickers to embellish them. The design is long lasting. Source/Tutorial: instyle
6. DIY Map plates
Amanda Rollo will teach you how to turn simple dinner plates into these DIY map versions. You can easily create them as gifts for your loved ones who love to travel. Source/Tutorial: amandarollo
7. DIY Decorative Plates ideas
White plates look elegant and are my favorite. With this DIY Reuse old plates technique, you can create beautiful DIY watercolor plates that will add a pop of color to your dishware collection! You can also add this charming look to bowls, cups, platters, etc. Use any color of paint to go with your theme and get your craft on because these were extremely fun to make! Check this link for further step by step instructions. Source/Tutorial: sugarandcharm
8. DIY Decorative Thanksgiving Plates
I know, hosting a thanks giving party may make you buy nough matching plates for all the guests. Instead of spending money on a brand new collection of plates, hit a second-hand store instead. Collect a stack of mismatched plates — all sorts of combinations can work. And check out this tutorial for for further details. Source/Tutorial: babble
9. Kate Spade Inspired Plates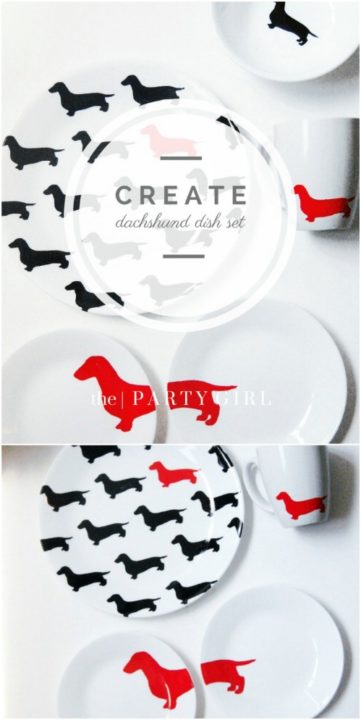 These adorable dachshund plates are inspired by a set of Kate Spade plates. With this DIY tutorial you can easily make these at home. I am sure making these plates at home will be different fun altogether. Involve your kids to make this family craft project. Source/Tutorial:thepartygirl.ca
10. DIY Cookie Exchange Plates
With this DIY Reuse Old plates project idea,turn those boring white plates into gorgeous cookie exchange plates. If you're planning a cookie exchange, or giving cookies as gifts this holiday season, make these cute cookie exchange plates – they are fast to make, and super inexpensive! These DIY Cookie Plates look better than a plain paper plate, and hold up much more nicely. And after your recipient eats all their cookies, they'll still have the cookie plate you made them – it is like two gifts in one. Check this step by step tutorial for more details. Source/Tutorial: 30minutecrafts.com
11. DIY Vintage Inspired Floral Plate
These are old school design plates but I simply love flowers so I find these plates adorable. What about you? You can make these plates at home easily. To make these stunning floral plates you need a floral template , some mod podge and some tissue papers. One you have all the required material then just have fun in making these plates at home. Source/Tutorial: freeprettythingsforyou
12. DIY Confetti Pattern Placemats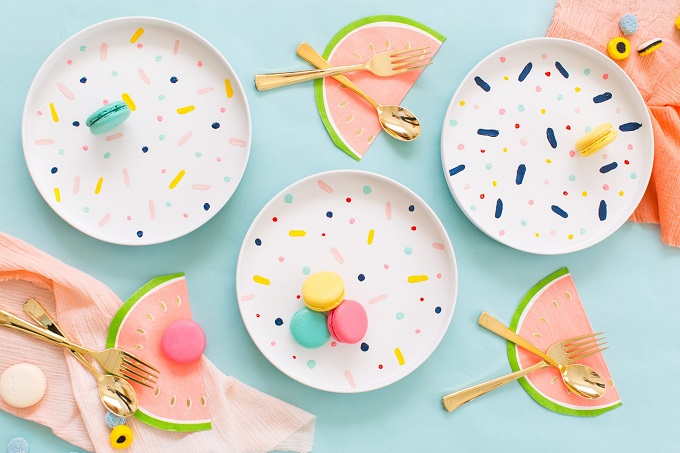 Sometimes, all you need is some vibrant confetti to bring happiness and joy into your day. Sugar and Cloth has created these beautiful and easy to make DIY confetti patterned dinner plates.. I Love them. Do you wana give it a try?? Then check this DIY. Source/Tutorial: sugarandcloth
How many of these amazing ideas do you think you'll attempt this year? I hope you will try atleast one of these amazing DIY Ways To Decorative Your Plates. Wishing you an amazing happy crafting time 🙂
Thats all for today guys, I hope you had an amazing time here. Do visit our website again for more DIY crafts ideas. Meantime you can connect with us on Pinterest and Facebook.
Pin This Collection of DIY Ideas To Decorative Your Plates for your reference.