Cushy, Comfy..these are the words come to my mind when I think of pillows. Without cozy pillows a room recor is incomplete. Do you agree with me?
Here is a collection of stylish DIY pillow craft ideas that you can use to decorate your home.
DIY pillow is quick and easy way to give a nice makeover to your room. Today I decided to make a list of popular very easy to do DIY Pillow project ideas for you guys. These projects are so useful and fun to make.
Follow the links after each diy for step by step instructions. I hope you enjoy it. Happy crafting everyone.
1. Easy DIY No Sew Pillow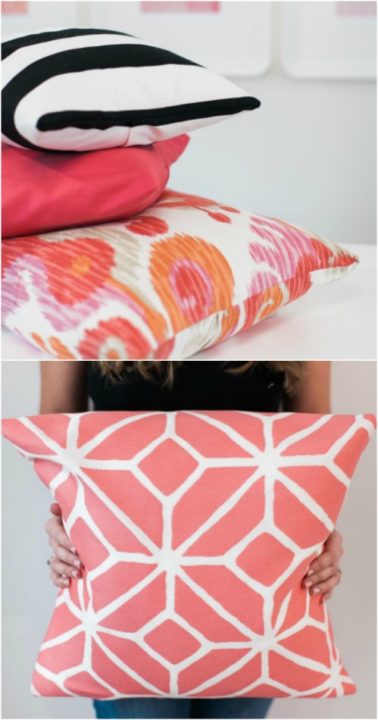 Try this no sew pillow that is so easy, you will want to make more than one. Select any fabric of your choice then use iron on fabric tape to stick it all together. These DIY pillows will look great once done. This one is actually much easier than it looks. Source/Tutorial: stylemepretty
2. DIY Felt Sunflower Pillow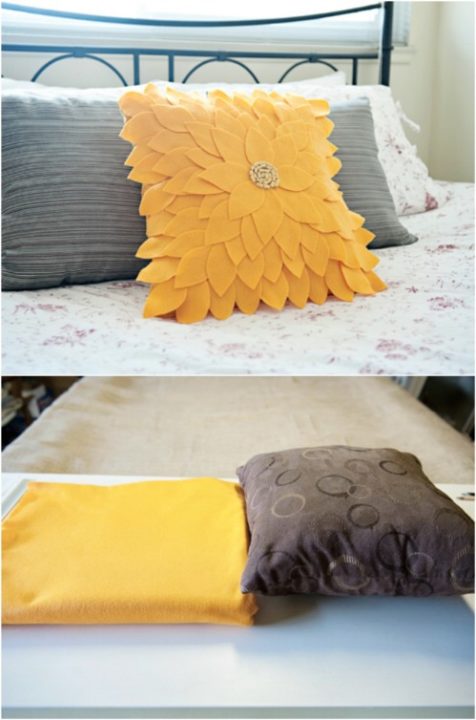 Felt pillows are my favorite. They look adorable. This handmade pillow will look gorgeous when it's finished. You can use felt to create various things like rose or sunflower petals. Its quite a quick project to do the only thing that will take time is cutting out your petals. You will for sure love the final output. Source/Tutorial: fabyoubliss.com
 3. DIY ANTHRO INSPIRED PILLOW
If you don't know how to sew, you can still make pretty pillows for your sofa! This tutorial will show you how to make no-sew pillow. Give it a try guys and enjoy.
Source/Tutorial: thegildedhare
 4. DIY STRIPPY PILLOW
Could there be anything cozier than the look of a pillow? Surely, it will remind you of home. Check out this cute diy pillow project to get inspired. Source/Tutorial: quiltingintherain

5. Easy Pouf Pillow
Many stores keep pouf pillows. They're really adorable and but not necessarily pocket friendly. With some fabric and pillow stuffing, you can easily make your pillow like that. You can further customize it as per your room theme. Follow this tutorial for more details. Source/Tutorial: designsponge
 6. DIY OLD BLUE JEANS PILLOW
Tired of your home decorations and current styling? Freshen it up with pillows! now you can reuse your old jeans to make handmade pillows for your room. How cool is that? Source/Tutorial: ashbeedesign
7. DIY ROSETTE PILLOW
The secret to fun DIY pillows is knowing the basics, then getting creative. These pillows are probably just about the easiest things you can make even if you have little-to-no sewing skills. Source/Tutorial: thriftyandchic
8. Tuxedo Throw Pillow
I like to reuse old shirts. Now try this idea to create unique looking pillow for your room. Make sure to get shirt with buttons. Again if the shirt has a ruffle, that's even better. Follow this tutorial for more details. I am sure you will love to add this pillow in your room decor. Source/Tutorial: jensownroad
9. DIY BED PILLOW CASES WITH TIES
Who likes square print? I've been itching to update the pillows in my living room, and I found this DIY. What a wonderful idea!Are you excited to create this DIY project? Source/Tutorial: marymarthamama
10. Easy DIY Sunburst Pillow
To make this pillow, start with your choice of fabric and then create the sunburst pattern by folding over your fabric when you are sewing. Once you turn the fabric right side out, it has a lovely pattern and you can do this on both sides if you want. Trust me guys its very easy to make.Give it a try guys and enjoy.  Source/Tutorial: versusmag
11. Easy DIY Leather Accent Pillow
Making your own leather pillows, would a different fun altogether? Do you want to try? Its pretty easy to do. You can use old leather couch or a coat if you have one. All you have to do is, cut the shape and size that you need from the leather and then sew it up like a regular throw pillow. Then you further can decorate is with craft supplies. You will for sure love the final output. Source/Tutorial: vintagerevivals
12. Easy Spray Painted Wheat Pillows
Give a rustic look to your room by making these spray painted pillows. Make your templates from freezer paper and then use your chosen spray paint colors to create the design onto muslin fabric. You can try so many different designs and sizes which acutlly look good.How cool is that? Source/Tutorial: vanessachristenson.com

13. DIY Button Pillow
This is really simple guys. Reuse any old pillow and decorate it with beautiful buttons. You can do a nice room makeover by simply replacing your old pillows like this one. Button crafts are fun. Also buttons are so inexpensive that you can afford to try different designs. Whats say? Would you like to try this handmade pillow?  Source/Tutorial: makeit-loveit.com
14. Rustic Potato Stamp Pillow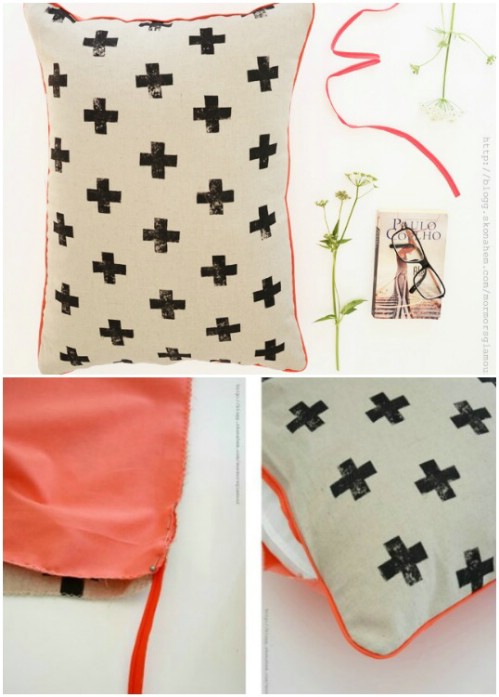 This one is actually much easier than it looks. Simply make a potato stamp to design this DIY pillow. Remember potato stamps craft taught in school? This is the same concept. Try different different designs on potato and have fun. Involve your little ones, they will enjoy this craft too.What a wonderful idea! Video/ Tutorial: bigdiyideas
I hope you will try atleast one of these amazing diy pillow projects. Wishing you an amazing happy crafting time 🙂
Thats all for today guys, I hope you had an amazing time here. Do visit our website again for more DIY crafts ideas. Meantime you can connect with us on  Pinterest and Facebook.
Pin This Collection of diy pillow projects Ideas for your reference.