4 Brilliant DIY Calendar Repurposing Ideas : Reuse Old Calendars
Many of us still love to buy calendars. Calendars are made of high-quality paper, making them perfect for beautiful DIY crafts. Since they can be found in any theme or color, choosing the images you want is easy.

The new year is all about changes, and that probably means ridding your walls of those outdated calendars from last year, right? Rather than toss all of that paper into the recycle bin, you can get crafty and turn those old calendars into something new.
Today we have an amazing collection of BEST DIY Calendar Repurposing Ideas for you.
The supplies needed for these projects are minimal and you'll find them at home already. Grab your scissors, a ruler, calendar. You're all set! Happy crafting.
1. DIY Upcycled Calendar Gift Bag
Gift bags are as important as the gift they hold inside. I am sure you all give equal importance to a gift bag. You actually can turn your old calendars into really decorative gift bags and never worry about those gifts again. With this DIY Calendar Repurposing Idea, you can add extra personal touch to your gift. Now turn old calendar pages into beautifully customized bags that are perfect for everyone on my gift list! Follow these simple steps to create the cutest gift bags Source/Tutorial: idohaveatalent
2. DIY Upcycled Calendar Page Envelopes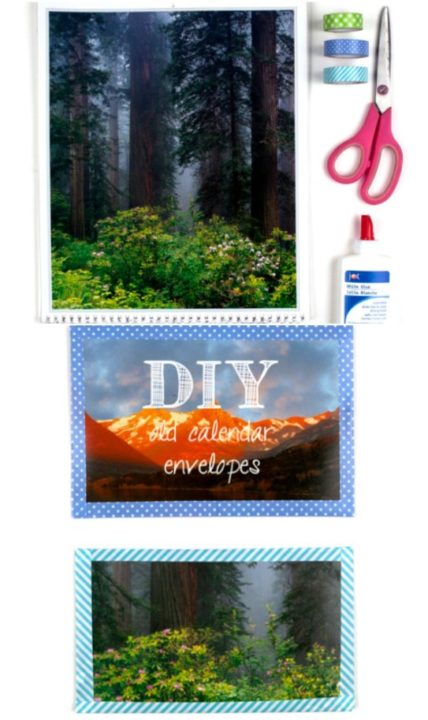 Its time to change old calendar into somthing unique. With these DIY upcycled calendar page envelopes, take the concept of envelope to entirely next level. You can turn those pages into beautiful envelopes that are perfect for any letter or card that you need to send. With just a bit of cutting, gluing and folding, you will have gorgeous DIY envelopes that are perfect for any occasion. Source/Tutorial:  makingmondays

3. DIY Upcycled Calendar Wall Art
Have you ever found yourself sad to turn the page on your 12 month wall calendar, because you liked the image for the ending month better? Or hesitant to throw out a calendar with so many great visuals at the end of the year? After all, when we buy a wall calendar, we usually pick out the one we did, because we liked the pictures or designs that went with each month. 
So isn't it a great recycling idea, to re-purpose old calendars into DIY wall art, using some of those favorite months, for home decor?
This one doesn't even take much time. Check this project here for further step by step instructions.  Source/Tutorial: houseofjoyfulnoise
2. Upcycled Tin Can And Calendar Vases
I had already written about how to reuse old empty can. In this DIY Calendar Repurposing project, use an empty tin can and old calendars to make thse gorgeous vases. You can use it as pencil holders too. This project won't cost you much since it's made with all old used materials!  Source/Tutorial: fishtailcottage
3. DIY Jigsaw Puzzle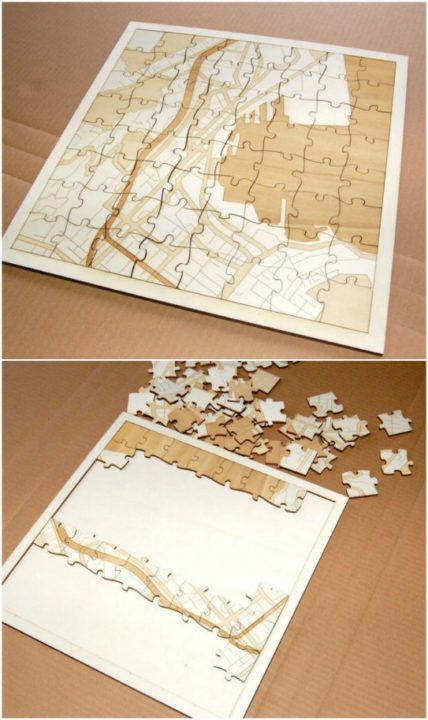 Who like puzzles? Now turn old calendars into a lovely DIY jigsaw puzzle. This one may take some time but it's so much fun to make. Take help of little ones and they will enjoy it too. And you know what these can be the most cutest handmade gift. Source/Tutorial: instructables
4. DIY Upcycled Calendar Coasters
No one can have too many coasters, right? They're the perfect to gift someone. So, if you have an old used calendar that you need to repurpose, then give this DIY Calendar Repurposing Ideas a try. Turn your old canlendar into gorgeous coasters with just some ceramic tiles and Mod Podge. Just cut the calendar the same size as your tiles and glue them on with Mod Podge. These are so easy and turn out so gorgeous. Source/Tutorial: prudentbaby
Create cute DIY projects by one of the above DIY Calendar Repurposing ideas. The new year is all about changes, and that probably means ridding your walls of those outdated calendars from last year, right? Then give a try to these ideas.
Thats all for today guys, we hope you had an amazing time here. Do visit our website again for more DIY crafts ideas. Meantime you can connect with us on  Pinterest and Facebook.
Also save this pin for your future use. Thank you for visiting our website.