13 DIY Pillow Projects To Make Your Room Extra Cozy And Comfortable
I don't know about you, but I love changing out my pillows from time to time. Pillows are eye catching and something that everyone notices & appreciates. If you are a crafter, you'll also be pleased to know that this is often a quick craft to do.
It's such a quick and easy way to change out your home decor by simply changing your pillows. You can update the look of a living room with fresh throw pillows or jazz up a guest bedroom with some decorative pillows on the bed.
Tired of your home decorations and current styling? Start with pillows! Accessories like pillows are a fun way to freshen a space giving it a new, and updated look and feel without having to buy new furniture.
I had so much fun putting this fun DIY Pillow collection together. I hope these ideas and Handmade pillow projects will give you some decorating ideas, and help to inspire you to create some wonderful Pillow Projects of your own!
Follow the links after each diy for step by step instructions. Have fun guys.
1. DIY NO-SEW PILLOW
You can make your own DIY pillow cover in just 10 minutes with this super simple method! Perfect for beginner sewers or anyone Source/Tutorial: homeyohmy
2. Huge DIY Pom Pom Pillow
Make a cozy and comfortable pillow with this DIY mondo pom pom pillow ideas. Its super easy to make. First step first. Create your pillow using canvas and then add bright color pom poms on the sides. Pom poms can take any craft to entirely next level. Do you agree? Source/Tutorial: livingwithpunk
3. DIY ON THE GO READING PILLOW
Could there be anything cozier than the look of a pillow? Surely, it will remind you of home. This DIY pillow idea will make your rooms more charming. Source/Tutorial: polkadotchair
4. Lovely DIY Peacock Pillow
I am loving the way peacocks design on this DIY Pillow. It will add an extra charm to your room decor. All you need some printable templates for this one as well as a pillow form , white twill fabric. Would you like to try this DIY Pillow idea?  Source/ Tutorial: positivelysplendid
5. DIY FELT LATTICE PILLOW
To make this handmade pillow, you will need to do some sewing,cutting and it may need so practice and patience. But I am sure you will love the final output. Source/Tutorial: persialou
6. Diamond Shaped Pillows
To make this diamond shaped pillow,you just have to cut out your shape and sew. I suggest to use different colored fabrics to create the lines in your diamonds. Read on for the DIY instructions and don't be intimidated by all the steps – it's quite easy when you break it all down! Source/Tutorial: little-white-whale
7. Easy DIY Cactus Pillow
This little cactus shaped pillow is so unique. This DIY pillow project can be done in any number of images and designs. Just make sure you have proper templates. These DIY pillows will add personality to your rooms. Source/Tutorial: patchworkcactus
8. Fleece Macaroon Pillow
These Macaron Pillows are soft, comfy, adorable…and almost good enough to eat! You can imagine a bunch of these pillows, in different pastel colors, decorating a daybed or little girl's bedroom – oh how cute, right? Check this tutorial for further instructions.  Source/Tutorial: camelotfabricsblog
9. Upcycled T-Shirt Throw Pillow
You can turn any old t-shirt into a great new pillow. Its a fun no sew DIY Pillow project. These pillows make great gifts for love ones. I think this handmade pillow project is more suitable for kids. Kids too will enjoy making these pillows. Source/Tutorial: 3peppers-recipes

10. Upcycled Sweater Pillow
Upcycled sweater projects are trendy and this pillow is one of my favorites. This project is a great way to cozy up your couch in the Winter time! Not only does it add warmth and texture to the room they just inviting. Aren't they? Source/Tutorial: brassyapple
11. Easy Ruffled Taffeta Pillow
These DIY pillows are created using taffeta and muslin. They are fun to make. Source/Tutorial: mabeyshemadeit
12. Rustic Recycled Roses Pillow
This is a wonderful way to reuse fabric scraps. I like it more because this DIY pillow has roses all around it which making it look so gorgeous. But at the same time, this project is a little time consuming. If you have time then just get started with this project 🙂 Source/Tutorial: alisaburke
13. DIY ROUND PLEATED PILLOW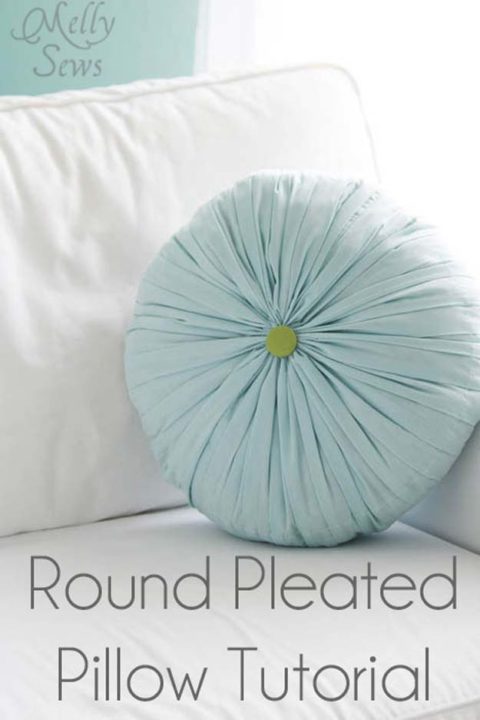 This round pillow will add a designer touch to any furniture in your home. Making your own pillow or cushion is not only fun, but it also allows you to own personalized pillows or cushions that fit your needs. Source/Tutorial: mellysews
How many of these amazing ideas do you think you'll attempt this year? I hope you will try atleast one of these amazing DIY Pillows. Wishing you an amazing happy crafting time 🙂
Thats all for today guys, I hope you had an amazing time here. Do visit our website again for more DIY crafts ideas. Meantime you can connect with us on Pinterest and Facebook.
Pin This Collection of DIY Pillow Ideas for your reference.