Last week we published a round up on 'How to recycle empty tin cans'.
If you missed it check it HERE. Based our readers demand, with this article we have come up with another set of DIY tin can crafts ideas.
Tin can is a thing that you don't need to buy separably to make these crafts project. Your one trip to grossary shop will give you couple of tin cans.
Empty tin cans are great material for various handmade arts and crafts projects.
Below you can find various recycling tutorials.
You can make lamp shade, Windsock, stationary holder, cake stand out of tin cans.
Recycling of empty tins is a great eco-friendly approach to contribute something back to society.
You can find step by step detailed guide below. Some of these projects will definitely take some time.
And guys here we are not encouraging you to increase you tin can food intake.
We would rather advise you to consume tin can food as little as possible and start eating organic food as its very healthy in nature.
The purpose of this article is to give idea, what all things can be done from your already existing empty tin cans.
We hope you will enjoy this round up. Have a look and enjoy.
1.) This innovative Windsock
Check out the full DIY tutorial HERE
2.) Do you like these DIY tin can Table Numbers?
i693.photobucket.com
3.) This DIY Lamp Shade
etsy.com
4.) Make Jack O'lanterns
i693.photobucket.com
5.) Cork Covered Pencil Cups
Check out the full DIY tutorial HERE
6.) This handmade Recycled Wreath
blogger.com
7.) How about making a cake cum fruit stand
i693.photobucket.com
8.) Make instant mini-grill like this
img.gawkerassets.com
9.) Use them as a Biscuit Cutter
lh6.googleusercontent.com
i693.photobucket.com
10.) Try this Yarn-Wrapped Candle Holders
 gardentherapy.ca
11.) Now fuss-free and pretty yarn organizing is made easy
roadkillrescue.net
12.) If tins are dented, convert then into useful planters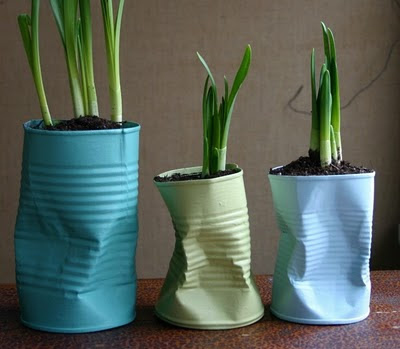 blogger.com
13.) DIY Tincan Pincushion
Check out the full DIY tutorial HERE
(Via:BuzzFeed)
Dont forget to share these creative recycled crafts ideas with your friends. 
Cheers!!
You May Also Like:
17 Creative DIY Bottle Cap Art and Craft Ideas to Recycle Bottle Caps