Use these rustic decorating ideas to turn your bathroom into a relaxing haven. Regardless of whether you have a large or small bathroom to build, renovate or remodel, adding rustic ideas can take your bathroom decor from basic to breathtaking with minimal effort. Here are the best rustic bathroom design ideas to help you get inspired with ways to decorate your personal space. Whether you're decorating a house in the country or just want to create the lived-in, homey feel of rustic décor, achieving that look is all about texture. Reclaimed wood, galvanized metal, rough stone and cast iron are all part of rustic bathroom decor ideas. 
50+ Ways to Add Rustic Flair to Your Bathroom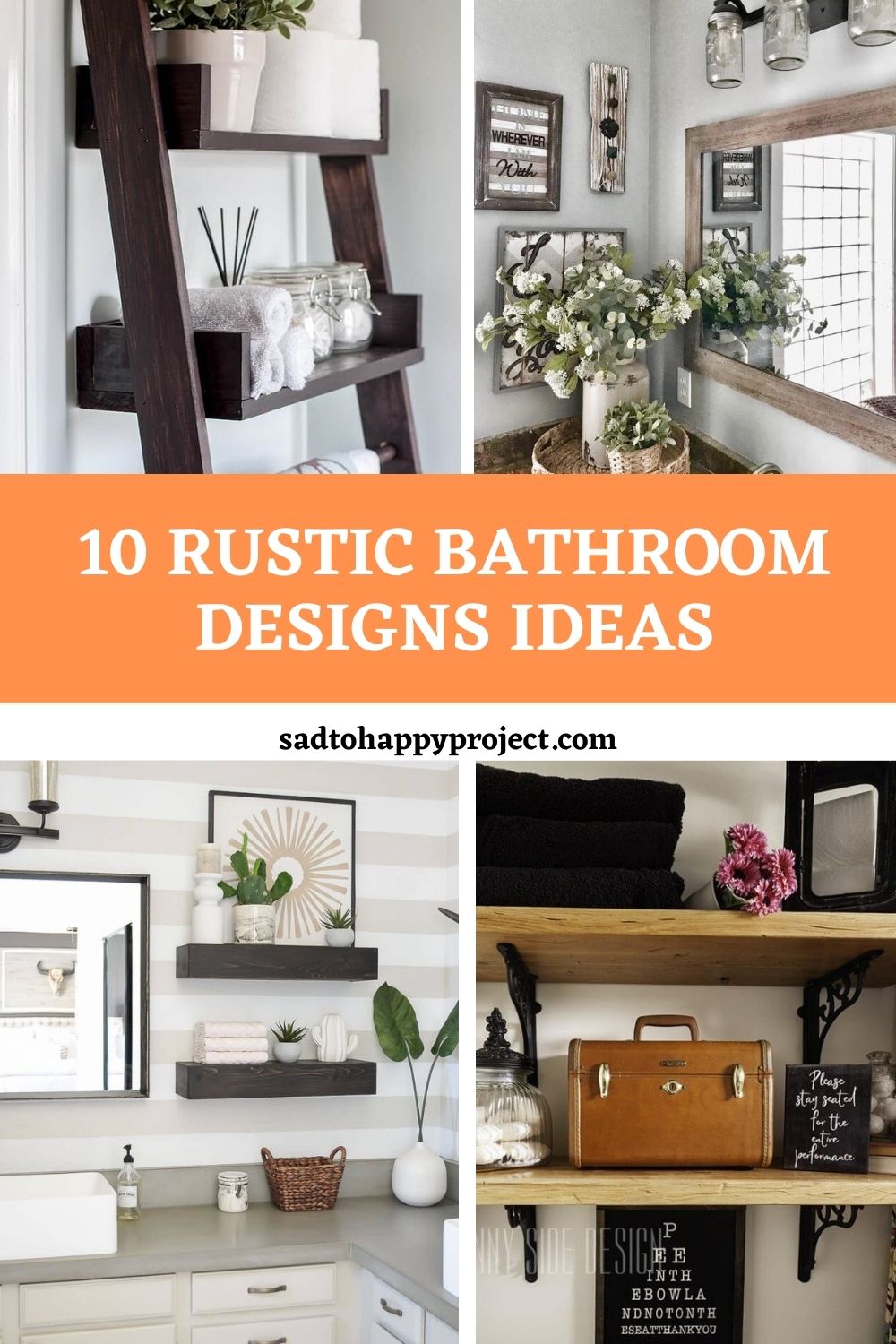 A rustic bathroom can be the ultimate culmination of classic and modern decor. While interior design trends come and go, rustic bathroom ideas remain timeless and comfortable. Mainly because wood mirror frames, classy wooden wall panels, adorable DIY shelves, rough stones, hardwood flooring, old-school light fixtures, barn doors, overgrown plants, vintage furniture, and raw materials can make any space look more inviting.. Check out these gorgeous rustic bathroom design ideas to get started!
1. Above the Toilet Wooden Ladder Shelf
Source: anikasdiylife.com
Maximize your space by going up! This wooden ladder shelf is a fantastic way to organize and arrange some fun decorations in your bathroom space. One shelf can be an easy-to-reach spare roll holder, making it easier than ever to change the toilet paper roll. A scented candle is another perfect occupant for taking up residence on this shelf. And you can't go wrong with a small house plant that doubles as a pretty piece and air purification system. Fold a few hand towels and add some decorative glass jars to hold your go-to bathroom essentials and you've completed the look of your wooden ladder wall shelf.

2. Mason Jar Lights and Rustic Wooden Features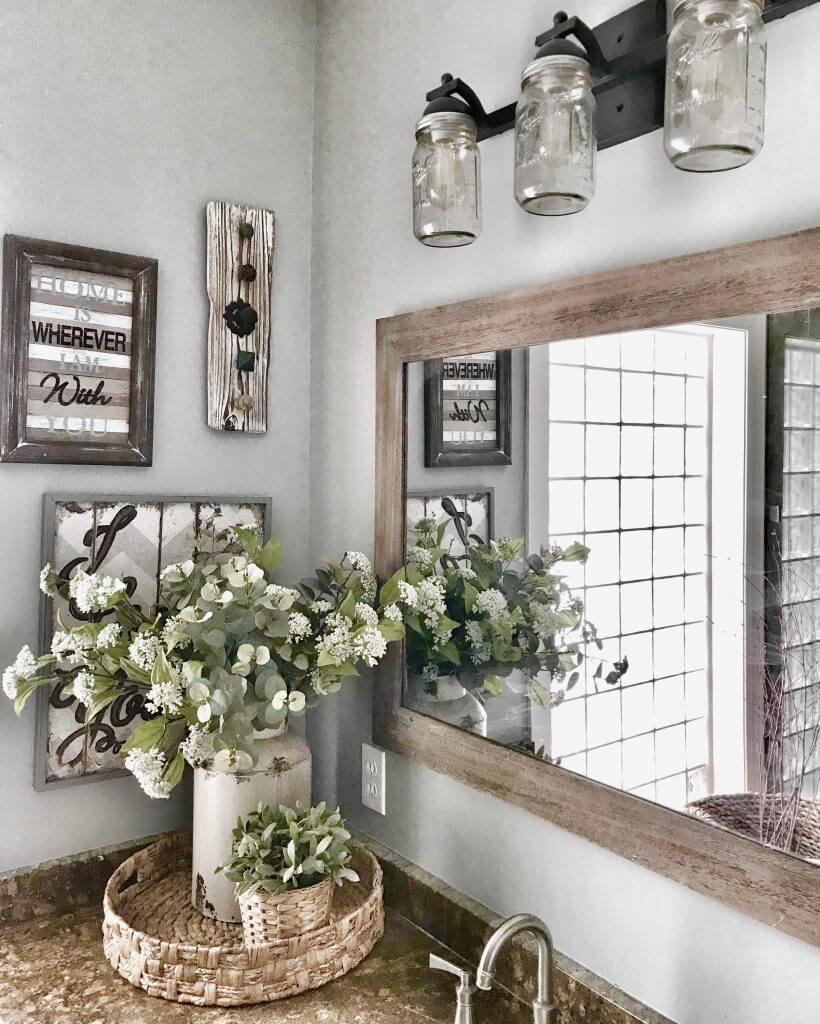 Source: blessthisnestblog.com
Work that inner earth-loving guru and reimagine some of your on-hand items like this Mason jar lighting fixture. When canning days are through, what better way to use all of those remaining jars? Truly a farmhouse staple, these jars pair nicely within a room filled with rustic, wooden features. Decorating this space with a touch of gray and white lends it to a more modern rustic feel that is perfect for those seeking a modern farmhouse look.
3. Shabby Chic DIY Painted Glass Jar
Just a little bit of leftover paint and a Mason jar is all you'll need to try your hand at this interesting crafter or DIY lover's dream! A splash of paint into the jar and a little swirling around is how you'll be on your way to this unique and quirky way to use a Mason jar as a home decoration. Once your creation is complete, you'll be able to feature your favorite handful of flowers in it. Place a smaller and simpler plain glass jar right beside it to hold some Q-tips and you have a little function along with a little beauty.
4. Black Wrought Iron and Wood Wall Shelves
Large and sturdy black wrought iron provides a solid foundation for holding these thick wooden shelves that are a practical way to display your unique personality in your home's restroom. Vintage apothecary jars, an old train case, and some quirky signs give an eclectic vibe to this wall space.
5. Modern Meets Rustic in the Southwest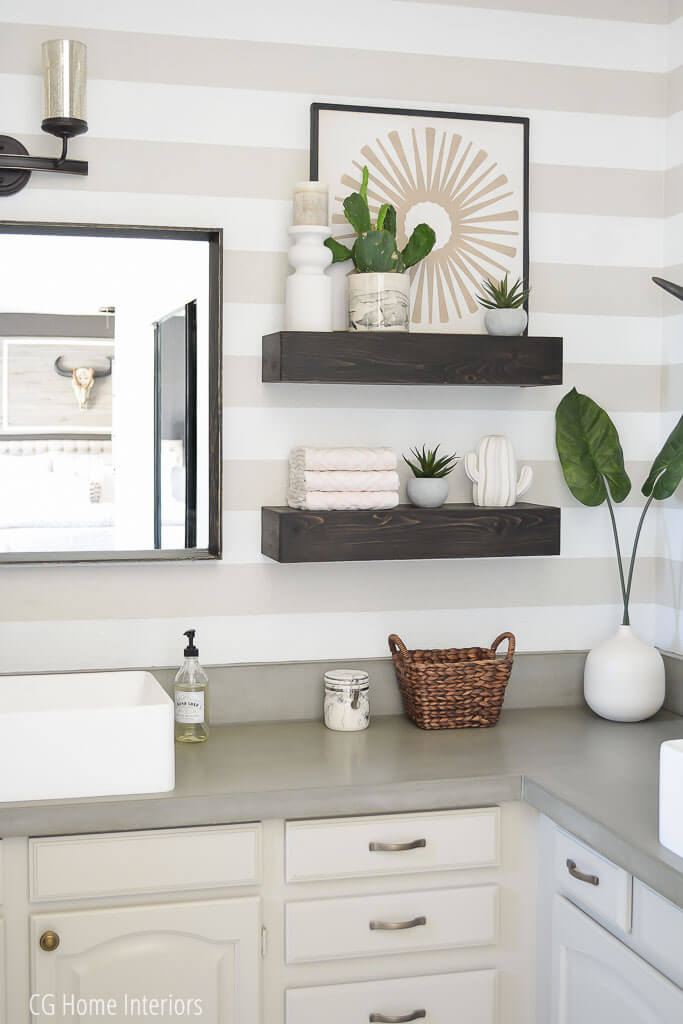 Source: cghomeinteriors.com
No matter which section of the country you reside in, anyone can delight in the allure and beauty of the Southwest. Incorporate some of the warmth and beauty of this desert area with some white cactus decorations, small house plants, and an animal skull mounted on the wall. The large white sink rests on the gray countertop and connects the striped walls neatly into the overall scheme of the room. Free-floating wooden shelves lend a rustic feel to this modern Southwest bathroom.
6. Corner Catchall Vintage Bathroom Hub
Don't waste a single inch of your bathroom space by utilizing your corner from top to bottom. A blanket ladder is reimagined as a towel rack to hang your drying necessity where it's always within reach. Sleek metal-ended shelving takes the storage space up another notch with the ideal location for your everyday items as well as the extras you need to keep on hand. Galvanized metal cups serve as practical and pretty organizers. Rev up the vintage appeal with an old sign hanging on the wall and a featured warm brown wooden shiplap wall.
7. God of Wonders Wave Wall
Source: livealittlewilderblog.com
Color and pattern make the perfect couple in this wonderful wave wall. The waves roll across the wall in a smooth pattern while the shades spill from light to dark as they make their way from the ceiling to the floor. A quaint woven basket looks nice and neat with its large sea star. The powerful phrase reminding you of God's love is set amid a rustic white wooden sign to add some rustic appeal to this beachy look. Using a collection of the best shades of gray updates this space with some modern colors as well.
8. Rustic, Metal, and Blue Bathroom Decor
Don't be afraid to mix it up in terms of decor styles when it comes to your family bathroom. The metal industrial vanity lights feature sleek cylinder globes for a modern edge while rustic wood frames the mirror to perfection. Nestle a corner cabinet to serve as your storage go-to unit that holds all of your bath time essentials while staying out of the way. The color combination of white, blue, and distressed gray pairs perfectly alongside the metal and sleek glass. An abundance of storage is seen throughout as you'll enjoy your basket of everyday items housed neatly and conveniently underneath your sink.
9. Wood and White Rustic Charm Bathroom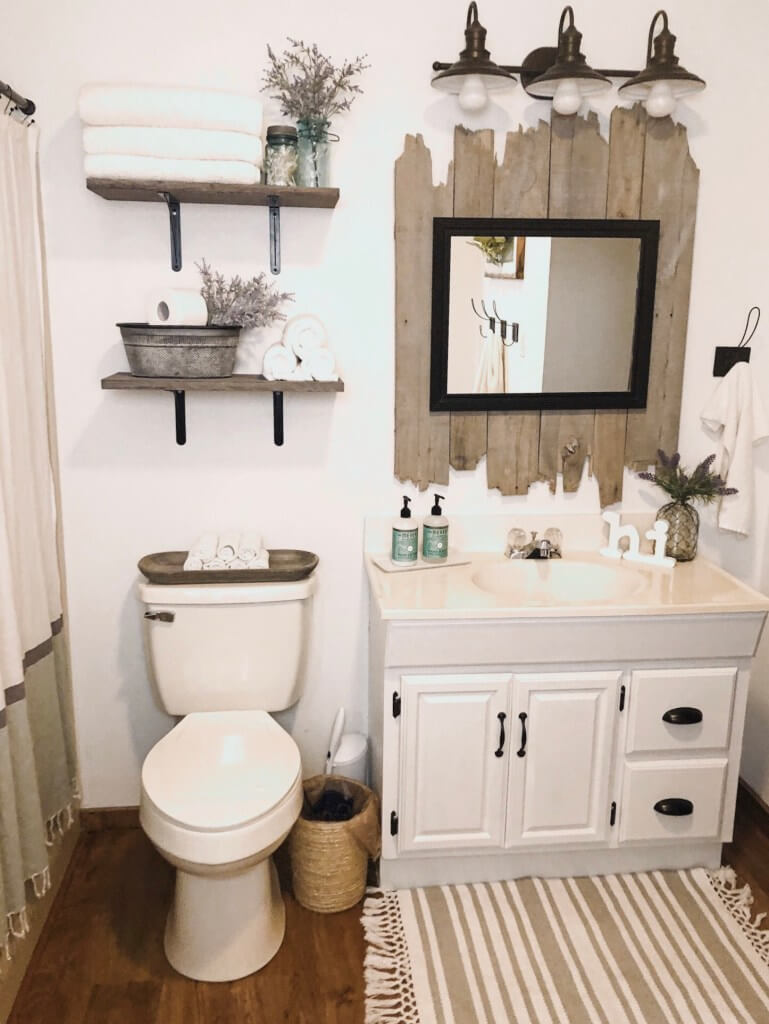 Want an alternative to shiplap? Look no further than this backdrop for your bathroom sink mirror. Ripped up and rugged wooden boards join together to create an interesting and unique way to display your simple mirror. Set on a solid white wall, the worn and weathered brown color adds a lot of character to the room. This rugged wood look is carried to the toilet topper catch-all and the shelves overhead. Natural elements, like the sprigs of herbs, add a cozy and homey feeling while the tin organizers keep the rustic vibe flowing.

10. Rustic Bathroom Mirror Mixes with Modern
Source: northcountrynest.com
You can have your cake and eat it too in this modern rustic bathroom. Combining both elements is as easy as pie with the addition of this rustic wood framed vanity mirror. The character of this mirror adds some roughed up charm to this otherwise modern and new bathroom. Farm lighting fixtures and the slab countertop further connect this rustic feel in a modern way. Choosing the hue of blue vanity creates an extra layer of warmth and comfort to this updated space.