The best way to say I love you is by making some sweet for your sweetheart.
The sweetest part of a Valentine's Day menu? The Valentine's Day desserts, of course!
If you are planning to prepare a romantic dish for two or for the whole family these famous desserts will help you to end valentines days on a sweet note.
Love is in the air with these Valentine's Day recipes for everything from a romantic dinner for two to sweet treats everyone will love.
You'll find plenty of easy chocolate recipes here, and cakes and cookies of all kinds.
Sweeten your Valentine's Day with a scrumptious, romantic, or heart-shape dessert recipe. Whether your sweetie likes rich chocolate desserts, berry pies, or creme brulee, you're sure to win hearts with a delicious Valentine's Day dessert.
Take a delicious look. Enjoy the treat 🙂
1.) Pink Pinwheel Sugar Cookies
Check out the full DIY tutorial HERE
2.) No Bake Chocolate Strawberry Pie
Check out the full DIY tutorial HERE
3.) Red Velvet Truffles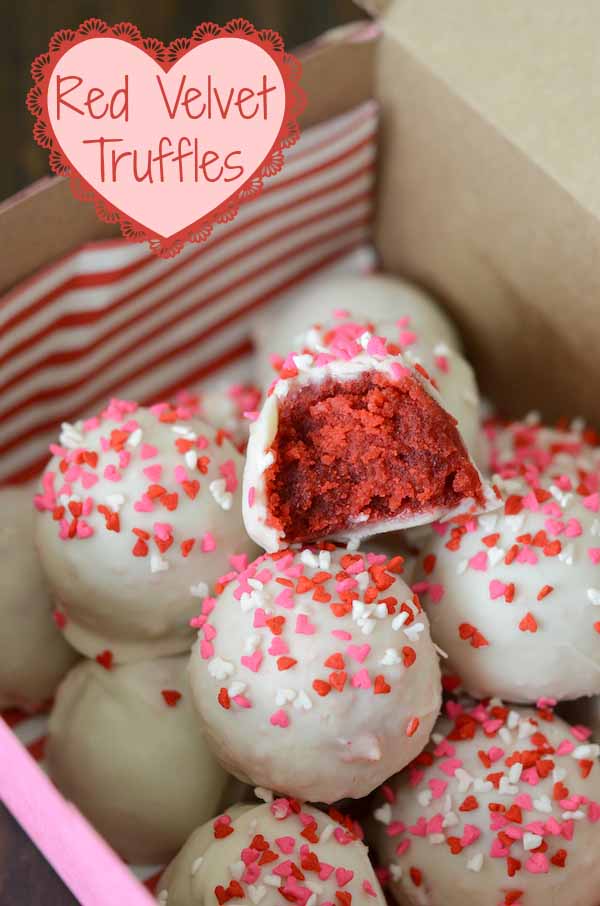 Check out the full DIY tutorial HERE
4.) Chocolate and Roses Truffle Spoons
Check out the full DIY tutorial HERE
5.) Easy Valentine's Chocolate Bark Recipe
Check out the full DIY tutorial HERE
6.) Chocolate Covered Heart Shaped Cake Pops
Check out the full DIY tutorial HERE
7.) Brown Sugar Blondies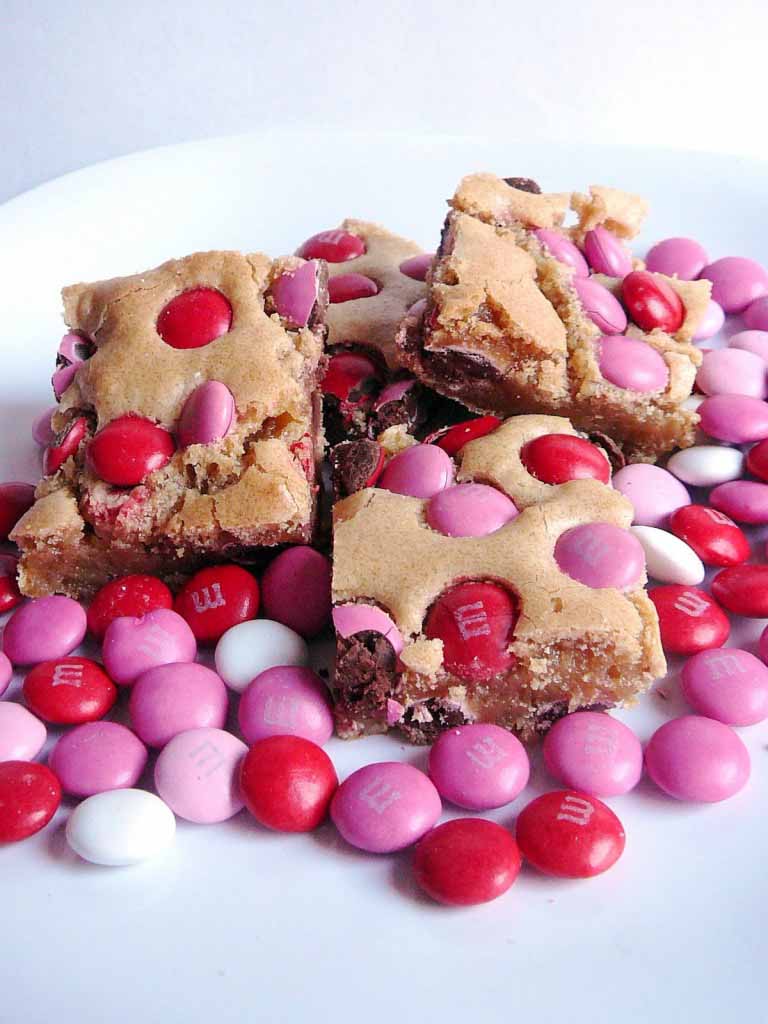 Check out the full DIY tutorial HERE
8.) Red Velvet Chocolate Swirled Brownie Bars
Check out the full DIY tutorial HERE
9.) No Bake Cheesecake Truffles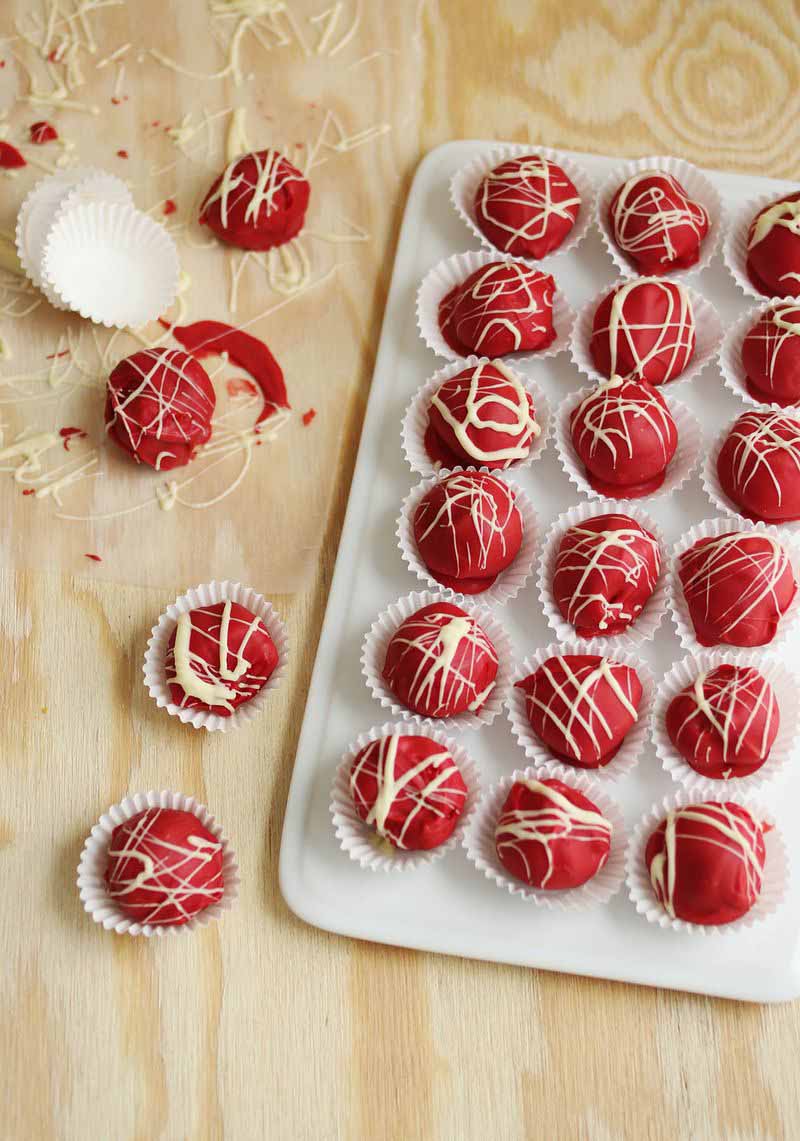 Check out the full DIY tutorial HERE
10.) Marbled Red Velvet Cheesecake Brownies
Check out the full DIY tutorial HERE
11.) Strawberry Nutella Popstarts
Check out the full DIY tutorial HERE
12.) Valentine's Day White Chocolate Bark Bites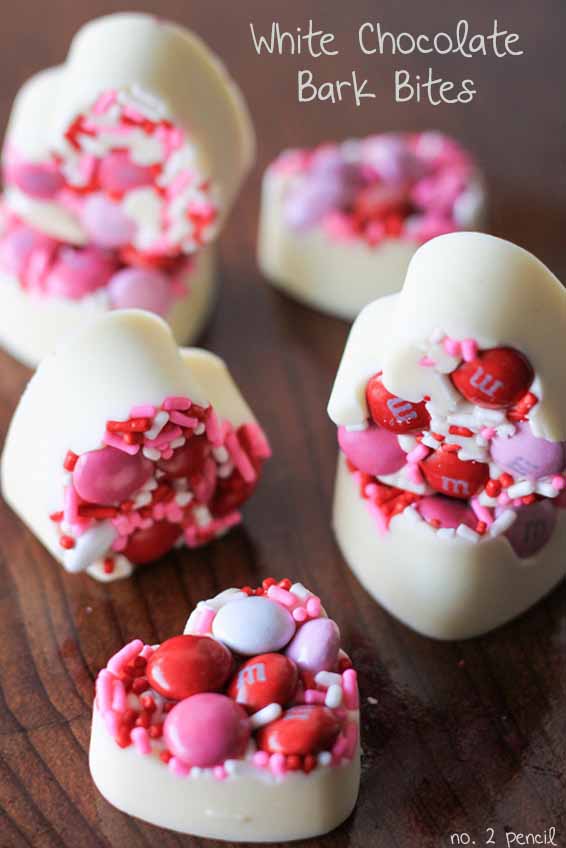 Check out the full DIY tutorial HERE
13.) Valentine's Oreo Pops
Check out the full DIY tutorial HERE
14.) Valentine Jelly Pops
Check out the full DIY tutorial HERE
15.) 3 Ingredient Peanut Butter Cookies
Check out the full DIY tutorial HERE
16.) Strawberry Heart Mini Cheesecake Bites
Check out the full DIY tutorial HERE
17.) Chocolate Dipped Strawberry Pops
Check out the full DIY tutorial aspicyperspective.com
18.) Slice n Bake Valentine Heart Cookies
Check out the full DIY tutorial HERE
19.) Cherry Fudge With Dark Chocolate
Check out the full DIY tutorial HERE
20.) A No Bake Strawberry Cloud Cake
Check out the full DIY tutorial HERE
21.) S'mores Red Velvet Waffle Stacks
Check out the full DIY tutorial HERE
22.) Strawberry Tiramisu Cheesecake Cups
cupcakesandkalechips.com
23.) Valentine's Pita Crunch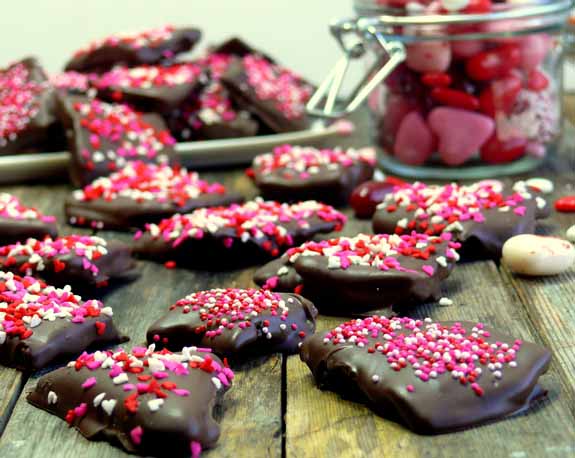 Check out the full DIY tutorial HERE
24.) Toffee Chocolate Chip Valentine's Day Cheeseball
Check out the full DIY tutorial HERE
25.) Red Velvet Hot Chocolate
Check out the full DIY tutorial HERE
26.) Strawberry Cool Whip Cookies
Check out the full DIY tutorial HERE
27.) Red Velvet Sandwich Cookies With Vanilla Bean Philadelphia Cream Cheese Filling
Check out the full DIY tutorial HERE
29.) Valentine's Day Popcorn Balls
Check out the full DIY tutorial HERE
30.) Homemade Fruit Snacks
Check out the full DIY tutorial HERE
31.) Valentine's Day Heart-Shaped Cake
Check out the full DIY tutorial: betterrecipes.com
32.) Strawberry Sprinkle Funfetti Pancakes
Check out the full DIY tutorial HERE
33.) 20 Minute Chocolate Croissants
Check out the full DIY tutorial HERE
34.) Mini banana cream cookie pies
Check out the full DIY tutorial HERE
 35.) Easy Valentine's Day Mini Cakes
Check out the full DIY tutorial HERE
36.) Chocolate Cupcake Recipe with Red Velvet Frosting
Check out the full DIY tutorial aspicyperspective.com
37.) Strawberry Jelly With Real Strawberries and Whipped Cream
Check out the full DIY tutorial HERE
38.) DIY Valentine's Day Treats : Heart Brownies
You May Also Like:
Top 20 Creative Handmade Valentine Gifts For Him