DIY Ladybug Painted Rocks For Garden : Learn Rock Painting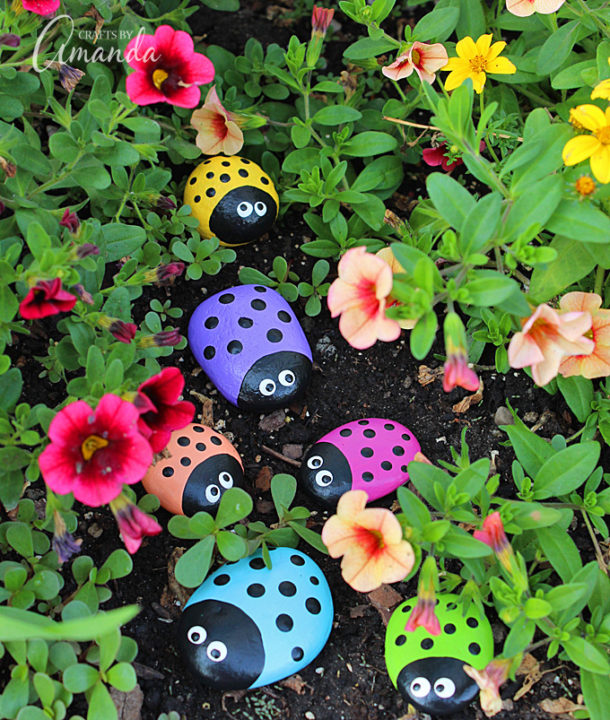 When you go on a next nature walk (or a trip to the dollar store) be sure to pick up some rocks as we'll be making cute painted ladybug rocks craft.
These cute little bugs will look great indoors and outdoors, can't you just imagine them scattered around in the garden?
Painted rocks give unique accents to creative garden designs. Large and small painted rocks are inexpensive outdoor decorations that add beautiful texture, color, organic shapes, and personalized designs to yard landscaping.
Colorful rocks with realistic drawings of flora and fauna and humorous images of insects, birds, and animals make perfect accents for decorating small ponds, patios, flower beds, and garden paths. Hand-painted rocks are excellent art projects for creating eco gifts that surprise and delight.
So this is our today's featured DIY project is 'Lady Bird Rock Painting'. Learn how to make it with below step by step tutorial.
Tutorial : DIY Lady Bird Painted Rocks For Your Garden 

Instead of letting kids watch TV or iPad, let's entertain them with some easy and fun crafts projects, such as painting beautiful rock strawberries, or making some painted pebble ladybugs as shown in above tutorial.
They are easy to make. Just draw the sketch of ladybug with a pencil and paint according to the sketch. Continue to paint the pattern such as eyes, mouth, wings and here you go! The entire family will enjoy making these beautiful crafts. Let's pick up some nice pebbles and get started to paint. Enjoy!
For more DIY crafts and tutorials like this keep on visiting Sad To Happy Project and you can also follow us on Facebook, Pinterest, Twitter
Interested in blogging or string your own website?? Here is the step by step guide on 'How To Start Your Own Blog'.