Make These DIY Colorful Skeleton Leaves : They Look Beautiful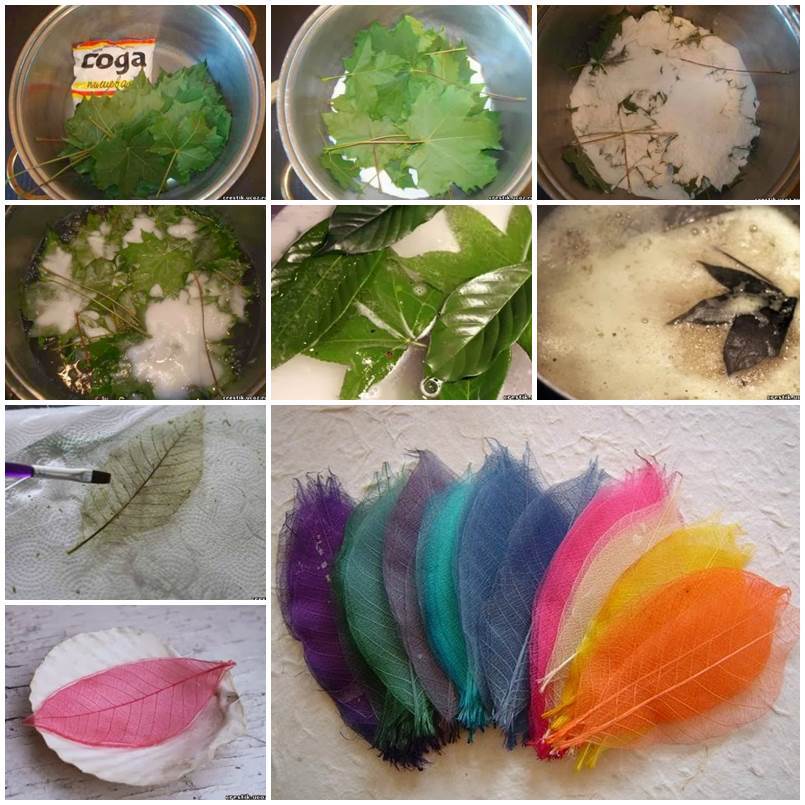 Some people call them 'clear leaves' or 'see-through leaves', but they are actually called skeleton leaves. 
Autumn is a great season which can inspire you to create impressive things in and around your home. To capture all of the energy of nature before it begins to rot and die away, you can use a simple DIY project to keep them supplying some inspiration into your home.
Making some skeleton leaves will keep intact the interesting texture while also giving them a nice color. For this project to be successful you will only need some food coloring, baking soda, a thin brush and -of course- leaves. The process is quite simple. The trickiest part is to be patient and have a steady hand.
Thin, wispy skeleton leaves are often used in card-making projects, scrapbooks, and other paper related crafts. They also make a wonderful leaf project for kids – children can watch the pulp fall out of the leaves (using the water method) and observe the delicate vascular structure that supports the tree once the skeleton leaf is formed. These leaves are beautiful, lacy, and can be purchased from craft stores. Skeleton leaves are also extremely simple to DIY.
Here is a faster and easier way to make beautiful skeleton leaves.
So this is our today's featured DIY project 'How To Make Colorful Skeleton Leaves' . Learn how to make it with below step by step tutorial.
Tutorial : DIY Colorful Skeleton Leaf
For more

 DIY crafts and tutorials 

like this keep on visiting

 Sad To Happy Project 

and you can also follow us on

 Facebook, Pinterest, Twitter
Interested in blogging or string your own website?? Here is the step by step guide on 'How To Start Your Own Blog'.