Some are right for keeping your plants indoors, others are right for your garden, some are great for your desk. We're going to find a bunch of cool DIY plant stands you can make your own with just a tiny bit of effort. In this way, you can be sure that the stand goes well with your home.
30 Best DIY Plant Stand Ideas to Decorate Your Outdoor Space
You can bring a dose of tranquility into your home by adding a lush houseplant or two—and even dress up your leafy friend with a sleek (or rustic) plant stand.
No matter how many houseplants you already have in your home, you might feel like you need more. Don't worry, you don't necessarily need a green thumb to keep them happy and healthy—just look for plants that fit your lifestyle. Display them beautifully with one of these fun DIY plant stands.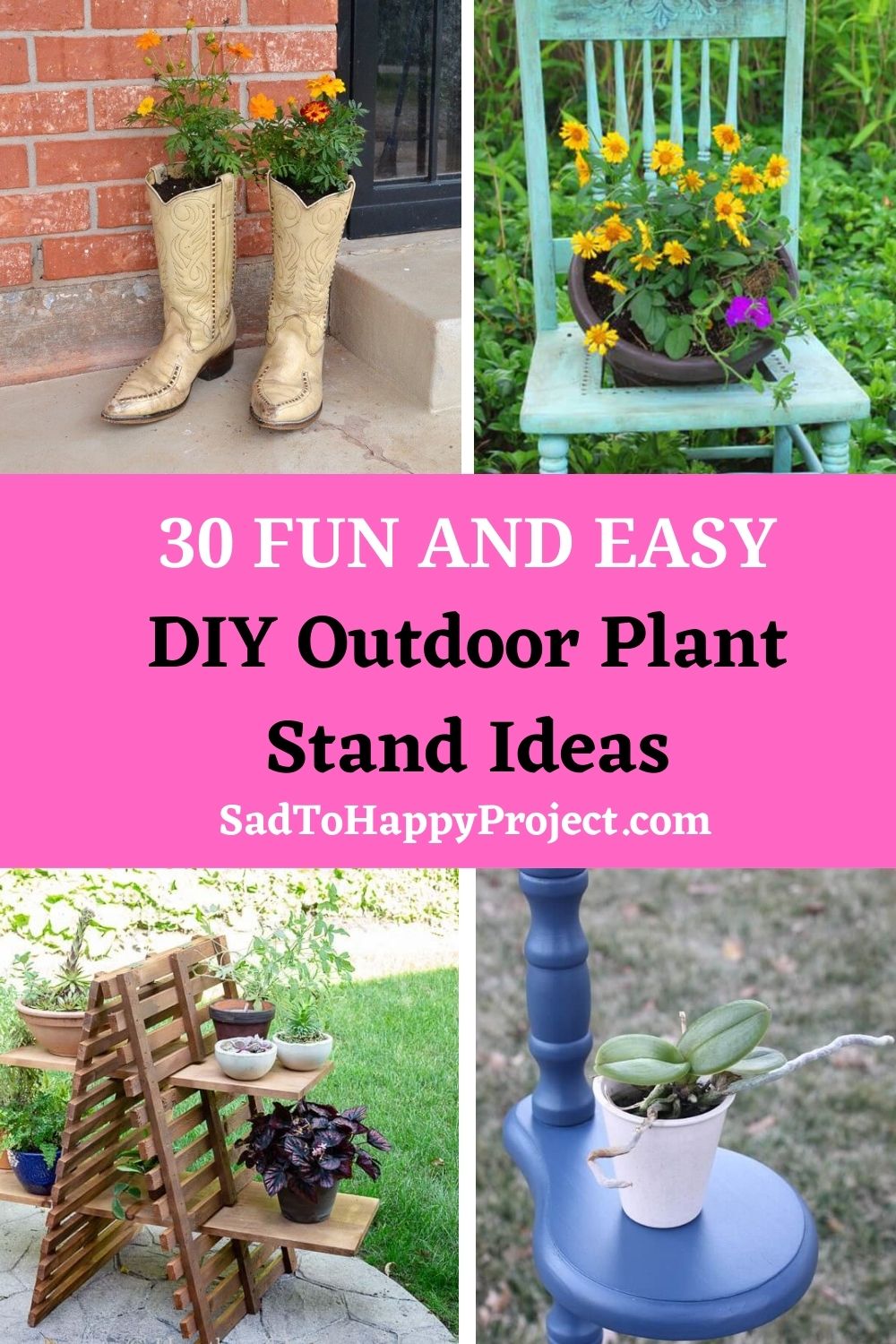 Think of incorporating functional pieces for displaying these plants that also provide some style into your home's design. You wouldn't want an elegant Victorian planter featured on the front porch of your cabin, so be sure to align the style of the stand and/or shelf you choose with your home's overall look and feel.
Some pieces work in nearly any style. And while some of the most popular creations come from wood, these don't need to be rustic in their finished product. With wooden designs, you can begin repurposing which has become a coveted trend in the DIY world. Not only do you help the earth, but you also keep your budget low, so more money can be spent on your actual plants.
1. White Ceramic Planter with Thick Wooden Base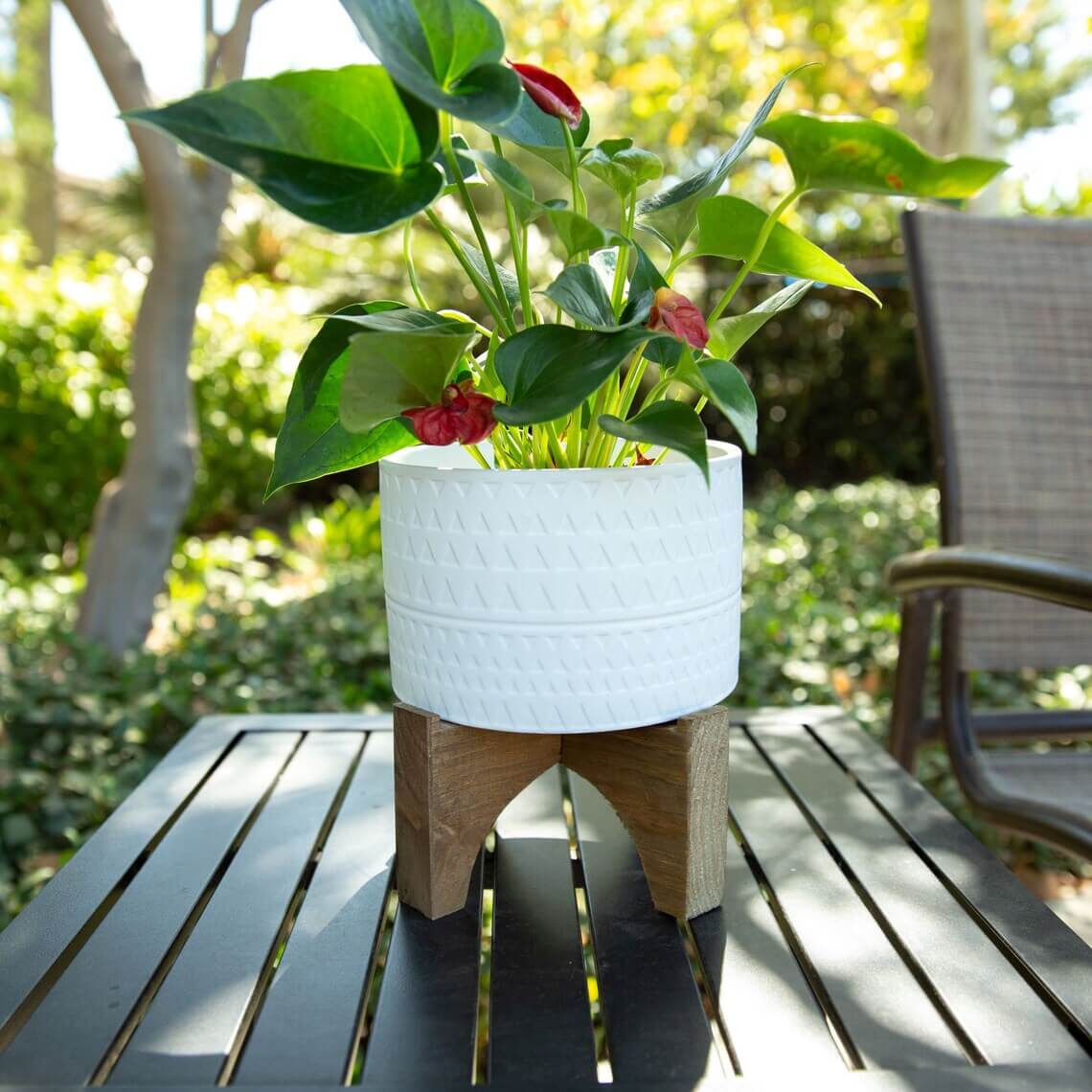 Contemporary and modern design lovers will enjoy the look of this ceramic planter that includes a thick and chunky wooden base. The contrasting materials make a powerful combination in the design world. This particular set would work both indoor and outdoor, further adding to its versatility. Featuring a white ceramic pot, this material provides lots of "breathability" that some of your plants require. Use this as a tabletop decoration for an outdoor conversation area or show it off inside on an accent table.
2. Cedar Lattice and Shelf Outdoor Plant Stand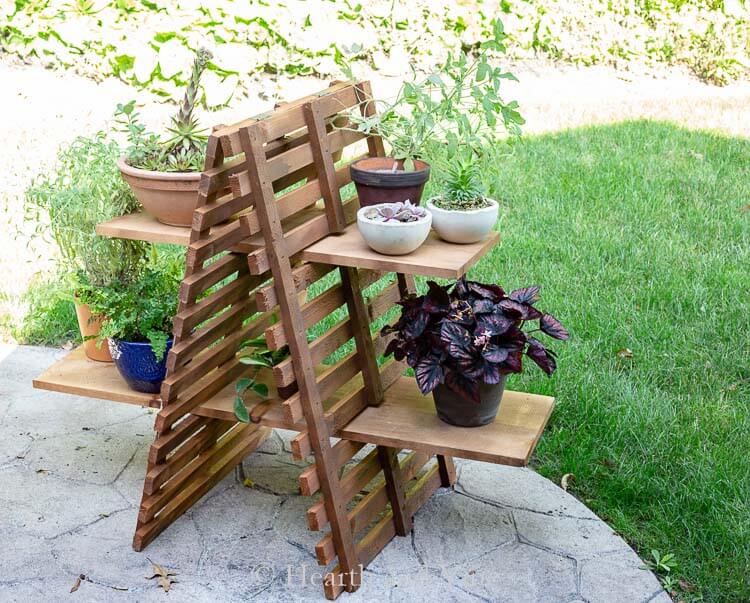 Source: hearthandvine.com
Perhaps you're searching for a unique way to display your plant collection, especially as the temperatures rise and you transition many of your inside favorites to the great outdoors. It's super simple to complete this move with this cedar lattice outdoor shelf stand. Add two or three shelves, depending upon your needs, and you instantly have plenty of space to perch your favorite houseplants. They will enjoy soaking up the sun and fresh air while the summer months persist. The lattice feature additionally offers a feature for vining types to meander up, down, and all around.
3. Double Raised Garden Bed with Lattice Backdrop
Source: anikasdiylife.com
Give your urban oasis a place to garden even in a tight space with this practical and pretty two-tiered raised garden bed. Each rectangular basin provides plenty of room for growing some of your favorite summertime treats. Tomatoes and peppers will thrive in this raised bed where gardening is easier than ever! For your vining varieties, use the top basin as the lattice backdrop offers a wonderful vertical hangout as your cucumbers continue to grow. Place this in the backyard or set it on the back patio to soak up the sun!
4. Set of 3 Cockapoo Planter Feet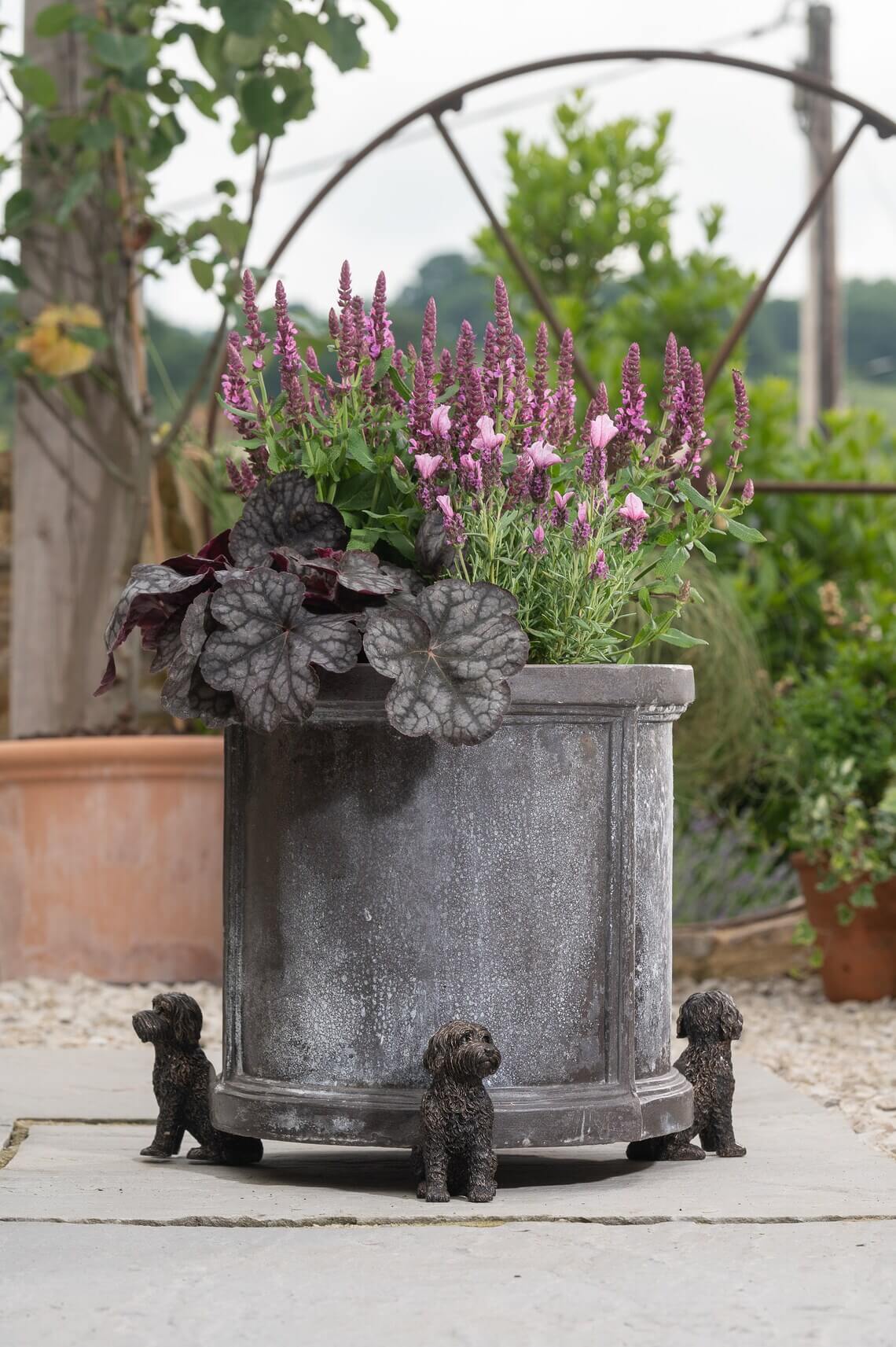 Add a custom look to your planter by including a set of planter feet. This version contains a set of three cute cockapoo pups as the legs. With rich details, any dog lover will delight in this set of fun and friendly feet for potted plants. Created in a durable material, these little dogs can withstand the harsh outdoor conditions during both the cold of winter and the warmth of summer. Choose a planter to highlight with this set of charming cockapoo feet and enjoy the abundance of cuteness oozing from these little resin watchdogs that will certainly keep your plant safe.
5. Wooden Outdoor Planter Decorative Stand
Taking up little space, but adding lots of style is how this outdoor wooden plant stand fits onto your porch. You'll love regaining tabletop space while keeping your plants in view. This decorative stand is quaint but offers enough room for displaying a large flowering pot or several smaller ones. With this plant stand, you'll feel like you've simply added a decorative piece of furniture to your outdoor seating area with its cool design. Choose your favorite finish to complement your home's existing decor for a custom look.
6. Mint Metal Four Tiered Plant Shelf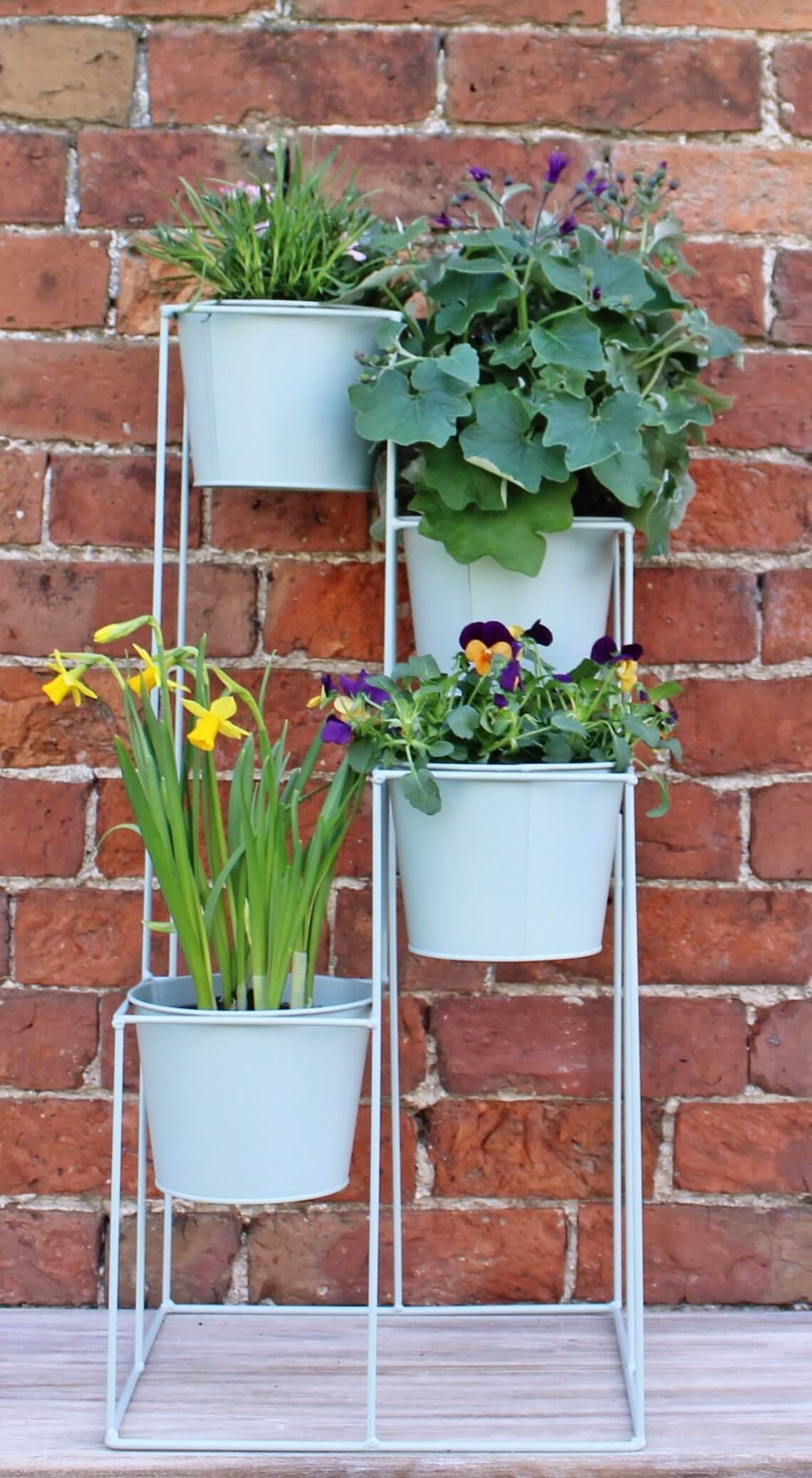 If you're searching for a unique way to display your outdoor plants then you've reached your destination. This multi-level tiered plant stand holds four pots with ease. The mint green finish on the metal is a vintage and retro look that feels ultra-modern. For a one-of-a-kind outdoor decorating idea, consider featuring this homemade outdoor plant shelf idea to mix things up on your porch or patio this summer. Its vertical nature takes up the minimal room while adding a visually appealing wall unit to your outdoor garden scene.
7. Pallet and Picket Fence Wooden Plant Shelf
Perhaps life isn't complete until you've got your white picket fence, but you can compromise with a wooden picket fence-backed outdoor wooden plant shelf. The different levels add height and style to your porch as you have plenty of perches for your favorite plants. Slide this shelf against the house to maximize porch space while offering lots of room for several of your leafy friends. A hook could be added to the front post to add an additional space for a hanging planter too.
8. Wrought Iron Plant Stand for Extra Height
Give your planters a lift, literally, by placing them on a wrought iron stand. The simplicity of these stands is a case in point where less is more. It can't be much easier than positioning your planters on top of these foldable wrought iron legs to give them a new look with this gentle lift. You may even fill up the space underneath with a smaller planter or outdoor decoration. Placing a few of your cherished planters on these stands will add dimension to your look while some remain on the porch itself. You'll love the enriched display you'll achieve with this simple plant stand idea.
9. Decorative Gray Cube Outdoor Box Planter
Add some European flair to your outdoor area with this cube box planter. Although this medium-sized box seems plain in design it features an inset border to add some tasteful style. With a blue-gray finish, you'll be feeling the damp overcast days that feel the days in timeless England. Feature larger shrubs in a set of these planters for a professional-looking outdoor garden or choose one as a highlight for your front porch.
10. Wooden Louvered Sides Outdoor Box Planter
Source: theinspiredworkshop.com
Lots of lines and loads of louvers create a great box planter for your front porch. This DIY planter is a fantastic addition to your outdoor space and is just the right size for housing a large plant. Choose your favorite single large specimen or create a dazzling arrangement with a vining variety to cascade down the sides. Slap on a hearty coating of your preferred stain to make the gorgeous grains in this wood come to life!
11. Vintage Outdoor Garden Chair Planter
Source: shizzle-design.com
A fresh coat of paint in a dreamy turquoise hue makes a great addition to your outdoor gardening space. Simply cut out a portion of the seating area and you'll instantly have the right holder for a featured potted plant of your choice. Choose a flower with petals that contrast the paint color of your chair for added interest and curb appeal. Turquoise and yellow are always in style and a perfect pair for summertime. Together they mimic the cool breeze and warm sunshine that everyone loves about this season.
12. Criss Cross Outdoor Wooden Plant Stand
Source: bitterrootdiy.com
Feature favorite foliage of your choice in this criss-cross outdoor wooden plant stand. Two sides feature this "x" design while the other two are open, adding an interesting detail to the design. Your plant will easily rest in the opening at the top as it shows off the green leaves you enjoy most. Nestle this in the corner of your porch or make a set to surround your front or back door.
13. Chalkboard Painted Tub Rustic Outdoor Planter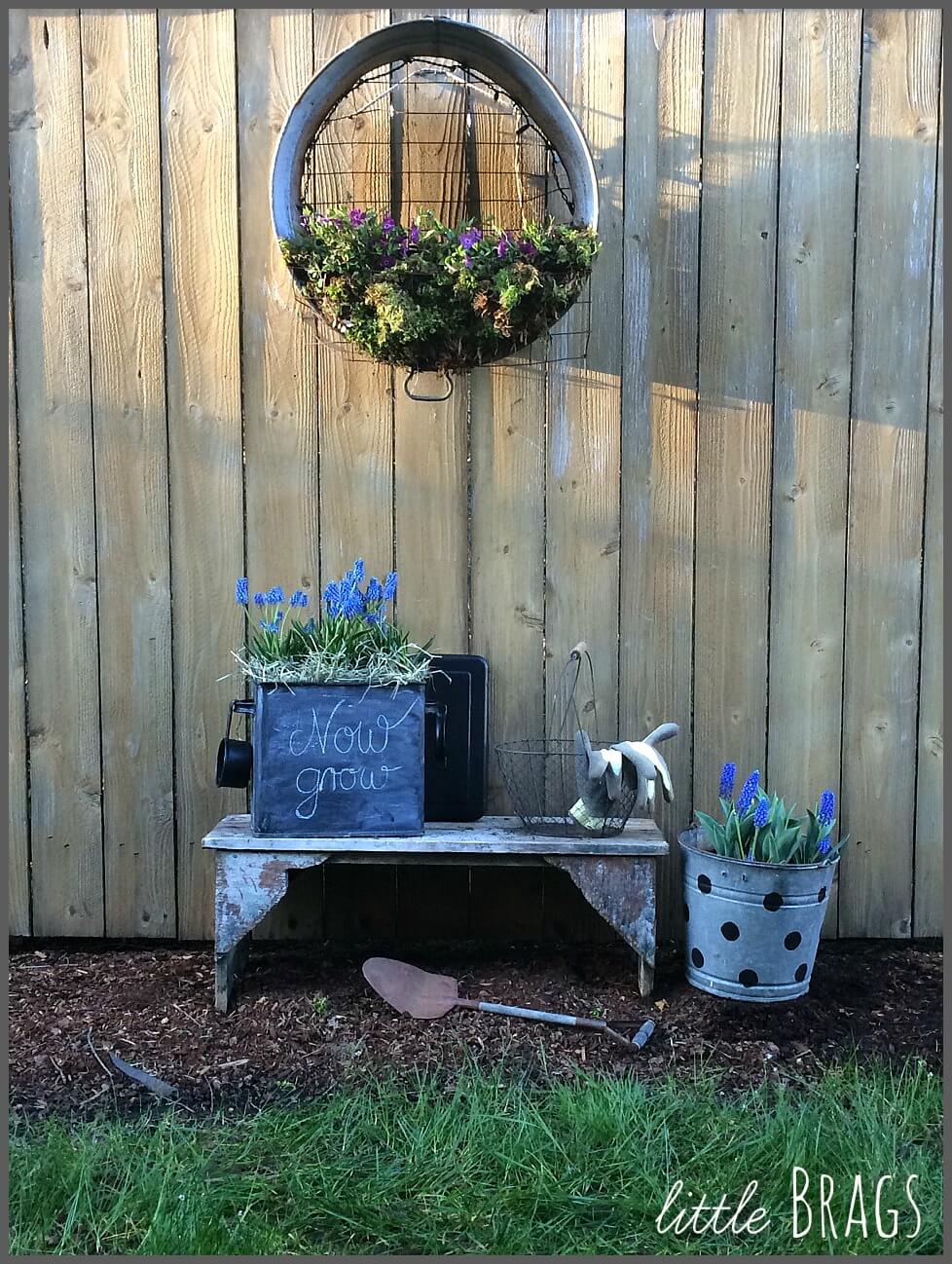 Give a facelift to an unused tub by slapping on a hearty coat of chalkboard paint. You'll enjoy the fun of writing a message or drawing a picture on the side and so will your kids. The paint itself lends a rustic and old country vibe to your outdoor decorating scene. Fill up the inside of the tub with soil and add a favorite plant or two. The new finish works well when paired with some barn wood and metal decorations to tie the entire look together, plus the extra planting space is an added bonus for spring!
14. Revive Front Porch Planters with Spray Paint
Just a can of spray paint can bring back the luster in your front porch curb appeal. Keep the look uniform by painting your pots in the same color as your shutters or choose a different color altogether for an accent. The pristine finish of a fresh coat of paint will make a fast and easy update everyone will love. And it doesn't matter if you're short on time since spray painting is one of the quickest ways to achieve a cheap and quick outdoor planter makeover.
15. Tall Tapered Natural Wood Shiplap Planter
Source: thecreatedhome.com
Continue the modern farmhouse look you love on the front porch with these handmade outdoor plant stands. The shiplap looks great in its natural element, but you may choose to paint or stain it depending upon the exterior motif of your home. Tapering down from top to bottom, the smaller base adds an extra element of design to this simple outdoor wooden planter. Stick one on each side of your front door for a uniform and stylish accent to your front entrance.
16. Vertical Wooden Barrel Ikea Inspired Planter
Stay on-trend and on-budget with this incredible Ikea-inspired planter. With wooden barrel slats framing your planter, you'll add character and charm to your favorite front porch nook. Propped up on a metal stand, your planter gets even more height and adds more beauty that is easily seen by everyone from the sidewalk. Give some distressing to your paint finish for a modern design. The vertical slats are nearly the opposite of the wide-plank shiplap that goes on horizontally making this an original
17. Repurposed Old Ladder Garden Plant Display
Find a new purpose for an old ladder by separating it into two new plant stands for your outdoor garden area. The larger set of rungs quickly becomes a plant version of a blanket ladder providing lots of vertical space for your favorite climbing plants. The smaller section that practically becomes a step ladder makes a nice three-piece shelf for showing off some of your favorite garden varieties. These ladder stands work in a flower bed or on the porch depending upon where you find yourself requiring more plant organization. Leave the paint splatters or any distressed finish since it only further adds to the character of the piece.
18. 2×4 Corner Perfect Porch Plant Organizer
Nestled in the quaint corner of your porch is the ideal location for this easy DIY corner porch plant shelf. The unit is constructed from 2x4s that are easy to find at your local home improvement center. You'll be able to easily accommodate up to 6 potted plant beauties in this simple three-level unit. Choose a stain to match your decor for a personalized touch for even more curb appeal. You can never have too many resting spots for your growing plant collection.
19. Pretty Plywood Tall Square Outdoor Wooden Planter
Sophistication for your grand entrance is pretty simple with some plywood. Create a pair of elegant tall and lean square planters to frame your front door and welcome everyone to your home. Your curb appeal will increase with the sleek design of these handmade outdoor plant stands. Fill them with seasonal flower favorites, like the mums pictured for fall. No need for weeding or extra effort as a single flower for each planter is all you'll need.
20. Multi-Level Tall Wooden Plant Stand
Source: virginiasweetpea.com
Organize your plant collection all in one place with this multi-level wooden stand. Constructed from wood, it provides a sturdy home so all of your plants can hang out together. Its tall and lean nature makes it a perfect homemade outdoor plant shelf idea that just fits in the corner nook of your porch. For a single piece that accommodates so many plants, this option may just be one of the best DIY plant stand ideas you'll find. Place your favorite vining beauties near the top so their tendrils can cascade down, giving them room to grow. Mix and match your succulents throughout as well to give a cool and custom look to your new favorite porch companion.
18. Upcycled Shed Sides Wooden Box Planters
Source: vickymyerscreations.co.uk
Add some character while creating some planting space to your backyard with these upcycled shed wooden box planters. The size you create depends on your needs, but using leftover materials allows you to be as creative as you choose! Instead of throwing these old and worn wooden shed sides to the curb, give them a chance at a new life! You'll gain some shabby chic style in your backyard garden area with these planters. Finish them off with a fresh coat of paint for a cleaner touch. You'll be able to plant a raised bed of vegetables or some of your favorite annual flowers to add a pop of color on your back patio.
19. These Boots are Made for Planting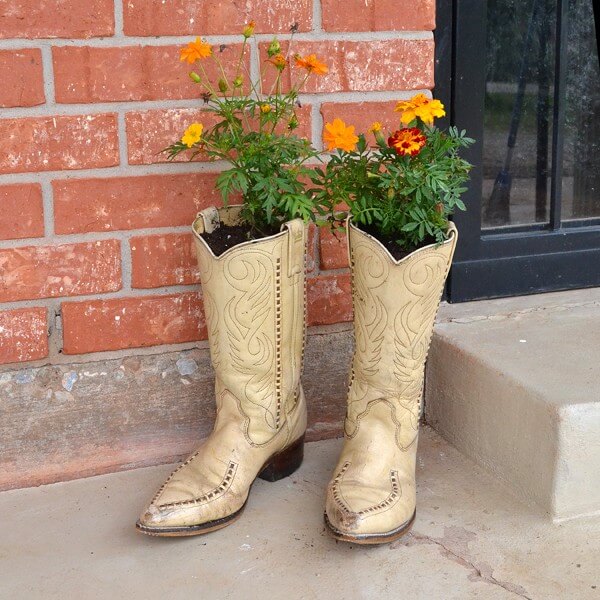 Source: dreamalittlebigger.com
Channel your inner cowgirl and feature this pair of cowboy boot planters on your porch! This dynamic duo is definitely a unique idea and will be sure to entertain guests of all ages. It's a fabulous idea for repurposing a pair of boots you've either outgrown or worn out. The look and feel of the leather further add to the textural beauty of these interesting planters. Continue the western look and feel with some other outdoor decorations like a lasso, barbed wire wall art, or horseshoe decoration.
20. Large Cedar Plant Unit with Arbor
From shelves and planters to overhead hanging space, all of the plants in your coveted collection will have a great place to hang out. Feature your pothos and string of pearls hanging from the arbor and for an extra fun pop of color, add a bold annual or two. On each end, you'll enjoy two square deep planters to flex your gardening muscle with some seasonal tomato goodness. Add a pair of chairs for a dynamic conversation space right in your own backyard!
21. Outdoor Wooden Boxed Planter Ladder
Source: ourhomemadeeasy.com
Add extra planting potential to your porch by thinking vertically. This ladder creation utilizes less horizontal space giving you plenty of room for chairs to make friendly front porch gatherings possible. This cedar box planter ladder offers several perfectly-sized boxes to meet all of your planting needs. From a personal herb garden to a collection of your favorite flowers, you'll be thrilled to include this on your porch this summer. Reserve the lowest box for the kids to create their very own fairy garden and enjoy the relaxation front porch sitting offers while their imaginations run wild courtesy of this miniature fairytale land.
22. Concrete Block and Wooden Shelf Plant Stand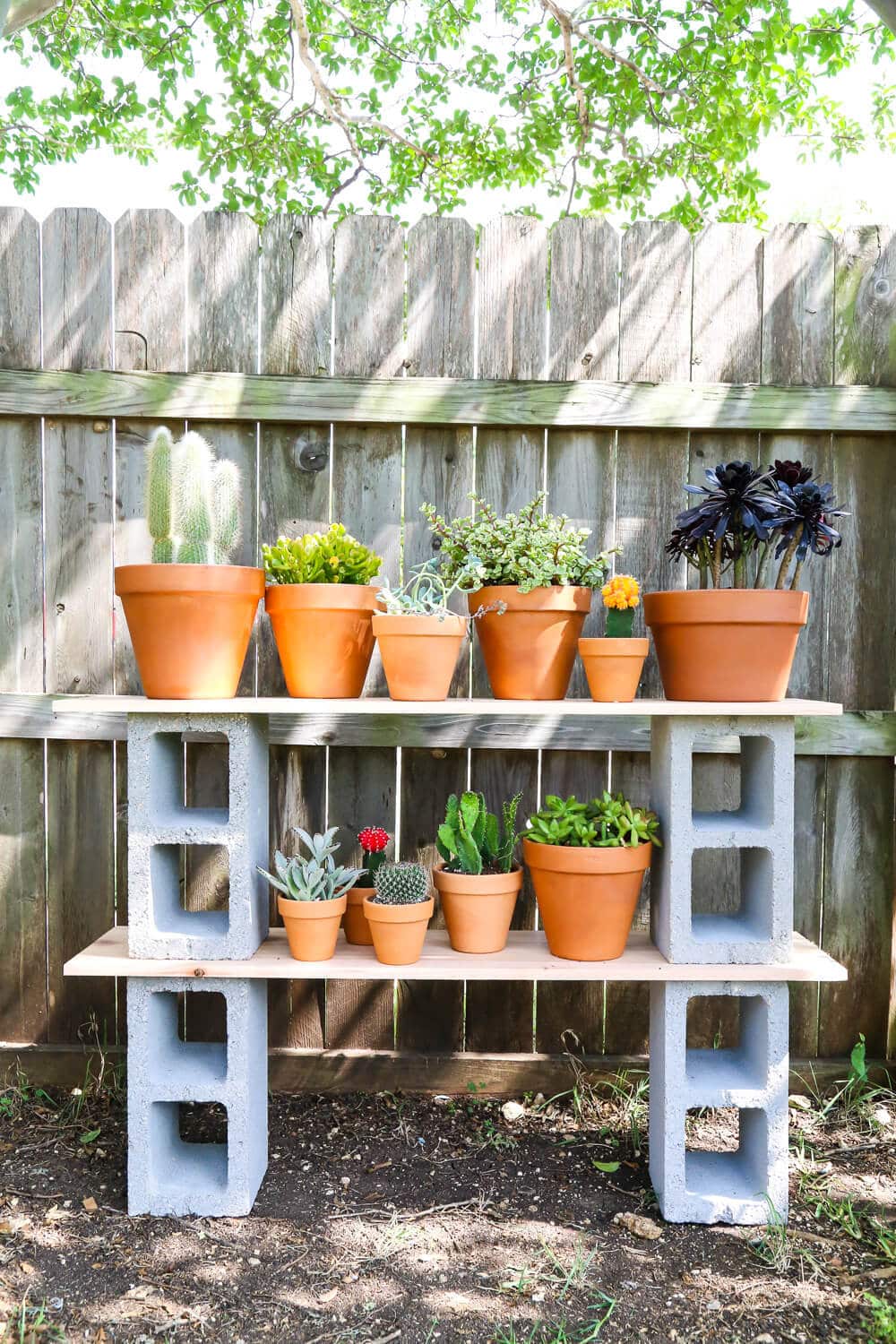 Source: loveandrenovations.com
Here's one of the cheapest and best DIY plant stand ideas for your backyard. All you need is a few concrete blocks and a couple of boards to create this easy outdoor plant stand. In terms of handmade outdoor plant stands, it honestly doesn't get much easier or cheaper than this particular project. Once complete, this plant stand provides enough room on each shelf for at least six planters. And since the foundation of the shelves is concrete blocks, bearing weight is no burden! Enjoy two long shelves filled with all of your terracotta pots or use one shelf to store some of your supplies.
23. Two Drawer Repurposed Plant Stand
Source: beyondthepicket-fence.com
At first glance, you might believe this to be a small step ladder, but with a little closer look you'll notice the upcycled drawers that create a one-of-a-kind wooden plant stand. Not only will you add extra room for planting some seeds, but you also will increase the curb appeal of your home. Each upcycled drawer gives plenty of planting space for your seeds to sprout and thrive. Choose to paint each drawer in a fun and vibrant color to give your porch that pop of color for the warmer days ahead. Fill up the drawer with potting soil and plant directly into it or you might want to arrange several of your smaller potted plants neatly together. No matter how you use this upcycled plant stand, your porch will be the perfect place for it to call home.
24. Tall and Lean Vertical Tiered Plant Stand
Source: hydrangeatreehouse.com
Make the most of your outdoor space by thinking vertically in terms of plant storage. This slim stand takes up minimal ground space while bringing you a lot of room for housing your plants. Featuring three tiers, you'll have all the room you need for keeping your potted pretties in one organized space. This would be a wonderful way to cultivate an herb garden and enjoy the fresh taste of the garden all summer long!
25. Simply Cedar Outdoor Plant Shelf Stand
Grow your favorite herbs from the comfort of your back patio with this charming cedar plant shelf and stand. With two long shelves to hold 3 large plants apiece, you'll have all the outdoor growing space you need for a thriving personal herb garden. The top portion features a set of handles to move your herb garden around as needed. If herbs aren't your thing, use this stand for your pick of hardy houseplants that enjoy getting some outdoor love in the summer. Keep your green thumb alive with this handy cedar outdoor plant stand.
26. Wooden Plant Hanger Welcome Stand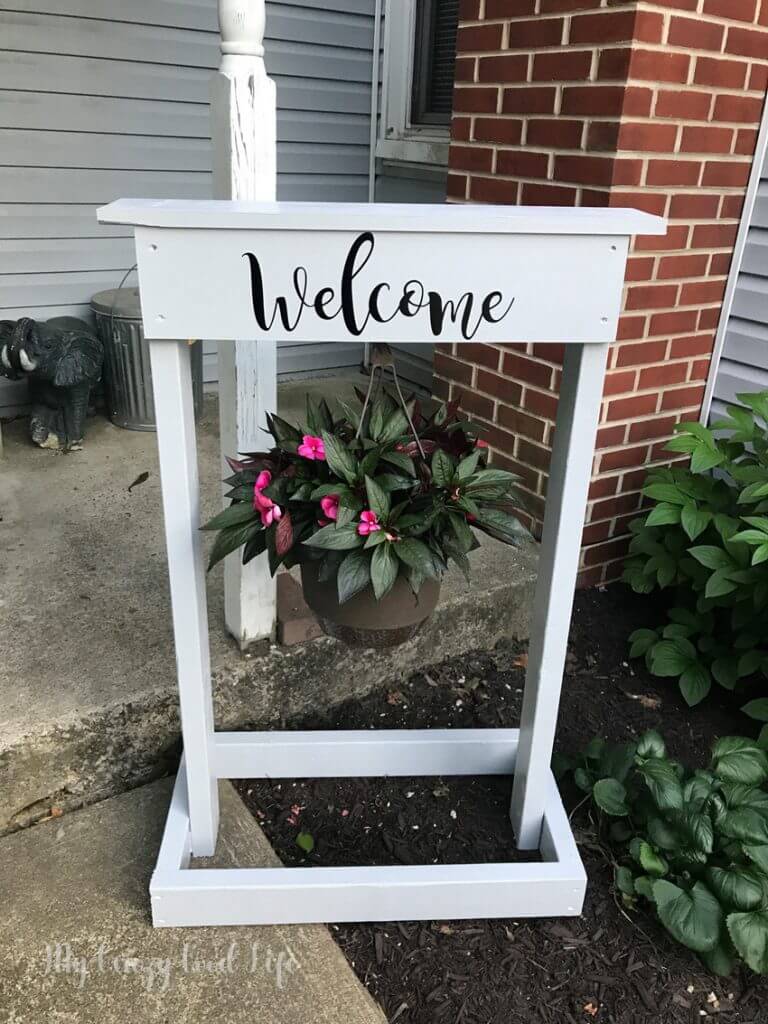 Source: mycrazygoodlife.com
Greet guests with a warm welcome and a gorgeous hanging basket by including this wooden plant hanging welcome stand near your main entrance. Your savvy skills in DIY vinyl lettering make the welcome applique a cinch, while your handy dandy carpentry skills get dusted off too! Finished in a solid coating of crisp and clean white paint, your greeting is sure to stand out. Choose your favorite flower to feature in the hanging basket. Hang on your hook, and your look is complete! This makes a nice gift for a new neighbor or your friend who recently moved into a new home.
27. Industrial Pipe Rolling Outdoor Garden Center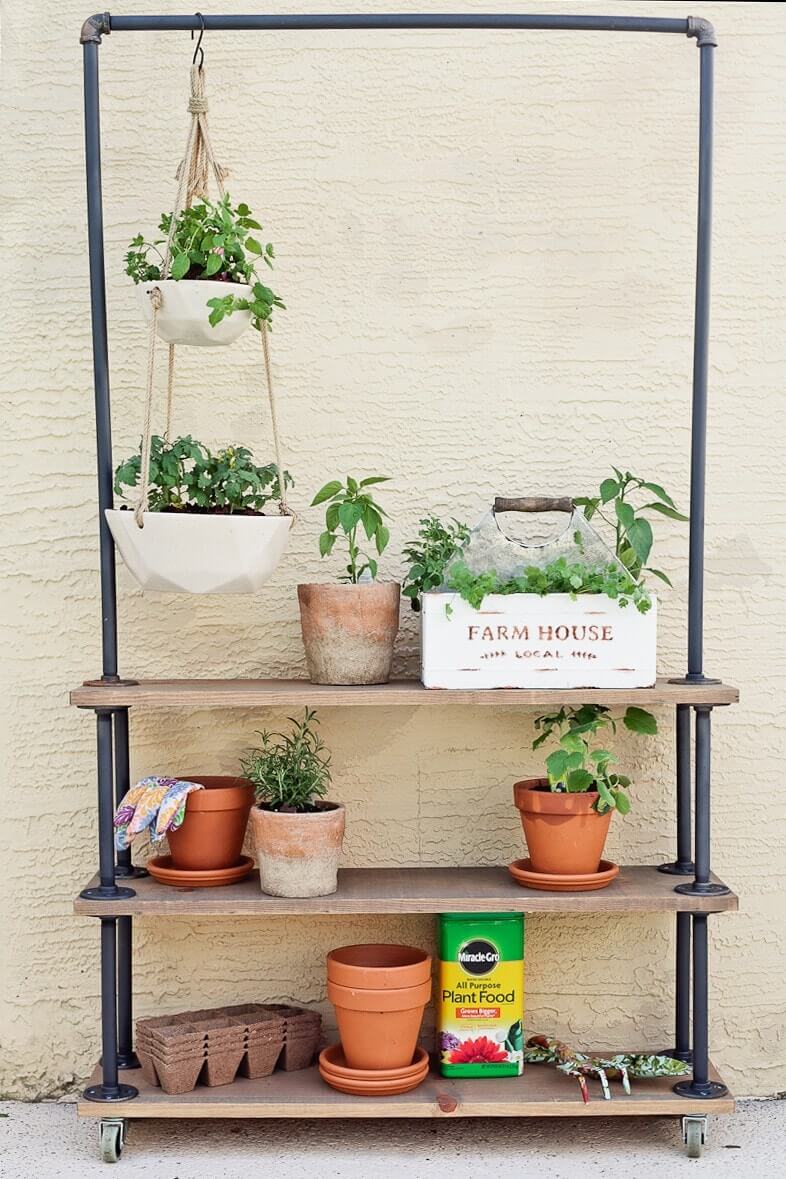 Source: freshmommyblog.com
Create a gorgeous outdoor garden center that quickly becomes a tasteful piece of furniture with this industrial pipe rolling cart. Complete with shelves and a rod for hanging your macrame masterpieces, this center gives you the storage space you need for creating and maintaining your personal herb garden! Show off some of your larger herb species in a beautiful macrame hanger. Use a sectioned wooden crate for keeping several herbs in a confined space yet with individual quarters so your harvesting before meal prep is quick and easy. The bottom shelf makes a nice storage space for extra pots, soil, and shovels.