I prefer to have my bedroom always cozy and comfortable. Pillows play an important role to keep your room cozy. Could there be anything cozier than the look of a pillow? Surely, it will remind you of home.
Have you ever tried making any handmade thing for you bedroom? Lets do some diy for your bedroom today. In this post I have shortlisted the top adorable, elegant and very easy to do DIY Pillow projects. So if you are in search of adorable DIY pillow ideas then look no further. Follow the links after each diy for step by step instructions.
Lets get started. Happy crafting guys.
1. DIY REPURPOSED SHIRT PILLOW COVER
An easy tutorial on how to make a repurposed shirt pillow cover from a men's button-up shirt. This is a fun, fast project and the only sewing skill you need is the ability to sew a straight line! Actually, if it's not exactly straight it doesn't even matter. Check out this step by step tutorial. Source/Tutorial: onsuttonplace
2. DIY Shag Accent Pillow
I love how this pillow looks. This DIY shag pillow is super easy to make and cozy. All you need is, a yard of jersey fabric and cotton fabric that matches the color. This shag look is created by sewing bits of fabric rectangles that you make from the jersey fabric onto the cotton fabric. Who wants to try this DIY pillow cover idea?Source/Tutorial: vanessachristenson.com
3. DIY Gold Foil Accent Pillow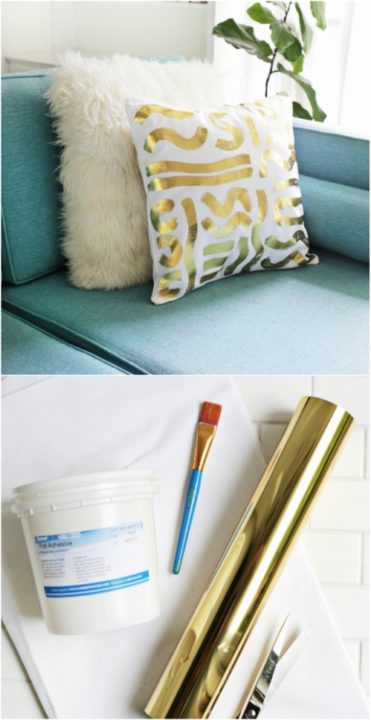 This DIY pillow looks so elegant with gold foil on it. You make the embellishments with gold foil. If gold is not your favorite color then try silver or in holiday season you can try red or green foils. Its super easy to make.  Source/Tutorial: abeautifulmess
4. DIY Animal Shaped Pillows
Your kids will love these adorable animal shaped pillows. They look like animal crackers and are perfect to decorate your little ones bedroom. Ask your kids which animals they prefer as you can do these in any animal shape that you want and add color with pom poms. So simple you could make a whole army of them! By the way, if you don't sew, I suggest to use no-sew glue for this project. Source/Tutorial: studiodiy
5. Easy Dorm Room Pillow
This decision pillow is an easy DIY. The only thing which may take time is deciding what decisions you will place on it. You can customize this DIY pillow the way you want. Dont you think the cube shape makes it unique? It's such a fun DIY pillow idea. Source/Tutorial: thechillydog

6. DIY RUFFLED PILLOW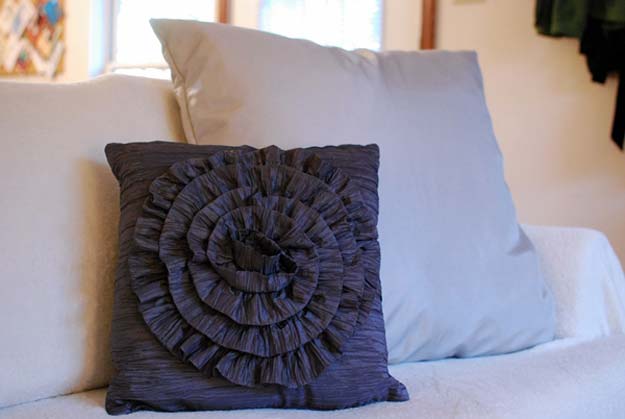 I love this DIY pillow so much.The ruffle takes a large chunk of time. But with patience, you can have a store quality pillow for a fraction of the cost.You'll want a lightweight fabric that is a little higher end, preferably something with texture. Cotton is a little too plain for this project. Check out the step by step instruction.  Source/Tutorial: honeysucklelife
7. Quilt Work Look Pillow
This pillow looks like an old quilt or bedspread. Its a multi fabric pillow. If you have old fabric scraps then its an golden opportunity to reuse them to make something useful. You can make the pillow by sewing together your choice of fabrics. Once done then embellish it with burlap roses or anything you wish.  Source/Tutorial: justanotherhangup
8. DIY Conversation Hearts Pillows
Dont you think these adorable conversation heart pillows are its just for a Valentine's Day? These are one of those easiest DIY Pillow projects. Start by cutting a heart template out of cardstock and use that to measure and cut your fabric. For further deatils for this tutorial link. Source/Tutorial: brit.co
9. Easy DIY Pleated Accent Pillow
I these pleated pillows. When I checked the same online, it was priced for more than $40. But you can save money by easily making it at home. Pleats are really not that difficult to sew. These are made from ribbon. All you need is ribbon of your choice and fabric. I think you will have fun while making this comfortable and cozy DIY pillow project. Am I right?Source/Tutorial: shabbynest.blogspot.com
10. DIY Rose Petal Pillow
I love the look of this rose petal pillow! The petal look is achieved by sewing layered rows of petals from the bottom of the pillow to the top. And honestly, it is really quite simple to make! Simple, yet time consuming. Since it will take time, so make it as a weekend DIY project. To make it colorful and bright use different colors. Source/Tutorial: beyondthescreendoor.com
11. DIY Sprocket Pillow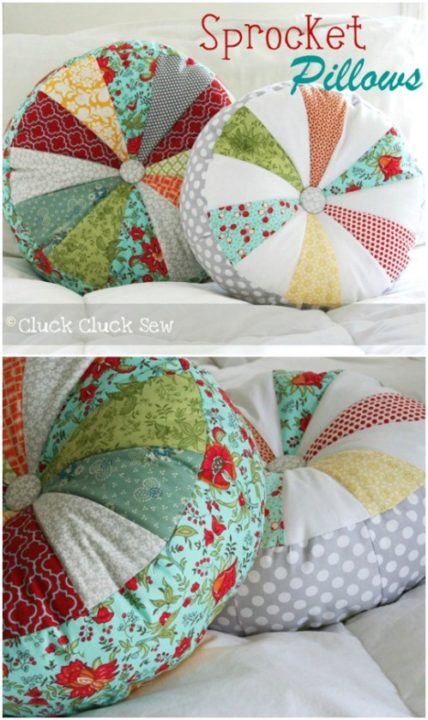 I hope you love these DIY Pillow ideas as much as I do. They are fast and unbelievably easy to make. You can make these sprocket pillows in any number of sizes and shapes. They simply are look adorable. Source/Tutorial: cluckclucksew.com
12. Easy DIY Watercolor Pillows
It will be fun to have a nap on this little watercolor pillow. These colors look so fresh. There are so many color combinations that you can try. How about making a separate pillow for each of your rooms. Source/Tutorial: tidbits-cami
13. DIY BIG BOW PILLOW CASES
Though its called as big bow pillows but in reality it only takes maybe 5 minutes (max) to add the bow to the basic pillow case. Cool right? Check the link for further instructions. Source/ Tutorial: raegunramblings
 14. DIY FOLD-OVER BUTTON PILLOW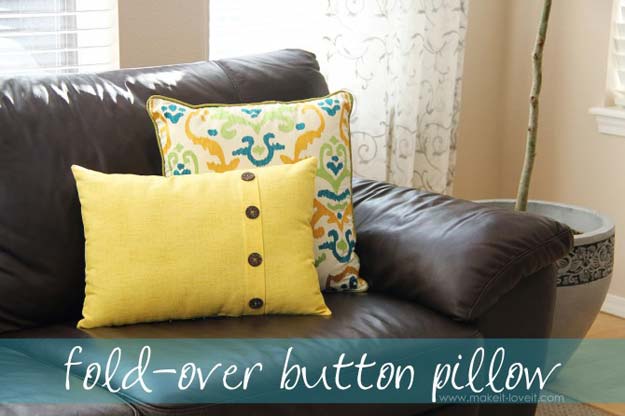 Changing up your home decor can sometimes be as easy as changing up a few pillows.  And good news is, if you just sew them up yourself, it won't cost you as much.  Especially if you're just covering an old boring pillow. Source/Tutorial: makeit-loveit
How many of these amazing ideas do you think you'll attempt this year? I hope you will try atleast one of these amazing DIY Pillow Ideas. Wishing you an amazing happy crafting time 🙂
Thats all for today guys, I hope you had an amazing time here. Do visit our website again for more DIY crafts ideas. Meantime you can connect with us on  Pinterest and Facebook.
Pin This Collection of DIY Pillow Projects for your reference.