It's time to think out of the box, and create something new on our DIY Corner.This week's feature is a DIY Tulle Table Skirt that requires absolutely no sewing and minimal materials. Does it sound almost too good to be true? Although it does take a bit of work it, the outcome is so amazing that it will leave your guests believing that you are a crafting genius!
A tutu table skirt, it doesn't get any girlish than that! After all, what is more graceful and feminine than a lovely ballerina in a tutu? And everyone knows that all the beautiful princesses have dresses made out of yards and yards of soft tulle. So what better way to bring that look to the home, than to wrap a table in a tutu. This is such a pretty look for a little girl's bedroom, party tables and even a big girl's desk. 
Here is a beautiful and easy demonstration of tulle fabric table skirt that you can make yourself. Its will be a great DIY room decor for your baby girl.
DIY Tutu Table Skirt Tutorial – Its Gorgeous Girlish Idea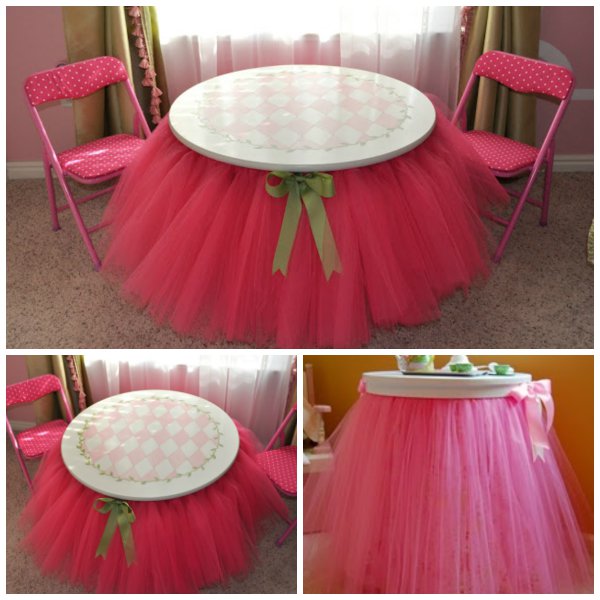 The table skirt resembles a ballerina's tutu and can be made from a single color of tulle or you can make a pattern of tulle ribbon around the table from different colored or patterned strips.
It's not only for a girlish room decor, but various occasions you want jazz up with this no-sew tulle tutu table skirt, whether it's for a party or a baby shower or for whatever event you wish to make it for. 
For more DIY Crafts Ideas like these keep on visiting our website and you can also follow us on Facebook, Pinterest, Twitter
You May Also Like:
Try This Beautiful DIY Wrap Cardigan : Must For Fall

Check These DIY Fun Projects For Kids : Kids Will Love It
Best DIY T Shirt Dress For Summer : Its So Trendy : Refashion Old T Shirt
27 DIY Clothes Ideas :Recycle Your Old Cloths into Something Fashionable
20 DIY Dress Alterations Ideas To Refashion Your Wardrobe
14 Mind Blowing DIY Recycle Old Jeans Ideas:Part 1