A staple gun is a very useful gadget. You can create all sorts of projects with the help of this modern-day tool. 
Whether it's small crafting projects or large tasks, a staple gun will always come in handy in making things easier. In fact, you can totally transform a room in your house or an old piece of furniture with just some wood, some fabric and a staple gun!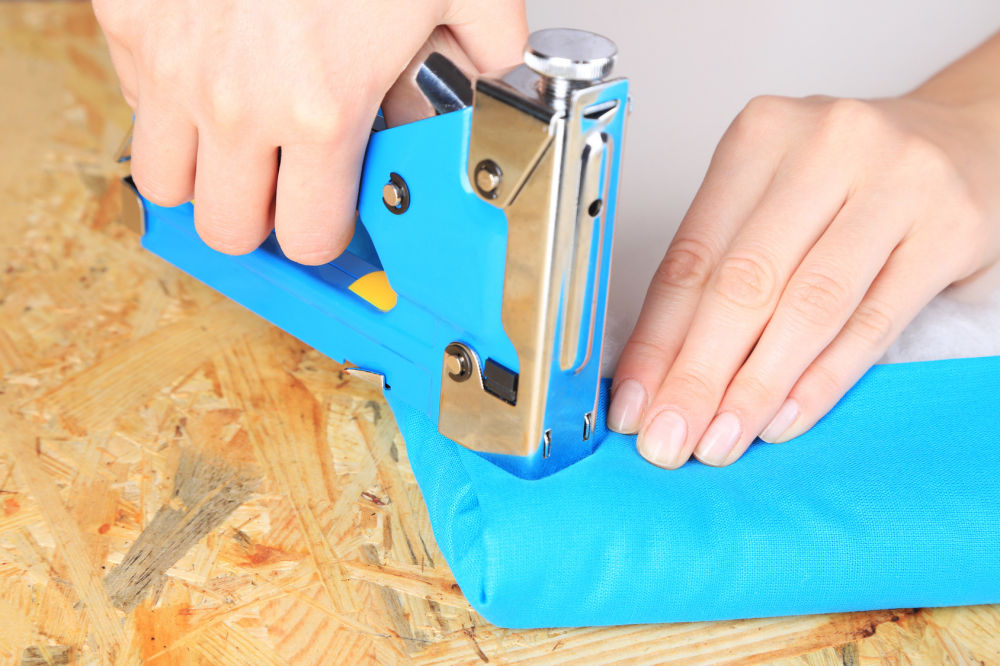 Here are some cool staple gun projects you can try:
Re-Cushioning Old Chairs 
In today's world, saving money by "doing it yourself" is becoming increasingly popular. 
Instead of going to the store to buy new tables and chairs, consider performing some DIY magic on the worn-out cushions of your old chairs. You just need your staple gun to make your dining room chairs look brand new. 
Re-cushioning your chairs is one of the easiest staple gun projects. If your chairs are made of anything other than wood (perhaps they already have padding on them) then remove the fabric and clean the chairs.
Next, find some attractive new fabric.  Trim the fabric to the desired size, leaving a few inches on either side. Wrap it around the chair, keeping the fabric taut. Use your staple gun to attach the fabric to the undersides of the chairs and you'll create a brand new look. It's as simple as that!
Home Decorating
Are you looking to give your living area or bedroom a home makeover? We've got a few ideas for you! 
Create frames you can hang up on the walls for a totally fresh look. Staple guns are ideal for attaching the fabric to existing frames or even building the frames from scratch. 
A DIY photo board is another handy DIY project. Start with a piece of canvas and roll out a piece of fabric on it. Keep some extra inches of fabric on each side, pull it tight and staple the fabric to the canvas. Glue accessories or photos onto the canvas to glam up your room.
Table Skirting
Making table skirts for your children's bedrooms is one of the best staple gun projects. You can let your kids choose their own theme and colors! 
Start by dusting the bedside tables well. Then, place the fabric in its position and measure the length from the top of the table to the bottom. 
Measure the fabric's length to the point where you'd like the skirt to hang. Lastly, staple the cloth to the table. 
You can also add pleats with needles to create a textured effect. A unique DIY table skirt is perfect for baby showers, wedding reception tables, and more.
A Scratch Post for Your Cat
Pet furniture can be pricey but there's no need to spend a fortune on a cat-scratching post when you make one easily yourself.
This is actually a very easy staple gun project – especially if you already have some extra carpeting left around the house.
Find some scrap wood 2×4's and cut a square base out of it neatly. Then, attach a vertical 2×4 vertical stand on the center using wood glue. 
Once the glue has dried, wrap the carpeting around it and staple it to create the perfect DIY scratch post.  
A Bench Out of an Old Coffee Table
If you have an old coffee table, don't throw it away – you can perform some DIY magic on it! 
You can turn your old coffee table into a bench following a few simple steps. 
Start by cleaning up the table. Then, choose your fabric. Place it over the coffee table, allowing a few extra inches on either side. Fasten it in place with the help of a staple gun and voila – you have a new bench! 
A Dust-Proof TV Cover
Televisions are nightmares for gathering dust – even flat-screens! Protect your TV by creating a DIY cover.
Measure your TV and measure out your canvas so that it's a few inches larger on all sides. Make a frame exactly the same size as the canvas and then staple it together. 
Now you can paint or draw anything you want on the frame to decorate it. 
That's it!
As you can see, many things can be made with the help of a staple gun. Whether you're looking to add personality to a room or revamp a tired piece of furniture, there are plenty of easy DIY tricks you can master. 
So, get crafting and watch how much money you save with these handy DIY projects. Have fun!