18 Fun And Unique Easter Egg Decorating and DIY Ideas
Wow, finally Easter is started. Every year as Easter approaches,  people from all over the world hardboil eggs, dye, paint and decorate them. You might ask why eggs are so important part of this festival?
The egg, is an ancient symbol of new life. So when we give eggs, it indicates we celebrate new life. As per the history, Easter egg decoration is tradition that dates back to at least the 13th century.
Earlier easter eggs were hen or duck eggs decorated at home with stunning bright colors, charcoal and vegetable dye. However nowadays people make chocholate eggs, plastic eggs, j-lo shots eggs too. These easter eggs are used in many haliday games. Like Easter egg hunts, egg rolls.
Easter egg has a huge market, which comes up with large variety and presentation to attract more customers each year. You can check it over HERE
. However if you would like to make your easter eggs at home then as always we are here to help you.
Many people still wonder how to decorate easter eggs, they search for many unique ideas. Now you dont have to worry, we are going to publish a series of articles on 'How to decorate easter eggs'.
As the name suggest, these articles will have all the unique DIY easter egg decorating ideas on the internet. For full step by step instructions please check the links provided below.
We hope you would love these innovative easter egg ideas. Happy easter. Have fun!! Cheers.
1.) By using Mod Podge
Plain colored eggs are a thing of the past. Now, Easter eggs can have different patterns and you can even make lines and letters on them. Creating your own unique eggs is really not hard and it makes those egg hunts so much more exciting and even a bit harder depending on the colors that you use. You can even spell out messages with your eggs when you add letters to them.
Check out the full Mod Podge Easter Eggs tutorial HERE
2.) By using Naturla Herbs
Use what you have around you to create beautiful natural Easter eggs. Small flowers, herbs or just about any outside growth can be used to decorate those eggs and you can avoid using dyes altogether if you want. Depending on where you live, you may have loads of buds and small flowers coming up that could be used to give your eggs a natural look and one that is completely safe, without toxins.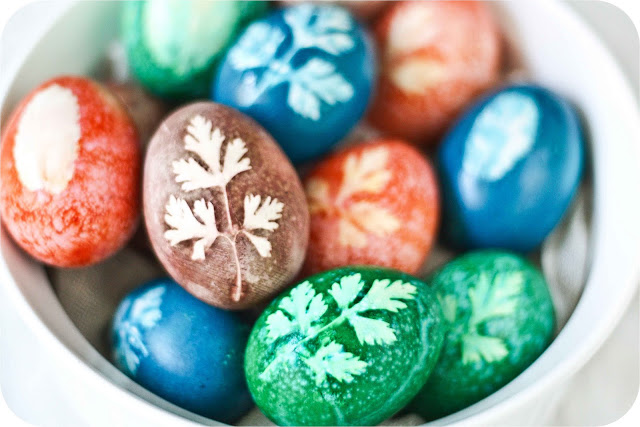 Check out the full DIY DIY Herb Stenciled Easter Eggs tutorial HERE
3.) By using nail polish
The secret to the perfectly unperfect marble egg? Swirl a favorite nail polish hue into water and then dip the egg in — just be careful not to ruin your own mani!
Check out the full DIY Nail Polish Marbled Easter Eggs tutorial HERE
4.) By using indigo dye
It's that time again – time to gather those eggs and think about how you want to decorate them for Easter. While the traditional way of dyeing in a vinegar based dye is always good, there are many other ways that you can make those eggs really stand out.
Check out the full How to Dye Easter Eggs with Indigo Dye tutorial HERE
5.) By Using paint and glue
Check out the full DIY Giant Painted Easter Egg tutorial HERE
6.) By using gold leaf
Whether you like glitter, stenciling or you really do prefer the vinegar based dyes that you used when you were a kid, you are sure to find a decorating idea that you will love. Take a look at the different ways that you can make your eggs extra special this year. There is a decorating idea for every preference and many that may really blow your mind.
Check out the full DIY Paper Easter Eggs tutorial : littleinspiration.com
7.) By using Paper
Check out the full DIY Paper Easter Eggs tutorial HERE
8.) By using dye and paint pens
You don't have to stick with the traditional way of dyeing your eggs. You can paint them instead if you like. Acrylic paints work very well for making unique Easter eggs and you can paint anything that you want on them. Match pastel colors for a really spring-like look or create your own little picture scene if you want. This is a great way for older children to enjoy coloring those eggs this year.
Check out the full DIY Ukrainian Easter Eggs tutorial www.marusyamarusya.com
9.) By using a needle and thread
These eggs are made by using craft thread and Styrofoam eggs, although you could probably use hard boiled eggs if you wanted. If you have craft thread sitting around, you can put it to good use by creating these very colorful and very beautiful eggs. Use them for decorations or if you are using hard boiled eggs, they are sure to get loads of attention at your egg hunt.
kollabora.com
10.) By Using Silk ties
Decoupage is fun and gives you the chance to be really creative. With just a little imagination, you can create very unique and beautiful decoupage Easter eggs. This is a great project for older children as cutting will be needed. Choose your cuttings from fabric or even magazines if you want and then affix them to your eggs. There is no limit to the pictures that you can use for this project.
Check out the full DIY Silk Tie DYED Easter Eggs tutorial HERE
You may also like to check below video : 8 Cute & Easy DIY Easter Egg Decorating Ideas | Sea Lemon
For more DIY tutorials like this keep on visiting Sad To Happy Project and you can also follow us on Facebook, Pinterest, Twitter . 
Interested in creating your website like this?? Here is the step by step guide on 'How To Start Your Own Blog' for you. It super easy.