Do you have any carpeting to put to use? What do you do with old carpet that you are not using anymore? You may be looking at it as such a waste to just toss it in the trash.
But do you know, a lot of the time old carpeting still has some life.
Today we have rounded up a few amazing DIY Carpet Repurposing Ideas.
If you have no old used carpet and if you still wish to try this DIY then you can buy Carpet HERE online.
We hope you will enjoy these ideas. Do follow the links below for step by step instructions.
1. Upcycled Carpet Scrap Door Mat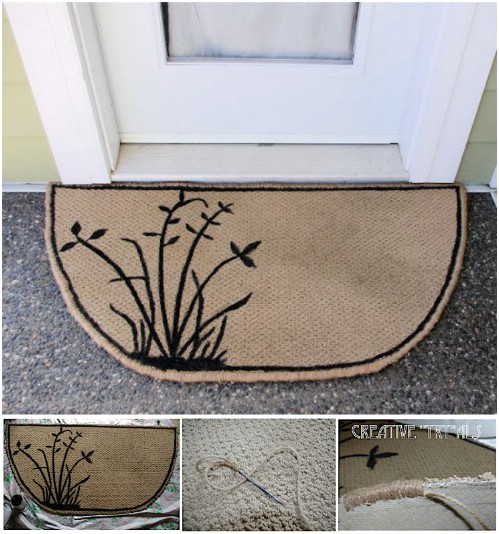 If you are in doubt that how will a used carpet help to make a nice home decor then you got to DIY Carpet Repurposing Idea. This diy custom door mat project is very simple to create. If you wish then you can further customized this project by  painting the carpet with a color of your choice. Trust me, this can be a perfect DIY gift for housewarming. Source/Tutorial: creativetryals
2. DIY Tapestry Wall Hanging
Make you wall decorative with this gorgeous wall hanging. To make this DIY, you can use a carpet or rug. It may take a little more time to get the final output but its worth to give this DIY a try. Source/Tutorial: abeautifulmess
3. Pottery Barn Inspired Upholstered Headboard
Yes, you can make a rustic upholstered headboard using old carpet or a small rug. It creates a different unique look. Use your imagination to make it in different ways. For reference check this tutorial.  Source/Tutorial: preciouslypaired
4. Repurposed Carpet Stool
If you wish to buy the same furry stool online or from a shop, it will cost you some hundred dollars. But then how about reusing your carpet to make this fabulous looking home decor. Take that old carpet and use it to make a wonderful seat for your stools.Stool is just for reference, you can acutly use chairs or photo frames and give them a nice makeover with this DIY Carpet Repurposing Ideas. Source/Tutorial: splendidhabitat.com
5 DIY Upcycled Carpet Scratching Post
If you are a cat lover or if you have a cat at home then this DIY is for you. Your cat is going to thank you and will have a fun time all day long. You can train cats to use a scratching post. Source/Tutorial: dreamalittlebigger.com
6. DIY Upcycled Rug Ottoman
You can actucally save some money if you think of trying this DIYs. It's a great way to use up that old carpet. If you have an old ottoman that you want to uplift with a makeover, this is the perfect DIY project. Source/Tutorial: .tealandlime
If you have no old used carpet and if you still wish to try this DIY then you can buy Carpet HERE online.
So, how do you reuse old carpet scraps?
After checking these DIY Carpet Repurposing Ideas, now you know what to do with your old carpet. Consider these new DIY ideas for a weekend project!
So don't toss those pieces of old carpet. You'll reach for them again and again for projects at home. When it's time to rip it all out and throw down some new stone or wood floors, your carpet isn't as dead as you might think. 
Thats all for today guys, we hope you had an amazing time here. Do visit our website again for more DIY crafts ideas. Meantime you can connect with us on  Pinterest
Also save this pin for your future use. Thank you for visiting our website.