12 Top Creative DIY Bird Bath Ideas That Are Fun and Easy To make
DIY Bird Baths are the most creative think you can make to give that personal touch to your garden. Have ever seen these kind of bird baths at your friends or families place? Well you can easily buy there HERE. But making your own Bird Bath at home is a different fun thing altogether.
Even when the birds aren't dipping, sipping and sunning, this easy-to-make, easy-to-clean birdbath is plenty festive in the garden.
Here are the selected DIY bird bath ideas for you. Do follow the link to check the step by step instructions.

Repurposed Chip Platter Bird Bath
Just an inexpensive plastic chip and dip platter can easily be turned into an adorable bird bath with hardly any work. These chip platters are easily available in the shops. All you need to do is, just attach them to a pedestal of sorts and put them in your garden. Chip platters have different designs and colors. Source/Tutorial: flicker
DIY Concrete Leaf Bird Bath
This one is my favorite. It may take some time to create this DIY Bird bath , but trust me it will take your garden to entirely next level. This DIY leaf bird bath project will create a one-of-kind watering place for the birds in your backyard. You can take any any big leaves to make this bird bath. This DIY leaf bird bath will a nice hangout place for butterflies, too. Source/Tutorial: birdsandblooms
Cheap And Easy Bird Bath
This bird bath can actually be built with little or no money. Collect some sticks from your yard and then you just have to add something to act as a water basin. For that any old dish or bowl will work. If you want a bird bath that you don't have to spend money on, then this is your DIY BIRD BATH project. It's easy to make and if you have an old dish to use, it won't cost you anything to build. Source/Tutorial:  theartofdoingstuff
Upcycled Teacup Bird Bath
Make a tea pot bird bath by using thrifted items. Now think twice before throwing away those old tea cups. Source/Tutorial: morenascorner
DIY Mosaic Bird Bath
Do you love DIY mosaic projects?  If yes, then this one is really beautiful. In a matter of some productive hours, you can turn a normal terra cotta pot and some broken glass into a beautiful new bird bath. This can be a perfect DIY gift and your love ones will really appreciate the design of this one. It's not a difficult project although it will take you a bit of time if you are not used to do mosaic projects. When you're finished though, you will be really glad that you put that extra time in. Source/Tutorial: birdsandblooms
Upcycled Glass Lid Hanging Bird Bath
With this project give your bird more options 🙂 Your bird bath doesn't necessarily have to sit in your garden. Then how about making this hanged DIY Bird Bath? Sounds interesting? This one is made from an upcycled glass lid and hangs from a tree and it is so easy to DIY. Hage this one near their nests. Birds will love having their bath near their nests. Source/Tutorial: sadieseasongoods
Repurposed Glass Dish Bird Bath
Do you know, you actually can build a bird bath out of just about anything, provided it gives you space for water. This one is my personal favorite as it is made from repurposing some old glass dishes. Do give it a try 🙂 Source/Tutorial: empressofdirt
Stacked Stone Bird Baths
This rustic DIY Bird Bath is going to pair well with your outdoor farmhouse decor . If you are a rustic home decor lover then these stone bird baths are perfect for you. Main material you ay find in your garden. You can gather rocks from the yard or check with your local construction projects.Then all you have to do is, just stack them up and add a water basin and you have a rustic and lovely bird bath for your little feathered friends. Source/Tutorial: ourfairfieldhomeandgarden
Recycled Lamp Base Bird Bath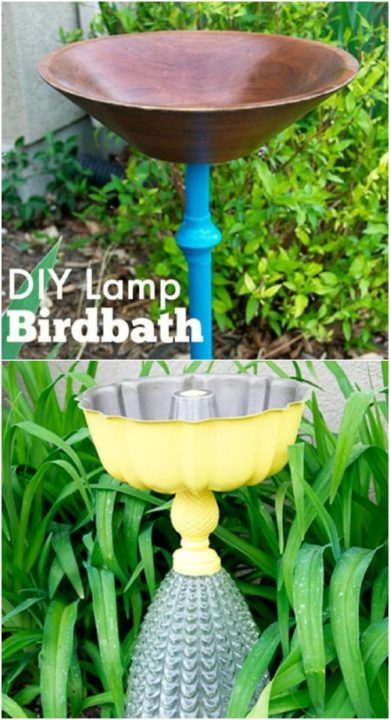 This bird bath looks quite different. Do you think because of its different look it will attract more birds. Well, for that you will have to try it first. Follow the link for step by step instructions. Source/Tutorial: sheknows.com
Repurposed Oil Pan Bird Bath
Learn how to create a beautiful DIY bird bath with this step-by-step pictorial tutorial! All you will need is an oil pan, PVC pipe, pump, and plastic tub filled with water. Source/Tutorial: homestoriesatoz
Upcycled Chair Bird Bath
Have you ever imagined the idea of using furniture in the garden?. This upcycled chair bird bath is another great idea to reuse that old furniture and turn it into something new and exciting. You can use any type of chair you want. And then you just have to add something that will hold the water. Source/Tutorial:  daisymaebelle.com
Easy $5 Serving Bowl Bird Bath
This is that one of a kind thrift store diy project. Buy a glass serving bowl for less than $5 at thrift stores or check your local Dollar Store. Once you are home start making this unique DIY bird bath. This is one of the easiest ways to get your own bird bath and if you work nonstop, it won't take you longer than an hour to complete. You could do a few of these in different sizes and really dress up your garden. Source/Tutorial: homejelly
Again, if you have no time to make these birdbaths at home then you can buy it online HERE.
We hope you enjoyed these DIY Bird bath ideas and projects and you will get it a try. Thanks for visiting our website. Do come tomorrow for another unique DIY crafts and Projects ideas.
Do check the source link to follow the instructions. You can follow us on Pinterest and Facebook.
Also save this pin for your future use. Thank you for visiting our website.