7 Super Low Budget DIY Garden Pots Projects: Part 1
Summer is here, why are you sitting at home? Why don't you go outside and make something beautiful for your garden?
Are you one of them who think they will have to spend a lot of money to make their garden and home beautiful?
Who says you cannot have a beautiful garden without spending lots of money on it?
Garden is a place where you can relax any time of day. If you have a chance to have a garden, take care of it regularly.
Spend some of your time to make your garden look really awesome.
There are a lot of amazing decorations that you can make from old stuff.
Today we will present you some ideas for diy garden planters/ pots from an old stuffs.
An attractive garden can include beautiful examples of flora. Flowers are a great part of any garden.
What do you do when your plant need more space to grow or simply what do you do when normal planters aren't enough for your specific needs?
In this article, We will show you about as many as 7 DIY gorgeous looking garden pots, planters and container ideas.
With these ideas,make unique DIY garden pots for your plants and flowers.
All you need to do is to find some old item and repurpose it into amazing plant containers.
These Low-Budget Garden Pots and Container Projects will inspire you to decorate your garden in most creative way.
Turning your regular objects into intriguing flower pots will certainly fascinate anyone.
Get a pair of footwear or used hats and flip them into little houses for your flowers.
Tea cups or even bathroom sinks, bicycles can be best carries of plants and flowers.
Have a look.
1.) Backyard Tin Can Fence Garden
Check out the full DIY tutorial HERE
2.) DIY Recycled Barrel Garden Pots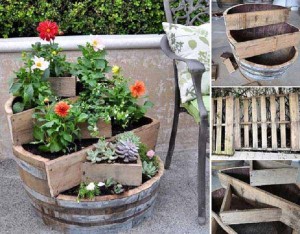 Check out the full DIY tutorial HERE
3.) DIY Log Planter for Flowers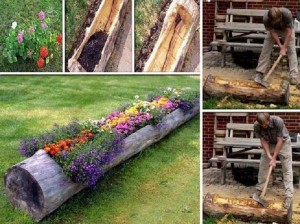 Check out the full DIY tutorial :aproverbs31wife.com
4.) DIY Vertical Plant Hanger
Check out the full DIY tutorial HERE
5.) Old Drawers into Porch Planters
Check out the full DIY tutorial HERE
6.) DIY Vertical Flower Bed
Check out the full DIY tutorial HERE
7.) DIY GARDEN PLANTER & BIRDS BATH
Check out the full DIY tutorial HERE
These ideas are unusual and would make your garden be noticed and appreciated by all.
Make your garden stand out.
Hey don't forget to share these ideas. Have fun. Happy gardening.