Top DIY 35 Magical Fairy Garden Ideas
If you love creativity and gardening then I am sure you will love this new gardening trend.  Creative people always come with amazing DIY ideas and gardeners are not exceptions.
A garden doesn't have to be big, time-consuming to construct, or conventional. This new gardening idea not only make your garden attractive but it also will help you to reuse old broken pots!

So don't throw away your old broken pots for this DIY project! With this new trend you will be able to create all sorts of creative garden arrangements.To create such a fairy garden yourself is very simple and not costly at all, you'll just need some broken terracotta pots that you wish to recycle, a hammer, some decorative rocks, soil and, of course, succulents and plants. 
 Miniature garden designs and Fairy gardens are the art of capturing wonderful details that create peaceful and pleasant places. Most of the fairy gardens are simply designed and easy to accomplish but the more you add details the more it becomes challenging. You can create various gardens depending on your skills and imagination. 
Find out how to make a DIY miniature fairy garden and get ideas for this enchanting and fascinating garden trend, suitable for both kids and adults.
Source: daily-colours.blogspot.nl
A miniature garden arbor and walkway make a cute setting for your fairies.
Source: themagiconions.com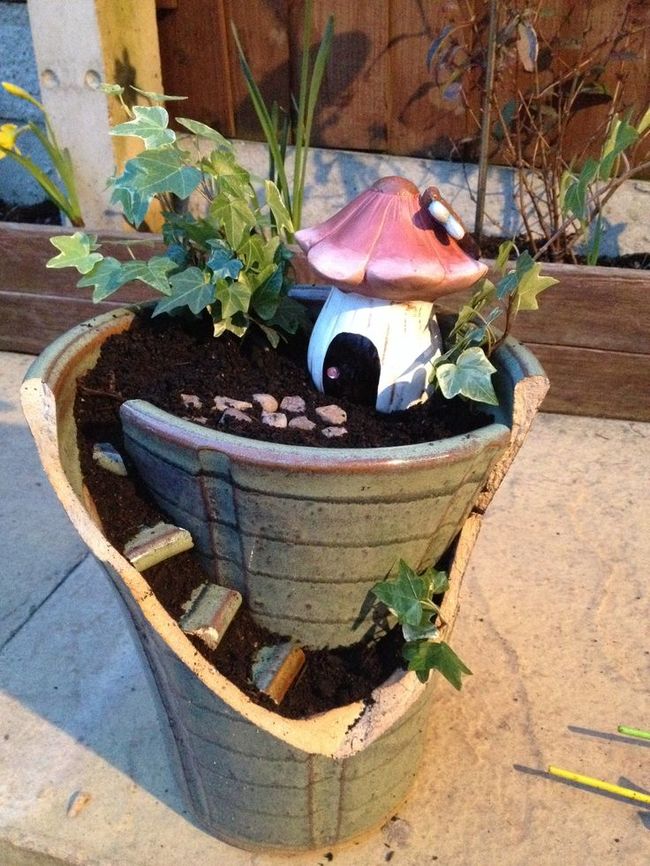 Source: pinterest.com
Source: indulgy.com
Source: pinterest.com
Source: 
Source: amandaclearyeastep.wordpress.com
Some are large and intricate, while others are simple. No matter how big or small, a DIY fairy garden can add some whimsical fun to your landscape.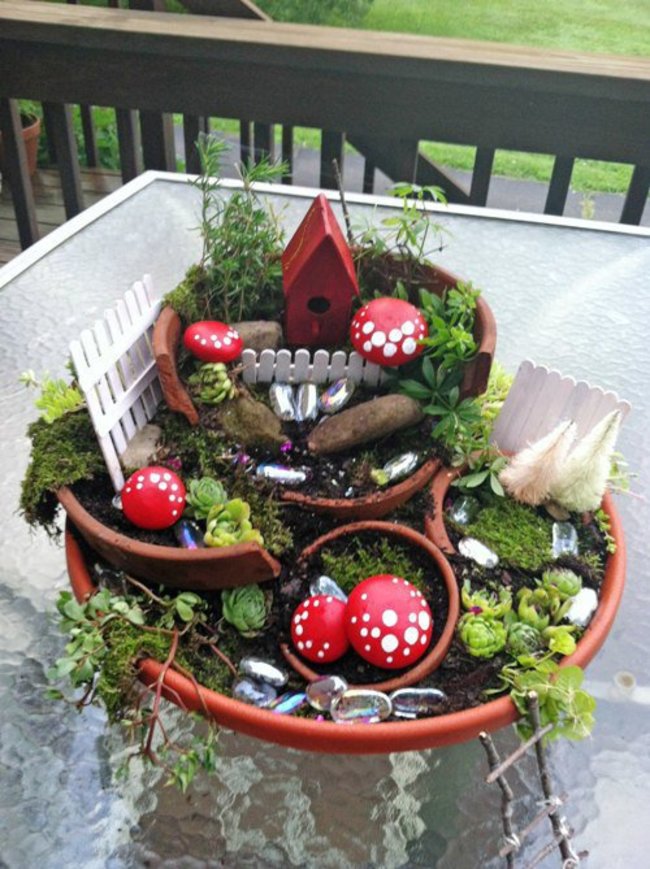 Source: fleamarketgardening.org
Source: pinterest.com
Source: pinterest.com
Source: pinterest.com
Creative, alluring and totally mesmerizing, this creation for your fairy garden is something you can use during all the seasons of the year. Once Christmas time arrives, simply substitute the tiny blue flowers for striking red Poinsettias, and put some cotton on top of your roof for some faux snow. During spring and summer, leave the landscape as originally shown, and let your imagination do the rest. Fill your miniature fairy garden with pebbles, larger size stones or coffee beans if you have any handy.
Source: themagiconions.com
All of these are pretty easy to make and they are so adorable! Your fairies – and your children – are going to love these tiny little fairy accessories.
Source: debbyweighsin.wordpress.com
Source: pinterest.com
Source: pinterest.com
Source: wohlundtoll.com
Source: pinterest.com
Here's a really fun idea

on what you can do to bring new life to those old broken pots. Turn them into miniature gardens.
You can add stairs and a little home. Decorate with moss and even

grow some plants

just like you normally would.
Source: thegardeninglove.com
Whether it's a castle in Spain or on the Rhine, this design is another wonderful way to put broken pottery or broken planters to good use in a tiny garden. While it's not too demanding of accessories, with the exception of the castle itself, it does use bits of greenery and plant life to help accent the stone walkways and stone steps. Almost minimalist in design, other accessories used might be pieces of blue marbles for the illusion of waters surrounding the castle and a small draw bridge expanding over a moat. You may use this tiny garden design anywhere.
Source: pinterest.com
You can even make a cute little fairy garden out of it too or keep it natural.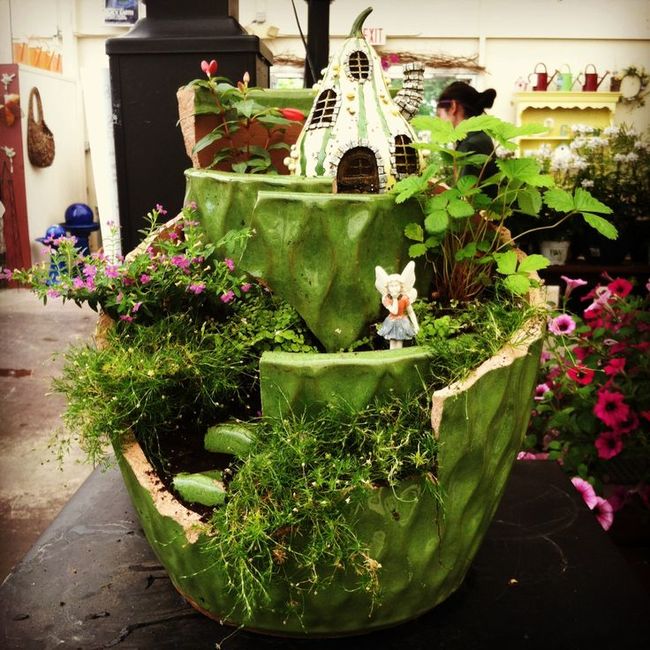 Source: pinterest.com
Never let those broken potted plants go to waste again, you can repurpose your planter! All that you need is a broken pot, your imagination, plants, and maybe some pieces of the broken pot to create an amazing fairy garden. Some people are going above and beyond, incorporating miniature houses, glass mushrooms
Source: pinterest.com
Source: mworksltd.wordpress.com
Add a touch of whimsy to your garden by making a miniature fairy garden or gnome garden! A fairy garden is a teeny-tiny, contained garden made to look under the care of the fabled creatures. This is truly an exercise for one's imagination, as you can decorate your small garden 
Source: hometalk.com

Source: pinterest.com
A fairy garden is the perfect DIY craft for those moments when you want to beautify your home without going all out or making any big changes to the decor. The cool thing about a fairy garden is that most of the times it's small but has a lot of details and there are lots and lots of ways in which you can customize it. In fact, no two are the same. Fairy gardens are also very cute because everything is a miniature version of something. It's like a garden for tiny creatures.
Source: pinterest.com
Source: earthporm.com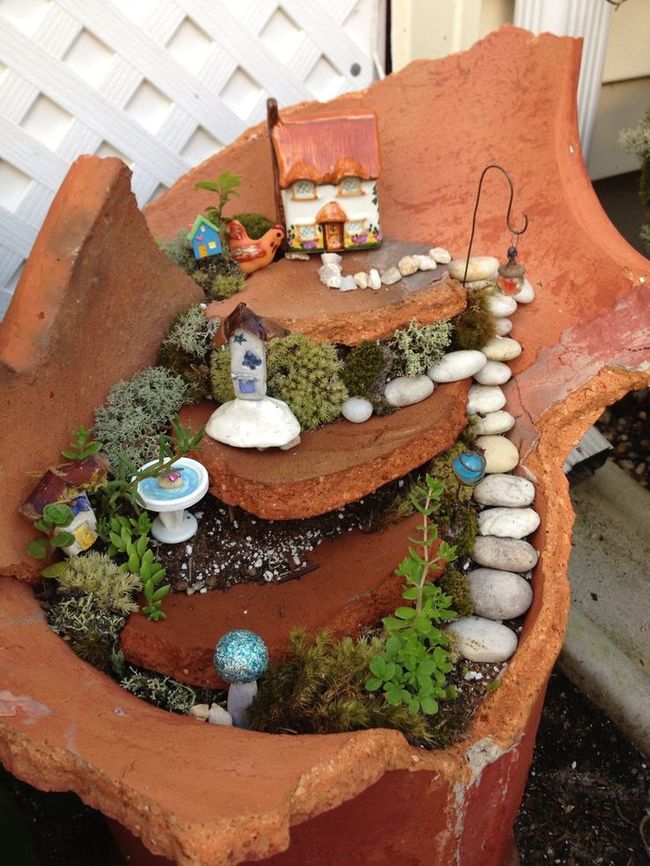 Source: pinterest.com
Source: imgarcade.com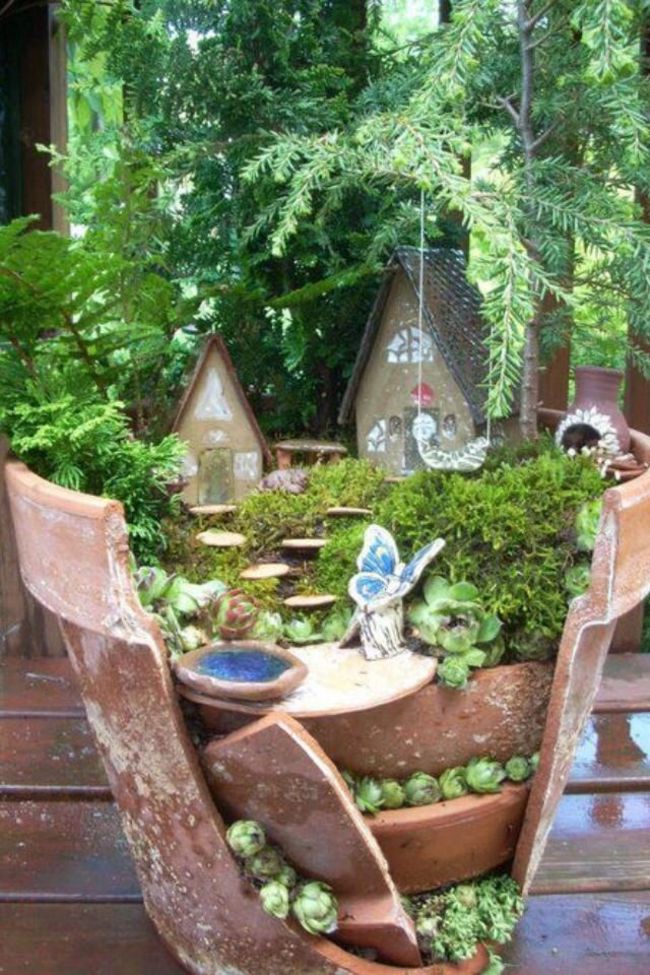 Source: pinterest.com
Source: pinterest.com
Source: fleamarketgardening.org
Source: pinterest.com
This arrangement of your magical fairy garden can be easily presented at your local garden show or church bazaar. The best part of all is that it lends itself as a perfect gift item. Many exhibitors of fairy garden ideas don't hesitate when asking those interested in buying, "Just what kind of a theme would you like? You can pick this item later during the week if you'd like." Later, buyers simply pick up their custom-made garden, and off they go to deliver their uniquely prepared gift item.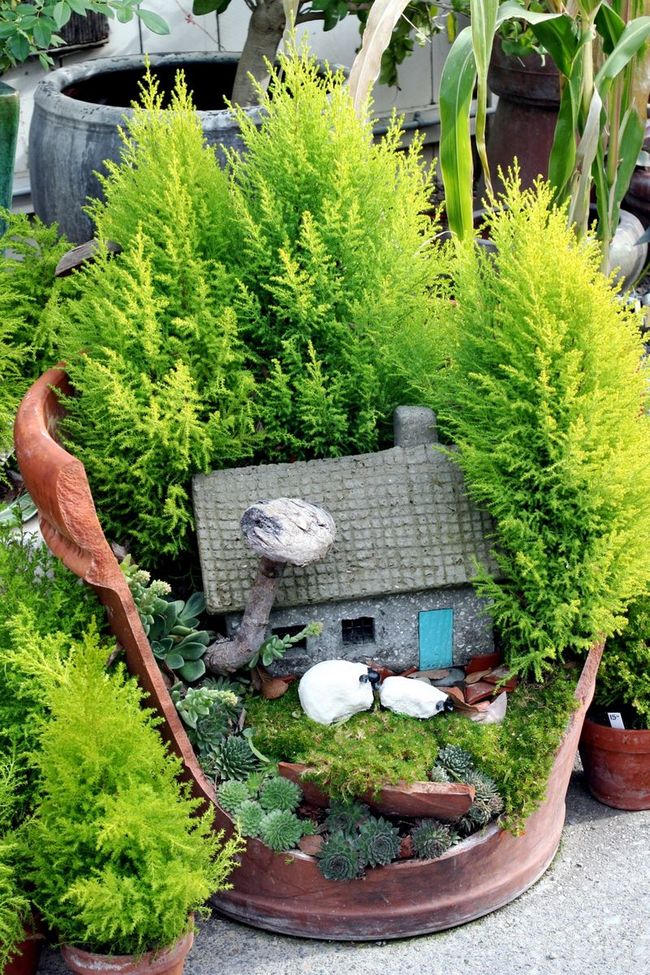 Source: chigiy.com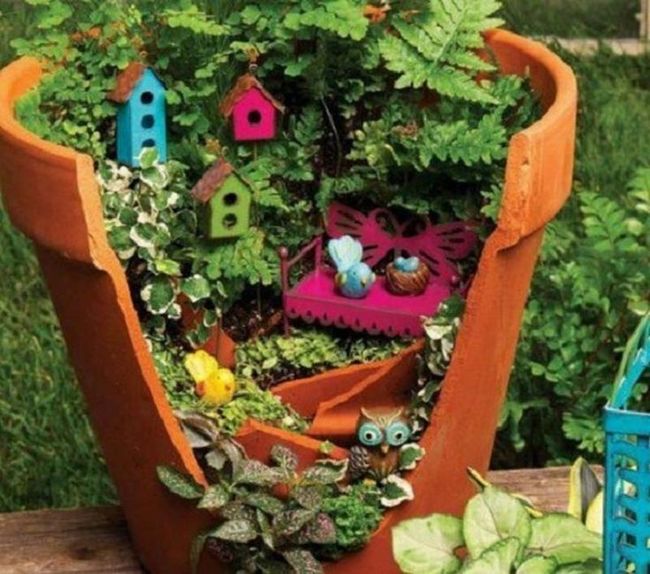 Source: pinterest.com
What will your fairy garden look like?
Source: lemonadelife.co.uk
Check this tutorial if you realy want to know how to make fairy garden.
(Source:Wooden Garden)
How to make a DIY Fairy Garden
https://www.youtube.com/watch?v=wyVv6IcxEco
Now more and more gardeners have begun implementing this ides to make gardens more colorful.  Share this miniature world with your friends by clicking on below buttons.
Plan your miniature garden design and keep beautiful details in scale. Usually miniature garden designs are created for viewing from all sides or just one with thoughtfully placed taller and lower plants. The best garden design containers for miniature landscapes have a large open surface area to accommodate as many plants and garden decorations into your Fairy garden design as possible. Tin buckets, wide terracotta pots, wooden wheelbarrows, wagons, wicker baskets, concrete bowls, wooden boxes, baby tubs are excellent for creating fabulous miniature garden designs.
For more DIY tutorials like this keep on visiting Sad To Happy Project and you can also follow us on Facebook, Pinterest, Twitter . 
Interested in creating your website like this?? Here is the step by step guide on 'How To Start Your Own Blog' for you. It super easy.