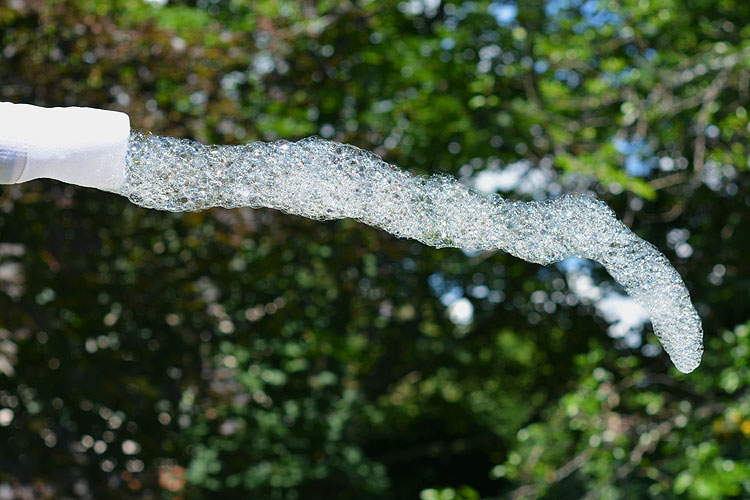 We all love bubbles, but have you ever made Bubble Snakes before? If you aren't familiar with bubble snakes, they're pretty much the niftiest little DIY bubble-blowing invention ever because you can make them in about five minutes with things you probably have lying around the house.
All that kids really want is the opportunity to to do what they best – be creative and play! They want parents who play make-believe with them, who laugh, jump in the pool and get their hair wet. It's never about the toy, it's about the experience. This DIY craft will make a unique fun experience for you and your kids. 
You can make snakes really beautiful by using colored powder or food coloring to turn them into brightly colored snakes. Hours of messy fun for kids – but just make sure you supervise children under the age of five and remind them to blow out, not breathe in!
 These bubble snakes are simple to make, but a bit messy, so take them outside for some sloppy fun! But Don't be afraid of the mess, this fantabulous bubble snake maker is an easy activity idea for kids, turning trash into treasure.
Check out the step by step DIY tutorial below.
Tutorial : DIY Sequins Wall Art Decor

This simple and cheap bubble activity is great fun for the garden or bath time and you'll love how quick and easy it is to put together. All ages can join in with a Bubble Snake activity. Blowing a bubble snake can be quite hard work for a little one and they might need a bit of help to get started. 
Hope you enjoy this bubble snake fun experiment.
For more DIY crafts and tutorials like this keep on visiting Sad To Happy Project and you can also follow us on Facebook, Pinterest, Twitter