I love reading but sometimes I forget to keep a track of page numbers. I am sure people who love reading books can relate to it. So if this is happening with you as well then what do you do?? Do you buy bookmarks from the market.
But then how about making it at home?? To make your reading more interesting you should do creative and fun bookmarks.  For that today I have these creative DIY Bookmarks ideas for you
10 Creative and Easy DIY Bookmarks Ideas
These are very easy to make and super creative DIY Bookmarks projects. I hope you will have fun making your own bookmarks. Happy crafting everyone.
1. Free Printable Bookmarks that You Can Color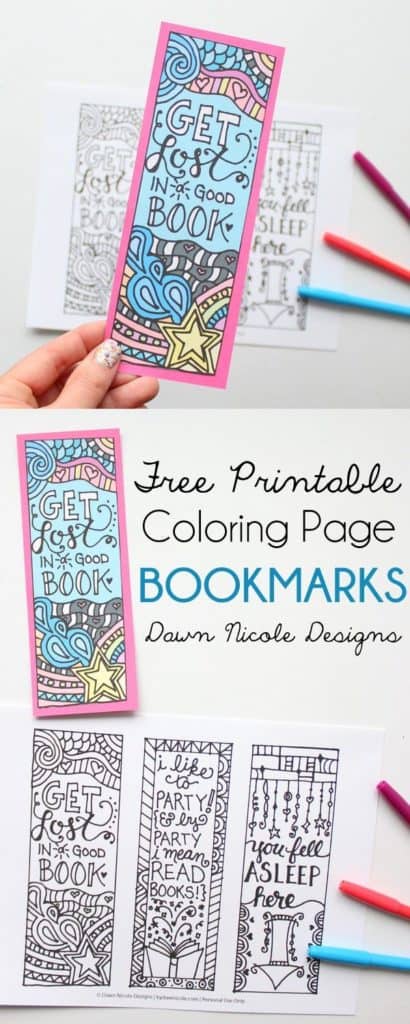 When there are printables then its extremely easy. First take printouts of these bookmarks with sketches or doodles. Then color them the way you wish. For those who like coloring, this might be a perfect activity – it doesn't just give you satisfaction, but also a vibrant and gorgeous bookmark for your book collection. I think its a perfect DIY craft activity for kids. What do you think?

Tutorial/Source: bydawnnicole.com
2. Book corners with color papers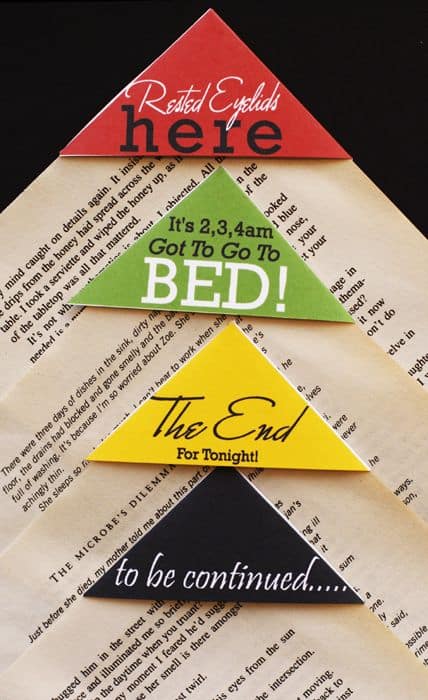 Now there this another way to make DIY corner bookmarks by yourself. These DIY Bookmarks are so much fun to make. Start by foling colored papers into corner bookmarks and just jazz it up with a funny little command or a simple quote. This how to make a bookmark tutorial can sure help you make one. Tutorial/Source: sketchjones.bigcartel.com
3. Funny Bookmarks With Googly Eyes

Googly eyes make anything look fun if use properly. So lets use it in making this bookmark. See what can a colored paper, googly eyes and scissors do together? This is a super cool funny faced bookmark.
Cut the colored paper into rectangular shapes, and long nose like a la Pinocchio style. Then for the finishing touch, its time to add some googly eyes to it. And thats it you are done my friend. Later if you wish then you can decorate it further. Like how about adding horns to these funny little bookmark creatures? More creative right?? Tutorial/Source: dumpaday.com
4. Felt Monster Bookmark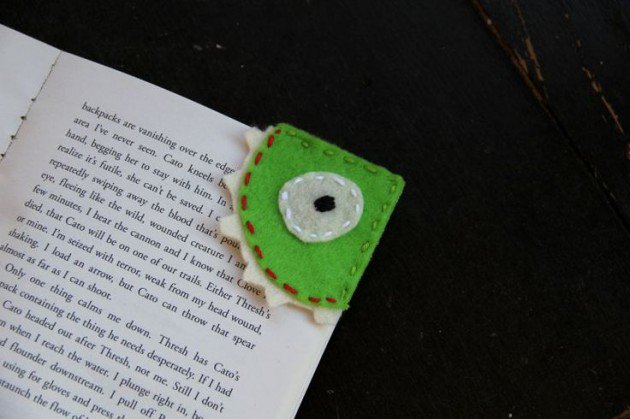 Heart shaped felt bookmark is already trending then lets do some extra experiment here.  Will you try making this monster shaped bookmark in a different color?? 
For this bookmark making ideas, you need two different colored felt sheets, which must be cut according to the shape you need, and then stitch together.  For more step by step instructions, you can follow the tutorial mentioned in the link below.  Tutorial/Source:  wakeandwhimsy.wordpress.com
5. Owl Shaped Bookmarks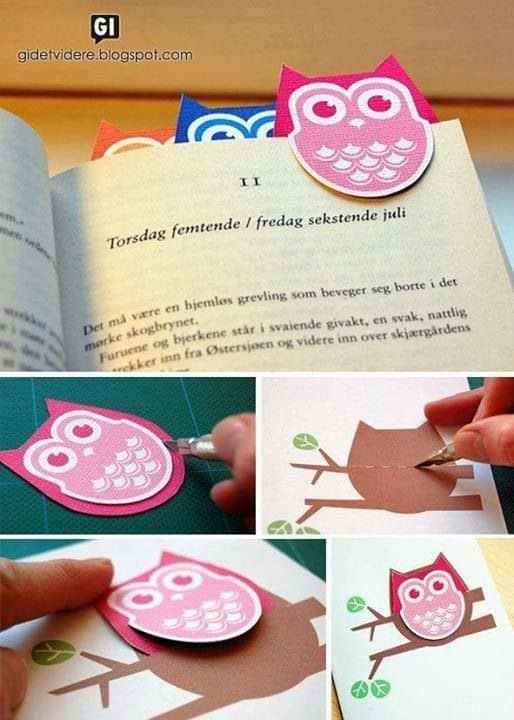 If your favourite bird  is owl then I am sure you would love to try these DIY bookmarks. To make this bookmark all you have to do is take a template of an owl sitting on a branch and cut various color papers into the shape. Then, glue them all together, but remember to leave the upper most layers half open so that you can place them in the half-read books accordingly. For more detailed instructions check this bookmark tutorial. Tutorial/Source: gidetvidere.blogspot.no
6. Cute Cat Bookmarks

Now this one is for cat lovers. If you like cats, then this bookmark is a must-have for you. The material you will need is colored paper, some sharpies and a pair of scissors. Start by cutting the colored paper into a rectangle on the three sides, and two triangles on the top resembling cat ears. Now time to draw a cat with two paws on it. Once done start cutting out these paws leaving one side still attached to the bookmark, enabling it to be placed inside the book perfectly. And thats all. Your handmade bookmark is ready.  Tutorial/Source: diycandy.com
7. Tie bookmark
Do you wish to give your book a formal look? Then try this bookmark shaped like a tie. To make this tie shaped bookmark, you need four thin strips of paper, preferably of two colors.  Place these paper strips one over the other, as shown in the picture and the tutorial. Once you are done, stick it to keep everything intact, and add a thread on the top to give it a complete look of the tie. Tutorial/Source:  krokotak.com
8. Easy Tassel Bookmark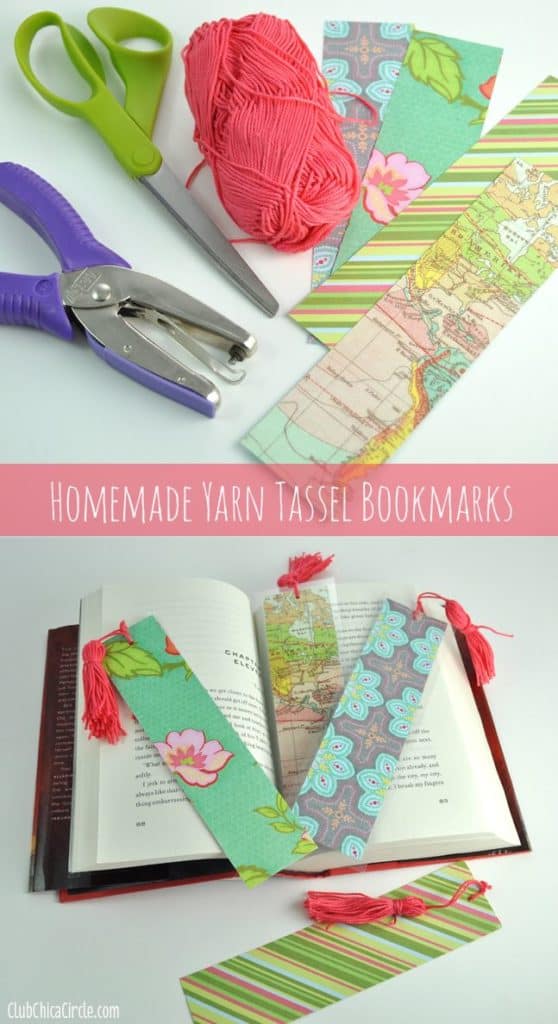 Tassel bookmarks look pretty. Try it at home using this how to create a bookmark using tassel tutorial.  Start with a piece of paper and cut it out into a basic rectangular bookmark. You can also  use patterned cardstock or magazine cut outs for the same. Then punch a hole on one side of this book mark, and attach it to a tassel which is made with thin wool or yarn. For more detailed steps check this tutorial. 
9. Easy Paper Bookmark
This easy to make paper bookmark is a savior for those who forget page number. All you need to do is, take a solid colored cardstock paper and place your sticky notes on it. Then add some washi tape or ribbon as a handle on the top to give it a finishing touch. The extra special thing about this DIY bookmark is that you can now take notes while actually reading the book. Isnt it awesome,? Tutorial/Source: pinterest.com
10. DIY Origami Heart-Shaped Bookmark
Now, this is one more heart-shaped corner bookmark. To make it you need to give origami folds. All you have to do is pick up a colored pattern paper and with the help of this tutorial fold it into the shape of a heart. This DIY bookmark tutorial gives every step to get that perfect fold. Tutorial/Source: howaboutorange.blogspot.com
We hope you enjoyed these easy DIY Bookmarks projects collection. For more such easy DIY craft project keep visiting our website.