This post is dedicated to all the book readers(including me 🙂 ) out there. Make that experience of picking up a book and flipping through the pages even more special by holding your place with something handmade. 
I've been eye-ing lots of super cute DIY bookmarks for the last few months that I've seen pop up around the internet.  These bookmark making ideas make fun crafts for kids and also super cute gifts for them to pass out to friends at school.
10 Creative DIY Bookmarks Ideas
Learn how to make different types of bookmarks with all of these tips, techniques, and ideas below. With How to Make Bookmarks 11 DIY Bookmark Ideas, you will see how easy it is to make your own bookmarks.
1. Beautiful Paperclip Bookmarks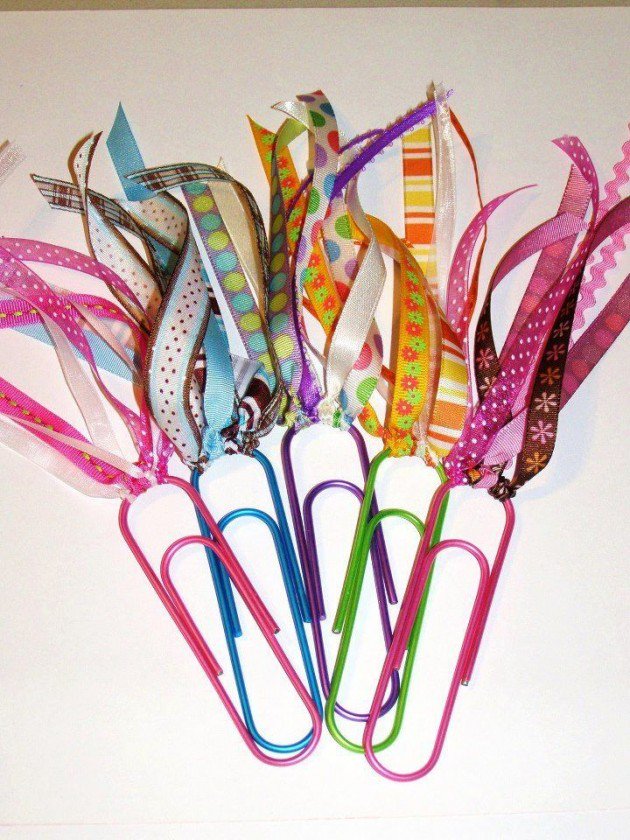 This one is my favorite as it looks beautiful yet very easy to make DIY Bookmarks. You hardly need any expensive material to make it.  With ribbons and colorful paper clips you can kick start this project. Just take a small piece of ribbon and tie it around one end of the paperclip and you are good to go.

Tutorial/Source: alteredtoperfection.blogspot.com
2. DIY Button Bookmark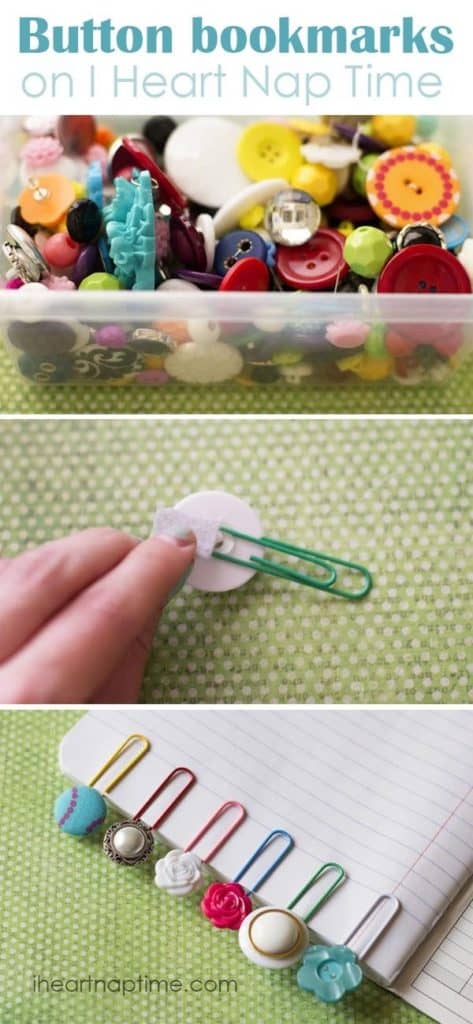 This is another paper click bookmark. Like ribbons in the above bookmark, this one could be made with one simple replacement – buttons!
IF you have cute buttons at home then what are you waiting for ?  Just start with as many cute buttons as you wish, and then use the right ones you think would be perfect for a bookmark and stick it to the paper clip with the help of a tape. Who is going to to make this simple cute bottom bookmarks today?? Tutorial/Source: www.iheartnaptime.net
3. Toys turned into bookmarks
Many kids have a habbit of keeping their old toys for years and years. You can teach your kids how to recycle old toys to make this creative DIY bookmarks at home.
All you need to do is, cut old toys in half. IF you have any dolls or animal shaped toys they they will work great. Then just stick a paperclip on one end to use it as a creative DIY bookmark. Now, you don't have to throw old toys to waste, just like that. Tutorial/Source: mywhiteidea.blogspot.com.es
4. Color Palette Bookmark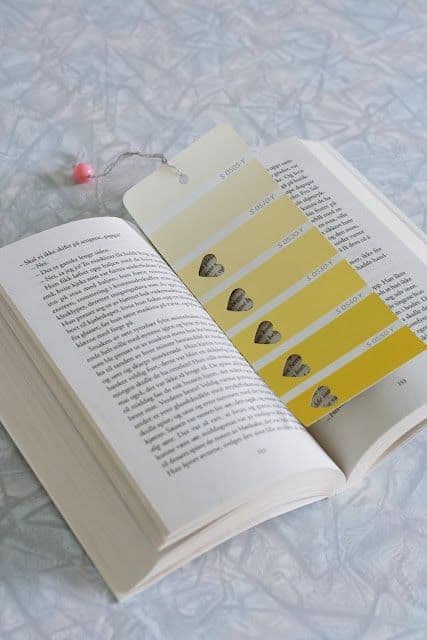 In this DIY bookmark project you can make use of color palettes. So if you have some color palettes lying around in your room then why don't you just convert them into some classy bookmarks?
Start by picking a color palette of your choice, and cut small shapes like hearts and stars in between the color shades (you could even use the shape punching machine). Nowpunch a small hole on the top and tie a thread to give it a finishing touch as a holder. Follow this project for step by step instructions. Tutorial/Source: daisy-pickers.tumblr.com
5. Heart Shaped Felt Bookmark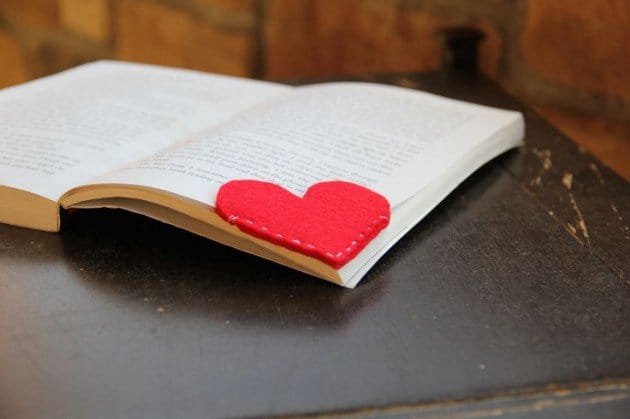 Who does not love heart?? Its a sign of love. Now lets spread this sign on your books too. This DIY Bookmark project is simple and cute.
The required material is a felt sheet and thread. Start with red felt sheet, and cut two hearts out of it. Now, stitch them both together, but remember to leave one side open to use it as a corner bookmark.  And thats it. Tutorial/Source: wakeandwhimsy.wordpress.com
6. Creative Jewelry Bookmarks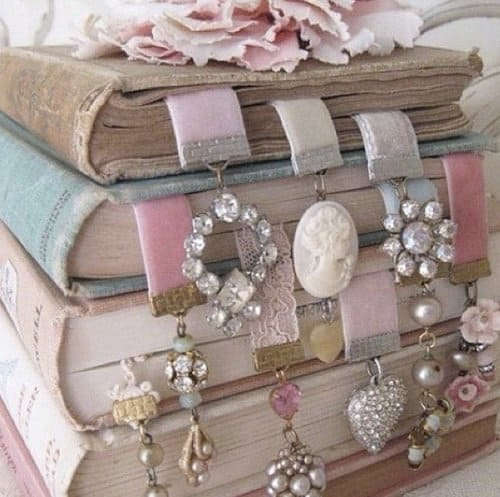 Now this one if for all the girls out there who love using jewelry. Now you can turn your old jewelry in to this beautiful bookmark with just a couple of easy steps.
You can use your broken bracelet or an old pendant, and anything suitable. All you have to do is take some decorative material like sheer or fancy ribbons and glue these pieces of old jewelry to them. I love it so much and I am sure the creative being in you must have loved it too.  Tutorial/Source: kerli.buzznet.com
7. Cups and Tea Bags Bookmarks 
I am dont enjoy coffee much but the moment I saw these cute cups bookmarks then I decided to feature this diy bookmarks project here for you.  Dont you think these are cute? Well, this bookmark is for all those tea, coffee lovers who are also reading enthusiasts.
It is really fun to make. Thr material you would need craft papers, a piece of thread and a tube of glue. Alll you need to do is , use some craft papers and cut them into the shape of teacups. Then take a thread, and a small piece of paper and wrap it around one corner of a thread like a tea bag. Stick the other end of the thread to the teacup and its done already. Tutorial/Source: genuinemudpie.ca
8.Butterfly Shaped Creative 'Read Me' bookmarks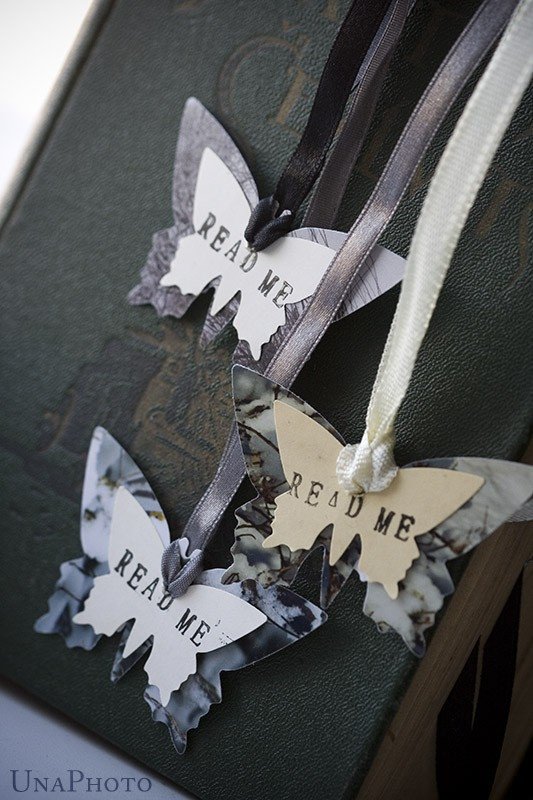 This one is very unique. If you make use of bright colorful papers then it will look more bright. To make this elegant paper butterfly bookmark, you would need a patterned cardstock paper or just a paper ripped out of a magazine, a white paper, and thin ribbons.
Here are the steps, take the patterned paper and cut it into the shape of a butterfly. Stick a white paper onto it, which is also cut into the same shape, but smaller. Then punch a hole on the top and tie a ribbon that is long enough to be placed in the book. IF you wish to give it a try then check this tutorial on how to create a paper bookmark. Tutorial/Source: www.etsy.com
9. A Cute Dress Bookmark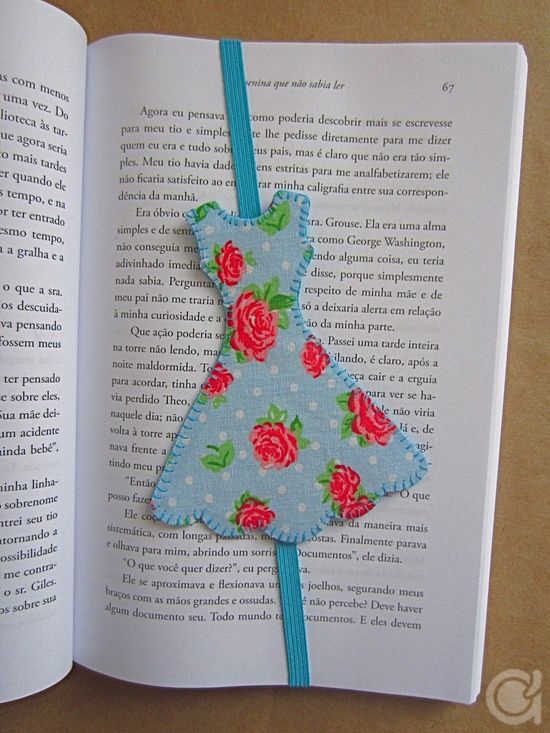 Trust me, you can make this bookmark in less than one hour. Its super easy to make. Take a piece of fabric, draw a dress onto it and cut it out. Then, take a thread and sew it along the edges to give it a nice finishing. And to turn this into a cute bookmark. Tutorial/Source: amorascrafts.blogspot.com.br
10. Easy Paper Heart Shaped Bookmark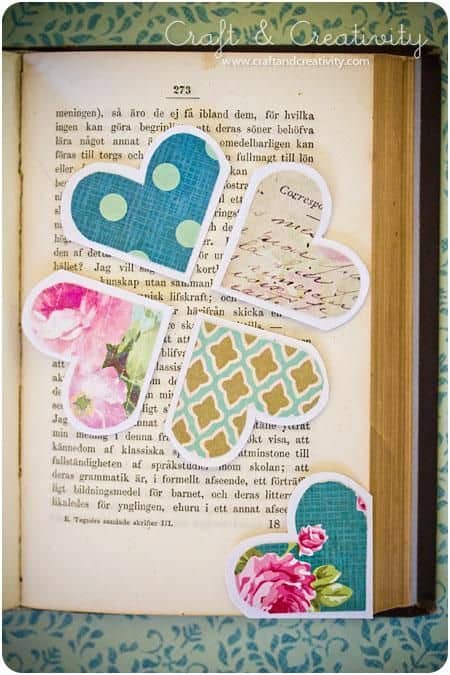 Hearts are everywhere. This is another of heart-shaped bookmark. It is completely made with paper. And one more thing you will need is glue to keep it all together.
Start with some white paper and cut the heart shape to the desired size. Draw a smaller heart on the patterned paper and cut it out. Then, attach these both together with the help of glue, but only on two sides so that you can use it as a corner bookmark.   Tutorial/Source: craftandcreativity.com
We hope you enjoyed these collection of creative bookmark making ideas. You can find more such fun DIY Paper crafts here. Keep visiting our website. Happy Crafting