As you are on the page we believe you must be looking for some cheap innovative home decor ideas to try.
The uniqueness and beauty of the house would always be appreciated then it doesn't matter if its your house or someone else.
House decoration process is endless and there is always some room to buy something useful to your house every time.
To give your house a personal touch its not always necessary to work months to make over something.
Even cheap and easy DIY home decor ideas like these would freshen up your house.
When you get that urge for change try these homemade home decor ideas which will not take time.
Take a look. Enjoy!!
1) Homemade Orange Scented Candle Kit
This is one of the best ways to make your home smell amazing. 
These stunningly beautiful natural room scents can be used as a part of a candle kit. 
The fragrance can be further customized by adding dried fruit, herbs and other scented oils.
Via
2.) Handmade Rag Rug
You won't believe how easy it is to make a handmade rag rug, its just lil time consuming.
You can use old fabric, t-shirts for this project.
If you are under the impression that it is one of those complicated sewing projects then you are totally wrong. 
With great relief check the tutorial.
Via
Check out the full tutorial :
3.) Easy Homemade Flower Tower Planter
Take your gardening skill to next level with this DIY flower tower planter.
If you keep it in your living room, in your garden or just outside of your house, its guaranteed to give a pleasant surprise to your guest.
All you have take out is some time to create this tower and fill it with your favorite plants.
Via
You May Also Like:
4.) DIY Curtain Out of Paper
Add a touch of charm to your bedroom window with these easy and beautiful handmade curtains.
Of course you can select whichever color you like to add your flavor, at the end you are the creative designer of your house.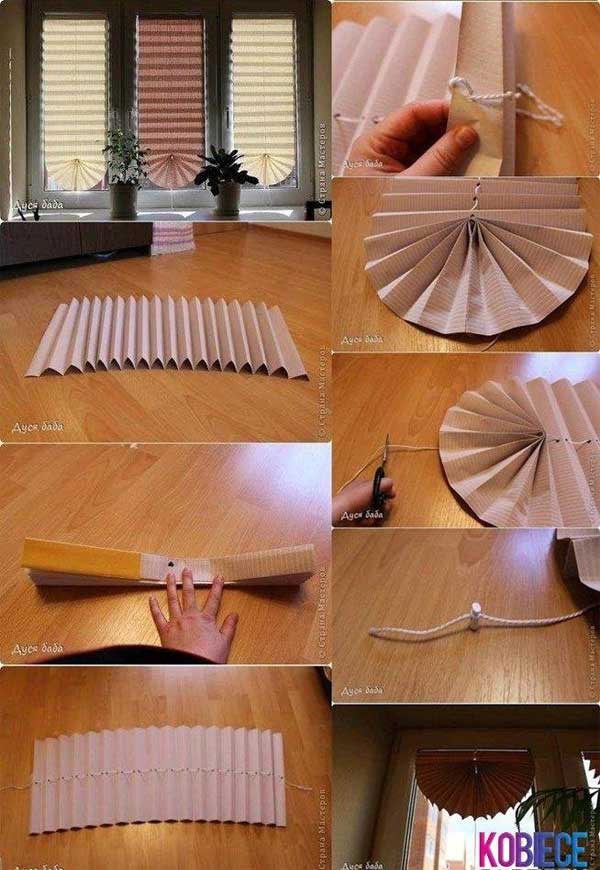 Via 
So which is your first choice to try from these cheap and easy diy home decor ideas.
Share these DIY decorating projects with others to give your home a boost.