You can use your cup and teacup collections to enrich and personalize your home decor if they are underutilized. Check out these ultra creative ways to repurpose vintage teacups so their beauty can still be admired, even if they're too cracked to hold your afternoon tea.
11 Easy DIY Ways to Upcycle Your Vintage Tea Cups
1. Simple DIY Hanging Bird Feeder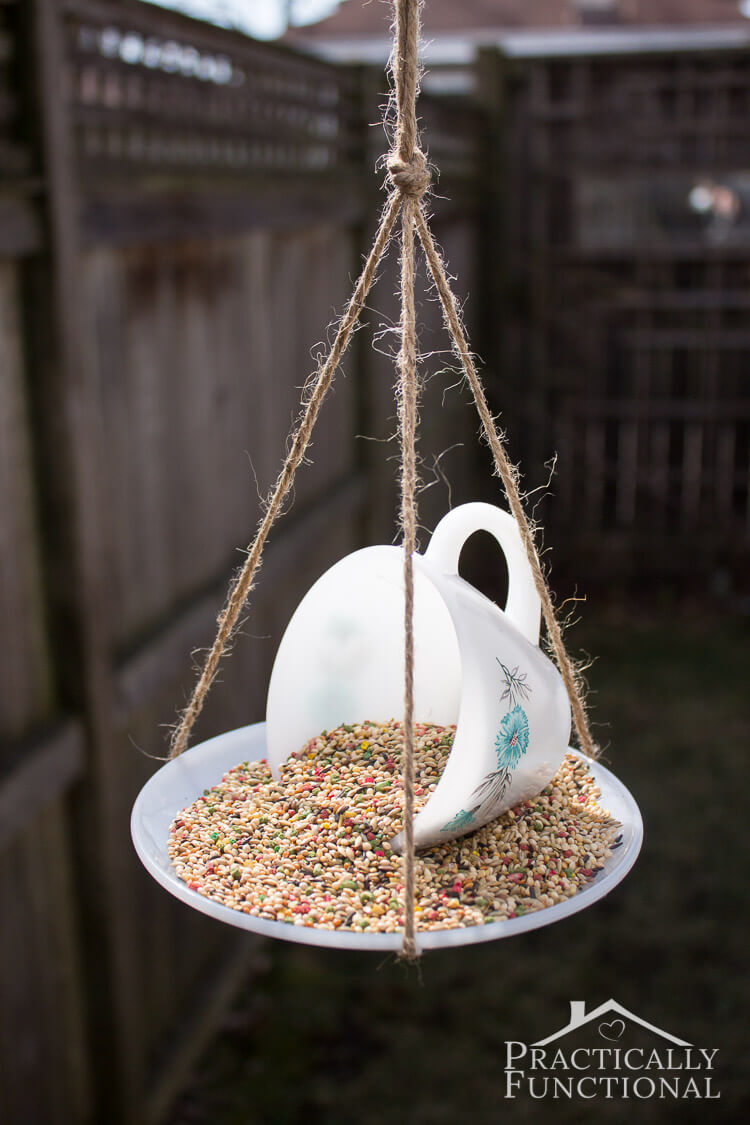 Another variation of the bird feeder is this one. Use a strong craft adhesive to glue the teacup to its saucer if you happen to have a chipped teacup and saucer around the home (or want to purchase one from a thrift shop). Tie three ropes with similar spacing around the saucer to provide loops for hanging the feeder outside. Merely scatter some bird seed about and watch for your feathered buddies to fly by.
2. Vintage Glass Teacup Candle Holders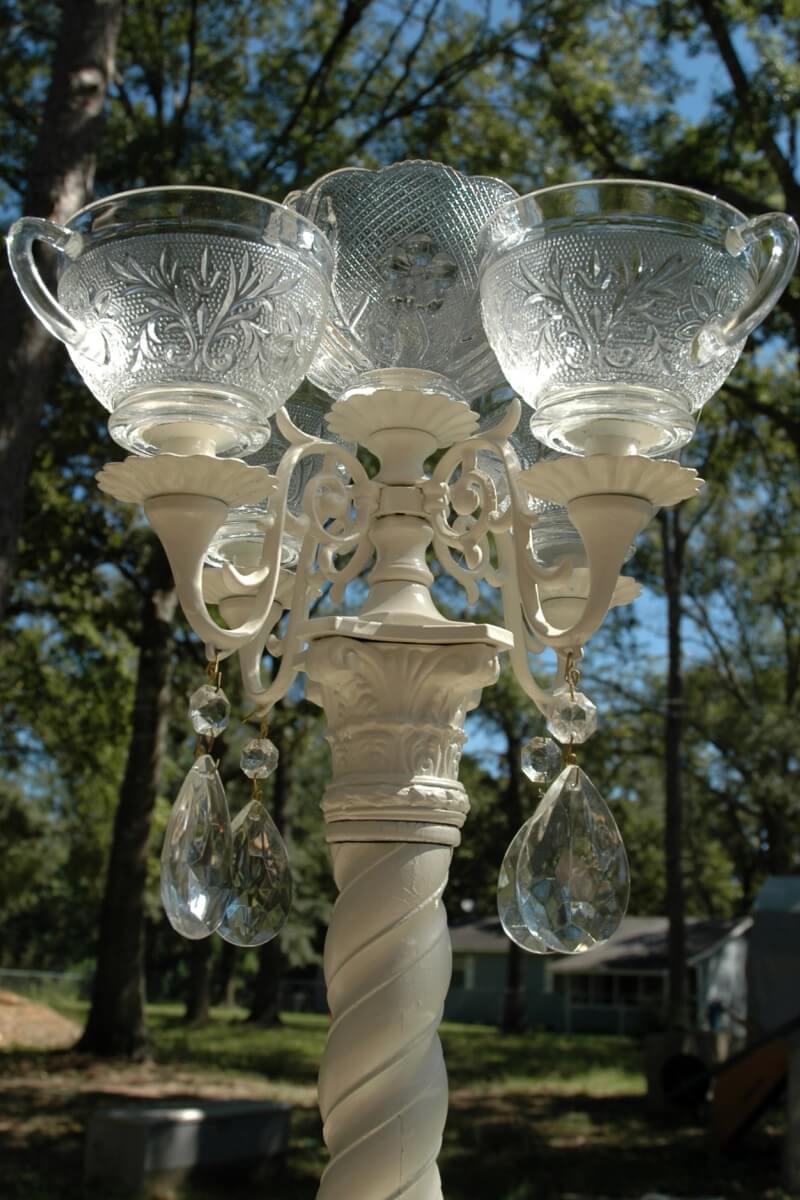 Perhaps you have some items that belonged to your great aunt so-and-so. Or perhaps you prefer to drift toward the section of the thrift shop that sells glassware. Upcycling your glass teacup is a fantastic idea. Beautiful and elegant, the design is perfect.
3. Hanging Decorated Tea Cups Diy Bird Feeder
This is one of the prettiest bird feeders, primarily due to the beauty of the cup and saucers. You can make something spectacular out of it for probably no more than $2 at the flea market. Water may also be added to the saucer. For this easy DIY project, you only need a cup and saucer, three sizable jewelry bails, 42 inches or so of strong chain, and some E6000 adhesive.
4. Teacup Set Vase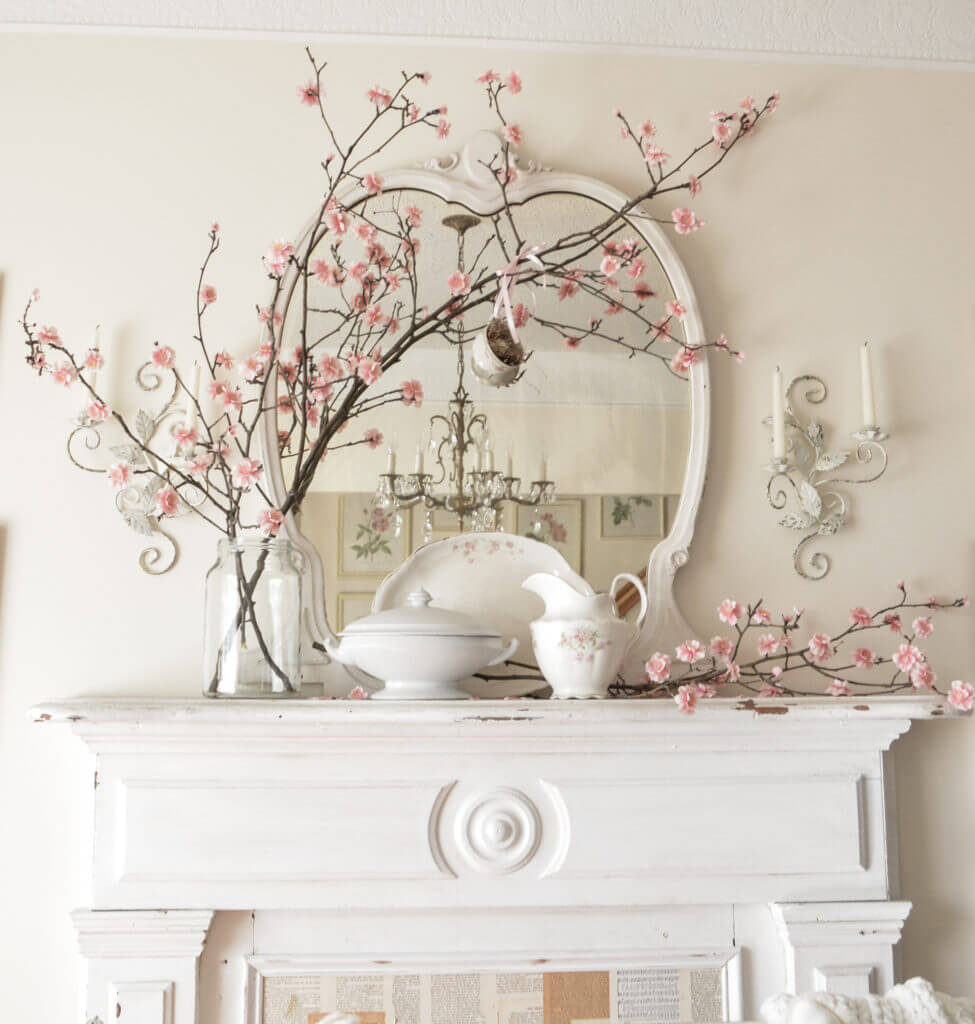 Setting fresh flowers around your home while you wait for your garden to mature is one of the finest ways to get into the springtime mindset. Why not try something different than arranging your flowers in a teacup?
5. The Sweetest Tea Cup Succulent Planters
Do you want plants but don't want to put much effort into growing them? In such a situation, these tea cups' succulent planters are perfect. This project is easy and affordable. (And, don't you agree, so cute?) They are perfect for windows in kitchens, dormitories, offices, and bedrooms, and I dare you to make just one. This is a really enjoyable and inexpensive DIY project. And it's so simple that anyone can do it. You may scavenge through those yard sales you frequently pass by or purchase inexpensive cups from the flea market, and you can even utilize spare cups and mugs lying around the house.
6. Do it yourself, Wood Wick Teacup Candles
Nothing gives a shower a wonderful vintage feel quite like these teacup candles. They are also quite versatile. They may be used for a wedding shower with a Beauty and the Beast theme, a tea party, a Jane Austen shower, or a Mother's Day brunch. Since most of the narrative takes place in the winter, where crackling flames are most welcome, the wood wicks are a need for this and are just so reminiscent of a fire in the hearth that they are the ideal finishing touch; for a Beauty and the Beast Shower!
7. DIY Teacup Pin Cushion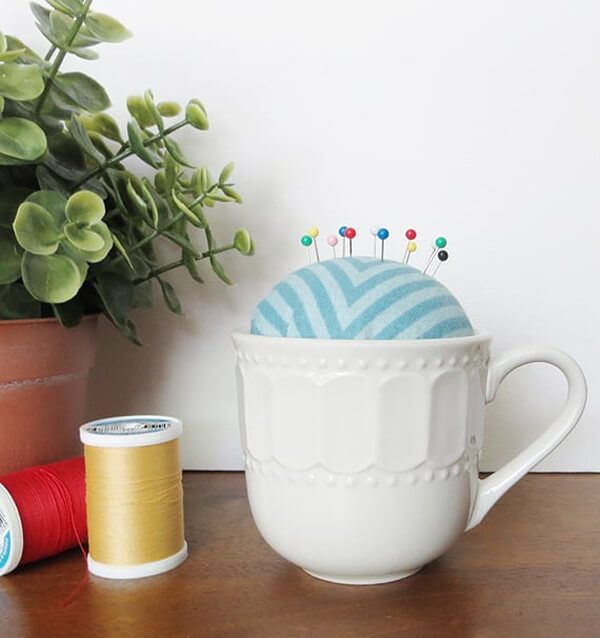 Another decor idea is a pincushion unique pin cushion that can be used to hold needles and pins while also adding to the aesthetic of the room. A handcrafted Mother's Day present could be a teacup pincushion. It will only take a few minutes to construct one of them, and you can be certain that your mother will adore it! You might choose an embroidered cloth or a floral-printed satin fabric, and the polka dot motif will also look lovely. Embellishments, such as satin roses, satin and organza ribbons, pearls, rhinestones, and other embellishments, will add added beauty. Whether you're a needlepoint enthusiast, a quilter, or need to hem a pair of pants, you're likely to have pins around the house. Gather them all together to make a gorgeous pincushion. A teacup cushion is a charming addition to the stitching table if you've become weary of the standard tomato. It's easy to tote thanks to the handle, and the tuft at the top adds a bit more surface space for storing pins.
8. Mini Teacup Topiary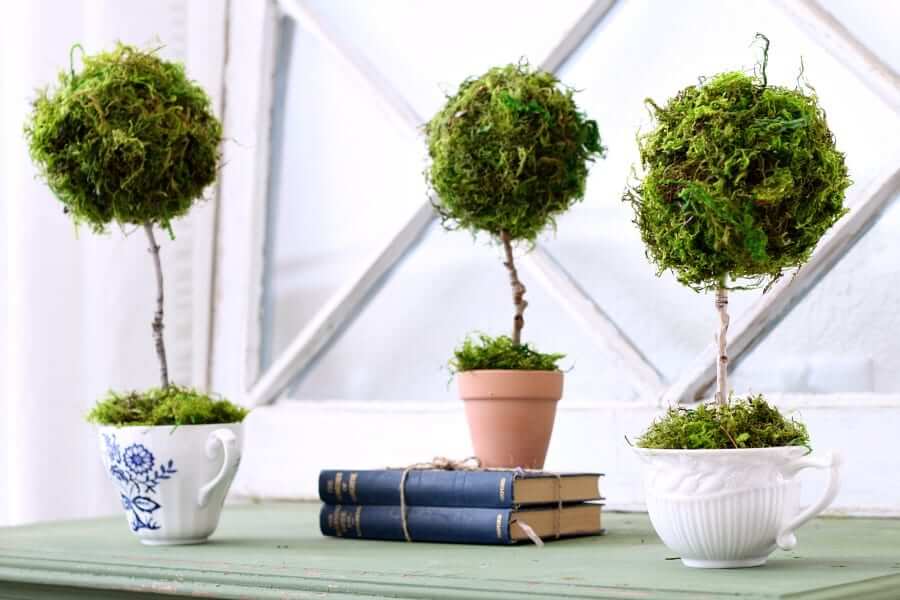 Make a charming home decor with teacups and topiaries! A wooden dowel, craft moss, a transparent plastic Christmas ornament, and hot glue are all you'll need. Then you'll have a topiary that looks like this! This is one of my favorites! It would be much cuter if you added some extra decorations!
9. DIY Pallet Corner Lamp Stand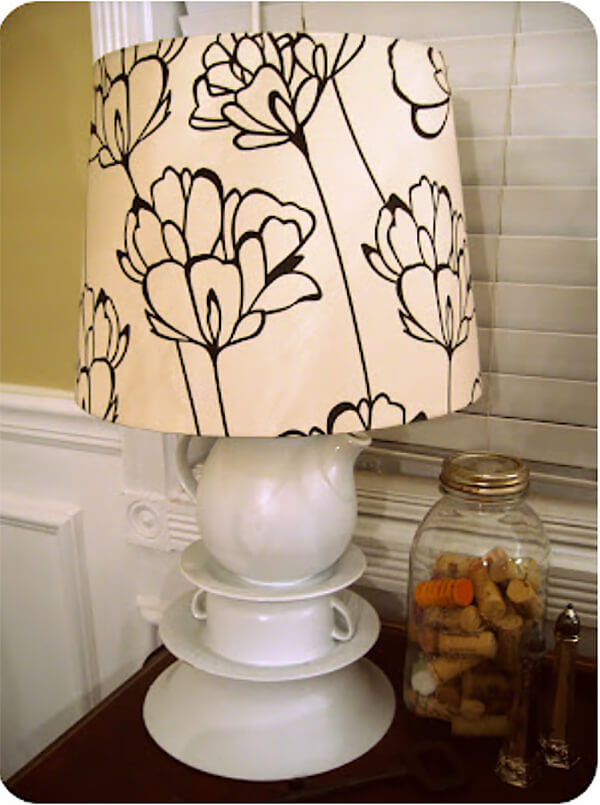 Source: dreambookdesign.com
One of the best tea cup upcycle ideas is a Lampstand. You may have seen something similar for sale previously, and I'm sure you noticed the hefty price tag, so now's your chance to construct your version for a fraction of the price. Make your Lampstand stand out by being creative with the arrangement and painting of these decorated tea cups. It requires a little DIY craftsmanship and a lot of imaginative thinking to come up with this brilliant idea. Create a one-of-a-kind accent lamp with a full set of miniature teacups and a golden teapot to bring some distinctive antique cottage appeal to your home if you have a full set of tiny teacups collecting dust. You can drill holes in the cup and run cables through to the bottom to stay hidden. This gives the Lampstand a more professional yet cool look.
10. Tea Cup Bird Feeder, Bird Bath Upcycled Garden Art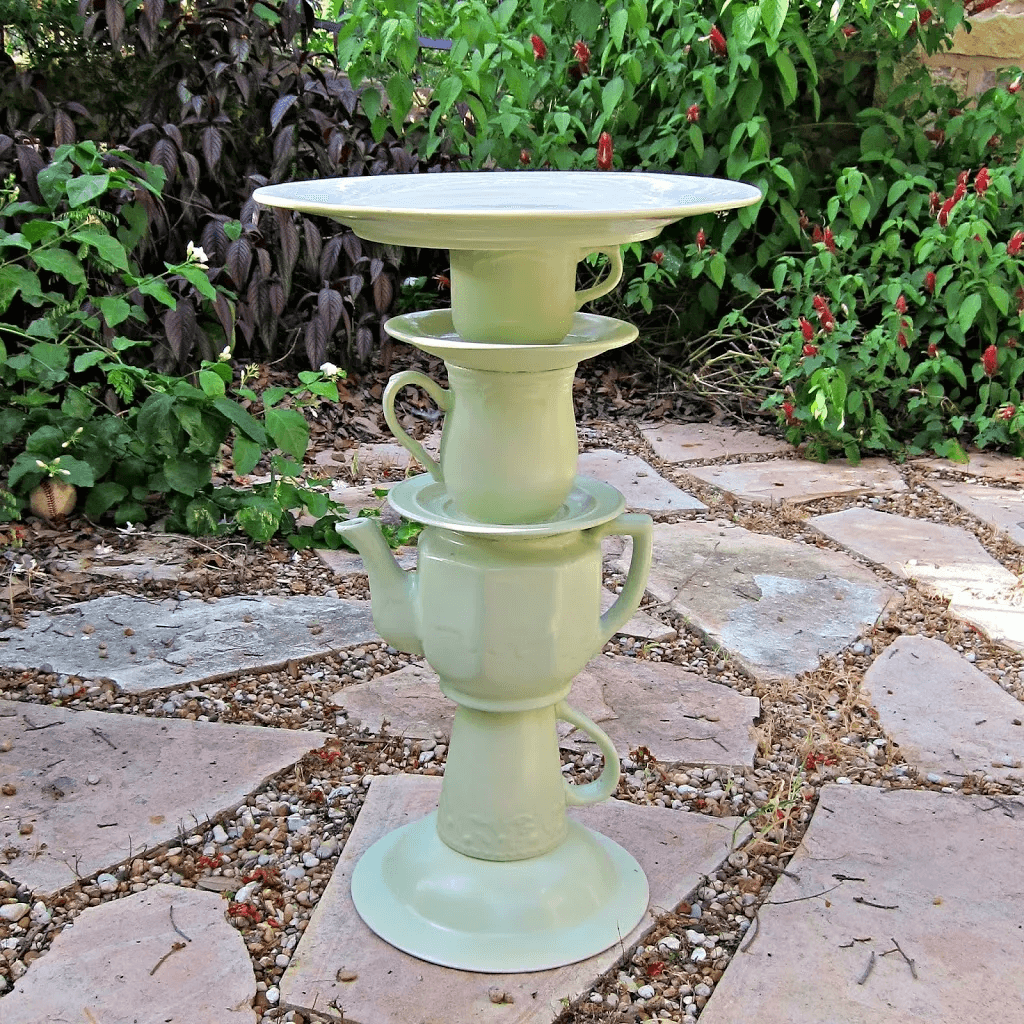 If you're proceeding to feed the birds, you might as well provide them with a place to bathe, so why not stick with your outdoor tea motif and construct a fascinating bird bath? It's not only functional but also a unique and interesting piece. Terra cotta pots are also perfect for achieving this. You'll probably want to collect a variety of teacups, mugs, and saucers to brighten up your landscape with a lovely new birdbath and or birdfeeder. Teapots, tiny plates, and sugar bowls might all be used. Stack the pieces and adhere them together with glue once you've completed your ceramic collection. Use a plate or bowl deep enough to hold water and wide enough to enable birds to enter the top tier. Once the tower is dry, please place it in a sunny location and fill it with water.
11. Fly Flower Floating Illusion Teacups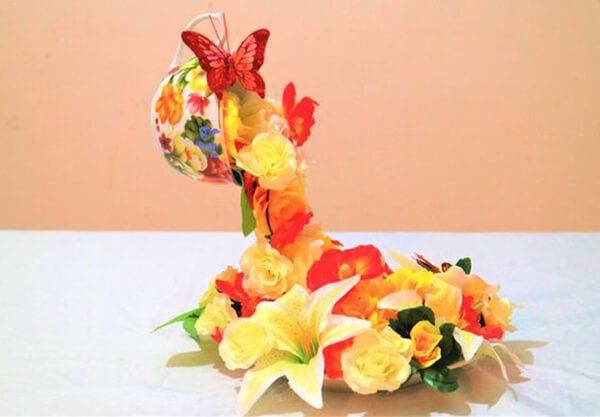 Old-fashioned cups and saucers are easy to make. A floating cup is a stunning craft that many admirers of unique decor will like. A teacup dish can be used to adorn spaces by uniquely arranging flowers. It's also a wonderful present for anyone who likes flowers. This DIY, Flying Cup Decor, appears to be one-of-a-kind! It usually consists of two parts: a cup and saucer that are held together by a sturdy base. Petals, coffee beans, gold coins, butterflies, birds, Christmas or Easter embellishments, and so forth can be used as decorations. A hovering teacup can serve as a lovely table centerpiece. Here's an example of building a floating cup with flowers, but you can use any form of design provided you adopt the same concepts.
11 Fun DIY Teacup Upcycle Ideas