4 Best Homemade Valentines Gifts for Her To Express Your Love
Everyone enjoys getting gifts from the ones they love.
The day which has the greatest importance in romance is approaching fast. Yes, we are talking about Valentine's Day which is just around the corner.
Like any other festival, you think about what to wear, eat, cook, where to go on this special day.
So we are sure you must have already started its planning. And if not, you don't have to worry we are here to help you.
What is your idea of showing love. Well, you don't always need to buy expensive gifts. A simple handmade gift also can bring a nice smile on your partner's face.
Your girl will forever cherish one of these DIY Valentine's Day gifts because they were handcrafted by you with love and care.
In just a couple of days, roadside florist shops around the world will be crowded with customers looking for the perfect Valentine's Day bouquet for their loved ones.
With this post we have come up with best homemade valentines gifts for her.
With these ideas you would be able to make expensive-looking flower and chocolate arrangement easily at home.
Have a look and enjoy
1.) Heart Shaped Flower Arrangement
You can show her how you really feel with this unique and adorable, simple and sweet heart-shaped arrangement.
The is the perfect homemade valentine gift for her which will ensure your ladylove stays charmed and feels the beats of your heart.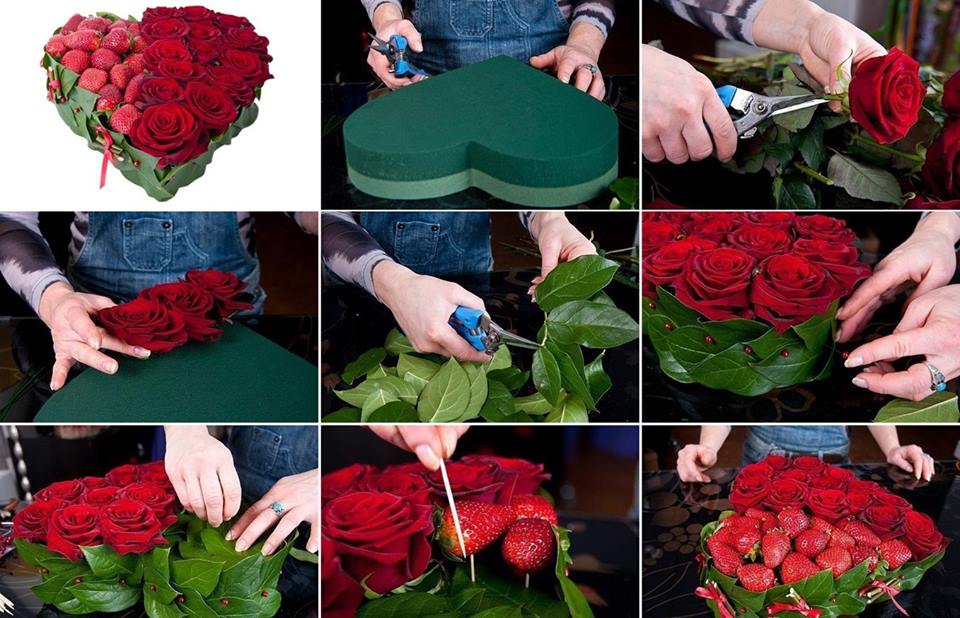 Via: fabdiy.com
What you need is:
Heart shaped floral foam

15-20 strawberries

15-20 fresh roses (with leaves)

Red ribbon

Wire, pins, toothpicks, scissors
2.)  DIY Valentine's Day Chocolate Flower Bouquet
There are hardly any people who don't like chocolate. Flowers and chocolates these are the two most common gift preferences as a Valentine's Day gift.
So if you wish to make it special and wish to add a personal touch to it then here is your option.
Try this idea to combine both of these cool things to make special chocolate flower bouquet for her.
Via: icreativeideas
3.) DIY Strawberry Roses
Umm!! These pretty roses smell so good that can't wait to eat it. 
Yes, you can eat them all because these are made up of your favorite easily available fruit – Strawberry.
Everyone can make it by following below instructions.
Via:icreativeideas
4.) DIY Topiary Flower Flying Cup Decorations
Grab her attention with this lovely topiary flower flying cup decor.
Since you will make it with your hands, definitely she won't be able to stop herself from admiring it.
Also its a best DIY home decor idea.

Via: lovethispic
What you need is:
Coffee/

tea cup

set

Artificial flowers

(easy to get in local stores)
Wire (spoon or

flat wire

works better)

Paper and thread

Scissors

Hot

glue gun

Tapes

Other decorative stuffs you want  (beads, butterfly, ribbon etc.)
However, if you don't have to spend so much time to make any of these handmade gifts then possible you might like these options. Check it here. 
Please remember that creating a well-sculpted bouquet takes practice so don't be discouraged if your first attempt is not good.
Keep trying, you will get the best result at the end.
And hey don't forget to share this post. Cheers!!