For a dinner party with a casual and relaxed atmosphere, decorate your table with Beach Themed Centerpieces. A beach dinner party sets a sunny & upbeat tone with lots of inspiration for fun and conversation for your guests.
15 Beach Craft Ideas for Adults and Kids
1. Magical Mossy Collection in a Tiered Stand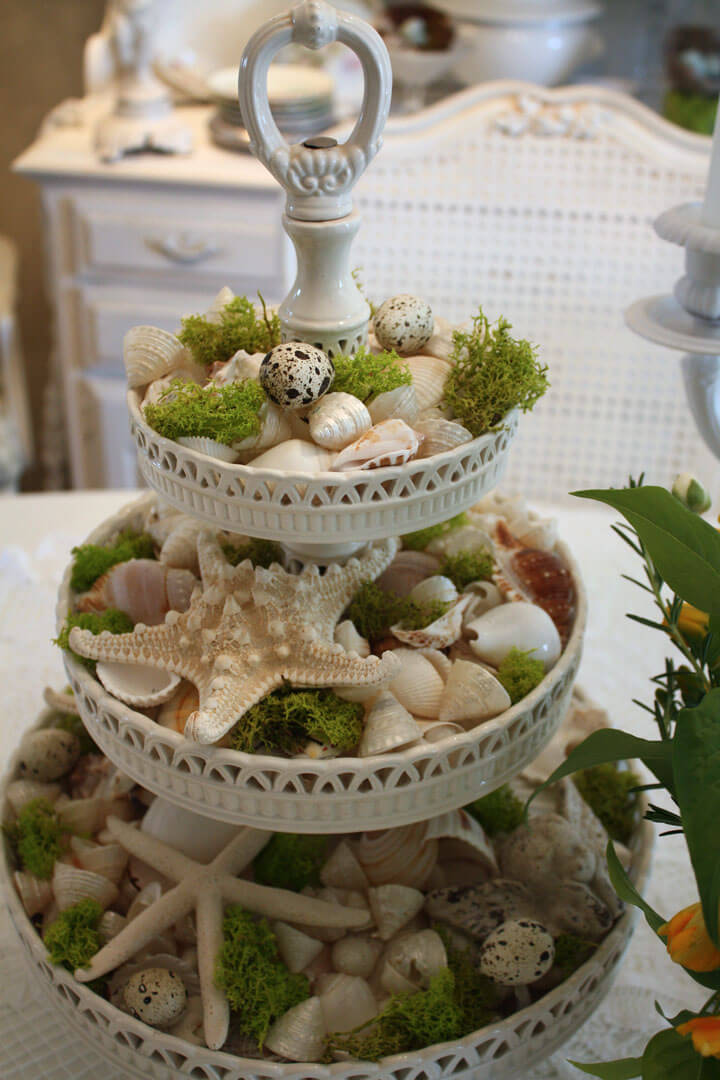 This inventive use of a serving stand features a rich mix of textures. Soft, sea-foam moss and geometrically intricate shapes of the starfish and seashells echo the scalloped edge of the ceramic tiers. The pearly luster of the shells and porcelain glaze give this centerpiece's rustic feel an elegant touch.
2. White Coral and Candles with Lavender Accent
Source: starfishcottageblog.com
A pop of color stands out beautifully when paired with an all-white and neutral palette like this. The rough texture of the coral and sandy bedding for each candle is complemented by the scattering of shells and sea stars. Displayed against a tray and table of matching walnut wood, they brighten any room.
3. Sea-blue Berries and Starfish Decorated Candles
Choose this beach themed centerpiece for placement on a narrow mantel or a table in a hallway. The contrast of a clear glass candle-holder with the blue tint of mason jars comes together with matching starfish in opposite colors. A ring of berries in similar blue hues completes the fresh and romantic theme.
4. Driftwood Bowl for Candles and Coral Floral Display
Whether you're decorating for a coastal winter holiday or a breezy summer brunch, a centerpiece like this makes an elegant and dramatic statement. An artful arrangement of corals, shells and scrub brush accents pairs naturally with a distressed driftwood bowl. Nestling candles of various heights inside the display can add fragrance and flair.
5. Two Trendy Pieces make One Bold Statement
A hurricane lantern and marble tray each hold wildly different designs, but together they make a beautiful contrast that fits. Each piece signifies a separate beachside spirit. The blue flowers and white coral mimic ocean waves while the sand-colored shells in the glass lantern leaven an impression of a sparkling shoreline.
6. Sweet Sea Glass and Starfish Simplicity
Source: 2beesinapod.com
This bell jar and copper platter hold treasures from the shore as if they were fit for a museum's display case. Instead, they make a beautiful addition to any coffee table or shelf space. When you're making the most of a small area, add height instead of width, and use a few key statement items like an antique bottle and fossilized starfish to stand out.
7. Vials of Sand with Clever Shell-topped Corks
A beach themed centerpiece like this is the perfect solution for anyone who wants to display sand they've collected from different beach vacations. Small coquina shells in each one make every bottle look like a miniature coastline. When they're collected together on an elegant white pedestal with a few loose nautical pieces, the look is effortless and modern.
8. Ocean Trinkets and Treasures on a Woven Mat
Source: thesweetsensations.com
Give a table's center a castaway feel with a bit of netting and a woven mat on top. The twin around each mason jar matches the natural textiles while the spread of sandstone rocks and seashell details adds whimsy. A sculptural element like this gold sailboat and seagull offers interesting texture and metallic sheen.
9. Sea Glass Inspired Mason Jar and Baby's Breath
Source: etsy.com
Show off a sweet and inspiring message with the perfect pairing of a mason jar wrapped in burlap and twine. This simple but beautiful idea looks best with a wispy bouquet of baby's breath, but they could also hold a candle to light up a nighttime table design. As keepsakes for guests, they serve as a charming and useful gift for any memorable occasion.
10. Whimsical Succulents Paired with Starfish and Coral
Source: etsy.com
Finding a beach themed centerpiece that can work with a winter holiday theme isn't always easy, but this twine-wrapped cone starfish topper could do the trick. Dress it up with a collection of succulents and a matching piece of white coral for any time of the year. The simplicity of its design works best when arranged in tiers to show off different heights.
11. Elegantly Arranged Seashells on Mirrored Pedestal
Source: etsy.com
When you need a centerpiece with a low profile but a big impact, a mirrored pedestal enhances the look of any design. This clever collection of shells and a singular starfish creates an understated but trendy look. The mixture of textures, shapes and sizes are brought together by a complementary color palette in neutral pinks and pearly whites.
12. Bright Blue Pedestal Paired with Natural Neutrals
Source: acrosstheblvd.com
Simple shapes and a bold pop of color make this centerpiece work beautifully in a variety of themes. That bright Caribbean blue stands out with a few smart and effective details, like the white shipping rope and sea star fixture. A sand-colored candle and matching neutral shells lend warmth and balance to the design.
13. Naturally Contrasted Driftwood and Sea Glass Collection
Source: etsy.com
Big, bold pieces like this collection of gnarled and chunky driftwood look amazing when arranged in a cleverly winding line of shapes and sizes. The smart placement of large mason jars filled with sea glass in various colors keeps it looking rustic and chic. The strip of burlap beneath ties it all together without any fuss.
14. Metallic Starfish and Shells with Square Votives
Source: etsy.com
The square votive holders and metallic starfish make a bold, modern statement that's softened by the white sand and warm candlelight within. Natural shells in a variety of earthen and ruddy tones add visual interest both in and out of glass holders. The random scattering around the edges of the centerpiece act as an organic and artful border.
15. Fishbowl Candle-holder with Sand and Seashells
Source: etsy.com
Fun, whimsical centerpieces like this work best when they're kept simple and contained. The use of a fishbowl is a perfect way to set a seaside-inspired theme with a bit of character and a candle to light it up. A boldly bright starfish help the pops of color in more neutral shells stand out and the varied grains of sand look dynamic.
16. Starfish and Twine Cerulean Glass Candle Jar
Source: etsy.com
Pairing a sand-filled bottom with a topping of clear blue glass not only gives off the impression of an oceanside view, but it also makes for a great way to display a single large candle. A bit of twine that strings around the mouth of the jar twice before disappearing behind a starfish feature completes this sweet and simple design.
17. Painted Jars and Crate with Beachside Details
Source: etsy.com
Variations on a family of blue hues create a matching collection of items that boast bold accents and whimsical textures. Burlap and twine details bring out the natural, rustic feel of a beach cottage getaway while the cream-colored flowers soften the overall effect. Silver-painted sea stars add a pop of shine for a trendy touch.
Love These DIY Beach Themed Centerpieces?
Share And Save
You May Also Like:
Top 10 Sea Glass Art Projects to Bring Beach Vibes
17 of the Best Sea Glass Art Crafts and Projects for Beach Lovers
11 Cool DIY Bird Feeder Ideas To Feed Your Birds