It's always nice to freshen up your home decor with a change of seasons. One way to do this is to update or swap out your artwork. Why not get a little crafty and create something with a personal touch. We are sharing Sea Glass Art Projects and Ideas to make your own art work using sea glass, or as some call it, beach glass.
17 Beautiful Sea Glass Crafts and Ideas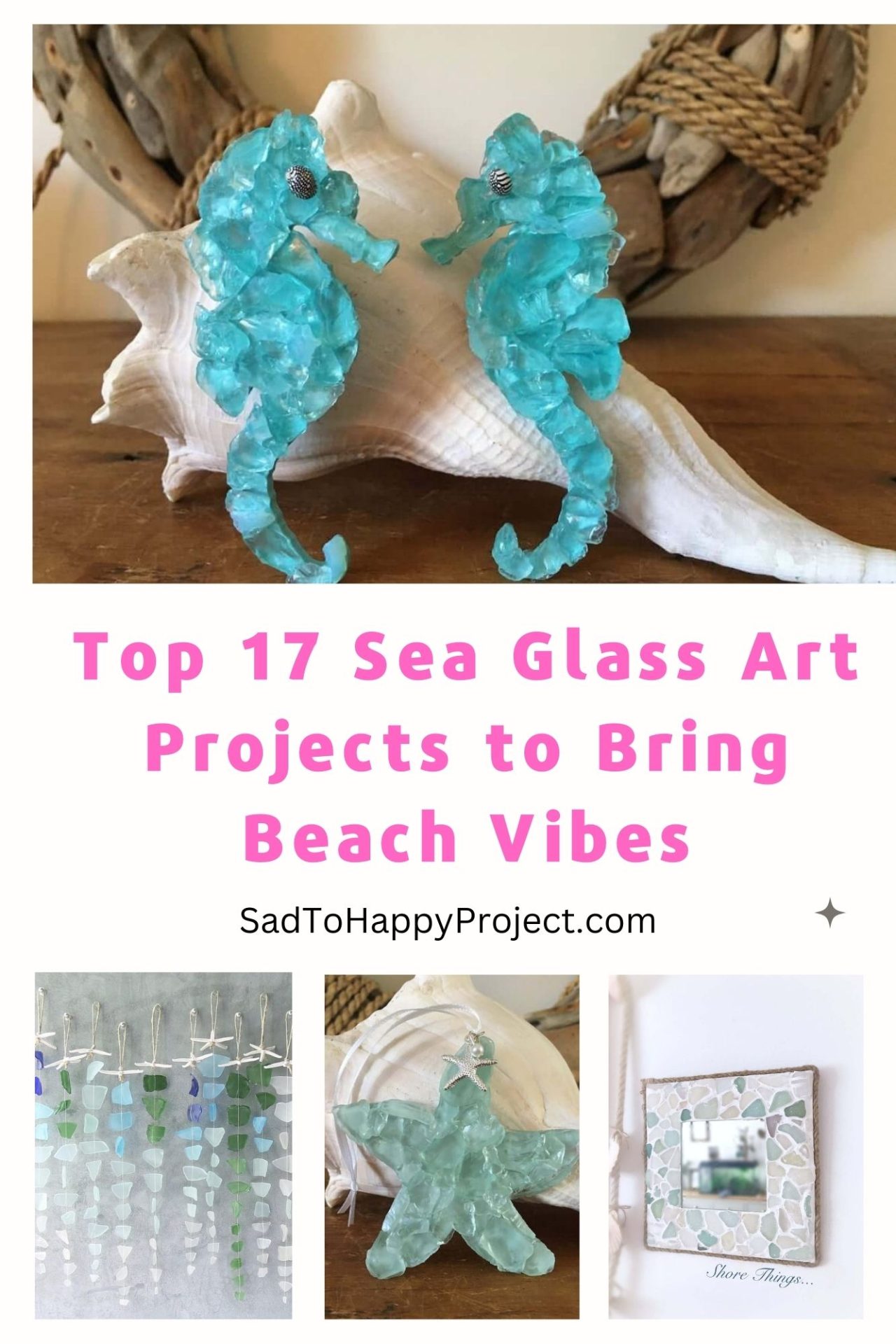 Sea glass is one of the most adaptable crafting materials out there. No matter what you add it to, you'll probably end up creating something beautiful. With its frosted appearance, endlessly unique shapes, and sense of history, sea glass is used by crafters and jewelers all over the world.
1. Encrusted Garden Sea Glass Decoration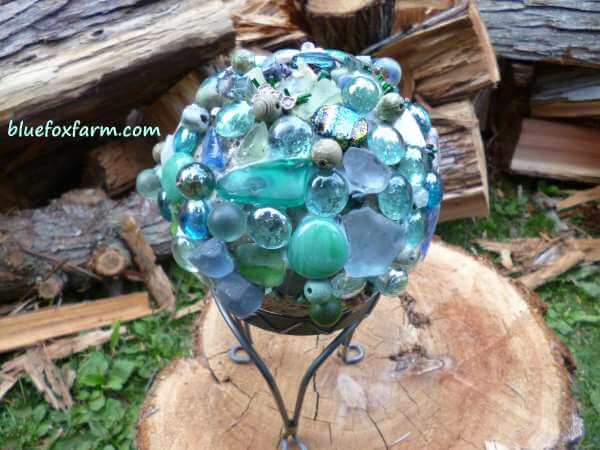 This project is an awesome sea glass idea for using all kinds of bits and bobs you have lying around the house, including sea glass. You can use any materials you like, including sea glass, gems, marbles, shells, and pebbles. This project is great because of how easy it is to adapt to whatever you have already. Whether you use a hypertufa sphere or a more irregularly shaped rock from the garden, you can create a unique, one-of-a-kind piece of art that will sparkle in the sun and lend a magical, cozy feel to your garden.
2. Subtle Sea Glass Ombre Clock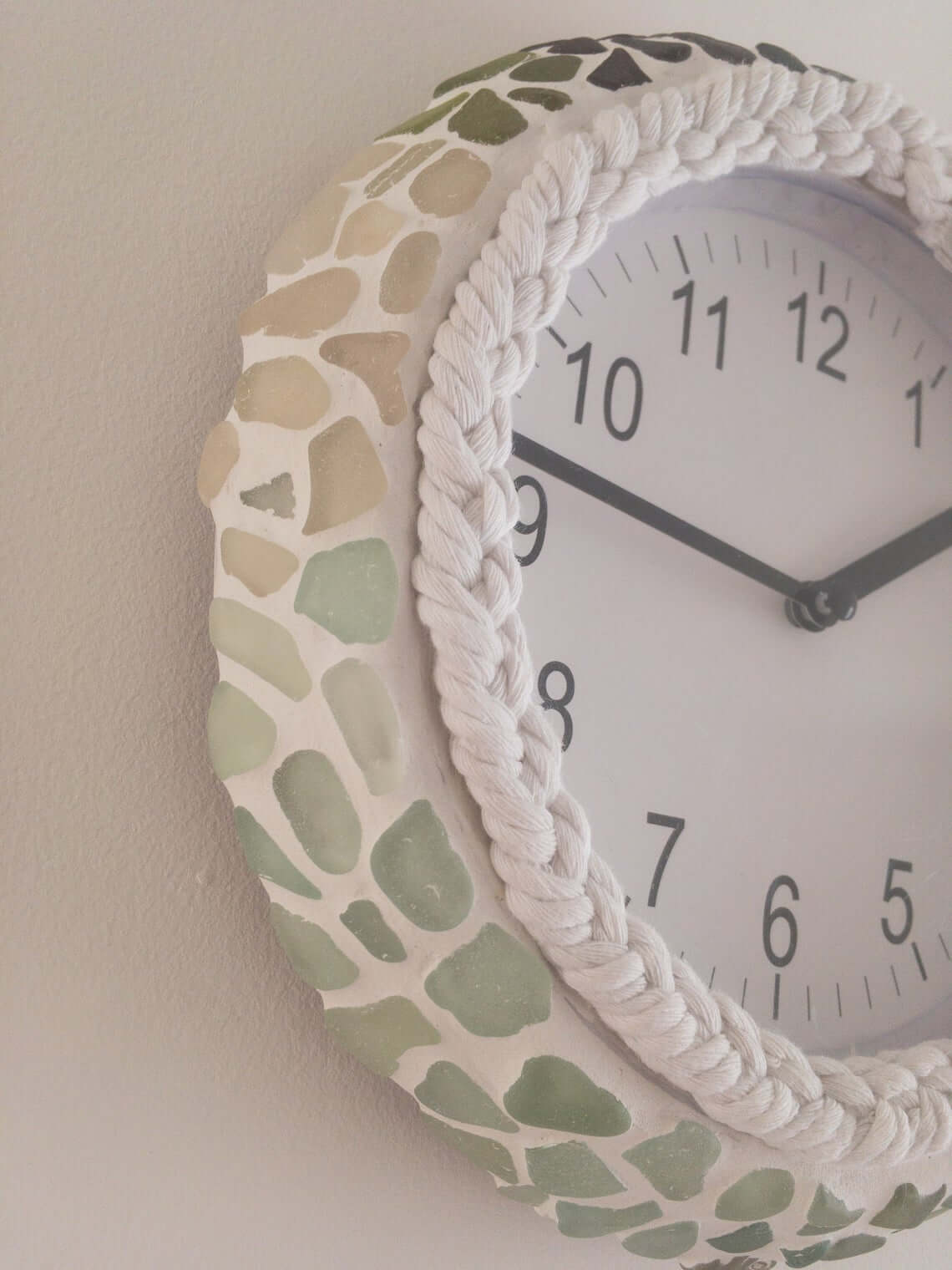 etsy.com
For a beautiful nautical addition to any room, check out this cool upcycled clock. Featuring a natural ombre of sea glass colors from white to dark green, this clock will subtly enhance any room it's placed in for a dash of ocean beauty. It's finished with a soft white cotton rope to give it extra texture and the feeling of an oceanside dock. The clock is 9 inches across, making it easy to place in any space around your home. Each piece of sea glass has been carefully chosen from the beaches of the Isle of Wight.
3. Adorable Sea Glass Seahorse on a Jar
This DIY kit comes with a mason jar, sea glass, sand, seashells, glue, a candle, and a small bead to create your own adorable seahorse candle holder. If you don't have access to it at home, sea glass idea kits like these are a great way to create beautiful sea glass art. The kit also comes in small, medium, and large sizes, so you can decide what size you'd like your candle holder to be. The seahorse you create will be one-of-a-kind, with beautiful texture and glimmering color that no other material could produce.
4. Frosted Bohemian Sea Glass Vase Filler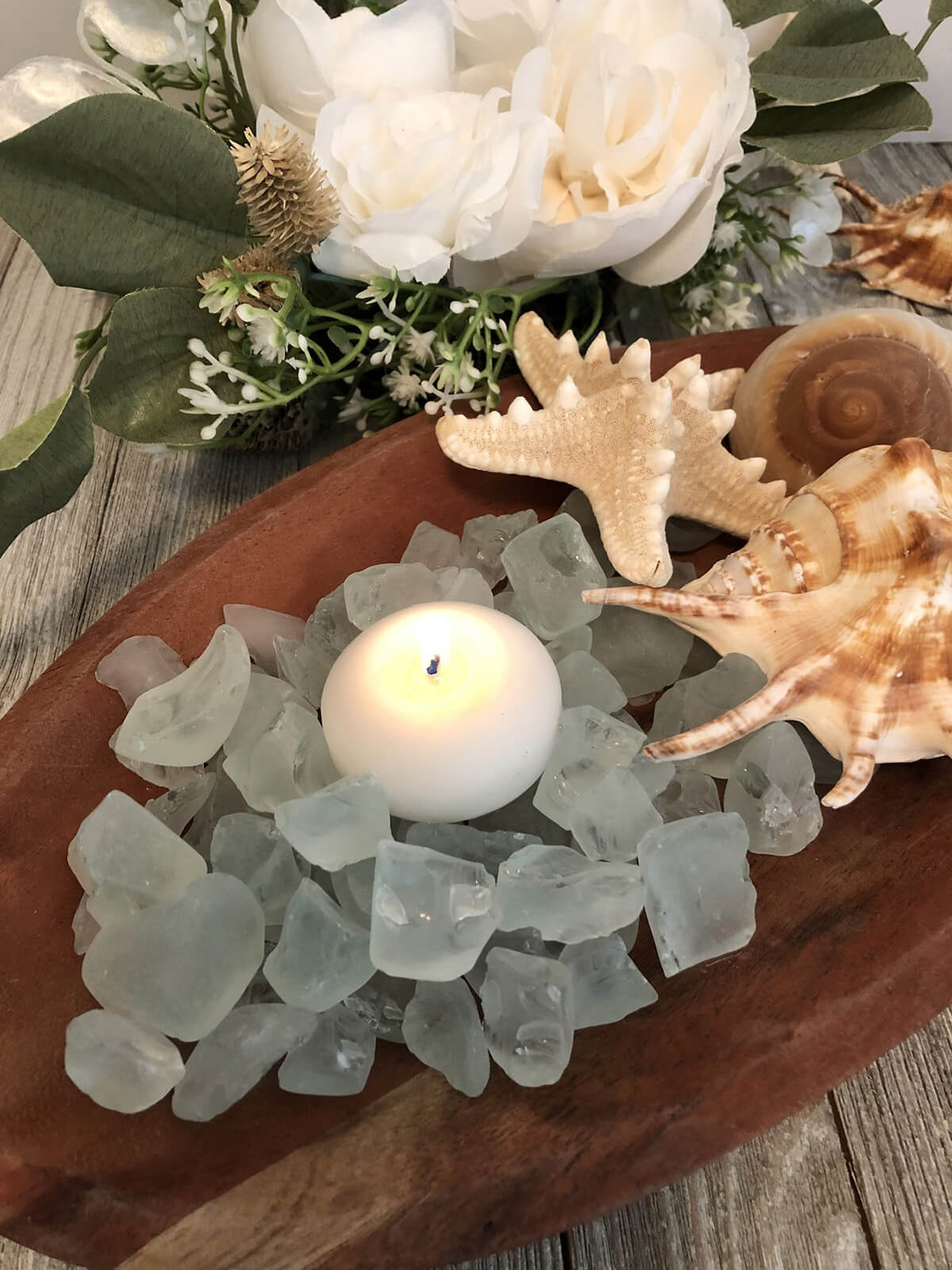 Source: floatingpearls.com
These frosted white sea glass pieces are super versatile and an awesome idea to add a little something to vases, candle holders, and any other decorative container you might have. Whether you use them to accent candles, floral arrangements, or just by themselves, these sea glass pieces will lend a sense of history and elegance. Great as part of a bohemian, shabby coastal chic, or modern decorating scheme, the pieces can be used to accent any indoor or outdoor space for an extra flair of nautical style. They're also perfect for any wedding with a coastal theme.
5. Island Sea Glass Picture Frame Mirror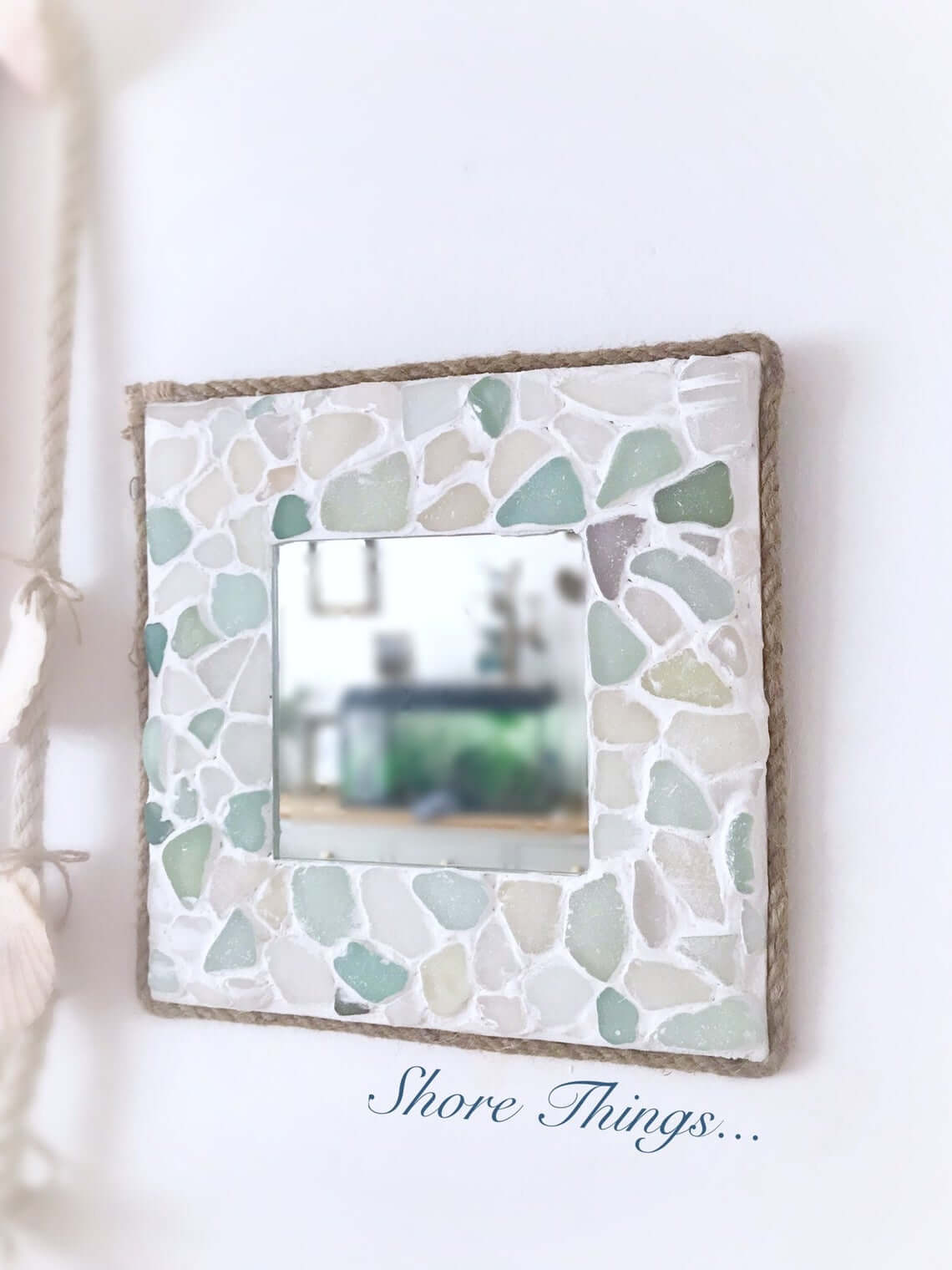 etsy.com
As a beautiful addition to any bathroom, bedroom, or hallway, this 6×6 mirror is covered with various colors of sea glass, making it a completely individual decor piece. While many sea glass decor items are best suited to specifically coastal themed rooms, this mirror is versatile and will fit any style of decoration thanks to its gorgeous pastel colors. The rope edging gives the piece an extra textured flair and helps it stand out from the wall. Whether you're looking for a functional mirror to hang above your bathroom sink, or a piece of wall art to hang in the hallway, this mirror is a beautiful and useful item that will add charm wherever you hang it.
6. Green Ombre Sea Glass Chandelier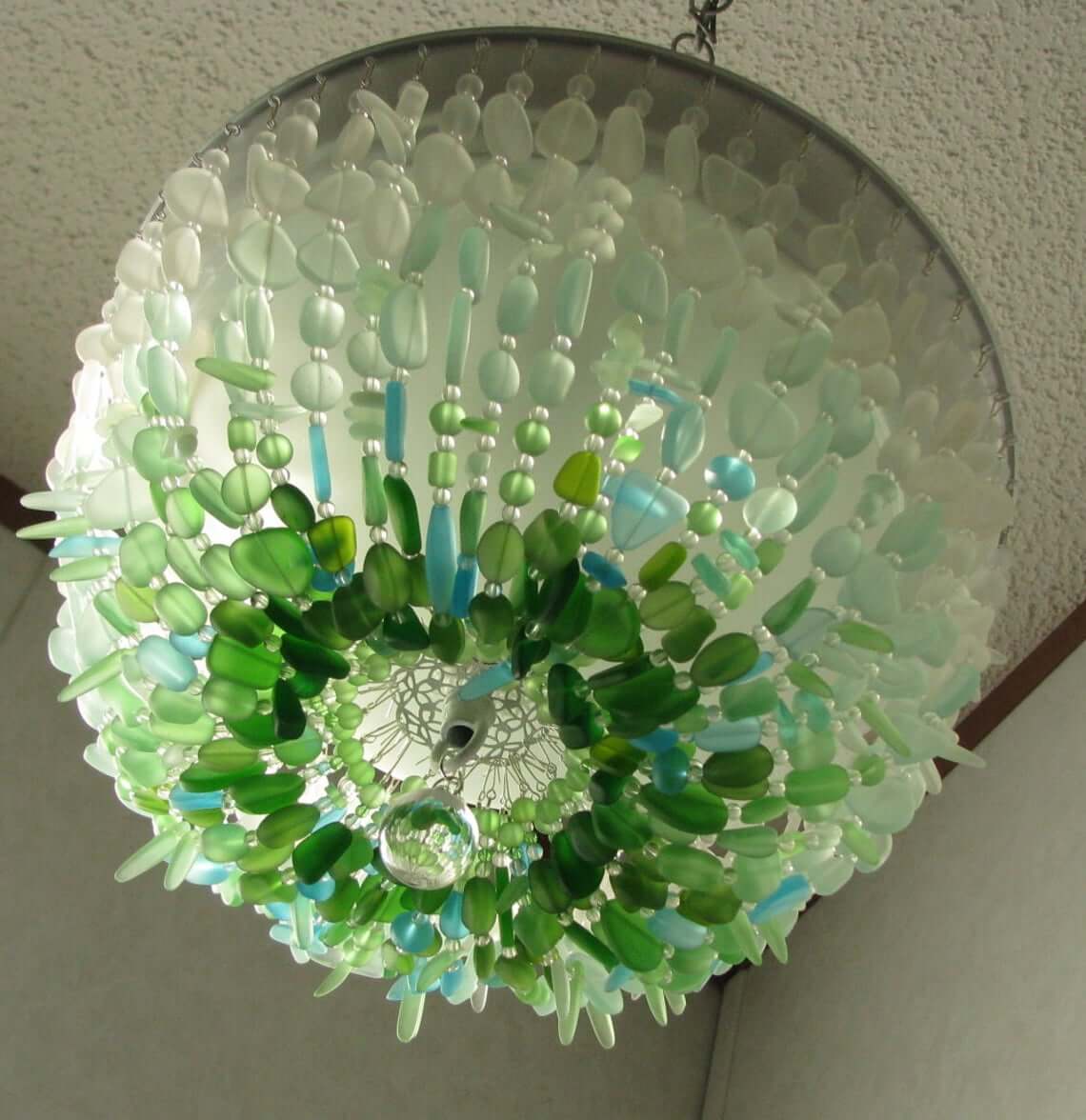 etsy.com
This gorgeous chandelier is meant to imitate the appearance of breaking waves with its ombre from white to dark green. The delicately strung individual pieces of sea glass are combined with clear crystal beads to create an amazing piece of art as well as a functional light fixture. A larger clear glass prism hangs from the bottom as a finishing touch. The illusion of water is completed with this raindrop prism and, combined with the skillful choice of white, blue, and green sea glass pieces, creates an oceanic feeling that's impossible to ignore. This chandelier is suitable for any space in which you want to add amazing color and strong aquatic touch.
7. Hanging Sea Glass Sun Catcher Mobile
For a dash of brilliant color and nautical whimsy, these sea glass suncatchers are a wonderful choice. The mobiles come in a variety of colors, from royal blue and green ombre to plain white and seafoam. Purchase a matching set or mix and match for an incredible touch of beachy atmosphere. Each suncatcher is topped with a real starfish, making each one completely distinctive from the next. These mobiles are an awesome idea for a wedding, birthday, or housewarming gifts, and are sure to be adored by all the beach-lovers in your life.
8. Beautiful Seahorse Sea Glass Magnet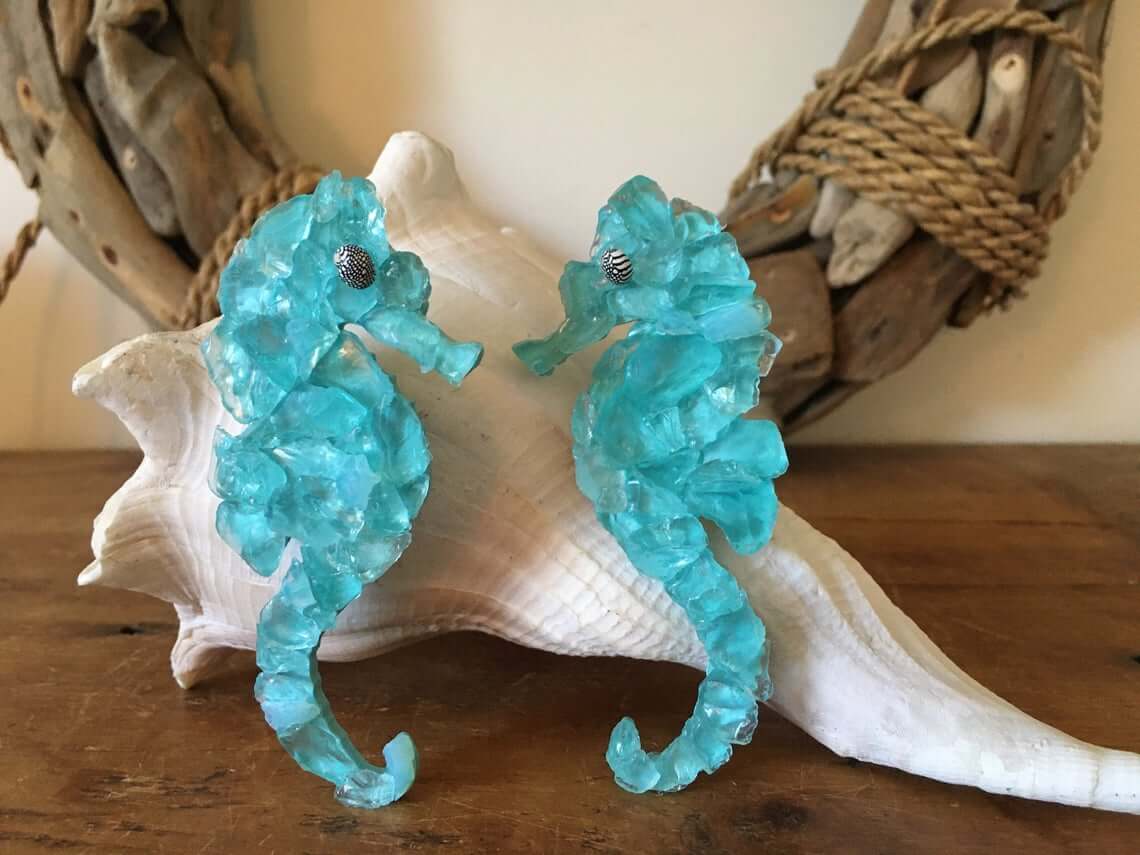 etsy.com
Even your fridge can be a place for stunning sea glass art! These aqua seahorse magnets are covered with many tiny pieces of sea glass that give the piece incredible color and texture, excellent for complementing an ocean theme or just to liven up an ordinary kitchen. A heavy-duty magnet on the back of each seahorse makes these little guys functional as well as beautiful. You can use these with any metal surface and combine them with other nautical decorations like seashells and driftwood to create an amazing ocean mood in any room.
9. Beach Festival Sea Glass String Lights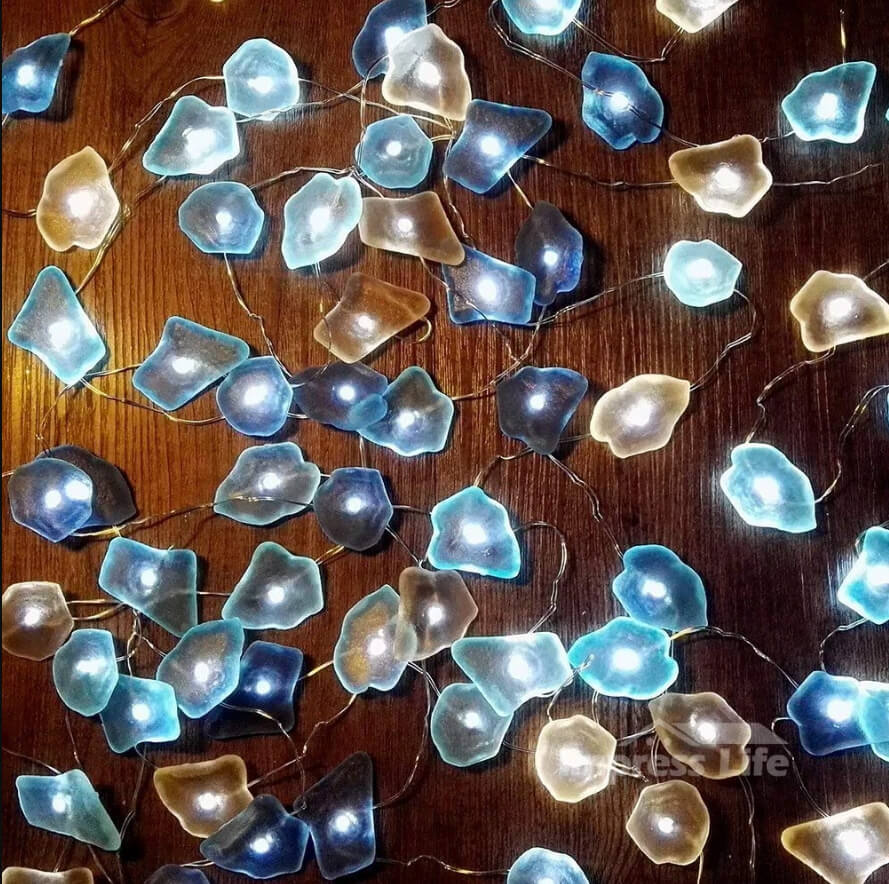 Are you planning on having a beach-themed party, wedding, or another event? 40 LED lights strung on the wire will lend a fantastical and colorful feeling to any indoor or covered outdoor event. These lights are rated for light rain or water spills, so you can use them outside as well as inside. Each small, bright light is encased in a piece of sea glass that will radiate blue, white, and amber wherever you hang them. These lights also come with a convenient remote control ability as well as a built-in timer, so there's no need to place them awkwardly for access to an on/off switch. No matter if you're having a grand event or just want to lend an extra oceanic feeling to your bedroom, these lights will brighten your day — literally and metaphorically.
10. Large Pastel Mosaic Sea Glass Mirror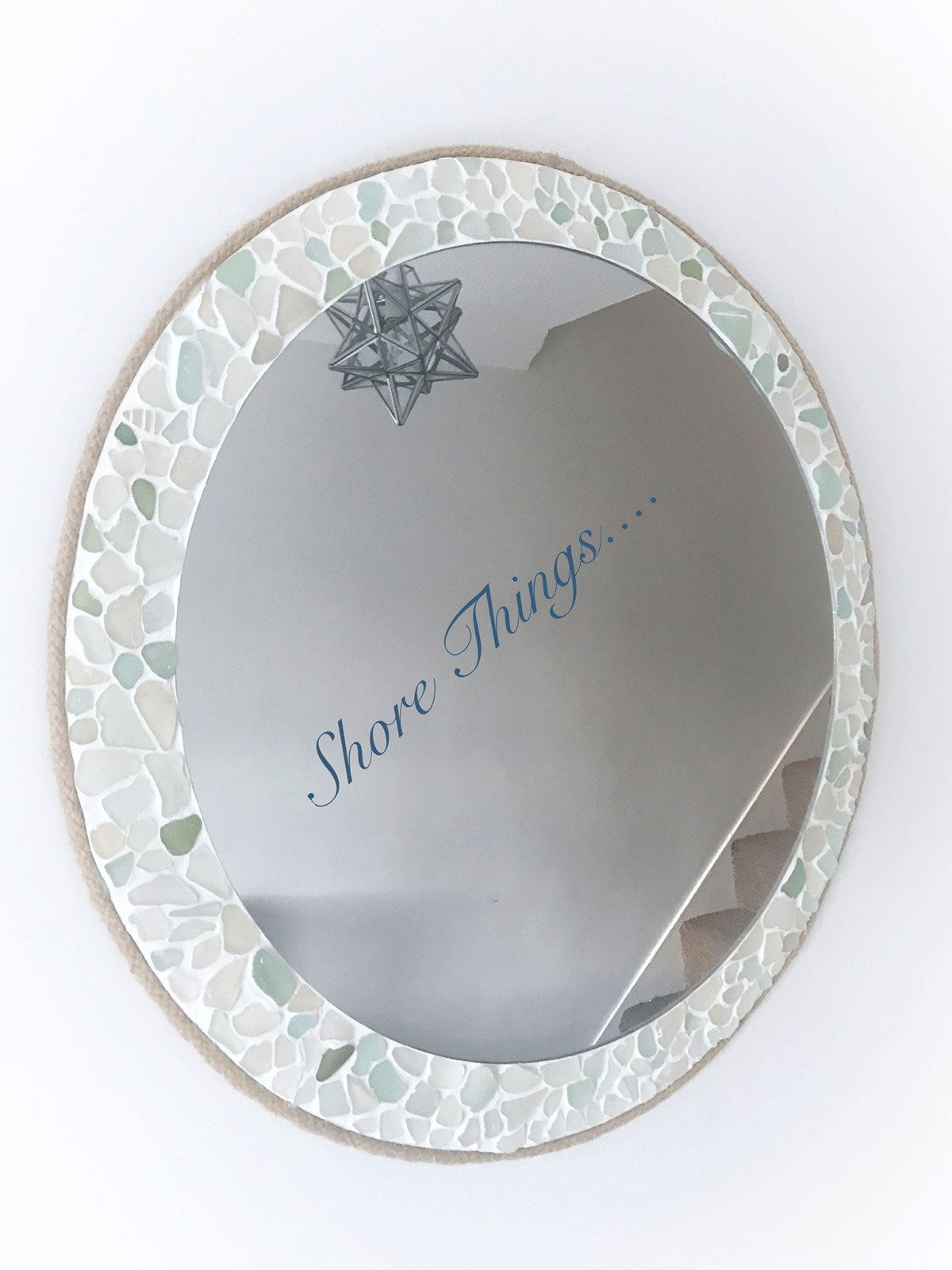 The mosaic of sea glass collected from the Isle of Wight enlivens this large 18-inch mirror and gives it a subtle marine feeling that's suitable for any room. This mirror is large enough to serve as your main bathroom mirror, but can also be hung in a bedroom, living room, or any other place for an oceanic suggestion. Its delicately textured pastel arrangement of sea glass has been solidly affixed and grouted to the mirror, so there's no need to worry about pieces coming loose. The mirror is edged with rope for an extra nautical edge that will help the piece stand out from the wall and make an impression on everyone who sees it.
11. Sea Glass Upright Window Display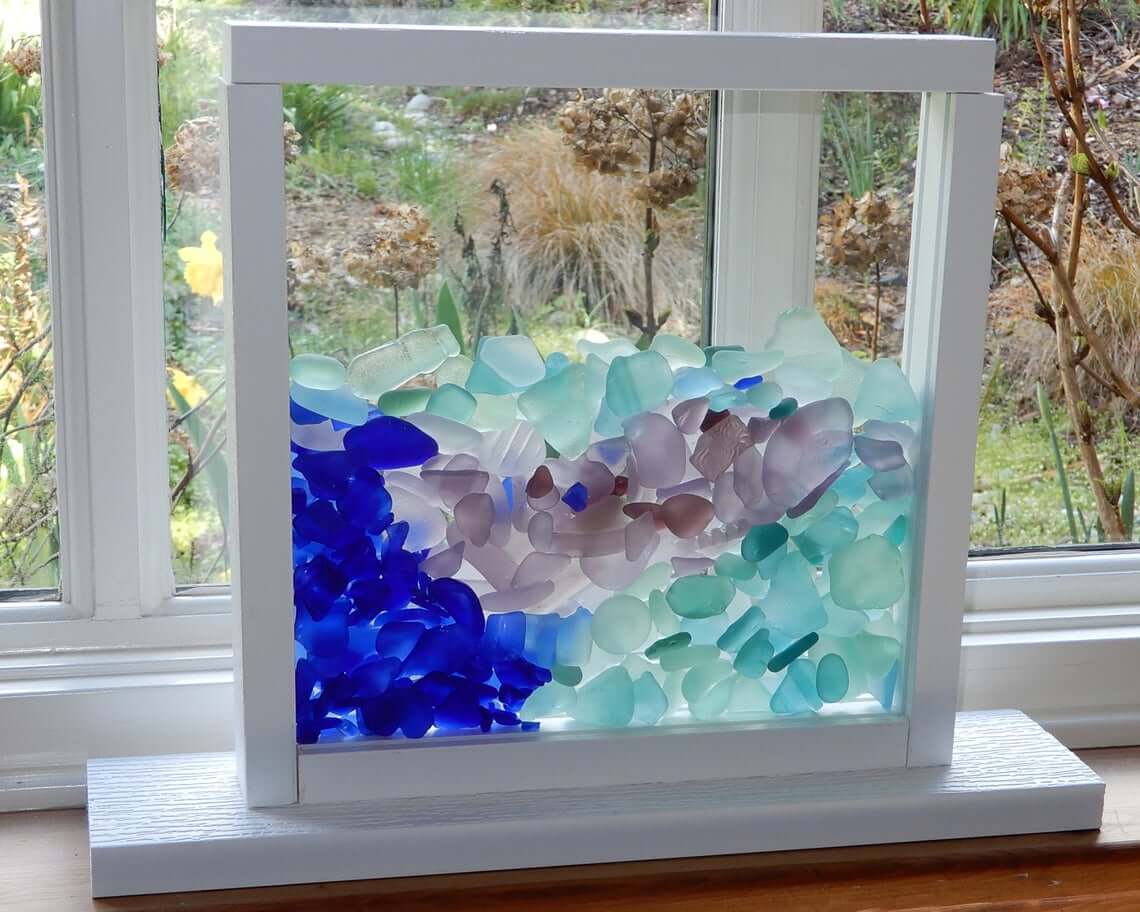 etsy.com
Perfect for the avid collector of sea glass and other beach treasures, this window display is designed to hold up to 30 pounds. If you have a collection of sea glass, seashells, or polished pebbles you don't know what to do with, this display will help you show them off in the best way possible. It's especially good for displaying next to a sunny window, so the sunshine comes through the sea glass and creates a gorgeous reflective effect. The window is available with a natural rough-cut cedar or white composite frame. Excellent as a beach souvenir or as the beach house decor, this display will flaunt your sea glass collection like nothing else and catch the attention of anyone who sees it.
12. Driftwood and Sea Glass Tree Art
etsy.com
For a simple yet gorgeous piece of wall art that can be displayed in any room, this tree made of genuine sea glass and driftwood looks excellent no matter where you put it. Both the sea glass and driftwood were gathered from the beaches of Nova Scotia, giving the materials and the art piece itself a mysterious and historical feeling. Each piece of glass has been carefully chosen and is completely one-of-a-kind. No matter where you prefer to hang it, this art will amaze your visitors and lend a gentle and colorful ambiance to your home.
13. Encrusted Sea Glass Mason Jar Light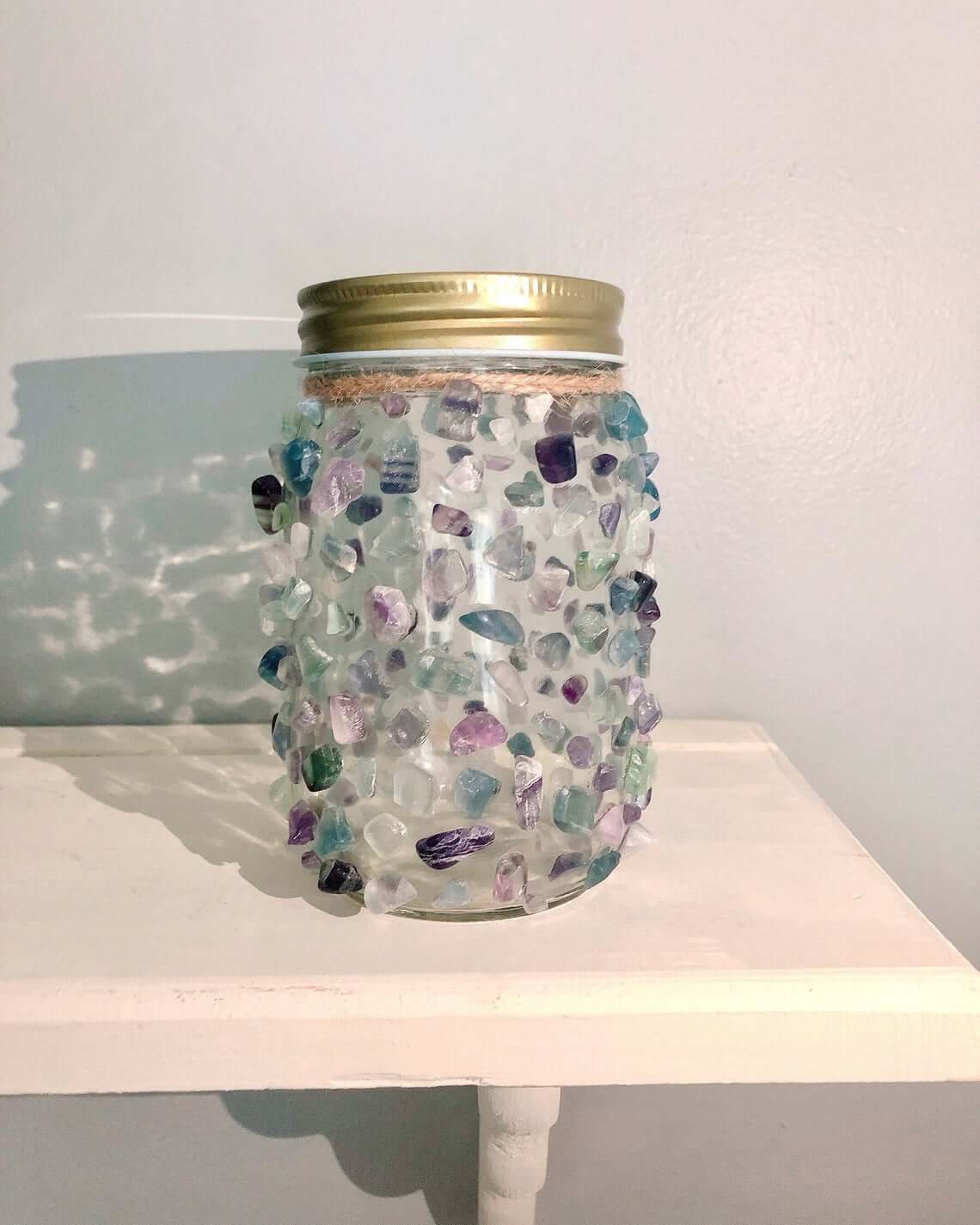 etsy.com
This intricately encrusted mason jar comes either with or without lights, making it versatile as a container or a nightlight, depending on your preference. Whether you fill it with candies as a gift, use it as a centerpiece for your living room, or place it in the bathroom as a nightlight, this jar will wow and impress. The delicate pieces of sea glass give it a special texture and a feeling of mystery that anyone will love.
14. Framed Sea Glass Banner Wall Art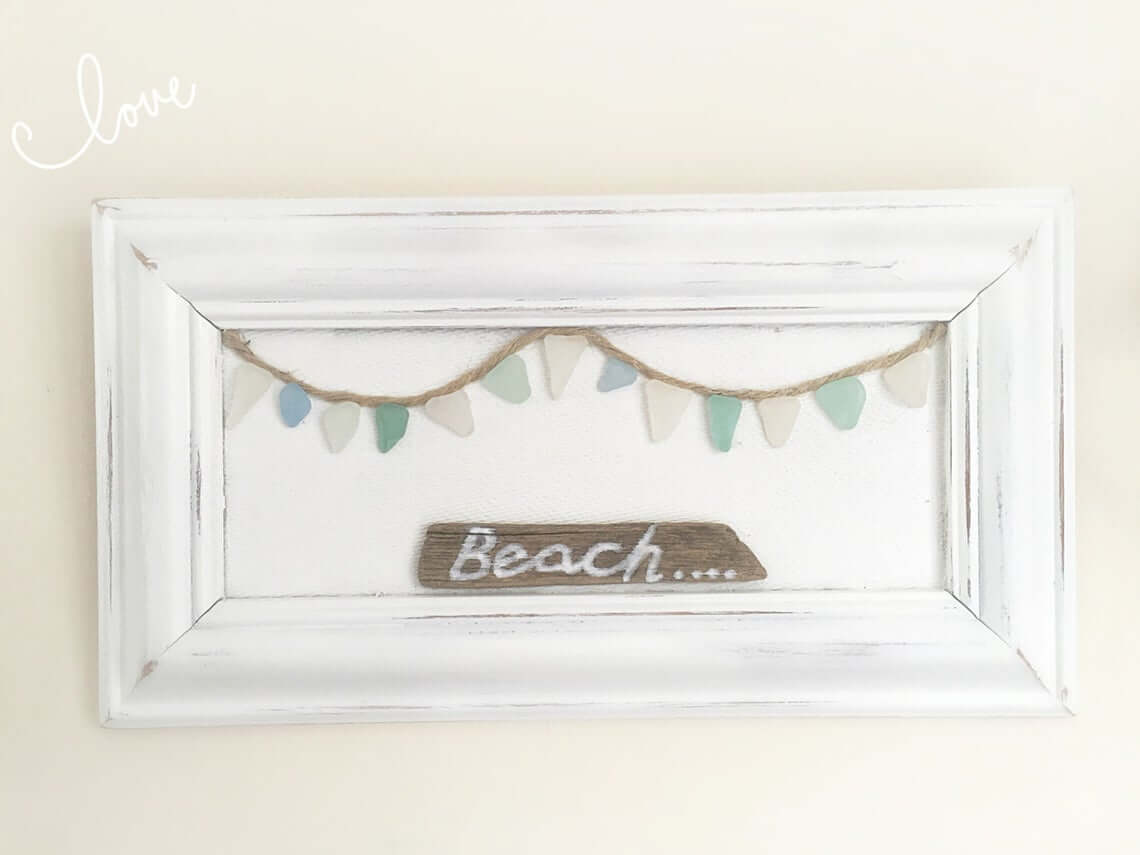 etsy.com
Are you looking for wall art to go along with your natural, shabby chic, or nautical themed decor? This one-of-a-kind piece is made from genuine sea glass and driftwood from the Isle of Wight. The subtle colors of the sea glass and the rustic quality of the driftwood give the entire thing a marine quality that will bring back memories of the beach. The slightly-worn white frame lends a sense of history and vintage beauty to the piece.
15. Textured Sea Glass Sea Star Ornament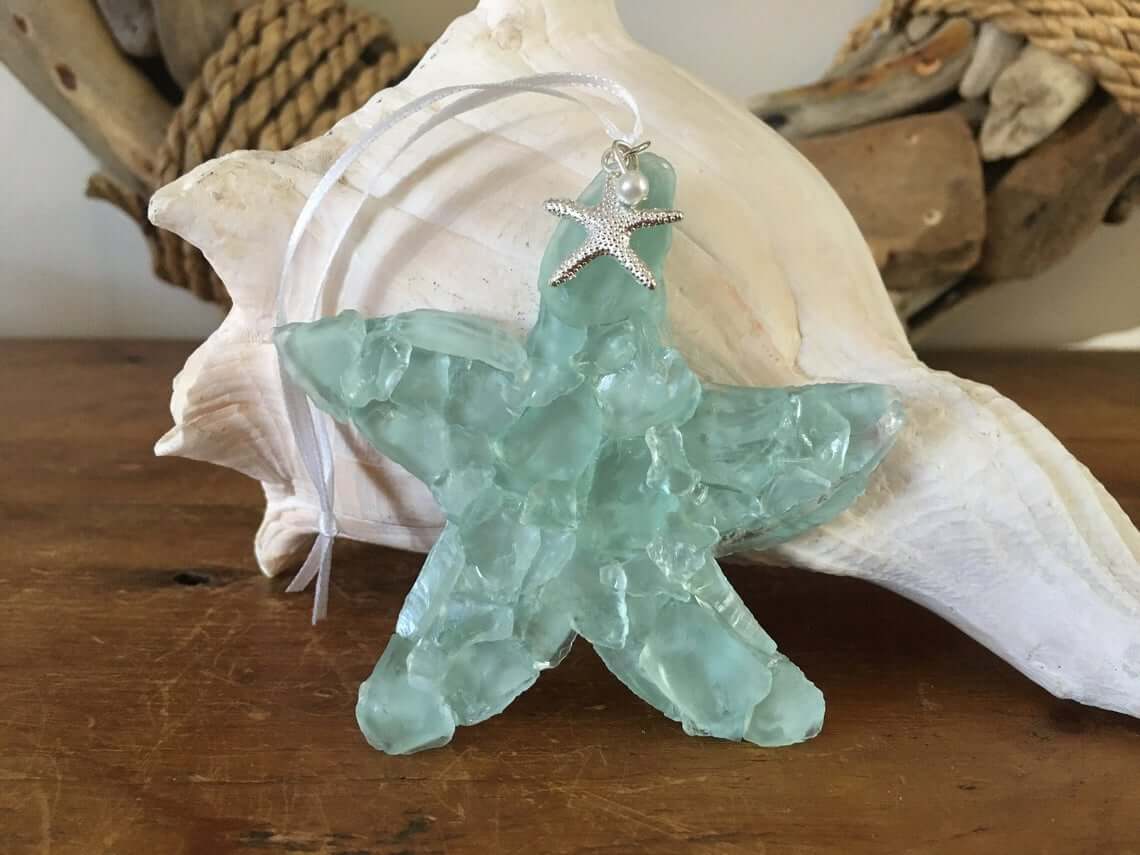 etsy.com
This starfish sea glass ornament is suitable for hanging on the tree at Christmas as well as decoration year-round. The gentle seafoam color brings to mind the ocean without being too bright or loud, making it easy to decorate with no matter the color scheme. Delicate pieces of sea glass adorn the wooden base, giving it texture and character, while a metal starfish charm provides the finishing touch.
16. Unique Sea Glass Magnet Set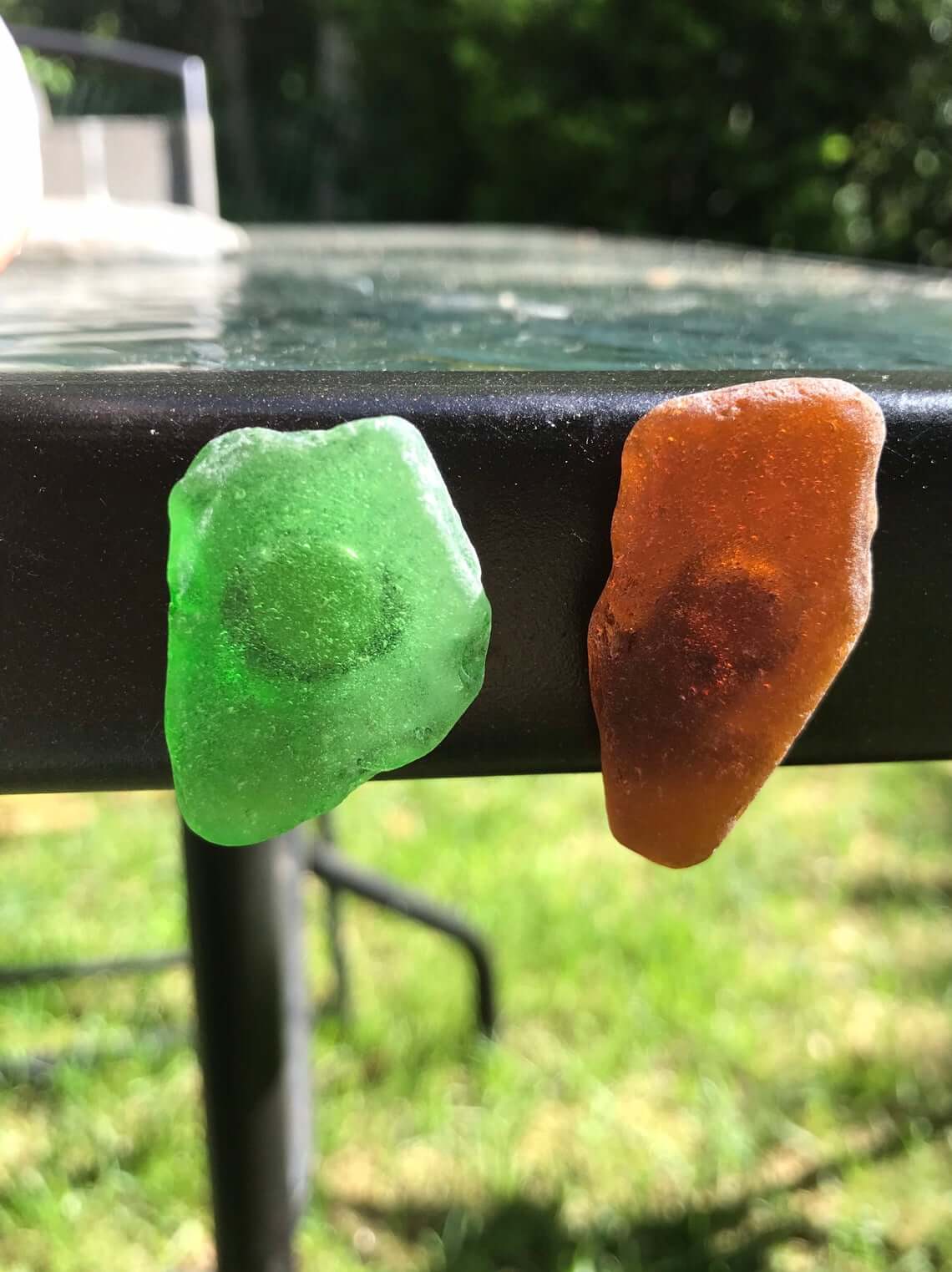 etsy.com
These individual sea glass magnets are each made from one large piece of sea glass glued to a strong magnet. They are each completely singular and unlike any other, and come in green and amber colors. Not only are these magnets highly useful for their strong magnetic backing, but the vivid coloring and beautiful frosting of the sea glass give them a gorgeous oceanic character that's instantly recognizable.
17. Multicolored Mosaic Sea Glass Tray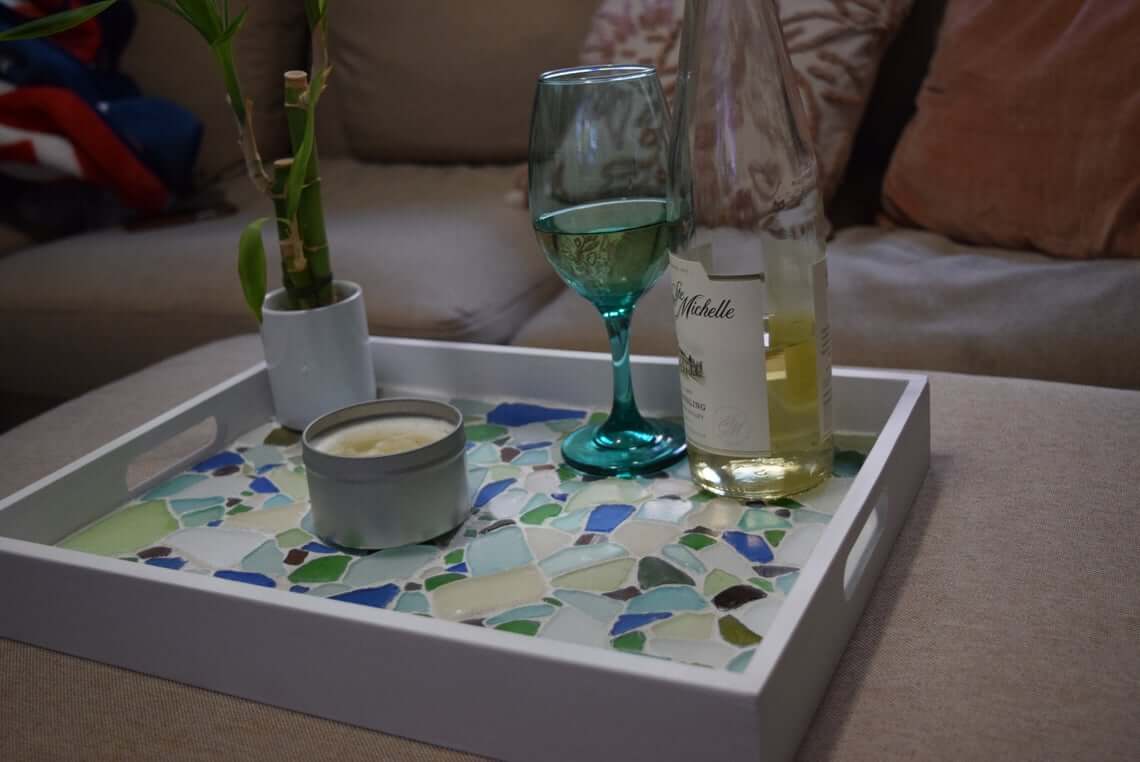 etsy.com
The mosaic of multicolored sea glass on this tray makes it ideal for either decorative or functional use. Whether you use it as decoration, to display and hold other beach treasures, or for serving, this tray will delight you and bring incredible color and beach whimsy to your home. Each tray is made to order, so you can decide what color scheme you'd like: white and blue, green and blue, or all colors.
17 Easy Sea Glass Crafts Designs for Beautiful Home and Garden Decor