Last year I did not pay much attention to the great uses of old magazines. But this year when all of a sudden these DIY Reuse Old Magazines ideas start popping on my computer screen, I started taking interest in these DIY Recycle projects.
When we dont throw away old magazines then they start piling up and take up a great deal of space. For some reason I find it hard to toss my old magazines. But after finding so many creative reuses of old magazines, I have decided that I am going to try making these wonderful old magazines crafts at home. Because I am a great fan of trash to treasure projects 🙂
So today I have collected these top super crafty and unique DIY ways to reuse your old magazines. Follow the links after each diy for step by step instructions.
Are you excited to check out the collection?
I would suggest to grab some of your old magazines and then have a look. Happy crafting guys 🙂
1. DIY Repurposed Magazine Butterfly Chain
We all have it. That random pile of magazines lying around, creating clutter in our space. We are apprehensive about throwing them away; we might want to read them a second time, right? Well, we almost never do. So, what can we do with them? Do we toss them into the recycling bin? Or, can we recycle them in a more creative way? It you choose the second option then you got to try this fun butterfly chain. Follow this tutorial for more details. Tutorial/Source: dezignable
2. Magazine Page Origami Bookmark
This is another heart tutorial. Turn those old magazines into lovely bookmarks. Is the 'book page' trend over yet? I sure hope not, because I just love the look of this corner bookmark folded from a book page. The great thing about origami is that it is cheap and anyone can do it – with the proper instructions. So follow this DIY project for further How to instructions. Tutorial/Source: thecheesethief
3. Fold easy origami flowers.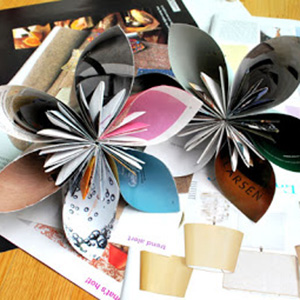 Make bunch of gorgeous flowers by reusing old magazines or newspapers. They are very easy to make and you will love the final output. Give it a try guys. Source/Tutorial: alamodestuffblog.com
4. Woven Recycled Magazine Coasters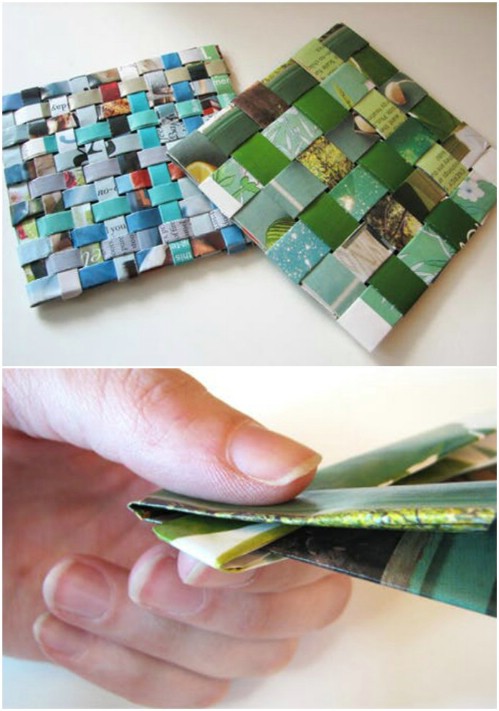 Woven coasters made from magazine pages. Does this sound interesting? To make these coasters, first take your old magazines, cut the pages into strips, and then make these neat little woven coasters. Trust me guys its very easy to make. Once you are done, I am sure you'll have a lovely set of handmade custom coasters for you.  Tutorial/Source: howaboutorange
5. Anthropologie Inspired Brooch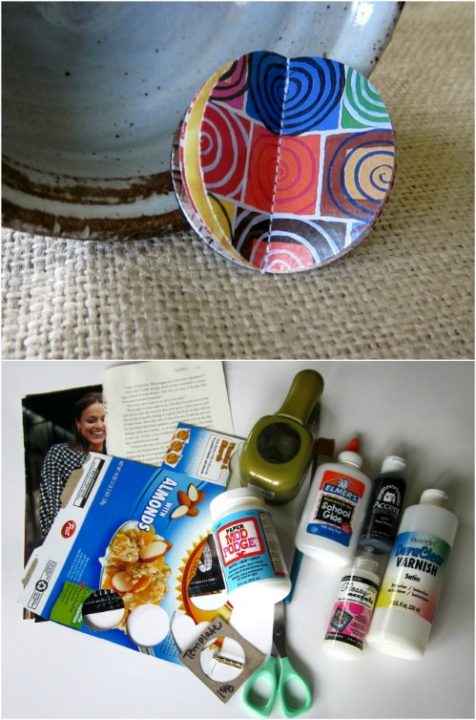 Now create your own Anthropologie inspired brooch, that too reusing old magazines. This is a great way to get make a new brooch without spending too much time and money. Anyone can make it. What all you need to do is, just cut the images that you need and secure them onto a pin back. This has a nice 3D feature which makes it attractive. Do you agree? Tutorial/Source: wendylynnspaperwhims
6. Lovely Upcycled Magazine Wreath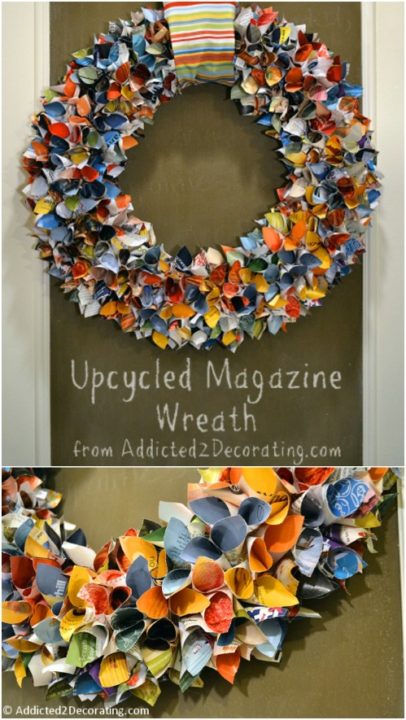 I have this habit of keeping old magazines. If you're anything like me, then you have to try these DIY Reuse old magazines ideas today. And how about making this adorable DIY wreath from old magazine? How cool is that? To make this wreath you need 3-4 magazines. Cut magazine pages in square shape and roll those squares around a dowel. I think its a great budget friendly DIY festive craft project. They are very easy to make and you will love the final look.  Tutorial/Source: addicted2decorating
7. Gorgeous Magazine Page Nails
I think I am going to try this cool nail idea this month. Yes,you can use old newspapers and magazines to create nail art like this? Check this tutorial to learn how to turn magazine pictures or words into beautiful nail art. This DIY Old Magazine project needs very few supplies. I can't wait to try this.  Tutorial/Source: www.taaz.com
8. Repurposed Magazine Page Placemats
I found these placemats that were made from magazine articles. Would you like to try this one? Turning old magazine pages into placemats is really easy and cheap. I think it is such a unique DIY way of reusing old magazines. Do you agree?  Tutorial/Source: thepinkcouch
9. Upcycled Magazine Page Goody Bags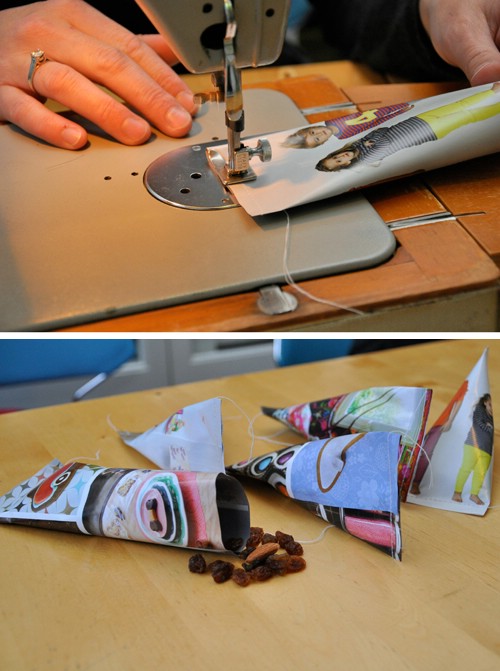 What a wonderful idea! These goody bags would be perfect as a classroom treat or for party favours at a birthday party. Its just that, this DIY Reuse project of old magazine needs some sewing. So be ready with you sewing machine before starting this DIY. Trust me guys its very easy to make. Tutorial/Source: babyccinokids
10. DIY Magazine Envelopes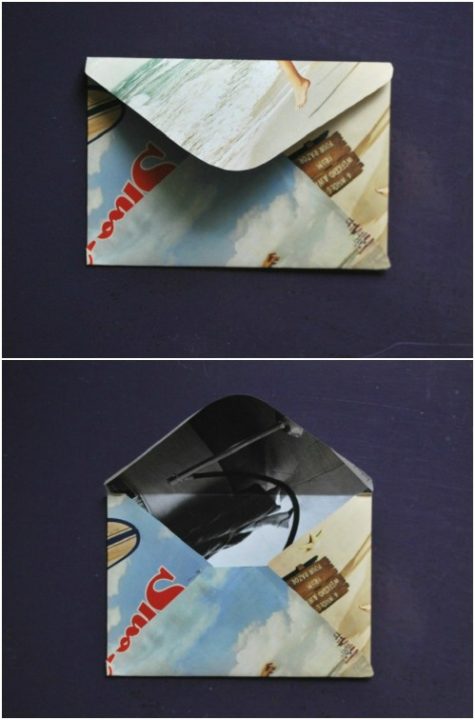 Raise your hand if you love to make DIY envelops like me. Now reuse old magazine pages to make this simple but very useful envelopes at home. You can literally make any sized envelops. Later use your imagination to decorate it the way you want. Are you excited to create this DIY craft project?  Tutorial/Source: heywandererblog
11. DIY Magazine Storage Basket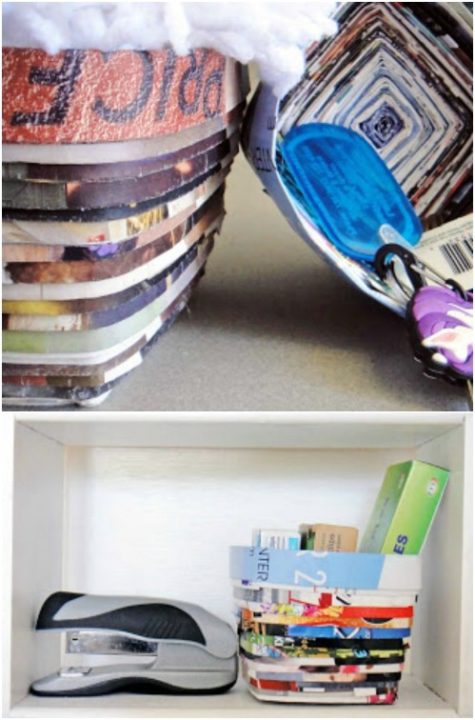 Dont you think its a great way to store your future magazines than in a basket that too made up of old magazines? You can use this magazine basket to store so many things. Also as per your requirement you can create big or small baskets. This project is not difficult but may be time consuming. Ask your little ones, I am sure they will be happy to help you in completing this unique DIY recycle old magazines project. Give it a try guys and enjoy. Tutorial/Source: thegildedhare
12. DIY Coiled Magazine Page Coasters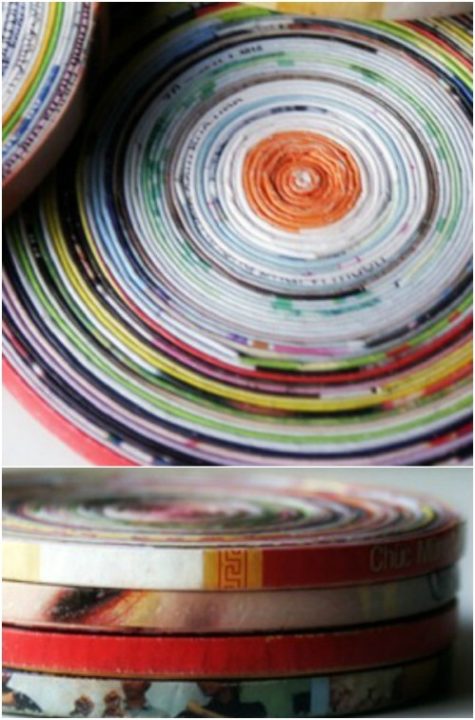 Ready for another unique, practically free, handmade gift idea. Another way to reuse old magazines to make these beautiful coasters! I am loving it. Would you like to try this one? If yes then follow this tutorial for more details.  Tutorial/Source: savedbylovecreations
I hope you will try atleast one of these amazing DIY Ways To Repurpose Old Magazines. Wishing you an amazing happy crafting time 🙂
Thats all for today guys, I hope you had an amazing time here. Do visit our website again for more DIY crafts ideas. Meantime you can connect with us on  Pinterest and Facebook.
Pin This Collection of DIY Projects To Repurpose Old Magazines for your reference.