Ever since I started taking interest in miniature DIY fairy gardens, I see DIY fairy furniture ideas everywhere.
In today's DIY Fairy Garden and Furniture ideas, you will find all sort of projects. There's a great acorn birdhouse as well as many other DIY fairy furnishings like beds, doors, stairs, tables, chairs and so much more. The best part is most of the project are created using upcycled materials or things that you can find in your yard. You can use easily available things like sticks, stones,twigs and other materials or you can make your accessories out of anything you want and just paint them to look natural. Let your imagination fly.
Follow the links after each diy for step by step instructions. Have a magical look 🙂 Happy crafting guys.
1. Once Upon A Time Fairy Centerpiece
When I first time saw this image I found it so unique. It will give that enchanted and magical look to your garden or outdoor space. Source/Tutorial: pennywiseblog.blogspot.com
2. DIY Wooden Fairy Stairs
There are no rules when it comes to creating these miniature magical worlds.The mini living gardens are created with just a few basic supplies and brought to life with the simple addition of mini accessories.If your fairy castle is tall then your fairies will need stairs, right? From birch wood rounds you can build a beautiful and natural looking staircase. You are free to use any kind of wood. To start with,simply cut out several rounds from your chosen wood and then glue them together so that they create a staircase. Did you like this DIY fairy furniture idea?  Tutorial/Source: bystephanielynn
3. DIY Fairy Tale Fairy Well
I think this is one of the cutest well I have ever seen. Once you have your base ready, begin hot gluing small stones all the way around the edge. After you've got the bottom layer down, just move on up, fitting the stones together best as you can. Check out step by step here. Source/Tutorial: thejuise.blogspot.com
4. Tiny DIY Tinkerbell Garden
Kids will love to make this little DIY fairy garden. Help your little on to bring faires to your garden. Source/Tutorial: abccreativelearning.com
5. DIY Acorn Birdhouse
These little acorn birdhouses are adorable and my favorite. If you're like me, you have loads of acorns in the yard and you can make as many of these as you want for decorating your little fairy garden. Just paint them – if you want – and then drill a hole for the tiny little birds to enter. Make your own miniature fairy garden accessories and charms with polymer clay. Tutorial/Source: empressofdirt
6. Adorable DIY Mushroom House
This little mushroom house will brighten your DIY fairy garden. You can add things to the house with polymer clay. Paint the clay with colors that you want. Bright colors can be used bring attention to your fairy garden.  Tutorial/Source: casaetrend.it
7. DIY Painted Pebble Ladybugs
Ladybug garden decor are my favorite. These little ladybug pebbles are fun to make and will make your fairy garden look creative. You can do different sized ladybugs. Tiny ladybugs can give a company to fairies or big ones that your fairies can ride. Take suitable shape stones and paint the ladybug designs on them. I am sure its a fun and easy DIY fairy garden project which everyone will love to make. Tutorial/Source: icreativeideas
 8. Woodland Retreat Fairy Cabin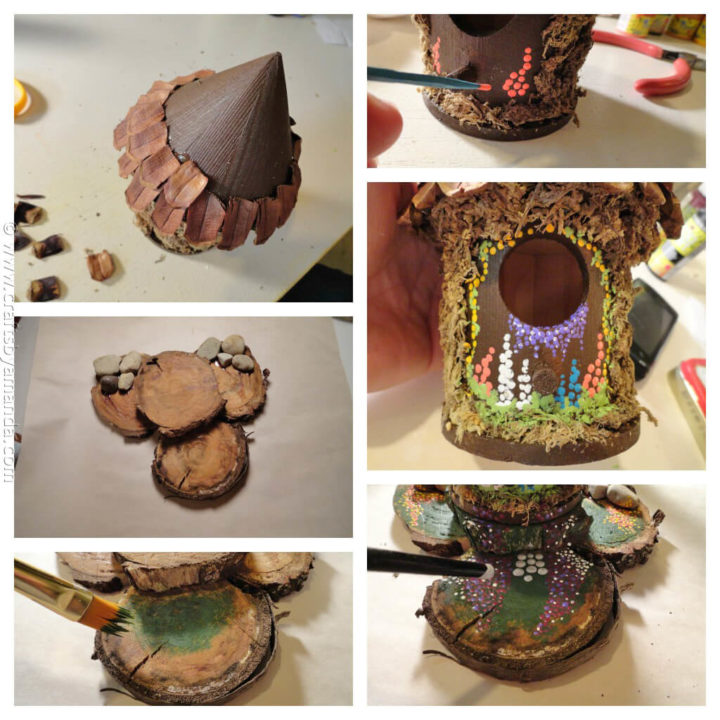 You can make this project even if you really don't know too much about fairy houses. Start with the bottom and work way up, adding an acorn top to the top of the roof. For further details check the link. Source/Tutorial: craftsbyamanda.com

9. DIY Fairy Doors
Fairies will need a nice door to enter their homes. Right? These little DIY doors are really easy to make. There are many types of doors for fairy houses: whimsical free-shaped doors with pointy tops, rectangular wooden slat doors, clay doors made from molds and hobbit-type round doors. Your imagination and your at-hand supplies are the only limit to what you can create. Tutorial/Source: trilbyworks.com
10. Pretty Pine Cone Fairy Dome
Who like lord of the ring movie? This DIY fairy house look like hobbit houses from lord of the ring movie. Very adorable. Source and Tutorial: alittlefurinthepaint.blogspot.com
How many of these amazing ideas do you think you'll attempt this year? I hope you will try atleast one of these amazing DIY Fairy Garden Furniture Ideas. Wishing you an amazing happy crafting time 🙂
Thats all for today guys, I hope you had an amazing time here. Do visit our website again for more DIY crafts ideas. Meantime you can connect with us on  Pinterest and Facebook.
Pin This Collection of DIY Fairy Garden Furniture and Accessories for your reference.