Whether you're an infamous black thumb, a forgetful gardener, or you've had dreams of gardening glory but were somehow always waylaid, well, spring gardening is your calling.
25 Spring Garden Ideas For Your Home Exterior
There sure is some labor involved, but nothing your pent-up winter energy can't handle. Besides, gardening is a joy after having spent the better part of your days wrapped up indoors. The snow is slowly melting, the sun is getting warmer every passing day, and the garden is ready to bloom again. Spring gardening is a wonderful way to wake up to garden life after the hibernation of winter.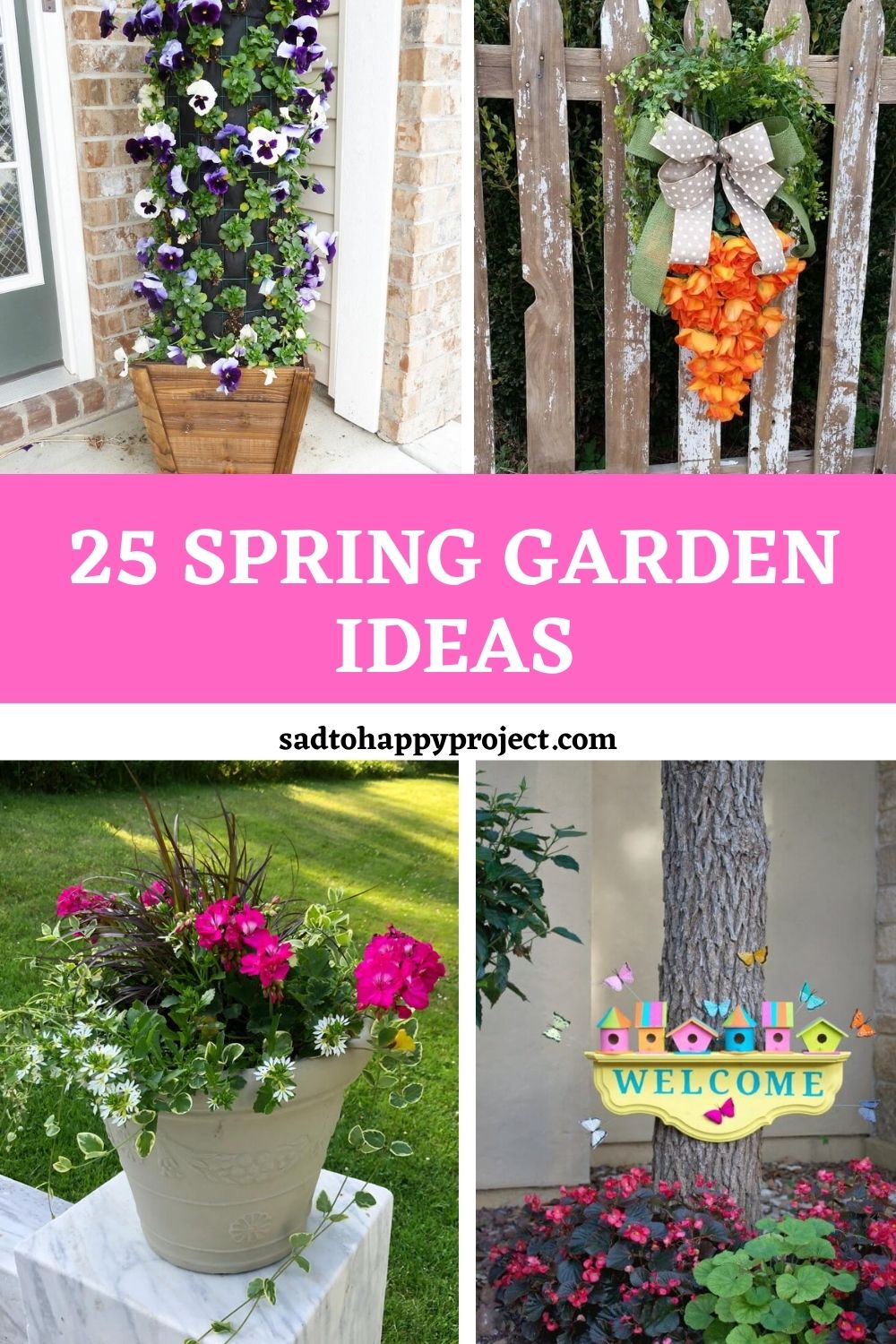 Spring is the fairest season of them all for the observant gardener. There's nothing like seeing the growth of leaves appearing on the trees, witnessing beautiful buds that are starting to bloom and let's not forget getting our hands in the soil to plant everything we've been dreaming about all winter long. From inspiration, experimentation and enjoyment, we're excited to focus on our home decoration especially when it comes to the great outdoors.
1. Upcycled Metal Gate for Hanging Flowers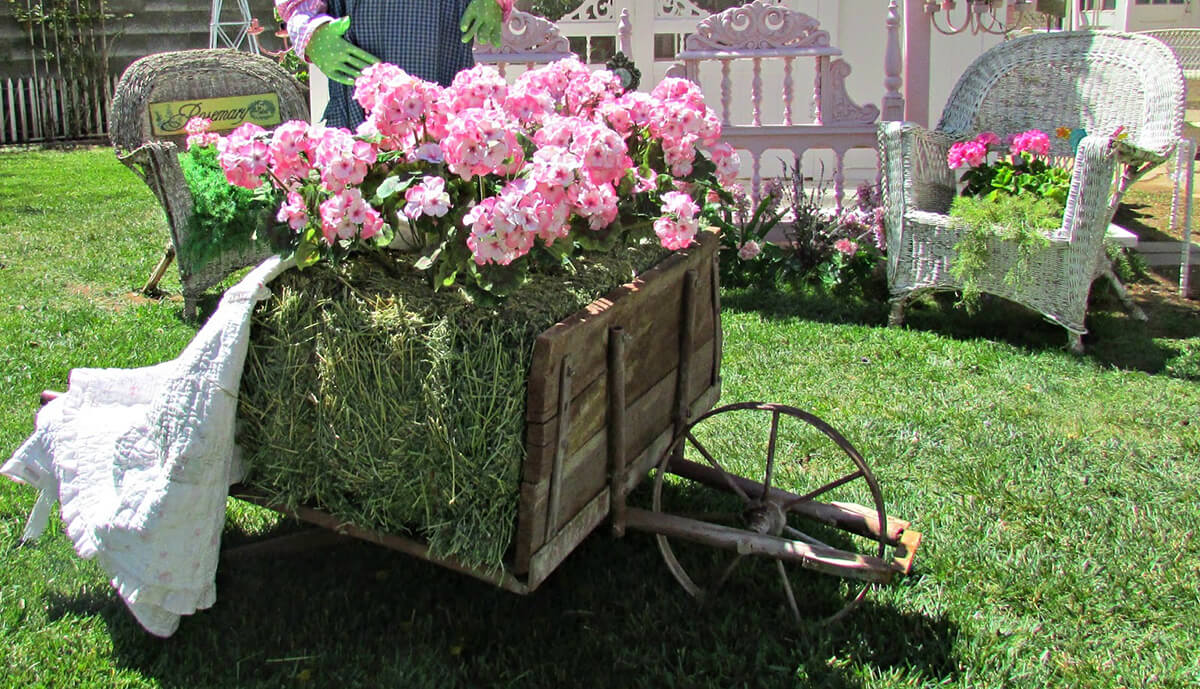 Source: astrollthrulife.net
Gates are such a lovely spring garden design idea. Regardless of whether you are using the gate for privacy reasons or for decoration, the vintage wrought iron look adds a beautiful touch to any garden. Adding flowers to an old upcycled gate is the perfect way to dress it up with a variety of colors and heights and gives your garden that fairytale, whimsical feel that's both charming and eclectic. If you don't have an old gate laying around, you can check out your local thrift stores for something similar and recreate the look to fit your own style and personality.
2. Whimsical Garden Stakes to Beautify Your Garden
These handmade garden wands will add a touch of fantasy or whimsy to your garden. They measure slightly longer than a foot and are made with glass beads, spacers and fun dangling charms all attached to each stake. These whimsical garden stakes will look great right inside your garden bed or stuck inside your potted plants. Choose from a variety of colors like a shiny rainbow sequence, orange or yellow pumpkin toppers, or even Christmas colors for every season. Bring them indoors when the weather starts getting cooler and place them in your indoor potted plants to use all year long.
3. Turn Old China into a Beautiful Garden Display
Have any old china laying around collecting dust? Turn your grandmother's dishes into a beautiful garden art display. Using a few rods, you can create a lovely arrangement of plates shaped like flowers. Gather a variety of sizes of old plates and dishes and glue them onto a rod or sturdy piping. Paint them if you'd like or leave them as is for an authentic and vintage look. Add a clear or transparent colored glass bowl to the center to reflect the sunlight. Can you imagine what this lovely display looks like when the light hits the plates? I bet it's stunning.
4. A Rustic Toolbox Caddy Turned Garden Bed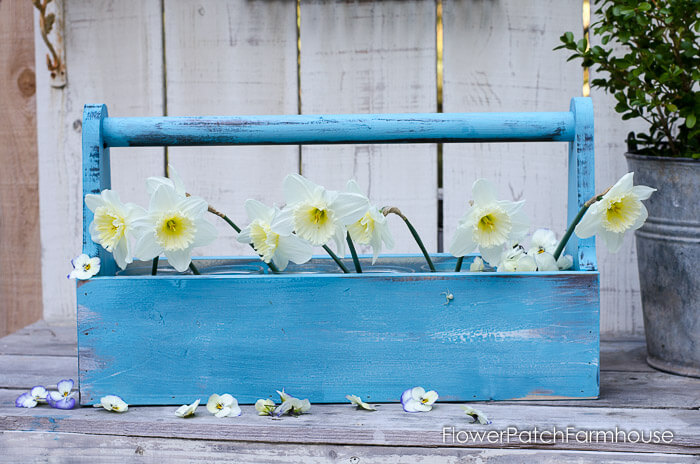 Source: flowerpatchfarmhouse.com
This simple, yet stunning garden box can be easily recreated no matter what your craft skill level is. This repurposed wooden toolbox carries enough rustic charm that you'll want to leave out for everyone to see. You can use it for a variety of purposes like carrying all your gardening tools, a drink caddy, or use it for potting plants to put on display as a beautiful spring centerpiece. You can even spruce it up by painting on flower stencils or stenciling in your family's name. The possibilities are endless with this rustic toolbox caddy turned garden bed.
5. A Spring Garden Flag That'll Have You Hopping for Joy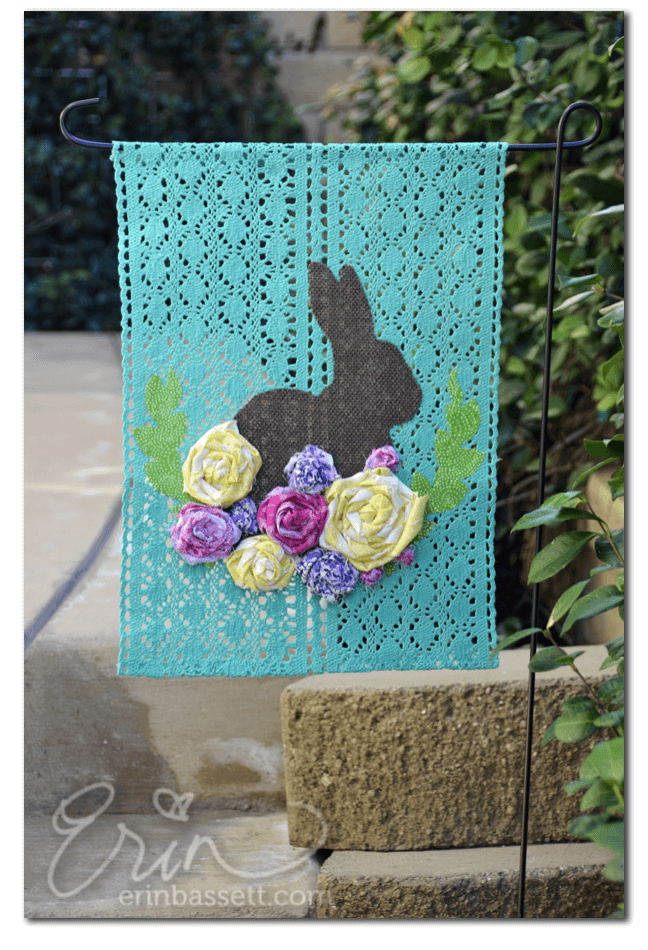 Source: erinbassett.com
Garden flags are the perfect addition to your outdoor space to greet your family, friends and guests. They're an easy to make outdoor decoration that will cheer up your yard and show your love for the new season. There are countless ways to decorate your spring garden flag that are easy and inexpensive while still spicing up your yard. You can use a variety of materials to make your own flag like scrap fabric, old tablecloths, burlap and more. This adorable spring garden flag features a little bunny with fabric twisted into round shapes replicating blooming spring flowers. Use this project to get creative, showcase your stylish personality and spruce up your outdoor space all at the same time.
6. The Most Beautiful Rustic Wildflower Wreath
Ring in the season of spring in style with this beautiful rustic wildflower wreath. This handmade wreath is made using a gorgeous mixture of dried flowers measuring 20-22 inches in diameter. Since it's made using real dried out wildflowers, you'll want to keep this gorgeous wreath indoors for decoration, unless you use it as an outdoor wreath in areas with low humidity. If you choose to use this wreath outdoors, be sure to keep it out of the rain and expect to only use it a short time. This lovely wreath would look wonderful in a sunroom or a closed in porch to bring in all those pretty spring colors and add a touch of nature inside your home.
7. A Unique and Hilarious Spring Welcome Sign
Welcome your friends, family and guests with a little humor this spring with this funny hand painted garden sign. This hilarious wooden garden sign says, "I'm so excited it's spring, I wet my plants!" The sign as been hand painted with pretty pastel colors and floral designs. It would make a perfect addition to your front porch, mantle or entryway. The sign measures 20 inches tall and 5 inches wide with other sizes available if you wish. This sign gives us all the spring feels with its pastel colors, floral accents and watering can designs. Where would you display this fun and seasonal sign?
8. Hand Painted Garden Spring Décor Sign
Some of the best spring garden ideas don't have to be full of bright colors and designs. This simple and minimalist wooden framed sign has been hand made with the word "bloom" painted onto it. The background is white with black lettering with a solid warm walnut stained wooden frame. Since this sign is handmade, there may be slight imperfections showcasing the woods natural element. This rustic sign would look lovely featured on a patio table, shelf, mantle or as a centerpiece on a table. With the simple word "bloom," it's a prominent feature piece for anywhere in your home.
9. A Gorgeous Garden Flag to Welcome Spring
This super cute spring yard flag will add the nicest touch to your outdoor area. The flag measures 13×18 inches and has been treated with UV protection so it's safe to use outdoors. Fading is normal, since it's made from a polyester material. It's recommended that you spray the fabric with a UV protectant every few months if your garden flag will be left outdoors in the elements for a long period of time. The stand is not included with this welcome flag but can be found at most dollar stores or even made yourself with an old wire coat hanger.
10. Handmade Bohemian Sun Catcher Chandelier
Whether you place this gorgeous sun catcher chandelier near a window in your home or hang it outdoors, it's a beautiful handmade piece that will let your garden glow. This Bohemian sun catcher mobile was made with a small round twig wreath with chains of stunning transparent beads. The beads used are colorful and will reflect the light from the sun for a beautiful array of colors on the wall or window. They've also added triangle charms and mini glass jars with cork tops filled with dried flowers to make this the perfect decorative piece for all things spring.
11. Cool Tulip Yard Stakes That Make a Statement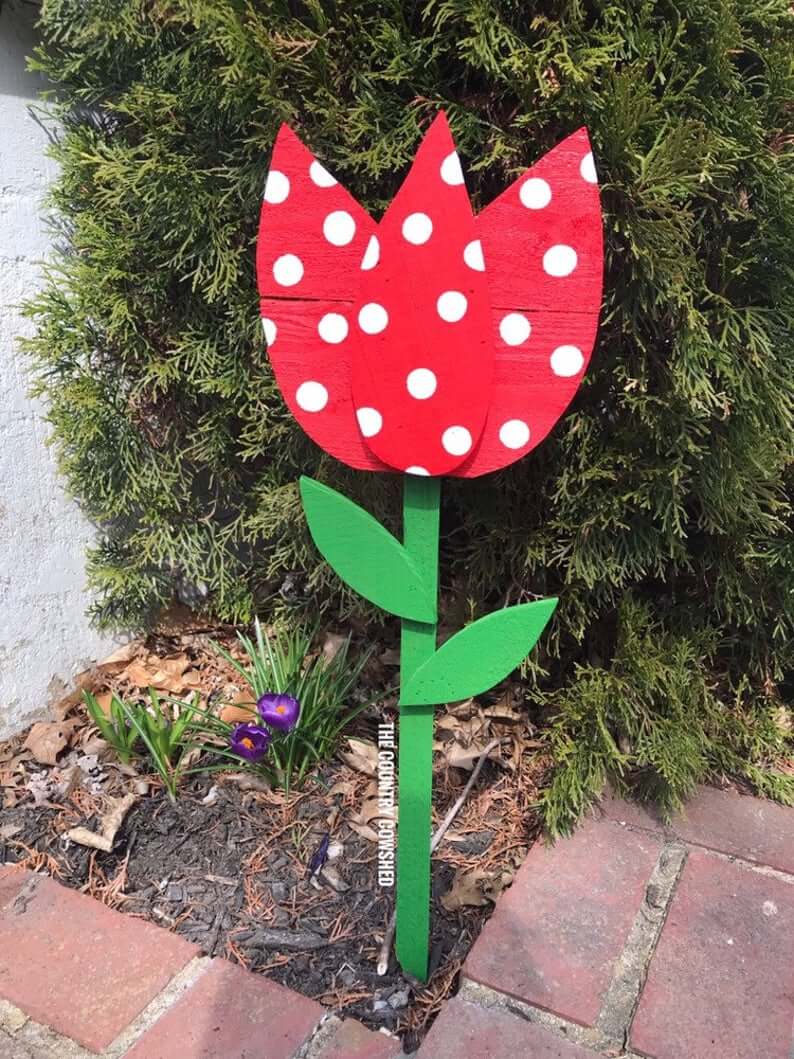 These springy yard stakes are made with reclaimed wood and shaped and painted to look like tulips. The bright vibrant colors will stand out in any garden or wherever you decide to place them. The wooden tulips measure approximately 8 inches wide and the total length including the stake measures approximately 24 inches tall. They come in a set of three where you'll receive one of each color: red, orange and red with white polka dots. These spring tulips will make an attractive focal point and new addition to your spring themed décor and the best part, no watering required.
12. Adorable Hippity Hoppity Carrot Wreath for Spring
Dress up your entryway or home this spring with a beautiful carrot wreath door hanger. This adorable wreath is made with silk orange roses and greenery with burlap and wiring. It measures approximately 12 inches wide and 30 inches tall making this a lovely focal point. The unique carrot shape design will make a fun conversational piece that will have everyone taking in all the spring feels. This handmade wreath will arrive in a sturdy box for added durability that you will be able to use year after year for storage which is a delightful perk when purchasing decorative pieces online.
13. The Perfect Spring Vignette Using a Step Ladder
Source: ginghamgardens.com
Elevate your spring garden this year with an old ladder. This wooden step stool ladder is a creative way to display your flowers this spring. Not only do ladders add interest and height, they also provide open storage serving as shelves for your garden needs. For this smaller ladder, placing small potted plants on the bottom is great for dimension along with a few rustic elements like the lantern and watering can. Not to mention, you can use the watering can for watering your plants and place it right back on the ladder for a multi-purpose decorative piece. The large tin at the op can house a variety of plants of your choice. I love how some of the plants hang over the tin giving it that gorgeous blooming spring feel.
14. Upcycled Metal Gate for Hanging Flowers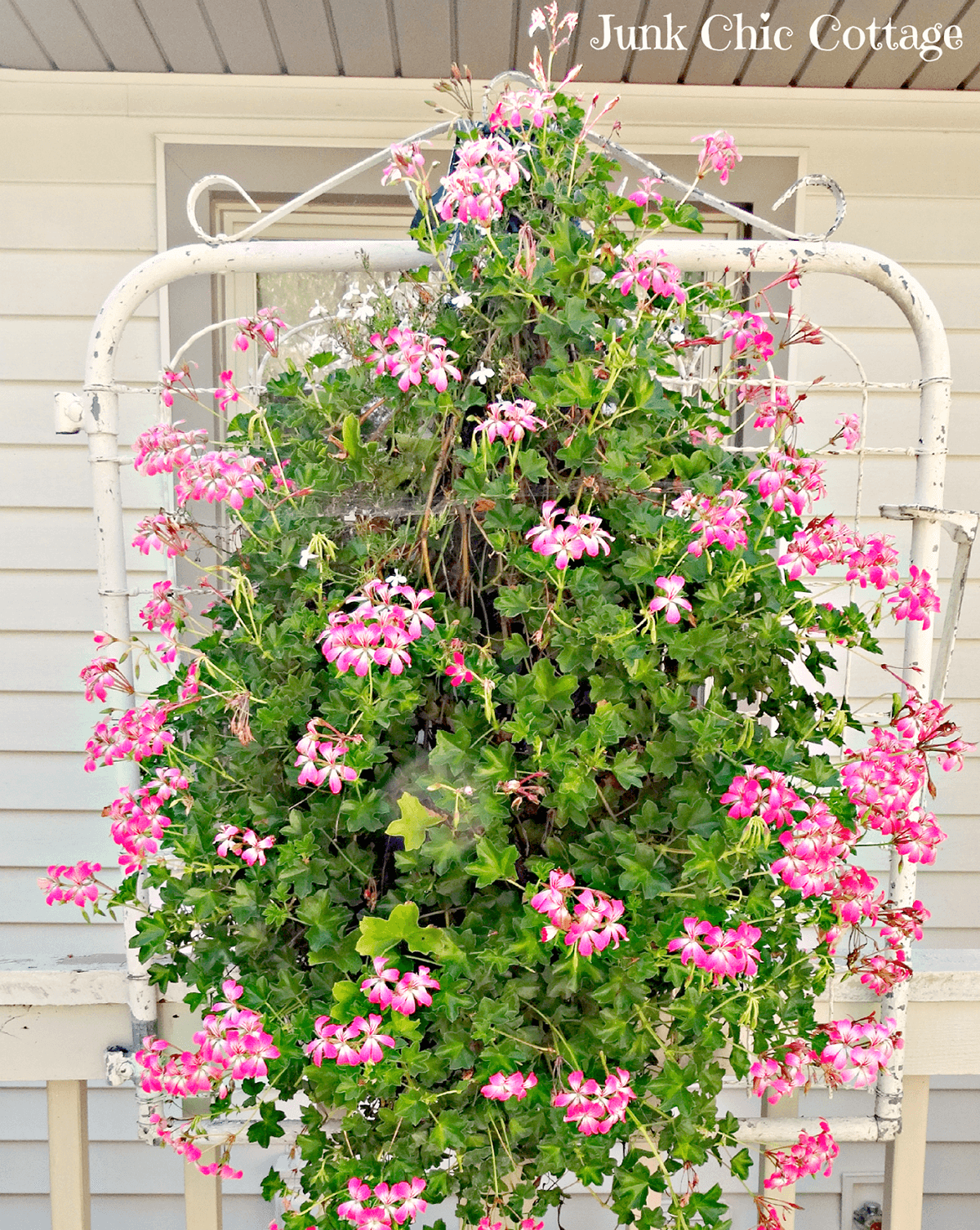 Source: astrollthrulife.net
Gates are such a lovely spring garden design idea. Regardless of whether you are using the gate for privacy reasons or for decoration, the vintage wrought iron look adds a beautiful touch to any garden. Adding flowers to an old upcycled gate is the perfect way to dress it up with a variety of colors and heights and gives your garden that fairytale, whimsical feel that's both charming and eclectic. If you don't have an old gate laying around, you can check out your local thrift stores for something similar and recreate the look to fit your own style and personality.
15. Ring in Spring with a Cute DIY Garden Decoration
Source: acrosstheblvd.com
With springtime gardening, comes tons of fun ways to get creative. This DIY spring garden decoration was made using a dollar store trellis and seasonal items already on hand. Take a quick inventory of the things you have around your home and recreate your own garden decoration in your favorite style. Place your beautiful little stand near your mailbox, front porch, backyard pathway or in your garden to ring in spring in style. The best part is that you can easily swap out the décor on the trellis next year or use it year after year for a traditional outdoor spring statement piece.
16. Welcome Your Guests with a Cute Flower Tower
Source: simplydesigning.porch.com
This beautiful flower tower is an awesome idea when it comes to adding some color to your patio, deck or garden. With a large planter box and rolled wire fencing, you can start growing your flowers vertically. Make it as short or as tall as you'd like to fit your space perfectly. Choose a lush, vibrant flower that will greet your guests throughout the season or customize the look to fit your own personal sense of style and décor. Whether you have tons of space or a small balcony, this flower tower is a simple and inspiring piece that will welcome your guests with beauty and delight.
17. A Beautiful Bed of Tulips Perfect for Spring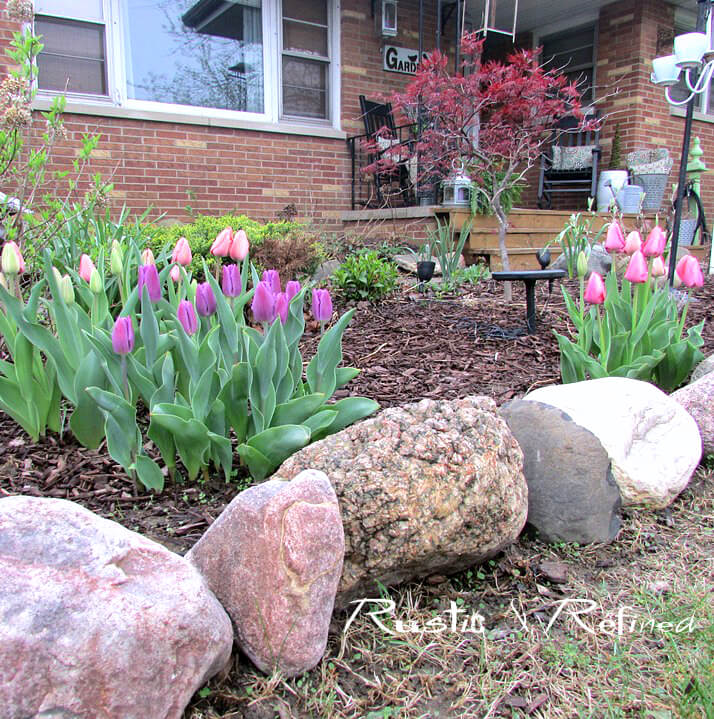 Tulips are such a colorful and beautiful spring garden design idea. The yellows, pinks, purples, reds, and tender white tulips all create a spectacular display and provide a gorgeous centerpiece for your spring yard landscaping. This spring garden looks especially impressive with a bright mix of tulips in different shapes and colors while also spaced out creating a nice arrangement. You can even mix your tulips with hyacinths and daffodils for a beautiful spring arrangement that's elegant, charming and exciting. The large rocks surrounding this tulip garden bed provides an attractive look that sets it apart from the rest of the landscaping.
18. A Cute and Simple Mini Fairy Garden
Although most fairy gardens are small in size, these enchanting abodes are nothing short of stunning. Whether you create your mini fairy garden in containers, flower beds or at the base of a tree, they are a whimsical addition to your outdoor living space. Not to mention, these lovely fairy gardens are so easy and fun to create that the whole family can enjoy getting in on the magic. If you choose to pot your fairy garden like this one, you can move it from place to place to double as a beautiful spring-inspired centerpiece. Add a few decorative rocks, marbles, moss, small plants, and miniature decorative pieces for a dreamy fairy garden that's all your own.
19. An Outdoor Oasis with Loads of Curb Appeal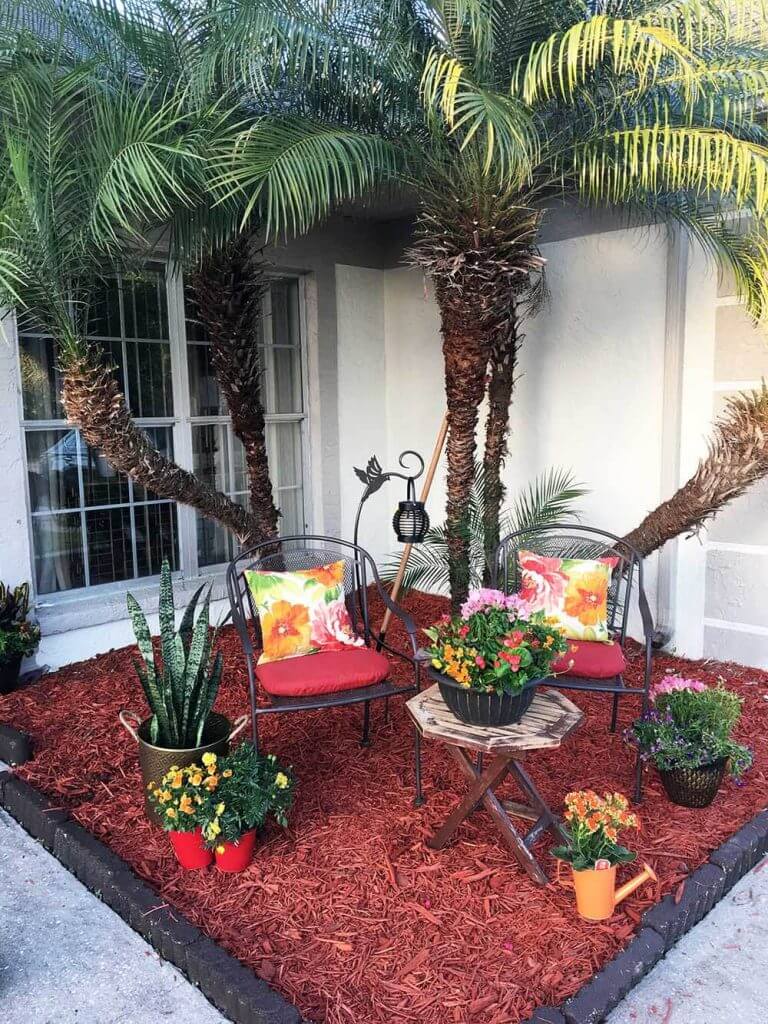 Source: mydesignrules.com
While most people think of spring cleaning as an indoor thing, we cannot neglect our beautiful outdoor area that brings us closer to nature. Some of the best spring garden ideas come to you on a whim. If you're looking at sprucing up your outdoor living space, now is the perfect time. Creating an outdoor oasis doesn't have to come at a large expense. Start by trimming your trees, pulling weeds, adding mulch and you're almost good to go. Create a seating area with a few chairs, a table and comfortable pillows for a retreat to sit back, relax and soak in the beauty of nature.
20. Birdhouse Welcome Sign Perfect for Spring
Source: morenascorner.com
Greet springtime and guests to your home with this bright and cheery birdhouse welcome sign. Repurpose an old wooden wall shelf or small mantle for the base of the sign and stencil in letters to spell welcome. You can also stencil an address, street name or family name for a more personalized touch. Add a variety of small bird houses to the top and get creative painting your sign with bright spring colors. While this welcome sign serves as a great spring garden design idea, it also can house birds looking for a place to nest. You'll be surprised at what birds you attract with your DIY masterpiece.
21. A Pot of Flowers to Enhance Your Home Decoration
Growing flowers this spring is a very satisfying and easy way to brighten up your porch or yard. Planting flowers in pots are a great way to get started with gardening if you're tight on space or a beginner gardener. Flowerpots look lovely nearly any where you place them which is why it's a nice and easy starting point for adding flowers to your outdoor space. You can fill your container with the same type of flower for a pop of solid color or choose a variety of flowers and colors to plant together. Once your flowers start to bloom, step back and admire your beautiful arrangement.
22. A Blooming Garden of Tulips to Leave an Impression
Tulips are a spring icon. They are prized for their vast array of colors and can easily be grown in borders or container but they have to be replanted each year. There are so many creative ways to use tulips in your garden. You can integrate them with other spring-blooming perennials, blend them simultaneously with complementary colors, or plant them with other bulbs such as daffodils, crocus and hyacinths. This beautiful garden bed leaves a striking impression on this homes curb appeal. Where will you decide to plant your blooming garden of tulips this spring?
23. A Unique and Comfortable Front Porch Setting
Source: bydawnnicole.com
Create a cozy nook this spring with just a few staple pieces. The wicker furniture and pillows provide a relaxing space for enjoying the outdoors in comfort. By adding a few spring staples like a wreath, gardening tools, pastel flowers and other trinkets, this space is now a spring-ready charming setting. This old wire rack has been repurposed and painted to stand vertically, adding dimension to this little nook. You can also easily hang your spring wreath and basket of flowers on the wiring. Place a few gardening tools like a watering can and shovel to really make this space come together for a spring scene right on our front porch.
24. Transforming Bottles into Beautiful Garden Art
Instead of throwing out old plastic bottles, try recycling them instead into beautiful hanging plants. This is a fun and creative project that the kids will love to help with. All you need are a few empty plastic bottles with the labels removed, paint and a sharp knife for cutting the bottle in half. If you want the plants to be more noticeable, cut the bottle at an angle so you can easily view your growing beauties. Paint the bottles any color you choose whether it's a bright spring color, a subtle pastel or a color that matches your existing décor. Add a string to hang them on your trees, pergola, front porch or anywhere else you choose.
25. Cool Bottle Cap Flowers for Spring Garden Décor
Source: suburbia-unwrapped.com
This next awesome idea will have you wanting to save up those bottle caps. It's also another fun project you can do with the kids, just watch for any sharp edges on the bottle caps. Spruce up your garden with these super cool bottle cap flowers. With a little paint, glue and a stick, you'll have some gorgeous flowers to show off no matter what season it is. These flowers would look great down a pathway, displayed in front of the porch, by your mailbox or in your own garden for a lovely pop of color and a crafty decorative accent.
25 Spring Garden Ideas to Transform Your Home Outdoor Space 
Just like giving your house a good spring cleaning to help freshen it up after a long winter, you can take a similar approach to your yard to get it back in shape for the warmer months. Even after the snow and ice melts, it can be a little overwhelming to tackle all the work that needs to be done for a picture-perfect spring landscape. Use this checklist to help pace yourself as you get your flower beds, trees, shrubs, and other areas of your yard cleaned up. It's broken down into early, mid-, and late spring so you can plan out your garden clean-up tasks and hit each area of your landscape before summer arrives.