4 Easy DIY Storage Ideas Tutorials to be More Organized this Year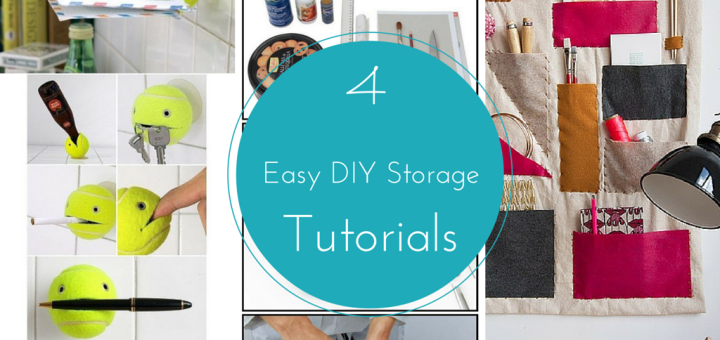 What is your new year resolution? Well, some of you must have decided to be More Organized. 
Organizing home is not always an easy job but you can make it interesting by trying these DIY Organization Hacks.   
If you are running out of ideas then don't worry with this post we have come up with very easy and simple DIY Storage Ideas.
It's never too late to learn how to be more organized.  So what are you waiting for. Let's get started!!
1.) Home Made Key Holder from a Tennis Ball 
Being able to make small items yourself gives fun. Check this unique key holder. Isn't it appealing?
Also it is one of the simplest ways to re-purpose everyday items into creative, but useful tools.
This lil guy can hold many items that you can't even imagine.
Whatever it is holding, it always looks like he is enjoying the job.
Via diyandcrafttutorials
What you need is:
A Marker to Draw Lines

A Tennis Ball

A Sharp Knife

A simple hook, velcro or a suction cup

Glue

A a pair of googly eyes
Check out the full tutorial :
2.) DIY Fabric Wall Organizer – Its so Cheap and Pretty
This DIY wall organizer is so easy to do that it can be completed in just a few hours.
You could use an old curtain rail and scraps of fabric for this brilliant storage idea.
Learning how to organize your stuff is a breeze with these simple sewing projects.
Image Source
What you need is:
A canvas drop cloth

Some felt sheets

A heavier weight thread and needle

Grommet kit

Fabric glue for hemming
Check out the full tutorial :
3.) Easy Makeup Brush Storage 
This is totally a girly craft. Even a person having zero percentage of creativity can make it in ten minutes.
The below picture will give a step by step instructions.
Via 143-loveforever
What you need is:
Coloured sands/small rocks

A glass vessel
4.) This Cookie-Tin Box for Tea Bags Storage
Have you ever wondered what to do with a nice Cookie tin box ( of course after finishing all the cookies 😉 ) that you find difficult to throw away?
Now you have a good excuse to keep it.
Don't throw your cookie boxes, convert them into tea bag storage with this DIY project.
With this box, you would be able to store different flavored tea bags separately.
Source via handimania.com
What you need is:
Glue

Varnish spray

Cardboard

WallPapers

Brushes to Paint

Scissors

Ruler

Cookie tin

Acrylic blue paint
Keep your home well organized and be happy always.
Share these ideas with your friends by clicking on below buttons.