Flowers are one of the most beautiful things that god has created. They come in different pretty colors, shapes, sizes.
We have published various DIY tutorials on flowers like: DIY flower garlands, DIY Flower Head Crown etc.
You can make easy and adorable home decoration with simple beautiful flowers.
When there are flowers, there come flower vases.
Vases offer you many ways to display flowers in your home creatively. 
Today we have brought a list of ideas to make your customized vase at home.
Its a great diy home decor project to make.
These fun centerpieces can drastically change the way your dinner table look like.
You can make reuse of old stuff to decorate these vases
Hope you enjoy this list of DIY vases!
Enjoy.
1.) Glittery Pink Vases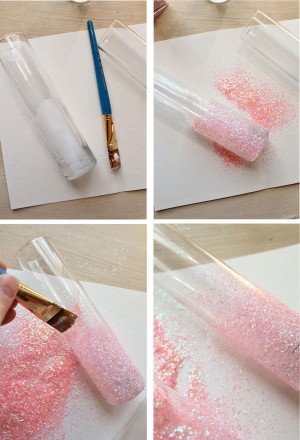 Check out the full DIY tutorial cupofting.com
2.) A Layered Candy Filled Vase
Check out the full DIY tutorial cupofting.com
3.) Natural Pineapple Vase
Check out the full DIY tutorial clobyclau.blogspot.com
4.) Gold-Dipped Flower Vases
Check out the full DIY tutorial HERE
5.) DIY GLITTER VASE
Check out the full DIY tutorial cupofting.com
6.) This homemade vase for easy flower arrangement
Check out the full tutorial HERE
You May Also Like:
Top 22 Extremely Creative DIY Photo Booth Backdrop Ideas. Simply Amazing!
11 DIY Wall Decorating Ideas To Do Makeover of Boring Walls: Part 3
Top 22 Extremely Creative DIY Photo Booth Backdrop Ideas. Simply Amazing!
How to Make Tissue Paper Flowers: 14 Excellent Ways
Find the entire COLLECTION of DIY Home Decor Projects HERE