1. Follow That Curve
The lovely curve of the outdoor seating area on this Moroccan influenced patio perfectly follows the arch of the round fire pit. The earthy tones and ruddy natural colors are present throughout the outdoor space. Perfectly suited for entertaining, this double-decker patio is sure to impress its guests.
2. Quiet Pleasures Patio Idea
The modern chaise lounge sits on a quiet terrace and looks out on the quiet spectacle of a serene modern fountain. The sound of water is able to soothe and the quiet sitting area offers a place of reflection and peace. The peaceful pergola is perfect for sipping your morning coffee or meditating on the beauty of your backyard oasis. When creating your own private oasis, consider what you would like to hear, smell, or see. Focus on those sights, sounds and smells and incorporate them into your outdoor design.
3. Match Your Patio To Your Homes Facade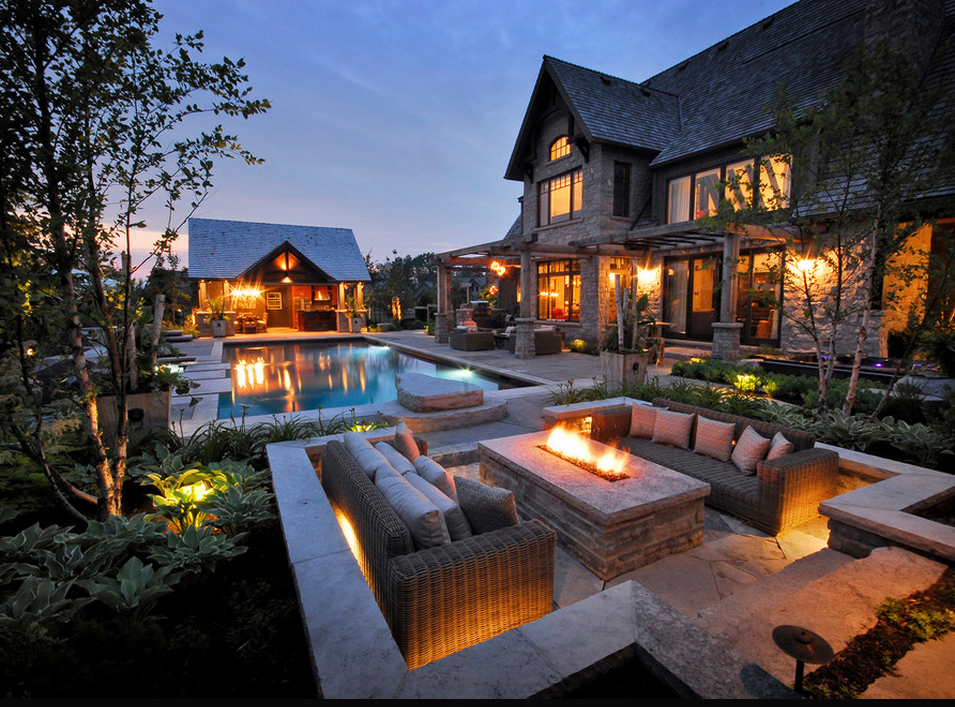 This stunning backyard patio drops down to a large pool and separate hot tub area. The patio space is expansive and features a fire pit with sitting area and a large pergola with additional seating. This layout is perfect for daytime entertainment as well as night time relaxation. The stone featured throughout the design ties the far-reaching outdoor space to the stone facade of the home. Because of the similarity in building materials cohesion is attained throughout the property. When planning your outdoor space, consider how the materials you're using will relate to your home's existing materials.
4. Let Your Art Take Center Stage
A beautiful piece of outdoor art is able to turn a hum-drum space into an exquisite retreat. The acid green of the wall art is able to cohesively tie the space together and make the outdoor room feel like a space worthy of quiet reflection. During intimate gatherings, a space centered around creative pieces of art is sure to inspire and delight your guests. Who knows, the art may even be a conversation starter?
5. Unique Fire Feature
The unique snaking shape, of the fire feature in this outdoor area, takes center stage. The fire pit acts as a natural barrier and encloses the patio area while providing warmth and natural light. Basking in the glow is easy near the gentle flames of the fire feature wall. Guests sitting around the patio's round table are sure to enjoy the mesmerizing view. When planning your outdoor space, consider what sort of unique feature you would like to incorporate.
5. The Old And The New
The old and the new are juxtaposed within this outdoor addition. The perfectly balanced outdoor space features reclaimed timbers as well a view of an original brick wall. Framed by the use of modern features and clean lines, the older materials harmonize perfectly with the updated space and pay homage to the building's unique past. When updating an older space it can be worthwhile to preserve the unique history of your home. Try repurposing, revealing or restoring portions of your home's original structure to recreate this unique look.
6. A Movable Arrangement
This contemporary patio space boasts a stunning vertical garden. The swathes of varying specimens of plant life form a beautiful living quilt on the patio's primary wall. The greenery forms the backdrop to an exquisite and unique outdoor seating area. The cedar planked sectional is dressed up with navy cushions with a white piping detail. Pops of color and lively patterns dress up the space and add additional interest. If your patio area has a dull vertical wall, you too can create a vertical garden.
8. Cozy Ambiance
Cozy is the word to use when describing this wooden-covered patio area. The generous use of comfortable seating centered around a stone hearth creates a space that is particularly inviting. The addition of both hanging and resting planters in and around the outdoor living area forms a gateway to the surrounding garden area. The warm glow of strands of hanging lights add to the already relaxing ambiance of the outdoor room. When planning your own outdoor space, consider when you will be using the space. If you will be spending time in your outdoor spacing during then evening hours, make sure that you have equipped your space with ample lighting.
9. Simple Seating
A cement wall forms the backbone of this patio's primary seating area. The mostly concrete patio is embellished with cedar planks and is centered around a simple rectangular fire pit. The simple concrete fire pit is the focal point of the streamlined outdoor space. The small patio space makes a big impression with its clean lines and contemporary look. For those who are short on space, consider using a retaining wall as part of the solution to your outdoor seating.
10. Complete Outdoor Kitchen
The outdoor kitchen in this modern home's patio is able to rival many of its indoor counterparts. The kitchen is fully equipped with a sink for fast cleanup, a full stove top, and a small refrigerator. The accompanying outdoor dining and seating areas create a space that offers the total package for outdoor dining and entertainment. This space is the perfect size for family dinners. If you are considering an outdoor kitchen, first look at your needs, decide your budget, and then you will be able to plan a kitchen that will perfectly fit your lifestyle.
11. High Style Dining
This outdoor kitchen is well-equipped and ready to feed an army. The impressive outdoor area is a delightful feat of culinary ingenuity. The kitchen boasts an electric grill, a pizza oven and a refrigerator. The perfectly styled dining space features slick, black-granite counter tops, stainless steel appliances, and ultra hip dining furniture for a completely contemporary look. When planning your outdoor kitchen, consider your needs and how many people will be attending your outdoor dinners.
12. Separate Spaces
This laid-back patio features both covered and uncovered spaces. The covered living space boasts a lovely stone-faced hearth with a flat-screen television hovering just above the mantle. Additional outdoor storage is available in built-in cabinets that are housed to one side of the patio's fireplace. The living space extends outwardly past the patio's covering to the lovely outdoor dining area. The separate spaced give options when dining and entertaining. For smaller parties you can stick to the lower level. However, when hosting large events it is nice to have more room to accommodate additional guests. If you are big on outdoor entertainment, consider adding an overflow area for larger parties.
13. Patterns In Pavers
The elevated patio carved into the side of a hill acts as a retaining wall. In fact, the unique patio's design incorporates a stacked brick retaining wall as part of the built in seating. The innovative outdoor living area uses large square tiles of cement and green grass to form an almost rug-like pattern. The green grass growing in-between the cement contrasts with the red pops of color used in the seating area's throw pillows. The space's interesting use of cement tiles is a wonderful inspiration for anyone planning out their own patio.
14. Playful Little Patterns
Playful patterns abound in this colorful patio setting. The unique Moroccan tile forms he base of this unique patio's style. The one-of-a-kind patio is then layered with an eclectic mix of pattern and color. Artistically rendered furniture creates a perfect little seating area as a honeycomb pattern rug brings it all together. Spaces like this one challenge the idea that everything should match. In creating your patio you should not be afraid to play with pattern. The results of bold pattern play can be astounding and quite lovely.
15. Perfectly Planned Patio Design
This elegant asymmetrical patio flows outwardly towards a lush green garden. Using a variety of natural materials, such as wood and stone, the outdoor design has mapped out a space perfect for outdoor dining, cooking, and entertaining. The stone wall, surrounding the fire pit, doubles as an outdoor bar and dining space. Seating scattered throughout the area invites you to relax and enjoy the view. A covered seating nook looks out over an area with an outdoor cafe table and natural stone outdoor fireplace.
16. Bright Pops Of Pattern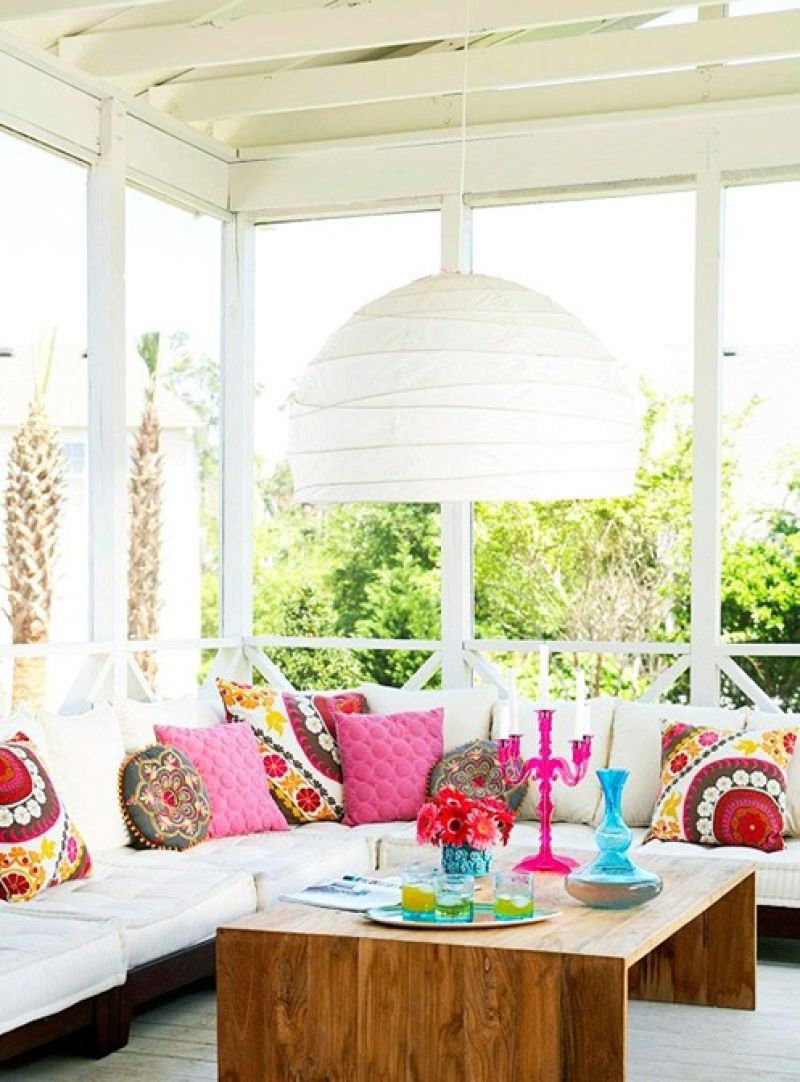 This mostly white space is brought to life with bright punches of pattern. The eclectic mix of color and design bravely uncovers this covered patio's full potential. The otherwise simple space has been easily transformed into a cheery tropical oasis through a few simple decorating touches.
17. Simple Beauty
The simple beauty of this quiet space can be translated into outdoor patio ideas for your home. With a few simple floral embellishments and elegant touches this simple space has been transformed into a classical garden getaway. The quiet covered area boasts a simple beauty. The sage green, featured throughout the veranda, is a simple touch with a calming effect on the overall design. For your space, consider adding sage green touches, floral elements, and simple seating area.
18. Your Own Personal Paradise
Giant cedar planks form the simple structure of this oversized outdoor hammock. Flanked on either side by additional garden features, the custom hammock surely steals the show. However, this unique, high-walled gardens combination of water feature, dining area, and unique seating structure, create a personal paradise within what is a larger urban area.
19. We've Got It Covered
This streamlined outdoor design balances natural elements with a grand sense of style. The wood planked covering of the large patio space creates an area that is comfortable for entertaining in all seasons. Rain or shine, with this patio you are covered. Additionally, a fan centered, high above the living area moves between recessed lighting and offers a cool breeze during the warm summer months.
20. Mix Materials
A rustic table is the centerpiece of this quiet outdoor retreat. Nestled at the base of a windswept willow, the custom table constructed from roughly shorn trunks creates a unique seating area for four. The tangled branches of the upwardly shifting tree reveal decorative metal spheres as they dangle quietly above the patio's cedar planked floor. This meditative patio perfectly balances the worn patina of rustic metal with the soft brilliance of natural wood. The result of this balance is a space that is perfect for restoring one's creativity or relaxing one's spirit.
21. The Simplest Of Pleasures
Red, green, and white are the simple keys to the inner workings of this clean, crisp design style. Bamboo frames the modern white patio furniture. The tiled patio is backed by a modern home with a bright red door. The clean lines and modern white furniture allow the more colorful elements to take center stage and add to the overall design. Designs such as this one demonstrate the old adage: less is more.
22. Planning Makes Perfect
This colorful raised patio expertly uses contrasting colors to create a space that reads like a cohesively planned design. The elemental yellow, plum, and blue-green colors are scattered throughout the patio and the surrounding garden. The petal like shape of the red fire bowl is centered below a decorative metal flower that hangs on a yellow swath of wall located on the modern abodes cement privacy fence. With thoughtful choices, a limited color palette, and a overall look or theme your design can be as polished as this modern masterpiece. When designing your own space, consider centering your space around a theme. Although, it is not necessary, themes can help to inspire your design choices.
23. Old World Charm
The rustic stone arches, untreated timbers, and an elaborate metal chandelier create a sense of medieval charm amid this quiet patio setting. The wicker dining chairs and outdoor kitchen add modern comfort and convenience to this old world style living space. Adding old world charm to your outdoor space can be accomplished through the right combination of materials and old world style. When creating your own patio, consider the type of style that you would like to incorporate, and then research elements of that style so that you are able to make informed design choices.
24. Transformation Through Color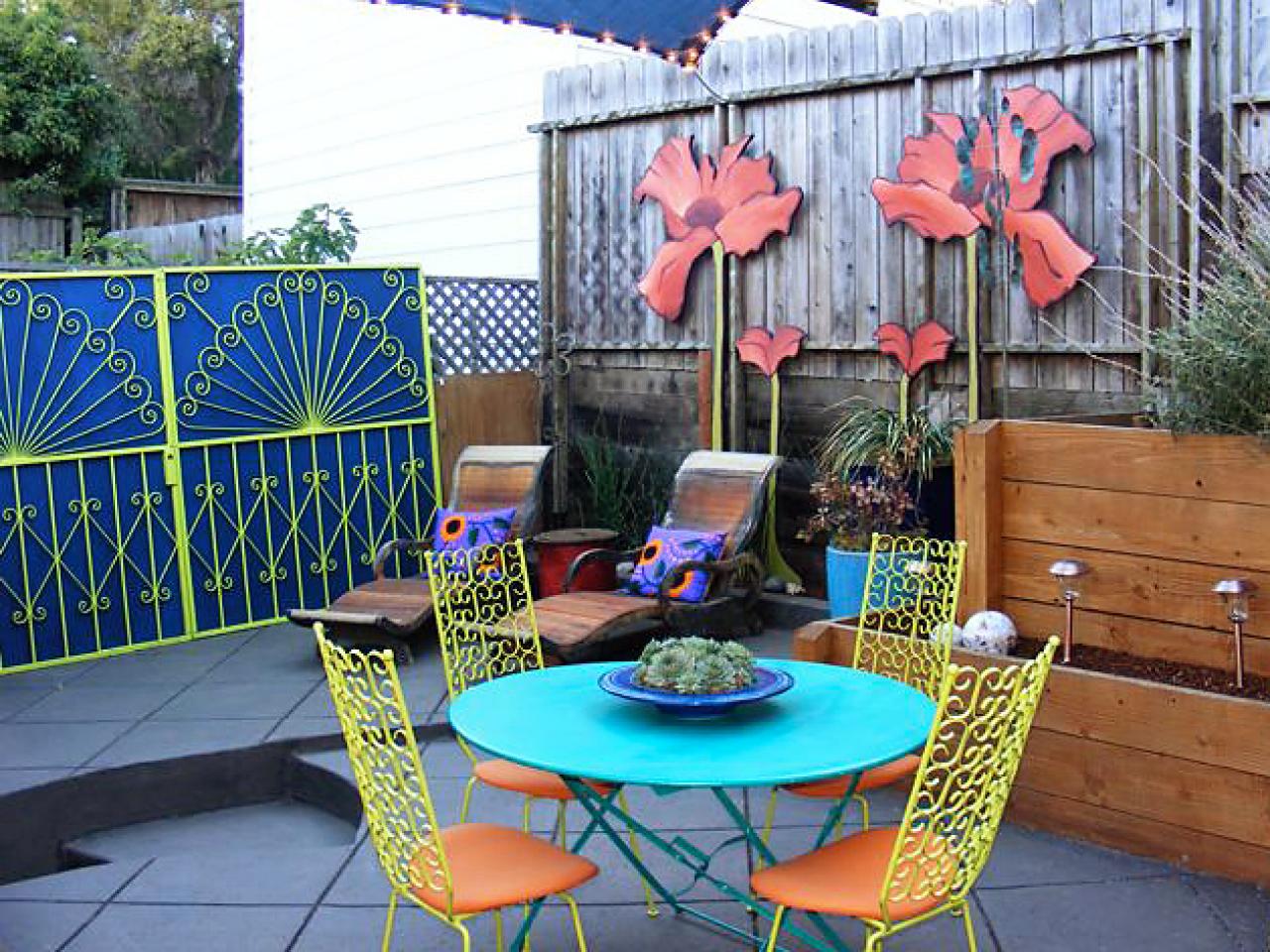 Bright paint transforms this patio into a blooming field of color. The pops of color throughout the patio have turned an otherwise boring patio into an area of interest. The artistically rendered flowers add color to the patio fencing. Even on a small budget, with a little paint and a lot of imagination you too can transform your backyard into a brilliant piece of art. When planning your own patio designs, consider how all the separate elements in your patio come together and form one complete space.
25. Flying In High Style
The perfect marriage of indoor and outdoor space is formed in this high-end entertainment area. The silver drink cart demurely awaits behind the perfectly tailored sky-blue settee. The limited palette of sky-blue and lime green blends the Hollywood regency style with that of a funky modern outlook. Flying in high style above the posh seating area is a surreal landscape. Surrounded by a set of cascading arches, the landscape within the painting acts as a continuum of the very real landscape that is subtly framed within the stone arches. When planning your outdoor space, consider how your space will interact with the surrounding landscape.
26. Ultra Modern Rooftop Terrace
This ultra modern rooftop terrace demonstrates a playful sense of color and design. Unexpected touches, such as the blue light that spills out from the chaise lounge or the Astroturf area rug, appeal to a child-like sense wonder. These unique touches are found everywhere in this design, and are able to ensure that visitors will always be able to explore the wonders of the terrace as well as the city beyond. When planning your outdoor space, add touches that inspire you and those around you.
27. Seamless Transitions
Concrete floors, glass enclosures, and custom modern furniture create this spectacular patio area. The glass walls and door leading to the patio allow for a seamless transition into the outdoor area. In breathtaking harmony with the world beyond, the glass railings, open up the patio space even further towards the precipice below. The result is stunning, and the outdoor space remains one with the indoor space as well as the ocean beyond its borders. When planning your outdoor area, consider playing to the strengths of your landscape's best feature. This home featured a fantastic water view. The homeowner's made the most of this strength by creating maximum visibility.
28. Bold Symmetry Patio Idea
Bold colors, modern design, and striking patterns define this outdoor living space. Designs for modern patios rarely come together as cohesively as this outdoor seating area with its accompanying fire-place. The bright orange love seats mirror one another as they sit on either side of an understated table. The bold patterns featured on the rug and the pillows mimic the scrolling lines of the candle holder that hangs in the area above the fireplace's interior opening.
29. Boldly Styled Atrium
This central courtyard spares no expense in achieving an all-together bold and ultimately unique style. Patio designs such as this harken back to the ancient Roman tradition of incorporating large open spaces into a home's interior. This wonderful example of an interior courtyard is able to meet a multitude of needs. The outdoor space as a dining area, sitting area, and a gardening space. However, the multiple uses of the space do not diminish the spaces use of stylish patio decor. The home decorations offer a dazzling display of color and pattern. From the undulating black-and-white chevron rug to the stylish fleur-de-lis patterned throw pillows, this living space is oozing with style.
30. Laid-back Garden Patio
Casual style spells the name of this laid-back garden-side patio. Dappled in cool hues of blue, the color is strengthened by the subtle use of earth tones in its outdoor decorations, such as the outdoor rug, the throw, the woven basket, and the outdoor furnishings. This patio design proves that the incorporation of unique backyard patio ideas and do-it-yourself lighting can be wonderful when handled just right. When creating your own space, consider what colors you would like to incorporate. Color themes can help keep your space looking its best.
32. Concrete Built-ins With Style
Built-in seating, patio bar, and planters are just some of the ideas featured in this modern concrete patio. The high-end and modern look of this patio's style is achieved through its clever use of built in features and bold styling choices. The lime green pillows can be removed for an updated look. When planning your space, think long term, and consider using transitional pieces that can be updated over time.
33. Neon Lined Pool Patio
This stunning outdoor retreat is a unique combination of modern man-cave and pool-side oasis. The neon-lined covered patio overlooks the pool through a thin, vertical curtain of water. The stunning effect adds to the thoroughly modern look of the outdoor seating area. The patio is stocked with everything from modern home decor to a flat screen television, which hovers eloquently above the modular patio chairs. When creating your own retreat, consider what features would help you to fully un-wind.
34. A Quiet Outdoor Retreat
There is nothing square about the solid construction and modern look of this quiet outdoor oasis. The modern built-in seating and unique style of the outdoor decorations form an area that offers both privacy and style. The high, red slated privacy screen is backed by a deep green vertical hedge. The deep box formed by these barriers gives one room to enjoy quiet conversation in a lush and tranquil setting. When creating your own outdoor space, consider how many people you would like to sit comfortably in your extended living space.
35. Flowering With Beauty
This hibiscus laden veranda is a show-stopper. Thick green boughs are crowned with gorgeous blooms of pink hibiscus. The showy carpet of flowers shades the classic brick patio. Additional blooms line the patio in large pots that are scattered around the patio's lovely seating area. With such a perfect design, additional patio decor hardly seems necessary. This straightforward design proves that the most simple outdoor patio ideas may be the best. When desiring your own patio space, consider what plants and flowers you would like to incorporate into your overall design.
36. The Top Of The World
Living the high-life is easy on this elegant rooftop terrace. The perfectly modern terrace features everything you will need to feel at peace with the world. The built-in seating, planters, and fire pit form an area perfect for relaxing, entertaining, or enjoying the fantastic 360-view. The marble fire pit and clean lines, give the patio its signature high-end look. When meditating on this zen-like structure, you are sure to feel truly on the top of the world.
37. Fun And Funky Patio Design Idea
The playful use of color on this covered patio breaks all the rules, but in a good way. The overall effect of the spaces expertly mixed motif offers up a fun and funky place to throw a backyard party or simply enjoy an afternoon. A space such as this demonstrates that home decoration can be personal. When brainstorming your backyard patio ideas, think about the space that you want and how you can apply your personal style to that space.
38. Perfectly Curved Pergola
A truly one-of-a-kind space, this unique curved pergola sits atop a wooden platform. The well-constructed round pergola forms a comfortable nook for relaxation or entertainment. The spherical and curving nature of the design's most stunning feature is echoed throughout the patio's outdoor decorations. The combination of stunning curved designs and natural materials creates a space that feels right at home. When cultivating your own outdoor space, consider what unique design elements you would like to incorporate.
39. Fun Features
Dare to be different in life and with your home decorations. Delightful additions to patio spaces can have unexpected results. In the case of this whimsical design a bit of fun patio furniture creates a playful atmosphere. The patio's comfortable beanbag hammock is sure to garner attention and sets the tone for the rest of the patio's laid-back design. Because you are creating a space that should cater to your personal tastes, consider what addition would truly make you happy.
40. Artistic Touches
This patio is truly at peace with the surrounding garden. The zen-like structure enclosing the patio dining area is a one-of-a-kind art piece. Borrowing themes from the surrounding plant-life the patio's structure showcases gorgeous cutouts of flowers and common garden life. The patio features a number of artistic lighting features. A chandelier with garden-based cutouts is suspended over the simple wooden table that sits at the heart of the design. A wall of scrolls holds additional lighting fixtures to light the way for those dining within the garden. If your budget allows for it, consider hiring an artist to create a sculptural piece for your garden.
41. Know Fun!
This outdoor kitchen certainly know's the value of outdoor entertaining. The fun red pops found throughout the space dictate the patio's playful vibe. Those spending time in this outdoor oasis are also served up a an extra helping of playful beauty with each bite. The outdoor dining space is elegantly graced with the unfurling tendrils of green leaves that twirl inwardly on the pergola above diners heads. Just beyond the perfectly tiled outdoor kitchen lies a further expanse of perfectly planted greenery. It is okay to have fun, both in life and in design. Consider what fun touches you can add to personalize your outdoor space.
42. Separate But Equal
Elegant and simple this expansive outdoor design is perfectly tailored for those who love entertaining in a big way. The underrated elements of simple white-walled concrete and pine form an outdoor living space of monumental dimensions. Slated horizontal wood beams elongate the rectangular patio's longitudinal sense of space. While the patio's furniture breaks up the elongated space into two distinctive areas. Breaking up a large space into dedicated sections for dining and entertaining is one way to tackle a tricky layout. When designing your own outdoor space, consider what sort of dining or entertaining areas you will need. Think about your layout, and how you will need to break up your space. Considering these elements within your design will help you to better see the possibilities of your outdoor area.
43. Magical Oceanside Patio Design
All the elements of this seaside patio design come together and form a truly magical space. The patio's addition of an elegant bare branched tree adds whimsy to the more traditional outdoor patio decor. The punched tin lanterns and large glowing vessels cast a magical luminescence around the canvas covered patio. The soft glow of the cast off light subtly illuminates the subtle shades present in the natural timber flooring and billowing curtains. In creating your own magical space, consider adding materials that truly inspire you.
44. Modern Rooftop Terrace Retreat
Cubist principles meet garden patio in this unique match-up of style savvy patio design and fun but modern patio decor. Almost everything has been reduced to its simplest form, and what was once a rooftop terrace has been transformed into a modern garden patio oasis. Natural elements, such as wood and greenery have been added to bring tranquility into an urban space. Transitional home decor pieces, such as lighting and pillows have been added for additional interest.
45. Rustic Charm Meets Elegant Outdoor Living
Everything was accounted for in the outdoor patio of this charming mountain abode. Relax and enjoy the warmth of a cozy fire, sip on a glass of wine, and rest upon the refined, elegant, and yet modern patio chairs. The well-stocked rustic fireplace forms the focal point for this elegant seating area. The expertly laid stone of the fireplace and patio are further embellished by the addition of classical elements, such as those as found in the lighting, and the elegant scroll pattern of patio chairs and pillows.
46. Above It All Patio Idea
Heaven awaits in this ethereal pergola located poolside. This stunning wooden structure forms the skeletal frame for a perfectly draped canvas screen and provides additional shade for retreating swimmers. An oversized modular day bed fills the surface of the elevated wooden platform and provides a cozy place to relax poolside. The elegant outdoor living space is a functional hideaway and a lovely addition to any back yard.
47. Subdued Outdoor Seating
Outdoor living can be comfortable. This snug outdoor seating area is practically inviting you to prop up your feet and have a drink. The cozy outdoor furnishings are expertly embellished by the use of home decor, such as an outdoor rug, plush pillows, and a sweet little lilac throw. In shades of purple and subdued blues, the vertical patterning creates a deepening sense of space. The lines of the pergola offer shade and privacy for the little outdoor living room. Additionally, the privacy curtains can be drawn to provide the backdrop for quiet conversation.
48. A Refreshing Mix Of Fire And Water
Who says that fire and water do not mix. This laid-back patio oasis reflects all the best elements present in modern design. Clean lines and a modern use of concrete embellishments form the foundation for this modern seating area. The bold use of modern materials is subdued by the refreshing additions of water and the lovely verdant hues present in the garden. When designing your perfect patio, remember that sometimes unlikely mixes make the best matches.
49. Turn Up The Heat With A Glowing Pergola
This sturdy wood pergola is shaded to perfection, and has just the right amount of fiery charm. The concrete slabs form a minimalist backdrop to the sleek lines of the modern outdoor furnishings. The ultra hip monochromatic furnishings and planters are contrasted by bright and fiery pops of red. The cherry stain on the pergola perfectly echoes the fiery theme. Though this patio is brimming with masculine elements, the result is that of a charming and elegant retreat.
Stunning Patios – 50 Best Patio Design Ideas
The designs in this curated list represent some of the most innovative, interesting, creative and stunning examples of patios to date. They should inspire and illuminate your own vision when planning your own outdoor space.
A beautiful patio area can will be able to offer a place to retreat, relax, entertain or enjoy the great outdoors. Whatever it is that you decide that you want from your patio space, you will be able to attain with the right amount of brainstorming and planning.
When designing your own perfect patio, the options are limitless. From vertical gardens to in patterns in pavers, there are many innovate and interesting examples of patio designs within this curated list. So, before you begin pouring the concrete for you new slab, print out some of your favorite patios from the above list and write down what it is that attracts you to those particular spaces. Consider your options, your budget and what it is that you want your outdoor space to accomplish.
In the initial stages of planning for your outdoor space, make sketches and record your thoughts. Jot down your ideas and work out the scale of your designs. These sketches will later come in handy when working with professional builders, architects, and landscapers.
When adding features to your outdoor space, consider your objectives. If you enjoy entertaining and throwing dinner parties, consider an outdoor kitchen and dining area. If you enjoy spending time outdoors in quiet contemplation, create a calming sanctuary for yourself. No matter what it is that you enjoy, make sure that your space is equipped to meet your needs. With a little inspiration and the right planning, you too will be able to transform your outdoor space into your dream patio.