10 Creative and Easy Ideas To Repurpose Hangers : DIY Recycle Projects
I have so many jewelry and accessory that it sometimes becomes a task to organize it properly. Do you also face this problem? Are you worried about how to manage and organize your jewelry? Or are you looking for solutions on how to store your glasses, scarfs, pursues well organized in little space. There are so may ways to do this.
Today I have collected these top 10 DIY ways to reuse old hangers. These DIYs will help you to organized many little things in your room.
Hangers are necessary, because they save space and allow us to more easily organize your closet. Hangers can be made of various materials like wood, metal or plastic. Save some old used hangers as there are hundreds of art and craft projects where they are a major component. Want to know how to recycle your wooden or metal hangers? Check out these creative old hanger recycling ideas.
These Recycled Jewelry Hangers concepts are the best DIY crafts projects to complete in your free time. And they are super fun and cheap. Hooks and hangers are probably one of the quickest and simplest ways to keep things wrinkle-free, tidy and easy to find.
Lets get started 🙂
1. Upcycled Wire Hanger Topiary
Who loves topiaries? They just help to add beauty to the front porch. You can make your own topiaries by reusing some old wire hangers. The design makes it appear unique. One you finish making topiaries then you use any number of plant types, maybe do an evergreen one for natural look. There are some wonderful ways to decorate it. It gives that fresh nature type feeling right in your home. Source/Tutorial: thistlewoodfarms
2. Upcycled Wooden Hanger Chandelier
Recycled wooden hangers are use to make this beautiful chandelier. Along with hangers, every part of the light is made with recycled materials. Bike rims are the main circular structure and zip ties and chain rings attach the hangers to the metal. You can further customized as per your home interior. Do you like this idea of reusing old hangers? Source/Tutorial: inhabitat
3. DIY Neon Nonslip Hangers
Not all hangers give that pretty look to your closet. How about giving old hangers a nice makeover? You can turn ordinary wire hangers into these gorgeous neon nonslip hangers with just a bit of yarn. This DIYs may take time to complete but the final output is worth for all your efforts. Upcycle those seemingly useless wire hangers into neon nonslip hangers for all your bright springtime apparel. Source/Tutorial: brit
4. Gifts display.
Here's another useful idea that you can think of. Reusing hangers for nice crafts is so much fun. You just have to find a hanger that you like and decorate it for Christmas. You can use Christmas decorations or colored paper, ribbon, tape, anything you want. Source/Tutorial: frydogdesign
5. Angel or Fairy Wings
Little girls will love flitting around with these wings. They look like angel or fairy wings. Also there are many options to make it colorful. You need 3 wire hangers, a garland (for the halo) and some tulle. You are also bound to need a pair of pliers to straighten and shape the hangers. Source/Tutorial: Krokotac.

6. Handmade Coat Rack
This is one of the most ingenious and fun idea of reusing hangers. It's a coat rack made for a wooden board and a bunch of wooden coat hangers. The hangers have to be cut down and then attached to the board as you see in the picture. The hooks are mobile. You can use these hanger hooks for hanging bags , scarfs and accessories while the hanger itself can be used for coats. Source/Tutorial: alittleglassbox.com
7. Oven Mitts Storage.
Do you have trouble finding a good place to store your oven mitts in the kitchen? Then you got to check this idea of reusing old hangers right now. Of course, this should probably help. It's a great storage system made from a repurposed coat hanger. Also did you notice? It has a nice pocket for storing all sorts of items. I am sure it will be very useful in your kitchen. Source/Tutorial: site
8. Repurposed Wire Hanger Wreath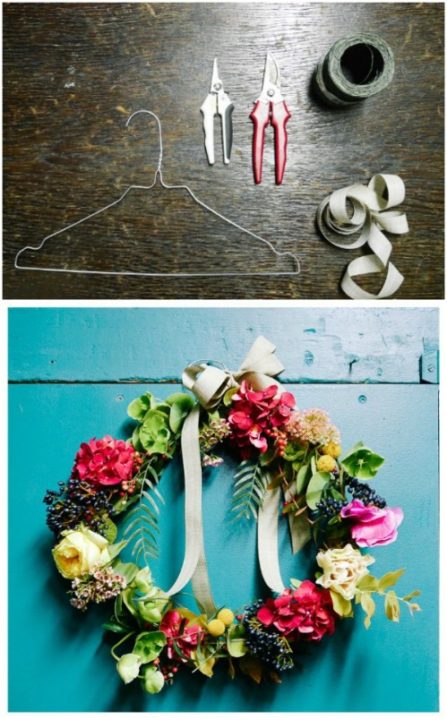 Who will believe if I tell them this beautiful piece is made out of old hangers? With this DIY Recycle projects you can turn an old ordinary wire hanger into a beautiful floral wreath for the front door or anywhere in the house. Trust me its not difficult at all to make this adorable decoration item. If you have time and many old hangers then think of making these lovely wreaths for every room, or give them as special DIY gifts to someone. Source/Tutorial: liliinwonderland
9. Ribbon Organization From Old Hangers
Now keeping your craft ribbons well organized is very simple with this DIY project. This is such an amazing idea and it's really simple. You just add your ribbons onto the hanger and then hang it up. Source/Tutorial: syko
10. Wire Coat Hangers Recycle project diy idea.
These hangers look fabulous when used to display a pretty blouse or summer dress? Why don't you use a picture hook to display the garment on your bedroom wall like a piece of Art. Source/Tutorial: lazydaisyjones
How many of these amazing ideas do you think you'll attempt this year? I hope you will try atleast one of these amazing DIY repurposing ideas using old hangers. Wishing you an amazing happy crafting time 🙂
Thats all for today guys, I hope you had an amazing time here. Do visit our website again for more DIY crafts ideas. Meantime you can connect with us on  Pinterest and Facebook.
Pin This Collection of DIY Hanger Recycle Ideas for your reference.