7 Creative DIY Crafts Ideas To Repurpose Five Gallon Buckets Into Something Useful
DIY recycling projects are my favorite one. If you look around there are so many things which you can reuse. For example you can check these ideas of reusing old picture frames, used plastics bottles, used tin cans etc. And today I have collected these amazingly creative DIY recycle ideas to reuse empty 5 gallon buckets.
What do you do with an extra 5 gallon bucket? Once its contents are gone, its usefulness is only beginning. That's because there are so many practical ways to reuse a bucket.
5-gallon plastic buckets are great for use in your home, garden, and workshop due to their durability and size. Whether you want to help the environment, or work on a fun DIY project, check out these creative uses for 5 gallon plastic buckets.
Repurposing makes so much sense. Instead of throwing things out that you no longer use, you can just turn them into something that you do use.
Are you excited to check these diy 5 gallon buckets reuse ideas? Make sure to follow the links after each diy for step by step instructions.
Have fun. Happy crafting!!
1. Make a strawberry tower
Who does not love strawberries??  Imagine you have a strawberries garden. There is nothing like walking outside and picky off your own fresh strawberries to pop in your mouth. Even with limited space like on a deck, patio or balcony, you can grow fresh strawberries in a strawberries tower made from reusing 5 gallon buckets. Tutorial/Source: plantcaretoday
2. Easy DIY Birdhouse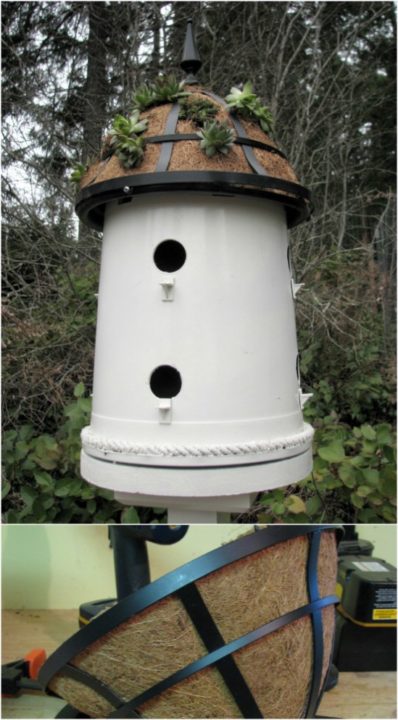 Ok now, how about turning an empty five gallon bucket into this adorable little birdhouse? Do you like this idea? This looks similar to a lighthouse, and due to this it looks so unique. You can take it to next level by further decorating it. Trust me birds in your garden will thank you for this. Source/Tutorial: blueroofcabin
3. Repurposed Bucket Chicken Feeder
Not everyone needs a post on a DIY chicken waterer and feeder from 5-gallon buckets, but someone out there does need it! Is it you? If your plan is to raise chickens then you got to check this ideas of reuse empty used five gallon buckets. By reusing 5 gallon bucket, you can make DIY chicken coop to keep your chickens fed and watered. Source/Tutorial: blessthismessplease
4. Upcycled Bucket Art Studio Storage
Let get organized today. I get very messy while making crafts. If you have an empty five gallon bucket then you can start this diy right away and store your craft supplies nicely in it. Get it a try. Its a fun project. Source/Tutorial: 1orangegiraffe
5. DIY Aquaponic System
You can make DIY aquaponic system by reusing a five gallon bucket. Its easy to make. This is a very useful system, particularly if you are looking to live off the grid and this is a super simple system to set up. The best part is it uses mostly upcycled materials ( so its not expensive to make). Source/Tutorial: instructables
6. DIY Upside Down Tomato Planter
Growing tomatoes upside down, whether in buckets or in special bags, is not new but it has become wildly popular over the past few years. Upside down tomatoes save space and are more accessible. This diy will help you to learn How to Grow Tomatoes Upside Down by reusing 5 gallon buckets. This is a great way to start of kitchen/urban gardening. What do you think? Source/Tutorial: gardeningknowhow
7. Upcycled Bucket Side Tables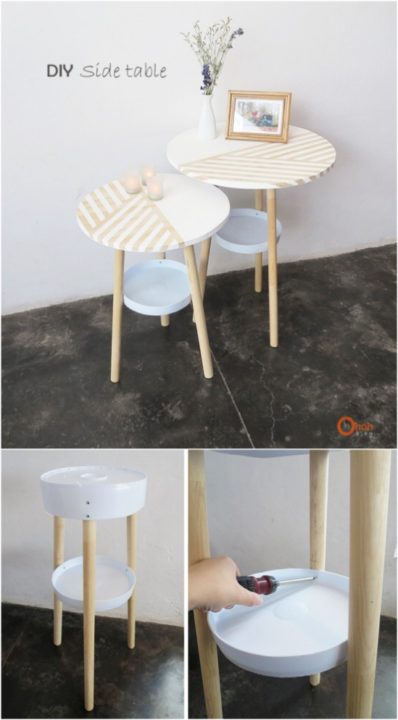 Two 5 gallon buckets will give you this helpful side table. These diy tables are great for indoors or outdoor. I think this is an amazing inexpensive and easiest way to get new furniture from an empty five gallon bucket. You will be happy to see the final outcome. To make a side table, you'll need: 2 old five gallon buckets, a piece of plywood, a wooden stick, 12 screws, a saw, a drill, a screwdriver, a ruler and a pencil. Check the tutorial for further step by step instructions. Source/Tutorial: ohohblog
I hope you will try atleast one of these amazing DIY Recycle Project ideas to make nice use of empty five gallon buckets. Wishing you an amazing happy crafting time 🙂
Thats all for today guys, I hope you had an amazing time here. If you have more unique DIY ideas to repurpose 5 gallon buckets then do let us know. We would love to feature your DIYs on our website. Whats your favorite thing to make recycle reuse crafts? Will you really going to try any of the above DIYs? If yes, then which one you liked the most. Do let me know. Come tomorrow for another nice collection of DIYs ideas to get inspried.
Till Then bye and have a wonderful great day ahead. Also you can connect with us on  Pinterest and Facebook. Thank you for visiting.
Pin This Creative DIY Ways To Reuse Five Gallon Buckets Collection for your reference.