We've seen boho style taking over living rooms, patios, and even our bedrooms. So why not add a little bohemian chic to our bathrooms too? Turn your bathroom into a relaxing, comfy space with these best boho bathroom decor ideas. You will not only see your bathroom transition into a safe haven to unwind but also an updated space to boost your home value. Besides, you spend a lot of time in your bathroom than you may care to admit. Thus, it should be an enjoyable place to visit, especially for your morning routine. Whether you go in there to decompress, relax in the tub, or take a long, comforting shower, your bathroom holds a special place in your heart. In other words, it carries a huge impact on your anxiety levels, mood, and overall productivity.
20 Gorgeous Boho Bathroom Ideas to Add Personal Touch
The article has 20 of the most charming boho styles, which boast a proven record of oozing nothing short of delight. From handcrafted wall hangings, floral accent wallpapers, stunning metal wall art, and painted accents, to super colorful tile stickers, getting to the height of your creative mind becomes a sure thing with these enchanting boho styles.
1. Upgrade to A Chic, Textured Bathroom Look
What an amazing mix of design ideas for an overall tasteful bathroom ambiance! It not only leaves you with a bright, fresh, and inviting space to delight your guests but also a contemporary classic look to elevate your space. An artful decal wall instantly steals the show while drawing the eye up thanks to the stunning mix of tangerines and greenery. Complementing this oozing beauty below is a bright white board and batten wall to enlarge the aesthetic room. Without disturbing the walls, add a crisp standalone rack squarely shelved and elegantly accented with amber glass jars and all your bathroom essential detail.
2. A Space Endowed with Elegant Layers
An obsessive bathroom décor idea this is! Cool to use and charming to look at. In addition to a graphic bohemian style, the bathroom makes a bold classic statement at a glance, drawing in a deep sense of art. The brightly layered backdrop eloquently showcases a cleverly staggered tile layout for a neat flair. As the brightness shines forth, the room oozes more artful pleasures to stretch the focal point. A wood-frame wall hanging steals the highlight while making an effort to complement the textured carpet and dotted floor. Additional accents like plants, woven pieces, and tufted comfort crown the ultimate room magnificence.
3. Mix-statement Accented Bathroom
If you are eyeing more bathroom beauty and splendor, you might want to emulate this cool boho statement without losing sight of class. Turn your morning routine into a "to-yearn-for" experience by cleverly infusing eye-catching detail into the space without the risk of clutter. Against a white paint backdrop, everything else stands out with boho pomp. A stone-layered vanity top instantly lends elegance to a white cistern before ushering a contrasting brown woven basket. To cement authentic bohemian art, a woven bead accent lazily steals the focal point while complementing the contrasting greenery and framed mirror. With the right mix of artful accents, this can become your bathroom reality too!
4. A Modern Update to A Boho Taste
If you develop an appetite for evolving boho bathroom ideas, your bathroom will continuously ooze delight, much to the bemusement of your guests. Dealing with a windowless bathroom? Well, that shouldn't be a problem if your creativity knows no bounds. To permanently kick out all the dingy, dull feelings, cleverly heighten your bathroom mood with an artistic refresh. Paint your ceiling hunter green and let the hunter spirit flow soothingly down your walls backed by a shouting white contrast. Land on the floor for some artful stenciled patterns to project the ceiling's splendor. Complement the greenery flair with an artful curtain, picture frames, and an identical set of complementing towels. There you have a modern boho statement.
5. Kick Out Gloom with Creative Tile Stickers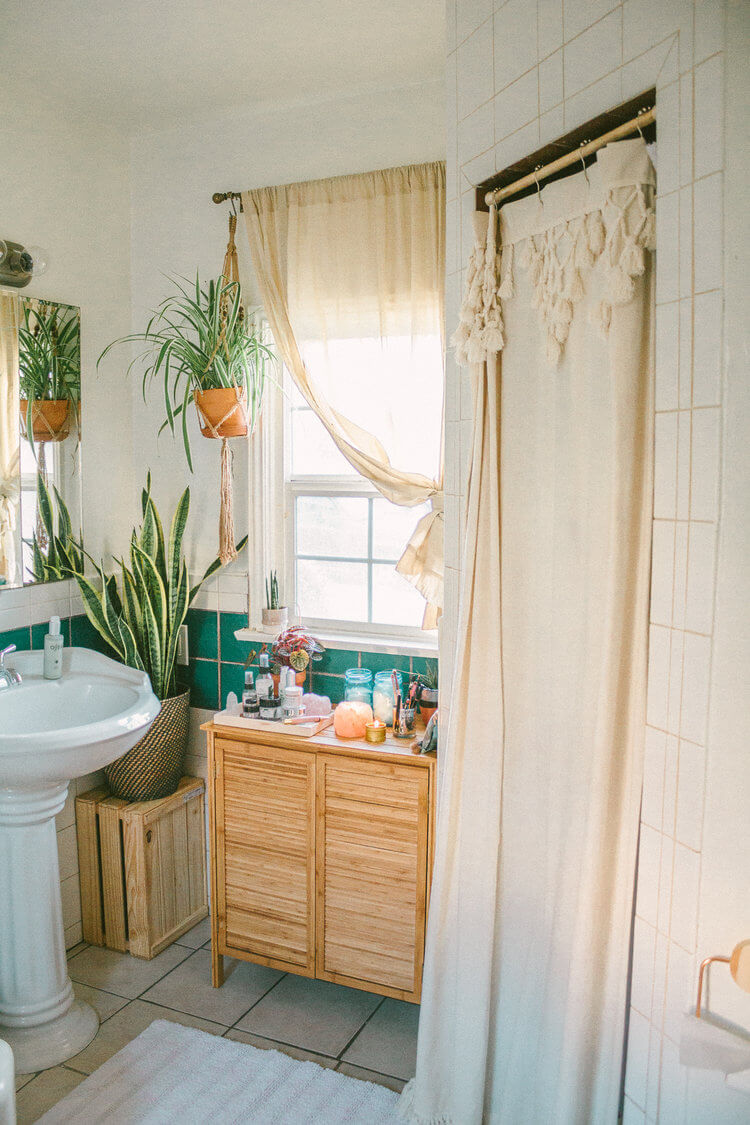 Looking for a unique bathroom transformation without incurring much? Try colorful tile stickers. With premium quality vinyl peel and stick stickers, you can cover up the dull and gloom in your bathroom tiles for an instant mood elevation. With the right tile color shade, selecting the perfect complementary accent becomes a breeze. Green tile stickers attract plant accents neatly touched up with woven detail, not to mention dangling beauty. What's more, adding a wooden flair is sure to bolden the underpinning boho statement all the more. As the natural light seeps into the bathroom, the lightweight sheer curtain does a splendid diffusion job.
6. A Stunning Bright White Bathroom Makeover
If you fancy bathroom hip, this unique bathroom décor might just be the treat you have been after. A bathroom makeover doesn't have to be expensive or strenuous if you know the right artistic tweaks to weave into your design. A walnut-finished mirror makes the most adorable complement to the thick-wood floating shelves projecting at the side. Functionally, the shelves do more thanks to the built-in hand towel rack. Keeping a charming company to the wood is a clean Nadja Line Art Print and Nadja Wildflowers Bouquet Art Print elegantly framed in white wood. As far as your creativity flows, the shelves can take all sorts of accent beauties.
7. Create A Multilingual Space from Little
Instantly create a multifaceted bathroom décor with this bohemian bathroom style without inviting irritating clutter. A neat, dark ceiling plays the helpful role of driving all the room's attention downward toward the layered artful elegance. The staggered tile walls steal the show but not without first lending bliss to the complementing layered accents. For a strong bohemian statement, every accent speaks a unique language, yet without detracting from a colorful bliss. From the dotted floor to the flowery shower curtain, transitioning from the toilet to the bathtub is sure to be enjoyable!
8. A Painted Bath Equals Another Wow Factor
Source: melaniejadedesign.com
You cannot talk about the best bohemian bathroom decor ideas without mentioning color. Effectively introducing that extra wow factor in your bathroom takes among other things, an intuitive color addition. And no, it doesn't have to be costly or hassling. Just focusing on one tiny detail such as the bathtub is enough to explode the room with endless visual interest. Identify your choicest accent color, finely paint your bath, and let it stand out from the cluttered space. This particular tub sits well with the perfect pink shade and is nicely complemented with all sorts of detail including a matching pink flower vase.
9. A Dull Bathroom Turned Sanctuary
Who said you cannot create your little sanctuary from nothingness? If you allow your creativity to flow, incorporating the best boho bathroom decor ideas can turn everything around for you in an instant. Refreshing your tiny bathroom is what makes its function a pleasant surprise for your guests. Lending your creativity to the lifeless space can take many forms without detracting from magnificence. From introducing a space-conscious side table for your aromatic poo-pourri or your favorite read to installing a focal point shower curtain, there is no end in sight to the much you can heighten your bathroom experience. To finish off the elegance, add some dangling greenery or warm lighting to make a bold inviting statement.
10. Unclutter Your Bathroom with A Niche Shelf
Want to unclutter your bathroom vanity top without eroding charm? How about going with a freshly inspired niche shelf? Simply start by getting rid of your old, uninspired cabinet and introduce an authentic bohemian bathroom décor sure to pique antique reminiscence. All it takes is a rustic wood frame neatly paired with a clever shelf duo. In addition to staining the wood with clear varnish, you can effortlessly spruce up the décor with plant and flower linings for a picturesque green touch. Further to the aesthetics, you can as well introduce a pinch of aroma thanks to the infusion of potpourri, candles, or essential oil diffuser for some extra vanity bliss!
11. Bohemian Bathroom Décor with A Patterned Allure
Turning a boring bathroom into an exciting haven of activity is itself exciting. But, without the right tricks, you get stuck in boring! So, what inspiration is best? Here it comes. All it takes is finding the perfect blend of creative tricks and tweaks for an upscaled bathroom experience. With Valspar's Corduroy Black accenting the walls, the white bathroom flair is sure to pop. Further, an open, airy floating wooden shelf can stick out with its stunning accents to create a graceful transition downwards. Upon touching the floor, the screaming elegance bounces back in a neatly contrasting pattern for the ultimate beauty.
12. Let The Boho Art Do the Talking
Bathrooms too deserve a good dose of fun. With the right boho bathroom ideas, you might just find the elusive inspiration you have been running after. Thanks to this exotic décor idea, you can effortlessly convert your bathroom into a dramatic space for extrapolating your bedroom or living room fun. Create a hidden gem within the room's focal point by leveraging the undiminishing magnificence of a Charity sconce. Boasting bright colors and flared arms, the sprawling lighting accent evokes endless glamor reflected in the artful backdrop. The artistic delight is further complemented by a smooth-topped vanity and contrasting cabinets for the ultimate bliss.
13. A Floral Addition to A Functional Bathroom
How about starting your day with a gorgeous bathroom treat? That's easily doable with the introduction of a stunning floral wallpaper. With this peel and stick removable accent, your bathroom ceases to be merely a functional space and transcends into a beautiful sanctuary. Neatly aligning the decorative wallpaper atop your vertical shiplap offers you a clever way to exemplify your room's character without damaging your walls. What's more delightful than that! Besides, the print, colors, and fabric of the wallpaper gem are all top-notch for prolonged bathroom aesthetics. Start peeling and sticking already!
14. Handmade Bohemian Bathroom Décor Style
Want to handcraft your way through an authentic bohemian bathroom flair without feeling cheated? With this custom wallpaper, your journey to that reality becomes a sure thing. Printed on high-quality paper, the multicolor wallpaper is tailor-made from either traditional vinyl or self-adhesive vinyl for aesthetic texture and seamless removal. The damage-resistant wallpaper features different color shades and patterns to come as close as possible to your wildest décor dreams. Moreover, the peel and stick option simplifies customization to effortlessly accommodate faucets, fixtures, wall hangings, and other statement-making accents. Play around with different accents and colors to yield the best personality.
15. A Clever Way to Occupy an Empty Space
Forget about hazard-prone hooks for your bathroom walls. A hassle-free clip is all you need to remain within the bounds of creativity and function. For that and more, look no further than this jumbo clothespin bathroom towel holder. A great blend of aesthetics and function, this bathroom addition instantly makes a rustic statement within a bohemian ambiance for double the thrill. Coming in different sets and varying sizes, the artistic clip presents a fun way to hang your robes and towels while making your work effortless. More so, the clothespin boasts multiple wood grains and colors for an undiminishing natural appeal.
16. Character-adding Metal Wall Art
To add character and drama to your bohemian bathroom décor, you need a bold focal statement. Does "please seat yourself" sound good? Absolutely! The charmingly elegant letters instantly steal the show the minute you step into the bathroom. The metal is thick enough to touch and boasts matte black paint to create a sharp contrast to the bright white backdrop. The bohemian-style shower curtain and fabric add a gorgeous layering of contrasting black and white patterns to carry on the metallic statement. To narrow the statement's focus, the wooden floating shelf traps the view down while detailing extra punctuation.
17. Nature-inspired Bathroom Accents
Bring nature into your bathroom experience without stepping outside. Simply get yourself one of these boho bathroom décor rugs and watch nature take its course. The flower-accented bath mats are not only washable but also super absorbent and fluffy to keep your feet comfy and your floor stain-free.
Complement the indoor natural flair with the brown woven detail and wooden framing detail without obscuring the neat, bright white backdrop. The rugs also boast a non-slip capability for bathroom safety and are cleverly colored to complement the dotted floor accent. What else constitutes perfect bathroom coordination?
18. Leather-strapped Wall Hanging Blanket Ladder
Imagine both a boho-style aesthetic and an extra storage space in one sentence. Well, try this handcrafted decorative wooden ladder and that's precisely what you get. The artistic wall gem features several shelving layers elegantly punctuated with leather straps to glue visual interest. You can intuitively hang your quilt, blanket, or towel on the ladder and create another layer of custom delight on your wall decor. Combining the wood and leather charmingly dresses up your bathroom with an irresistible natural flair to elevate the boho statement. Setting up the ladder against a contrasting background instantly evokes a jaw-dropping focal point.
19. Boho-inspired Eucalyptus Wall Décor Accent
Looking for a bohemian bathroom décor with an enduring natural flair? Nothing beats this handmade eucalyptus wall hanging complete with dried flowers for an authentic boho flavor. Strategically hanging in your bathroom, the realistic-looking plant accent adds a cozy, minimalist charm to the bathroom ambiance. Made from high-quality wood and polymer, the charm is bound to outlive your bathroom. Featuring both light wood and dark wood designs and varying dimensions, this bathroom addition idyllically suits décor customization. For the boldest boho statement, align the wall accent with an interest-arousing background.
20. Handcrafted Boho Bathroom Addition
Achieving a bohemian bathroom decor is effortless with this boho-style hanging toilet roll holder. Made from cotton, the fashionable rope only takes being handy to create an enduring bathroom focal point. The unique boho style details a linear sequence of ropes running parallel to each other and knotted at intermittent points. To turn the interwoven ropes into a holder, simply disperse the center while suspending the rope. Place your tissue rolls in the most aesthetic alignment, and there you have a neat display of bathroom elegance. The holder comes in several colors to accommodate your customized décor appetite.
20 most Enchanting Boho Bathroom Ideas to Charm Your Bathroom
The good news is that boho style—with its emphasis on textured textiles, organic materials and shapes, rich tones, and a "more is more" vibe—can be a really budget-friendly way to spruce up your bathroom without dishing out cash for renovations. You can create a boho look with (lots of) accessories—and, of course, a healthy dose of creativity.