1. Repurposed Garden Fountain Container Idea
Use a large concrete fountain as a show stopping display for succulents. Start with small succulents in the top level and plant larger ones as you go down. Trendy multicolored succulents have a special place in this arrangement. Plant around your fountain with lush greens.
2. Paint Can and Ladder Set-up
Use old paint cans and a small stepladder for this charming display. When planting, match the color of the flower with the color of the paint on the exterior of the can. The colors tie it all together for a quirky look.
3. Antique Wooden Washtub Flower Planter
An antique wooden washtub makes an ideal flower planter. It provides drainage and keeps the flowers up off the ground. All you need to do is lift the lid and secure it in place so it will not fall and damage your plants. Then fill the planter with soil and the old-fashioned flowers it calls for.
4. Upcycled Desk Garden Container for Your Porch
If you can find an old desk, this would make an excellent planter. Paint the desk and chair in a bright color to match. Pull the drawers out in a graduated fashion. Fill these with plant pots or potting soil. This design looks especially nice with a mix of greens and climbing flowers.
5. DIY Vintage Sink Garden Planter
Source: listotic.com
A kitchen sink makes an eye-catching and attractive planter. Try securing old plates to the bottom of the sink and planting around it. Using white, frothy flowers gives the appearance of dish suds. A bathroom sink would also look nice with succulents and pebbles.
6. Wooden Plant Boxes with Built-in Bench
This planter bench is not an easy project, but can provide a learning experience for a beginning woodworker. Begin by cutting cedar planks. Sand the planks and assemble into boxes for the ends. When the planters are built, attach them with the bench. Stain the planter bench and add flowers to each end.
7. Pretty Vintage Garden Container
Use an old chest of drawers as a planter. First, paint and distress the finish if needed. Then pull out the drawers in a graduated order from top to bottom. Fill the drawers with potting soil and add flowers. Create a cohesive design by using flowers from one color family. Add interest by combining the chest of drawers with vases and planters.
8. DIY Wooden Wheelbarrow Flower Planter
Find these understated concrete planters at the home improvement store. These are so sturdy, they will last a lifetime. Use a variety of levels for visual interest, beginning with a bowl that sits low to the ground. Fill these planters with a tall and dramatic arrangement of flowers. Snapdragons provide height and tulips provide a bright seasonal pop of color. Fill in the rest with annuals.
9. Tiered Clay Pot Herb Garden
This is a cute way to display kitchen herbs. Thread a rod through the pots, setting them at an angle. Stack the pots on top of each other. Fill the pots with soil, but do not overfill them or the plants might fall. Add ceramic labels for each level.
10. Painted Tire Flower Display
Use old tires for this charming display. First, paint three tires in bold, exciting colors. Then line the inside of the tire with a platform that fits. Stack the tires together in a pleasing arrangement and add soil. Use a variety of colors and heights to make a fun, creative arrangement.
11. DIY Rustic Flower Planter with Logs
Use a round piece of plywood as a base for this planter. Remove the bark from an assortment of fireplace logs. Use logs with varying height and width. Arrange these in a ring around the edge of the plywood and screw them in place. Add a plant pot inside for a rustic look.
12. Cute Rain Boot Hanging Planters
This idea is as simple as finding old kids' rain boots at the thrift store. Use a mixture of colors and sizes for variety. Drill drainage holes in the bottom of the boots and add potting soil. Hang the boots on a fence or wall and add flowers.
13. DIY Clay Pot Garden Pond
Make a container water garden with a large ceramic bowl. Add pebbles to the bottom of the bowl. Use a portable filtration system to keep your plants in ideal shape. Use a variety of water plants, from greens to water lilies. Be careful to keep your garden from growing stagnant, or the plants will die.
14. Upcycled Boot Flower Planter Tutorial
Find an old work boot at a thrift store. Remove the tongue of the boot. Drill drainage holes through the sole and the arch. Plant the toe of the boot with microgreens. Line the rest of the shoe with coir, the material found in the bottom of hanging baskets. Fill it with potting soil and the flowers of your choice.
15. Pretty Wicker Basket Flower Planter
You can use an old laundry basket for this project or buy a new wicker basket. It's as easy as finding a plain planter large enough to fit inside the basket and then planting it however you wish. Using a layered approach makes for a neat and attractive planter.
16. DIY Wagon Wheel Creative Garden Container Design
With an old wagon wheel, you can create an impressive display of succulents. Use a container the same size as the wheel. Line the bottom of the wheel with cactus soil. Add chicken wire as a support for your plants. Secure the wheel over the top of the chicken wire. Plant succulents in the holes, packing them in tightly for a finished look.
17. Antique Bathtub as Garden Décor
This is a fun and quirky idea that will make your garden stand out. It relies on finding an old claw-foot bathtub: you may be able to find these at estate sales or in resale stores. Fill the bottom with large rocks for drainage. Fill in the top with soil and plant with annuals.
18. Painted Tire Hanging Decoration
Find an old tire. Drill holes in the bottom for drainage. Line the tire with fabric weed barrier. Add Styrofoam packing peanuts to help with drainage. Fill the bottom of the tire with potting soil and add a mixture of hanging and vertical annuals. Hang it from a tree like a tire swing or on a sturdy nail on the exterior wall of your home.
19. Easy DIY Seashell Succulent Container
This idea relies on finding large seashells with openings that are large enough to fill with potting soil. Select your shell carefully and drill a hole in the bottom for drainage. Succulents do poorly in undrained soil. Add plants and display your shells in a sunny place.
20. Galvanized Metal Watering Can
Find old galvanized metal watering cans. Look through your garage and garden for watering cans that can be repurposed, or try yard sales. Fill these planters with lush upright arrangements for the best look. It would be even nicer to use graduated sizes of watering cans going up a set of stairs.
21. Palette and Pot Planter for Small Spaces
Use this palette planter for kitchen herbs. It would be easy to lean up against the rail of a porch or deck. Affix metal rings to the palette with screws. Set small terracotta plant pots in the rings. To tie your display together, paint the tops of the pots with chalkboard paint and use attractive lettering to label your plants.
22. Upcycled Toy Truck Garden Planters
Toy trucks make fun and unexpected garden planters. Just make sure children are not tempted to roll your plants around and damage them. The toy trucks don't need to be in good condition: rust is fine. Try filling these trucks with small succulents or upright greens.
23. DIY Stone Hand Garden Container Idea
Make this unique planter yourself with concrete. Mix concrete in a large bucket. Use it to fill sturdy rubber gloves. When the concrete is dry, simply pull off the gloves. Then fill the hands with pretty greens or flowers.
24. Easy DIY Vintage Book
An old book makes an eye-catching planter for succulents. Use a vintage book. Run a thin layer of white glue around the outside of the pages. Cut a rectangular hole into the pages with an exacto knife. This is the most difficult part and requires repeated cuts. Make the hole at least 1 ½ inches deep. Line the bottom with wax paper or a plastic bag and plant succulents inside.
25. Stone Heart Garden Decorations
Find flat heart-shaped planters at the home improvement store or garden center. Add potting soil to the bottom. Fill these planters with plants that will not grow too tall. Succulents or greens are good choices.
26. Space-Saving DIY Shoe Organizer
Each shoe pocket in this organizer can be filled with a plant. Using it as a kitchen herb garden would be nice, as the organizer can be hung on a sunny wall near the kitchen door. Be sure to water this carefully so that the plants on the bottom row don't get too soggy.
27. Plastic Pipe Hanging Garden Idea
Make a hanging planter with PVC pipe. First cut the pipe and end caps in half horizontally. Epoxy the caps onto the ends of the pipe. Make a hanging ladder arrangement with chains. Secure the planters on the chains. This would be an ideal planter for herbs, lettuce, and other edible greens.
28. DIY Stone Garden Container Tutorial
Be creative when using natural stones as planters. You may already have rocks with depressions that are deep enough to plant in. You can also try stacking rocks on their sides and planting in between them. Don't be afraid to experiment. Succulents and greens would be attractive in these rock planters.
29. Turquoise Watering Can Flower Container
If you already have a watering can use this turquoise one as a cute planter in your backyard garden. The small rainbow pairs perfectly with this garden goodie that enjoys the rain and sunshine equally. Give each little girl in the family her own can to add lots of interest to your flowerbed.
30. Slatted House Number Flower Box
Increase the curb appeal and make it easier to find your home with this wooden crate flower box. Featuring your home address in metal numbers, this crate can be filled with an abundance of flowers to add lots of color to the industrial and modern vibe of the wood and metal design.
31. Plenty of Pots and Wheelbarrow Garden Idea
Cultivate an explosion of creativity in your garden space with this arrangement of container garden ideas. The rusty wheelbarrow becomes a rich haven for a large hosta, while some of your favorite mosaic pots hold your other plant friends. Turn a terracotta on its side so a fern can enjoy the shade as it roots into the lush soil.
32. Contemporary Modern Wood Box Porch Planter
Add lots of style to your porch with these ultra-hip and modern box planters. They are large enough to hold a small decorative tree or any plant you love. The duo consists of two heights to further add drama and depth to the design.
33. Top of the Railing Herb Garden
What's not to love about this personal herb garden that rests comfortably on the railing of your porch? Anytime you're cooking in the kitchen, it's just stepping away for your convenience in adding some fresh flavor to your dish. Everyone will enjoy having this collection of fresh herbs ready to go in this container garden idea.
34. DIY Rustic Log Flower Container
Anyone who is handy with a hatchet can easily create this planter. Cut into a firewood log, making a channel for the potting soil and plants. Leave space on the ends. Fill the log with potting soil. Add a mixture of charming annuals, and display this outdoors. Add rocks around it to keep it from rolling over.
35. Vintage Dining Room Chair
Replace the seat of an old chair with a flower basket. You can paint the chair in a bright color for extra charm. If you like, paint the chair and then distress the finish to give it a vintage look. Try contrasting the color of the flowers and the chair.
36. Cute and Easy Colander Planters
Colanders make great planters. Not only are they quirky and unexpected, but the holes provide ventilation and drainage for your plants. Small colanders can be used on a countertop or table. They look equally nice with succulents or jade trees indoors or with fresh annuals outdoors. You can even hang them like baskets.
37. Cinder Block Garden Container Ideas
Create modern-looking planters as easily as stacking cinder blocks. You can make these planters free standing or build them into a raised bed. Line the inside of each cinder block with a pot for easy planting. These look very nice with mosses, greens, and grasses.
38. Upcycled Plastic Laundry Basket Container
Upcycle an old laundry basket into this attractive burlap planter. Repair any cracks in the planter with packing tape or duct tape. Then hot glue sheets of burlap inside to cover the holes. Continue covering the planter with burlap until it is completely transformed. Wrap a finishing piece of burlap around the top and use it to cover the handles. Finish with a piece of rope.
39. Antique Metal Tool Box Planter
Find an old metal toolbox at an antique store or yard sale. Any small metal container with a hinged lid will do. If you are looking for an authentic antique look, display a tool in the box along with the plants. These containers are especially suited to succulents and greens.
40. Easy DIY Plant Chandelier Decoration
Find an old chandelier. It doesn't have to be wired for electricity. Make sure the arms face up. Take off any globes or vases and remove the wiring if necessary. Clean the chandelier well. Sand lightly. Use epoxy to glue on plant pots and saucers. Paint the entire chandelier with spray paint. Add flowers and greens.
41. Shabby Chic Antique Pitcher Planter
This is a simple idea that provides some shabby chic charm to your garden. Find a large ceramic pitcher at a yard sale or resale shop. Fill this pitcher with potting soil. You can put some large rocks in the bottom to help with drainage and reduce the amount of soil you need. Plant a mixture of annuals in the pitcher.
42. Upcycled Filing Cabinet Container Garden
One man's trash is another man's treasure and so this ingenious container garden concept was born! Turned on its side, this old, worn-out filing cabinet has a new purpose as it gives life to this collection of cacti! It's a great way to take care of Mother Earth.
43. Planter Box in an End Table
This planter blends seamlessly with the other outdoor decor because it literally drops into the furniture. If you are comfortable making modifications, most wooden patio furniture can be retrofitted with a planter box. Use this idea to grow insect-repelling plants or perhaps herbs for cooking and cocktails.
44. Stately Plywood Planter with Faux Zinc Finish
Give your space a touch of classic elegance with this inexpensive planter. Crown molding, plywood, paint, and glazing medium come together for an affordable planter option. With a few modifications, you could give this planter a copper finish for a warmer appearance. Imagine how posh a container garden would look with these planters!
45. Painted Rainbow Recycled Pallet Planter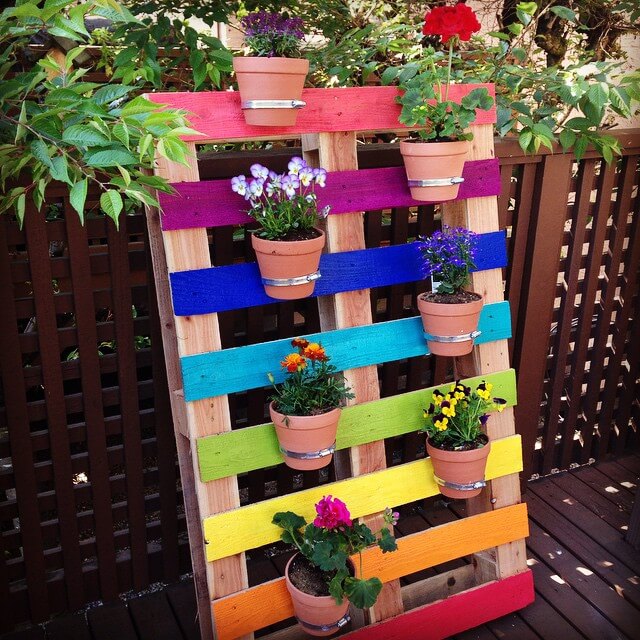 Rainbows tie into almost every color scheme and are a cheerful accent. Of course, if your space calls for a more subdued look, you could use a more neutral hue for the slats. Another way to personalize this piece would be to use colorful flower pots.
46. Macramé Hanging Planter with Bohemian Vibes
Smaller plants look divine suspended in this macramé planter. An asymmetric, natural design softens the landscape. Pair this planter with broad-leafed plants for a tropical feel or with plants with small leaves for more whimsy. For those in smaller spaces, a hanging planter is a creative way to maximize green space.
47. Reclaimed Tackle Box as a Succulent Planter
While some may see a useless bucket of rust, this reclaimed tackle box has a new life as the home for colorful succulents. Rust cultivates character while the stones and succulents provide lots of visual interest. This planter would probably not be safe for edible plants but would look dazzling with vining flowers.
48. Whimsical Broken Wheelbarrow Fairy Garden
Fresh paint and stencils rejuvenate this broken wheelbarrow. Outlining a stenciled design with a black permanent marker is a way to accent it. If a fairy garden is not your style, switch out the fairy house for a birdhouse. This wheelbarrow could even be used to beautify a container garden.
49. Gutter Garden for Flowers, Herbs, or Strawberries
This planter is perfect for compact spaces or anyone who is not able to bend over as easily. A vinyl gutter does have limitations — you can only choose shallow-rooting plants. While plain gutters are uninspiring, you can paint them. Vining plants can cover an unsightly fence while stocky succulents can steep your space in zen.
50. Lush Greenery "Cushions" on a Rejuvenated Armchair
Sedum upholsters this old armchair to give it an otherworldly appearance. Crisp blue paint gives this chair panache while green highlights accentuate the sedum's vibrant green. This armchair is an example to show that imagination is the only limit to the planter possibilities ahead of you.
16. Pops of Color: Overflowing Planters
These planters' soft edges and simple lines emphasize the greenery. Wheels on the bottom of these planters make it easy to move around and refresh your décor. Achieve the appearance of abundance by planting tall plants in the middle and short vining plants along the edge. Remember to layer foliage textures and colors.
51. Repurposed Mailbox Succulent Garden Container
Let your succulent collection enjoy a new world as they overflow from the opening of this vintage-style mailbox. Hang it on your porch or back fencing to to bring some waxy greenery into the scene. It's an interesting idea for a unique planter concept.
52. Boxed Stairstep Fairy Garden Creative Container
Give a visual boost to your creative container garden for your fairies this year with this wooden box creation. Mimicking stairsteps, these three boxes form the illusion of a hidden fairy retreat for your favorite winged friends. Complete with a tire swing and mini ladder, any fairy would love to call this place home.
53. Brightly Colored Five Gallon Bucket Container Garden
Bright and bold is how to plant your garden in these vivid buckets! They will attract all of the pollinators you need for growing a healthy harvest this summer. Set them on your back patio to soak up the sun this summer while adding a splash of color to the scene.
54. Pansy Painted Tool Trough Flower Box
Even before the first pansy blooms, this flower box gives some color to spring! The shape of this tool caddy makes a fun container choice for housing the frost-friendly petals at the beginning of the season. Place it on a small table outside to greet all your guests.
55. Redwood and Aluminum Planter Bursting with Life
A scrumptious combination, wood, and metal are weatherproof and contrast beautifully. To tie this planter into your surroundings, use wood sourced from your locale instead of redwood. While this example uses aluminum, you could use whichever metal suits your space. If you are feeling adventurous, try planting strawberries that will vine along the side.
56. Lavender in an Iridescent Planter
When combined, this lavender plant and iridescent planter look like they are from a fairytale. For a look that transcends reality, choose a planter with an iridescent glaze and a plant with lots of fun details. If lavender is not your favorite, consider planting some silvery sage or purple basil in your iridescent planter.
57. Lattice Planter as an Accent Piece
For a playful planter that uses geometry as a statement, try using lattice. While this look is clean, more dimensions could be added by painting one of the lattices blacks. For a farmhouse appearance, skip painting the lattice to let its rustic character shine. The fern's straight stems emphasize the lines in the lattice.
58. Bright Yellow Vintage Potty-Training Chair
Anything with a place for soil can be used as a home for plants. The waste bowl in this vintage toddler chair works wonderfully as a planter. Butterflies and stenciled words help add individuality. Painted with an ironic shade of bright yellow, this chair is a reminder that beautiful things can grow in any circumstances.
59. Vertical Herb Garden Using Stained Cedar Troughs
Vertical gardening is a great way to add lots of green areas in small spaces. Even in large spaces, these troughs are an efficient way to grow an herb garden. For a Scandinavian look, use unstained blonde wood. If farmhouse is your jam, try incorporating some galvanized metal.
60. Recycled Containers as Playful Plastic Planters
If you are on the crafty side, try transforming any leftover plastic containers into sustainable planters. These have so much potential for personalization. Use macramé hangers for a Bohemian vibe or embellish with seashells for a coastal theme. Bigger bottles can handle bigger plants, so get creative with your plastic waste.
61. Strawberry Tower from Nursery Buckets
Incorporating edibles into your landscape is a fantastic way to use your space more sustainably. This tower is made from plastic plant buckets, but you could use more permanent materials like wood, concrete, or ceramics to better suit your garden. Stagger your strawberry seedlings to have strawberries throughout the growing season!