The bathroom is truly one of the most important rooms in the house. We use it every single day to maintain health and hygiene, plus get ready every morning. Although it can be a small space, the bathroom definitely has a huge impact on our daily life. If you're ready to tackle a full bathroom remodel to make more of an impact in your space, there are designer tricks you can try to express your style. Here are 10 Amazing Rustic Bathroom Decor Ideas You Will Love.
10 Gorgeous Rustic Bathroom Decor Ideas to Try at Home
Most people don't have the luxury of a large or even medium-sized bathroom, which poses an interesting problem of how to decorate such a small space. Decorations can easily become clutter in such a limited space. To inspire your best ideas, we've shared our favorite ways to decorate a small bathroom.
Source: onyapan.com
This mirror is a great way to bring ideas that are typically seen outside the home and bring them indoors. This rustic bathroom decor features a mirror that is framed with weathered lumber that resembles a window with a traditional "window box." The box makes a great place to store your perfumes and other items for a quick touch up before you leave the bathroom. If your bathroom is small, this box will provide a little extra storage, which can go a long way in a small space. The flower adds some softness and femininity to the overall design.
2. Cottage Bath with Painted Shiplap and Vintage Hardware
Source: mvbjournal.com
This bright and fresh bathroom is one of many bathroom design ideas that help you to incorporate rustic bathroom decor while keeping the colors fresh and bright. A wood table is repurposed into the base of a sink and keeps the feel of the room very open and inviting. Horizontal wood paneled walls are painted a light, powdery blue for a fresh look and feel. Dark wood tones and oiled bronze or black glossy fixtures pop in this design, while the white trim helps everything to look clean and fresh. The contrast of these accessories is truly breathtaking.
3. Earthy tones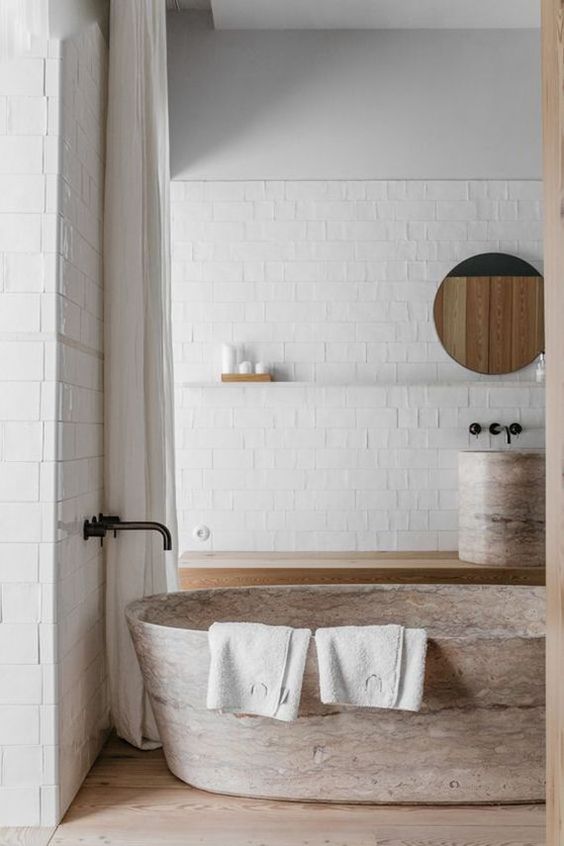 Source: Style Files
The modern rustic colour scheme is guided by the neutral tones of natural materials with a warm, earthy palette of beige, rust, chocolate brown, orange and charcoal, finished either chalky or matte. Choose warm paint tones and warm light globes rather than cool ones.

4. Mason Jar Light Fixtures
Source: hatch.co
An easy way to update almost any room in your house is to update your lighting fixtures. If you are intending to include rustic bathroom decor in your home, this case is very true. These Mason jar vanity lights are the perfect way to bring a little bit of rustic decor into your bathroom without committing to a full remodel. For this lighting, planks are cut to the desired width and stained. Holes are drilled for wiring and plumbing fixtures cover the hole. Chains are fed through the plumbing pipe to support the weight of the mason jars, then wiring and Mason jars with lights are added.
5. Architectural features
Source: Lifestyle Photomontages
If you are building or renovating and have the chance to expose any architectural features, grab it! Wooden floorboards, stone walls or exposed beams all spell instant rustic charm and can become the focal point for your space. Leave timbers raw or go for off-white or earthy tones with some bathroom painting.
6. Rough Beam Cornice Box for Shower Curtains
Source: livinais.dvrlists.com
Simple, white bathrooms beg for rustic elements. This rough piece of weathered lumber acts as a box cornice for white lace curtains. This rustic bathroom idea uses rustic elements such as antique wood frames and boxes and combines Victorian elements such as the claw foot tub, lace, and candle holders. Traditional subway tile and rich wood floors and crown moldings work well in this tiny bathroom. The wood accents and variety of textures in this room are the elements that keep this design from being boring and make this bathroom inviting.
7. Reclaimed Cornice Shelving
Source: opendeco.com
In this design, corbels are painted a creamy white and distressed to bring out their detail and add interest in this rustic bathroom decor. The shelf is a simple stained wooden shelf that can be purchased at any hardware store. The shelf is installed in a corner that may otherwise remain unused. Two hooks hang beneath the shelf and are a great place to hang your towels. The bead board and molding are painted a crisp white, whereas the corbels are painted the same creamy color as the wall. This adds more interest to the room and draws your attention to the architecture.
8. Slate Mosaic Accent Wall
Source: loombrand.com
This rustic bathroom idea offers a polished and refined option that seems more like a luxury ski resort than a cozy cabin. Rich red cherry wood and stained plank walls work well with a marble countertop and a rich stone accent wall. A stone sink basin adds some contrast while the long, soft lights on either side of the mirror keep things warm and cozy. A tasteful rustic spout is a nice touch for a faucet at the sink. Rich dusty rose red walls create a relaxing atmosphere where you would enjoy taking a warm bath in style and comfort.
9. Hunter's Bathroom Featuring Shiplap and Hunting Trophy
Source: thepinktumbleweed.com
If you think rustic design has to use shades of brown, you are mistaken. Gray is also a very natural color that is dominating bathroom design ideas. In this bathroom, wood plank walls are painted a glossy white and accented with gray wood and accents. This gives the bathroom an almost wintery beach look and feel. Modern cabinetry, hardware, and tile flooring blend seamlessly with this design. The wood mirror frame adds a lot of character to this room with its stamps and color. Repurposed shipping crates can be stained and used for a similar effect.
10. Rolling Barn Door with Black Iron Hardware
Source: designferia.com
You do not have to go to extremes to make the most of your rustic bathroom design. This design keeps it simple with a rich and rustic honey colored sliding barn door and white walls and accents. The hardware on the door combined with the colors of the leather chair, wood in the vase, and exposed wood beams make these rustic features stand out in a very modern home design.
This design keeps it simple and makes a big statement with subtle accents and follows the examples found in nature. These natural elements are what make this room work so well.
Whether you're decorating a house in the country or just want to create the lived-in, homey feel of rustic décor, achieving that look is all about texture. Reclaimed wood, galvanized metal, rough stone and cast iron are all part of rustic bathroom decor ideas. These natural, less polished materials provide a sense of one-of-a-kind craftsmanship and will give any room an immediate sense of character. This is especially true in a bathroom, where you can make a big impact with just a few subtle elements.