9 Easy Ways to Freshen Up Your Home for Spring
Spring marks a season of new beginnings. The flowers and plants are blooming, the birds are singing, and the outdoors in general just seems more alive.
This makes it the perfect moment to give the home a makeover.
Renovations can be simple and doesn't require major and expensive renovations.
Here we present 9 easy spring decorating ideas.
Just a few simple additions or modifications should do the trick.
Use Wall Decals
Photo: Decoist
[wp_ad_camp_1]
Instead of a paint or wallpaper renovation, which is expensive and permanent, try experimenting with reusable wall decals. This gives you endless combinations of decorating the wall, and when you get tired with it, you can always rearrange it or try a new decal altogether.
Decals are especially effective for your designated accent wall.
Add a New Dining Table
Photo: pineapplespalms.com
For the dining room, consider replacing the biggest furniture in the room – the dining table. A table tat's worn or bleached out lacks natural elegance, and that will really influence the entire room given the table's size.
Consider opting for a table with a wooden base. When complemented with white chairs, this helps to really bring about a coastal ambiance.
Go Green
Photo: freshhousee.com
Green represents life and vitality, which makes it the perfect springtime color. Consider incorporating furniture and decor accessories of various shades of green.
You can also complement this by bringing in freshly cut plants and flowers cut straight from the garden. You can even place framed photos and paintings of plants and wildlife.
Make Plants the Focal Decor
Photo: Homedit
This was just touched upon, but it deserves a section of its own. Consider plants that really branch out from the vase. By branching out, this means extending way out of the brim of the vase by several feet.
Consider placing the vase high off the floor, such as on the top of a shelf or filing cabinet to give it the illusion of being a miniature tree.
Add Custom Made Lattice Frames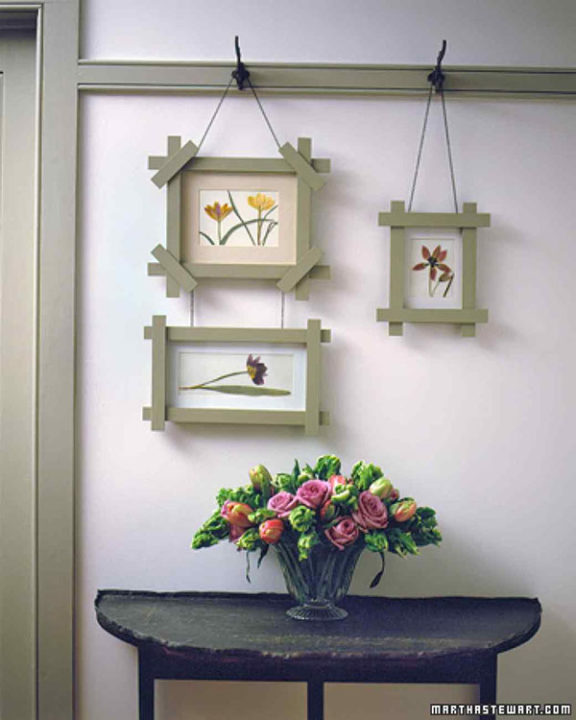 Photo: Martha Stewart
Add a few wall decal frames with a lattice design. These frames have a homemade appearance, and you can add to that look by adding your own pressed flowers that go inside the frame. These are perfect when hung in the kitchen and especially next to a window where the garden or yard can be seen. You're practically bringing a piece of the outdoors into your home.
Incorporate Pastel Accents
Photo: Decoist
[wp_ad_camp_2]
Pastel includes a lot of bright and chalky colors. Pastels are great for brightening up the space and creating a vibe that is just right for the spring months. Consider pastel colors for the wall, furniture, and drapes. These hues are especially effective for adorning a girl's bedroom. Tween and teen girls may like it as well.
Add Botanical Wallpaper
Photo: wallography.co.uk
If your budget allows, then consider adding botanical wallpaper. You can even go beyond the walls and cover certain furniture with the paper. A bookshelf or drawer set are good options that would look great when adorned with a botanical design. You can also just use the wallpaper for a designated accent wall.
Milk Pot Garden
Photo: Martha Stewart
When it comes to indoor plants, consider using a tin milk pail in place of a normal vase. Milk pails, especially ones that are lightly used with some signs of distress, have a rustic appearance that really adds to the cottage and country style look.
Add Light and Airy Curtains
Photo: Popsugar
Swap out the dark and heavy curtains and valances for a lightweight variety that is also brighter in color. Of course, the lighter fabric means it won't be as effective for blocking out sunlight, but heck, it's spring. You should want some additional natural rays into your home to really convey a strong springtime vibe.
Celebrate the Season of New Beginnings
[wp_ad_camp_3]
Have you noticed that everything around you just feels more alive during spring? That vibe can be transferred indoors with a few simple home adjustments. Not only will your home feel uplifted, but you will as well.
Share these ideas with you family and friends.
Follow us and get in touch with the latest super DIY Home Decoration Ideas.
Follow and Keep In Touch With Us on :
For more DIY Home Decoration Ideas like these keep on visiting Sad To Happy Project.
You May Also Like: