7 Great DIY Tutorials On How to Make Loom Bands: Part 1
Do you like bracelets? If yes, then definitely you gonna love this round up.
Our todays topic is how to make loom bands. Loom bands are normaly famous in teenagers.
However it is also a great craft for your kids.
These bands come in all different colors, and you can create endless combinations with them.
Loom bands are made up of rubber bands.
Loom bands are nothing but super-funky rubber band links, bracelets, wristbands or friendship bands for children and teenagers.
The easiest way to make it with loom band kits. However you can use couple of pencils and a bunch of rubber bands if you dont have a kit.
Below we have 7 nice tutorials on how to make a cute loom bands at home easily.
We have your kids will love it. For step by step instructions please head over the links provided below.
We love you. Cheers!!
1.) Make Rainbow Loom Jewelry
Check out the full DIY tutorial :familymaven.io
2.) How to Make a Rattlefish
Check out the full DIY tutorial : loomlove.com
3.) Rubber band bracelets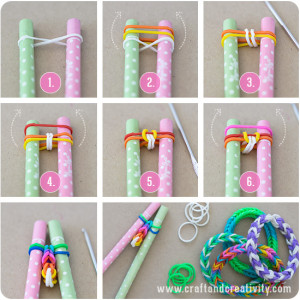 Check out the full DIY tutorial HERE
4.) Owl Charm Rainbow Loom Bracelet tutorial
Check out the full DIY tutorial HERE
5.) DIY loom bands
Check out the full DIY tutorial HERE
 6.) Fish Tail Stretch Bracelet Tutorial
Check out the full DIY tutorial HERE
7.) DIY Rubber band bracelets
Check out the full DIY tutorial HERE
 You May Also Like: