How To Make Giant Paper Flowers : Step By Step Tutorial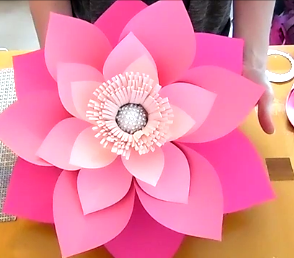 If you're planning for a DIY wedding or want to boost your home decor, there's nothing lovelier than adding paper flowers. You can make a few to use as decorations, or make a whole bunch to fill an entire wall to use as a photo backdrop at an event or wedding.
Paper Flowers are the perfect touch to any event, gift or home decor piece. They won't' die because they were never alive to begin with, and your colors patterns and flower types are endless. 
Here is a super cute idea to DIY Giant paper flowers . They look so unique and beautiful! They are easy and really fun to make. Even if you are not good at crafting, with some cutting, rolling, wrapping and pasting, you can make these pretty curly paper flowers to decorate your home. Try different colors of paper to make a colorful bouquet. Happy crafting!
This is our today's featured DIY Craft Project. Learn how to make it with below step by step tutorial.
Tutorial : How To Make Giant Paper Flowers
Learn how to create giant paper flowers for a paper flower backdrop.
Perfect for bringing spring inside any time of the year – giant paper flowers wall decor. 
For more DIY crafts and tutorials like this keep on visiting Sad To Happy Project and you can also follow us on Facebook, Pinterest, Twitter
Interested in blogging or string your own website?? Here is the step by step guide on 'How To Start Your Own Blog'.
You May Also Like: