This classic weather activity for kids is favorite in classrooms and homes.  This rain cloud in a jar is a weather science experiment gives young children a chance to explore clouds and rain in a hands-on and engaging way!
Before making rain clouds in a jar discuss how it rains and what causes rain to form.  Review where rain comes from and the process of how rain clouds form. 
This is our today's featured DIY Craft Project. Learn how to make it with below step by step tutorial.
Tutorial : How To Make A Rain Cloud In A Jar Science Experiment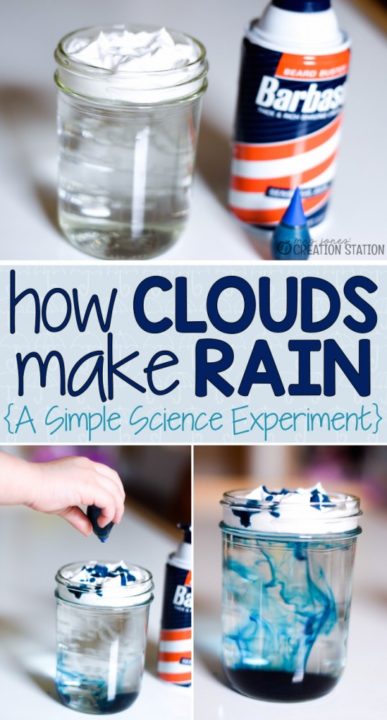 How it Works
The shaving cream represents the clouds and the water represents the air. The colored water represents rain. As the colored water saturates the "cloud", it gets heavy and eventually is so heavy that it can no longer hold the water. It "rains" down into the jar – through the "air." It is just like real rain falls through the air.
This easy science experiment is a fun way to explain how rain clouds work.
For more DIY crafts and tutorials like this keep on visiting Sad To Happy Project and you can also follow us on Facebook, Pinterest, Twitter
Interested in blogging or string your own website?? Here is the step by step guide on 'How To Start Your Own Blog'.
You May Also Like:
How to Make Photo Pendant Under $2.5 : Easy DIY Crafts Ideas

Beautiful DIY Origami Flowers To Decorate Your Wall : Wall Decor Ideas
How to Make Paper Ballerinas : Wonderful DIY Paper Craft Ideas
How To Make Giant Paper Flowers : Step By Step Tutorial
This Unique DIY Branch Shelf Will Give Rustic Look : DIY Home Decor
How To Make This Stunning Gemstone Body Soap : DIY Soap Recipe
This Incredible DIY Cloud Lighting Will Blow Your Mind : DIY Home Decor