19 Handmade Cheap Garden Decor Ideas To Upgrade Your Garden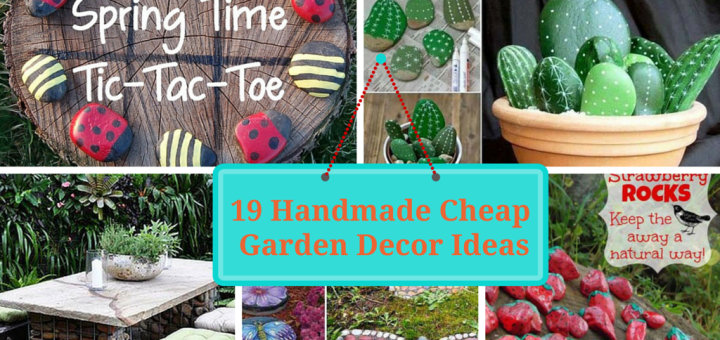 Does your garden need a little refreshment? If you have no idea of how of upgrade your garden and add some life in it, not to worry.
We have these awesome DIY Cheap Garden Decor Ideas to solve your problem.
Its always fun to  make creative and unique outdoor garden projects.
Your garden is the place for outdoor activities, fun BBQ parties or even if you are in a mood to chill.
If you are ready to put little efforts, you would be able to add a personality and glow to your garden.
These projects are so cheap. You can re-purpose exiting stones from your garden, colors, wires etc.
Rock gardens are very popular nowadays. The biggest advantage of rock gardens is its low-maintenance. 
With these DIY garden decor ideas, transform a simple looking stone into colorful strawberry, Caterpillar, lady bug etc.
Hard to Believe then have a look. Enjoy 🙂
1.) These Colorful Strawberry Rocks
Tutorial: day2daysupermom.com
2.) Comfortable Stone Bench For Your Garden 
Source: theage.domain.com.au
3.) Cute kid's Rock Stone Art Project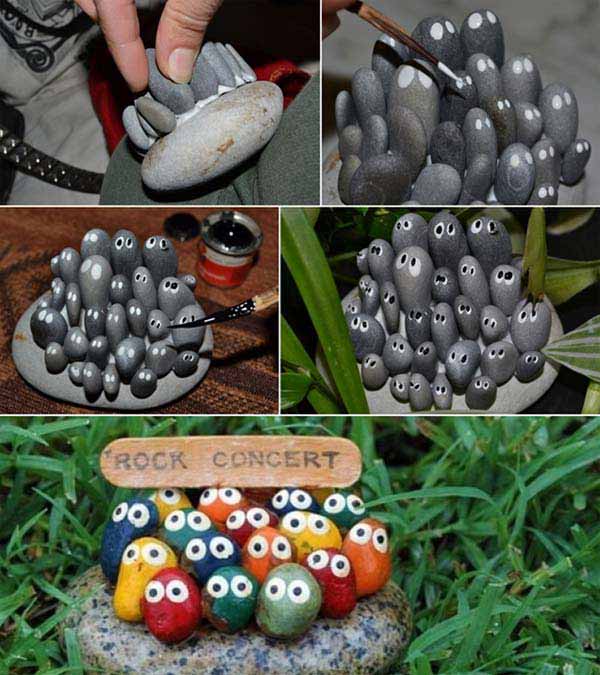 Tutorial: instructables.com
4.) These DIY Stepping Stones are so adorable that you will think twice to put your legs on it.
Source: flickr.com:mfeingol
5.) This Homemade Rock Bucket Planter in Your Budget
Tutorial: centsationalgirl.com
6.) Your kids will love this DIY  Rock Caterpillar
Tutorial: nelliebellie.com
7.) Lighten up dark pathway with this project
Source: Glow in the Dark Pebbles Stones for Walkway
8.) DIY Rock ladybugs
Tutorial: pietrevive.it
9.) Handmade Super Unique Painted Rock Garden Markers
Tutorial: craftsbyamanda.com
10.) Handmade Stone Door Mat
Tutorial: loveumadly.com
You May Also Like:
11.) Pebble Stone Placemat
Source: blissbloomblog.com
12.) Feed Birds with These Handmade Stone Birdhouses
Source: empressofdirt.net
13.) Cactus Are in Your Garden. Its very hard to make out which one is the real one.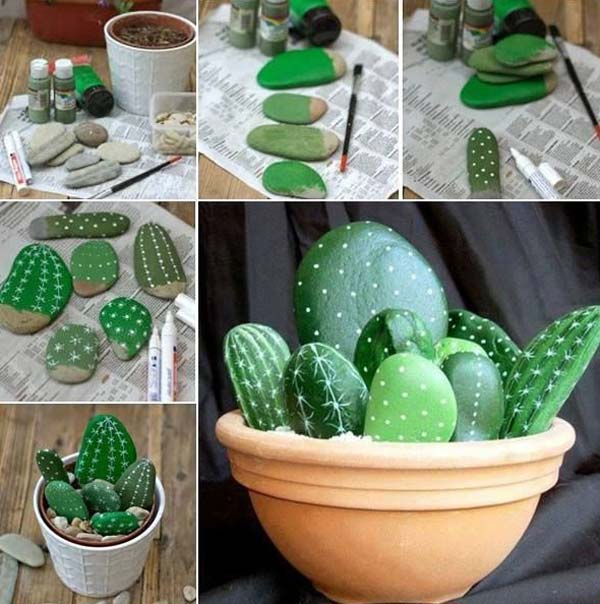 Tutorial: craftberrybush.com
14.) This Garden Fun Project: Tic-Tac-Toe
Tutorial: chickenscratchny.com
15.) These Animals in the Garden
16.) Our Family Rocks
Source: youtube.com
17.) DIY Stacked Rock Fountain
Tutorial: instructables.com
18.) Heart Made Up of Wire and Stone 
Source: countrywomanmagazine.com
19.) You will love this rock foot prints
Source: harvestheart.tumblr.com
(Via: fabartdiy.com)
You May Also Like:
Simply refresh your garden with these unique handmade garden decor ideas.
And  hey don't forget to share with your friends too. Cheers!! Happy weekend.