Bedrooms are a space in our home that fully reflect both our personality and sense of design and style. A traditional country vibe with a modern twist, that is rustic chic. This design style is warm and welcoming, especially in your most private retreat, the bedroom. These rustic chic bedroom design and decor ideas demonstrate how you can use this style to transform your personal space.
14 Rustic Chic Bedroom Design and Decor Ideas 
Galvanized buckets sit next to minimalist accessories. Soft vintage chenille linens nestle comfortably in a neutral palette. Clean modern lines love the contrast with distressed wood wall hangings. This balance of old and new is the heart of these ideas. Be sure to mix in natural materials like wood and rattan. Soft linens are a must. You can mix and match things to create your own design aesthetic, to truly make the bedroom your private retreat.
Smart shopping and a bit of DIY handiwork will give you a look that's uniquely your own. These rustic chic bedroom design and decor ideas are here to give you inspiration and motivation. You can recreate the photos if you want. But, taking the inspiration they provide and bringing your own creative outlook to it is the better idea. Which one of these ideas make you want to get started today?
1. Transforming a Wood Dresser with Rustic Paint
Source: simplybeautifulbyangela.com
A simple white paint with distressed edges offers a perfect example of rustic chic. The color of the paint creates a neutral modern furniture piece. The distressed edges bring in the rustic. Add rustic accessories like Mason jar sconces, wire baskets, and a galvanized milk jar flower arrangement for the flawless finishing touches.
2. Modern Hardware and a Hammered Metal Frame
Source: thehomesihavemade.com
A traditional pecan French Provincial dresser gets a massive makeover with a soft grey coat of paint and modern hardware. The clean paint coating brings this traditional piece into the modern realm, while its soft curved lines remain quite classical. The hammered metal frame offers a rustic, yet glamorous, touch.
3. Soft Colors and Distressed Wood Blend Together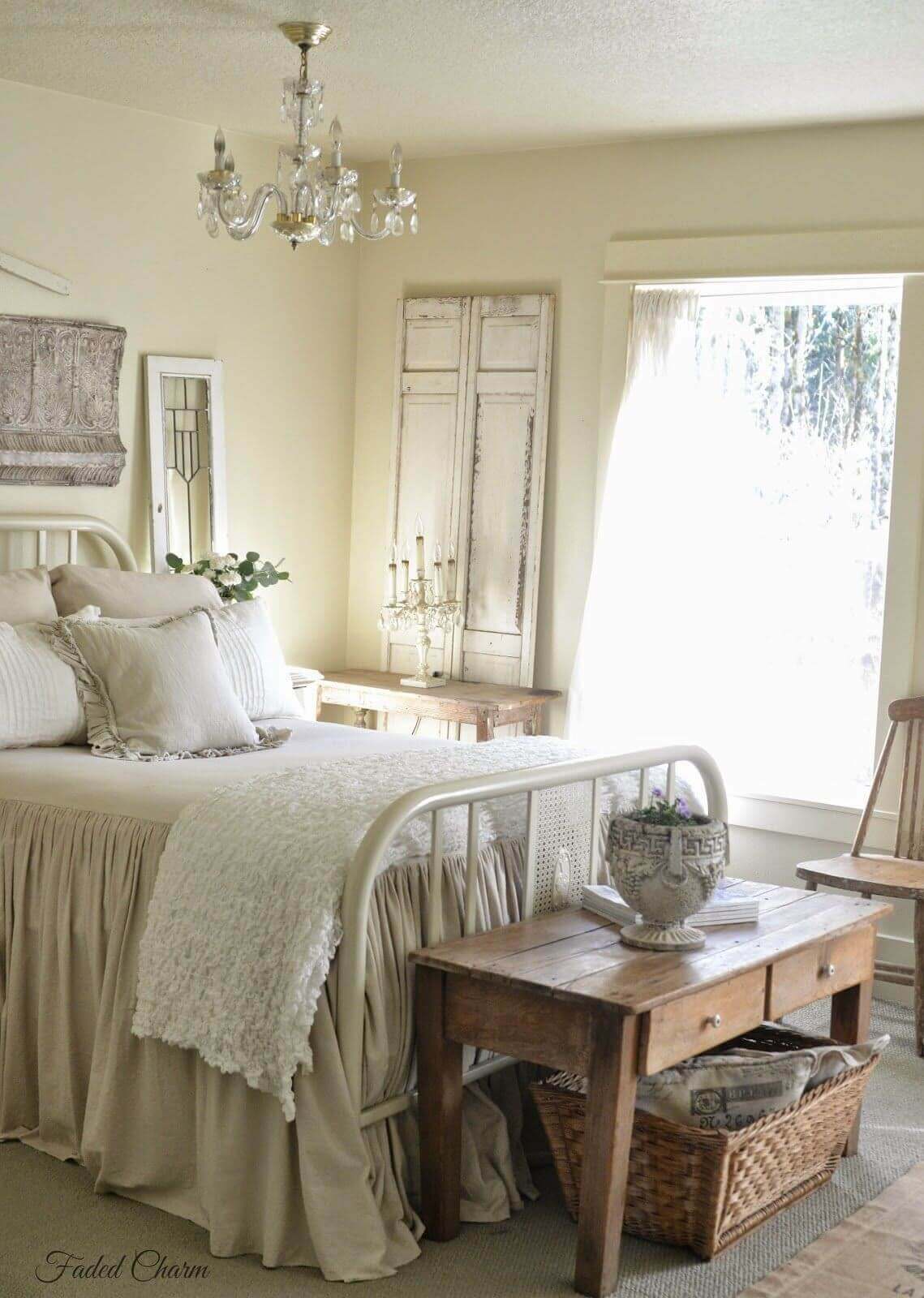 Source: fadedcharmcottage.blogspot.com
Vintage and rustic pieces combine to create a soft bedroom retreat that is warm and inviting. A palette of soft neutral shades gives this space a modern calmness, while the rustic furniture brings the traditional to the forefront. Soft bedding textiles invite someone to snuggle in for a nap or to just enjoy the warm sunshine coming in through the vintage lace curtains.
4. French Country Muted Hues and Natural Textures
One of the hallmarks of the French Country look is the palette of soft hues that it brings to the room. Soft blues, greens, and whites combine with caning and burlap for a welcoming retreat, perfect for relaxation and rest. Vintage mirrors hang above the bed, reflecting the soft sunlight coming through the windows.
5. Rustic Paint Finishes and Comfortable Chenille
Existing furniture pieces get a rustic makeover with a bit of paint and some new hardware. A soft chenille spread and classic bed linens welcome the room's owner at the end of a busy day. The soft palette of colors makes the room feel warm yet relaxing. A mix of vintage accessories finishes off this rustic chic vignette.
6. Yellow Pops in this Vintage Modern Bedroom
Yellow accents pop out against the soft blues and whites that dominate this bedroom retreat. Distressed white furniture provides the vintage modern base for this special place. Soft textiles in chenille and ruffled cotton create a comfortable nest for a good night's sleep. Painted metal squares topped by an ornate wood carving give the wall the right touch.
7. Modernly Rustic Pallet Wood Side Tables
Recycled wood is the main ingredient for this beautiful bedside table. Its simple design, complete with straight lines and minimal details, gives it the modern vibe. The rough wood top and skirt bring the rustic vibe into play. Because these were made from scrap wood, it is quite easy to customize the design for your space.
8. Merging Dark Wood and Soft Grey Textiles
Source: decor2urdoor.com
Dark wood pieces combine to create an impressive headboard that anchors this comfortable bedroom. Soft grey walls provide a coordinating background for the mix of linens on the bed. The whites and greys in the linen mix give the bedstead a modern feel. A galvanized bucket wall hanging and a minimalist side table is the very definition of rustic chic.
9. Rustic Wood and Ruffled Bedspreads
A ruffled bedspread harkens back several decades to a more simple time. The soft oatmeal color gives it a neutral look, while the oversized ruffles fall into puddles on the floor. A distressed painted headboard complete with iron hinges brings the rustic vibe to life. Antique accessories, all in a modern neutral palette, bring this room from great to grand.
10. Mirror Reflecting a Rustic Chic Retreat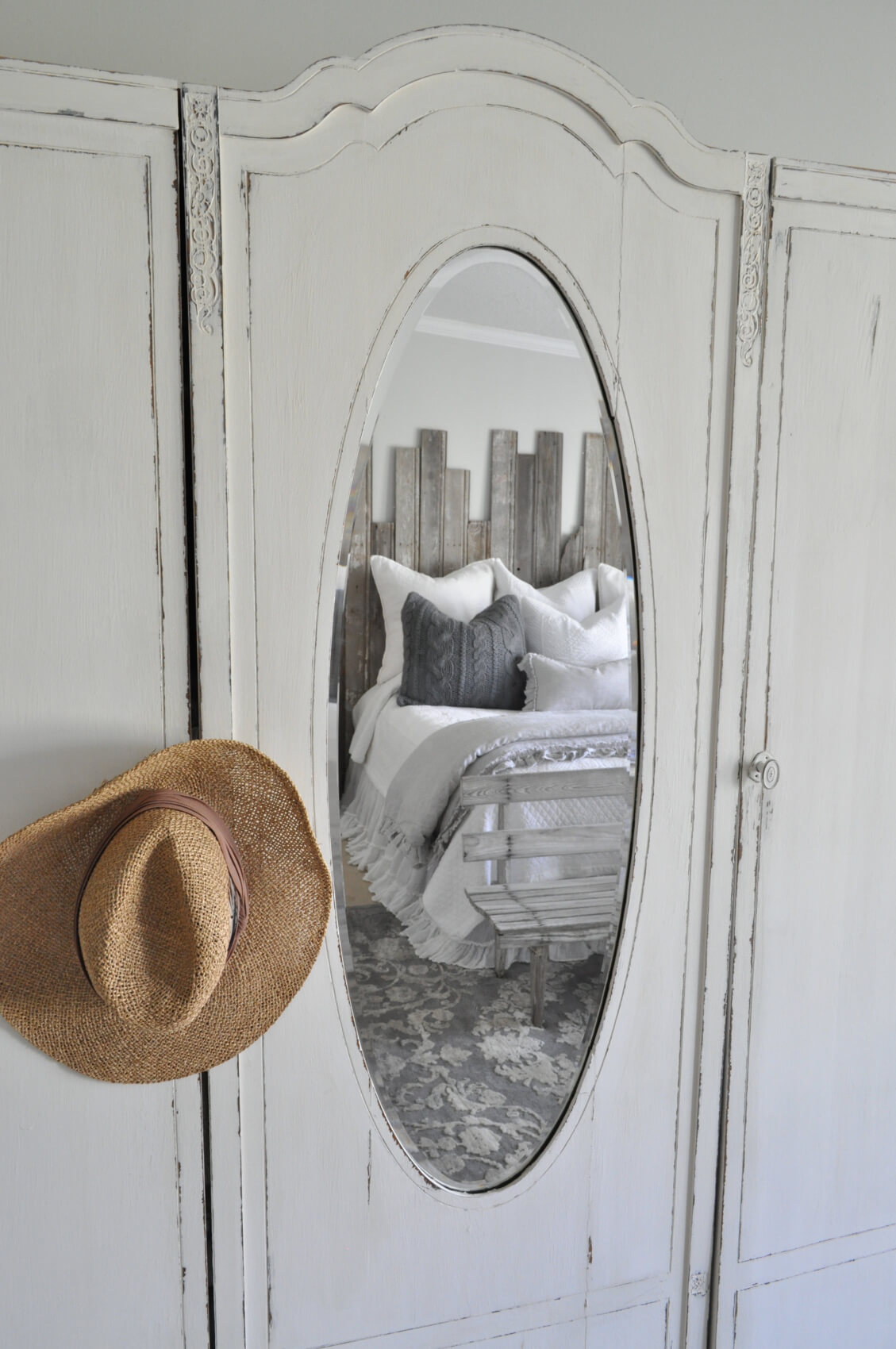 An old wardrobe painted white with a gardening hat on hand. But, look a bit closer. You get a glimpse of the rustic chic retreat on the other side of the room. Old boards line up to provide a unique headboard while a rustic park bench sits at the foot. Soft grey and white bed linens create a neutral modern palette.
11. Rattan Stands Out Against Vintage Wallpaper
Source: kenayhome.com
The natural texture and beauty of rattan work well in a modern or farmhouse style. The graceful curves of this headboard add a distinctly feminine look, while the round rattan-framed mirrors reflect the gentle light of the sun. The vintage wallpaper, in soft tones of blue and white, highlights the natural tan color of the rattan headboard.
12. White Distressed Wood and Snuggly Chennile Linens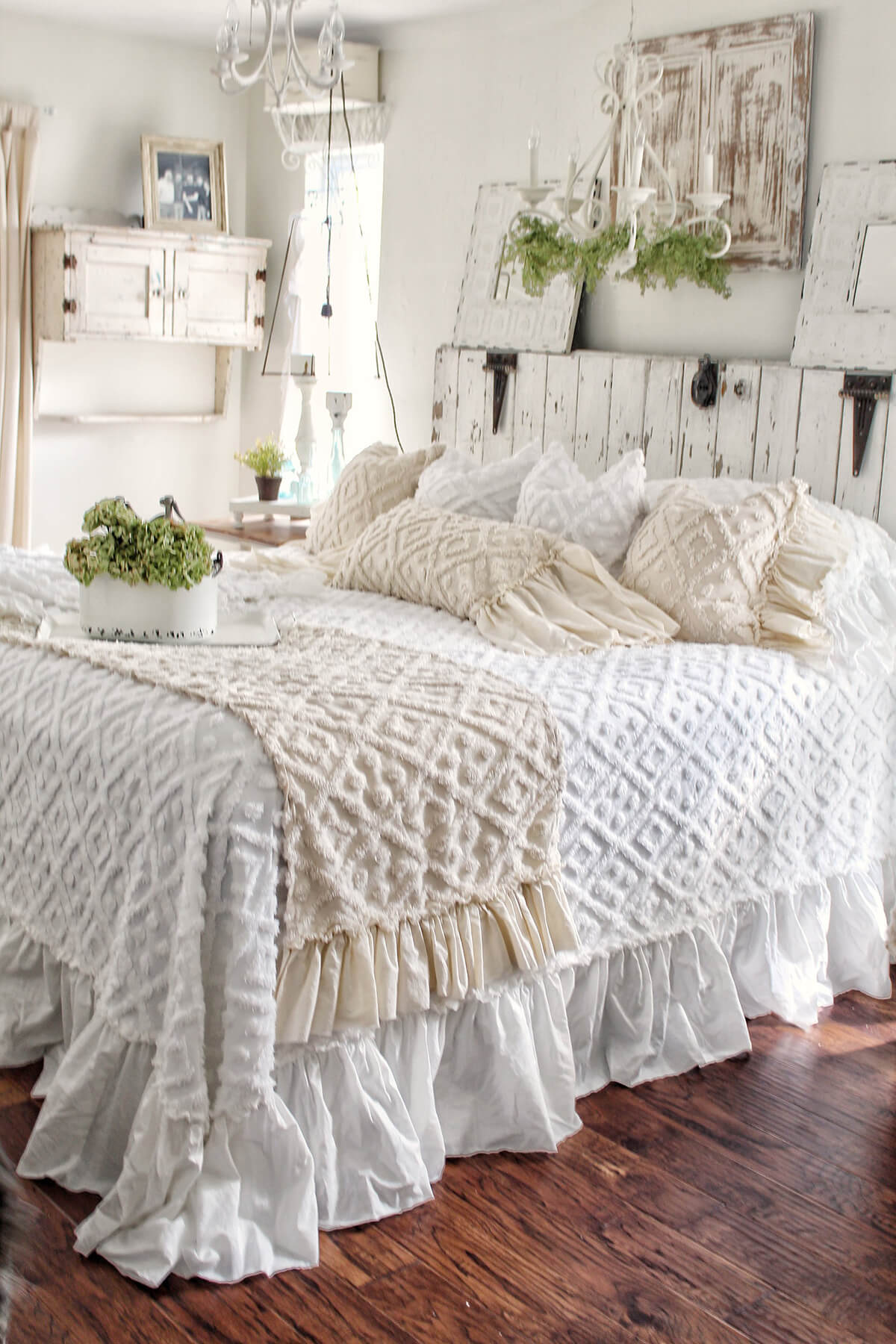 The first thing that comes forward from this rustic chic retreat is the warm combination of oatmeal and soft whites. This color combination brings a modern vibe to this otherwise rustic retreat. A distressed white headboard anchors this comfortable bed made up with soft comfortable chenille covers.
13. Modern Lines Meets Comfortable Rustic Details
Source: northcountrynest.com
One of the attractive features of the rustic chic style is its ability to blend the lines of minimalist designs with the comfortable rustic details. This room gets its strong lines from beautiful wooden shelves, bold black frames, and the vintage bedframe. The distressed chest, covered chair, and relaxed curtains bring in the rustic vibe.
14. White Walls and White Ruffled Linens
White is a color that transverses traditional and modern decor. It is the perfect color base for this sumptuous rustic chic bedroom. Warm grey Roman shades bring warm color up top the bright windows. Bold modern prints hang above a vintage brass bedstead, covered with comfortable ruffled linens. Distressed grey nightstands and modern lamps finish out this rustic chic retreat.
We hope you like these Rustic Chic Decorations and designs.