8 Easy DIY Recycling Crafts. Its Time to Empty Your Recycle Bin. Part II
These creative people have found a way to reuse old stuff and covert them into totally different useful things.
Do you know the saying? "one man's trash is another man's treasure."? 
Well, if you check these awesome easy DIY recycling projects then you will  definitely put this saying into action.
In this article you will find reuse of old kettle, denim jeans, milk jug, skeleton leaves and lot more. Its time to empty your recycle bin.
Have a look . Enjoy!!
1.) Old Kettle Reuse To Make Kettle Garden Planter
As you keep on upgrading your kitchen appliances like kettles, toasters, food processor; your concern may be what to be done with old stuff.
Well, as far as Kettle is concerned, you can covert it into beautifull garden plater with this DIY recycle idea.
Decorate it with colorful stones and keep it in your garden or balcony to give a personal touch to your house.
Via
What you need is:
Old kettle

Sandpaper

Pebble stone

White Glue or silicone

Paint and brush

Decorative sticker

Acrylic Paint for final decor
2.) This Us-full DIY Recycled Milk Jug Organizer
You can find  alot of simple solutions to organize your stuff. This DIY craft projct is one of them.
Every year millions of plastic milk jugs are thrown away.
Fortunately we have a great group of people who re-use household items and for them this is another idea.
Just make sure to rinse out plastic milk jugs well before you craft with them.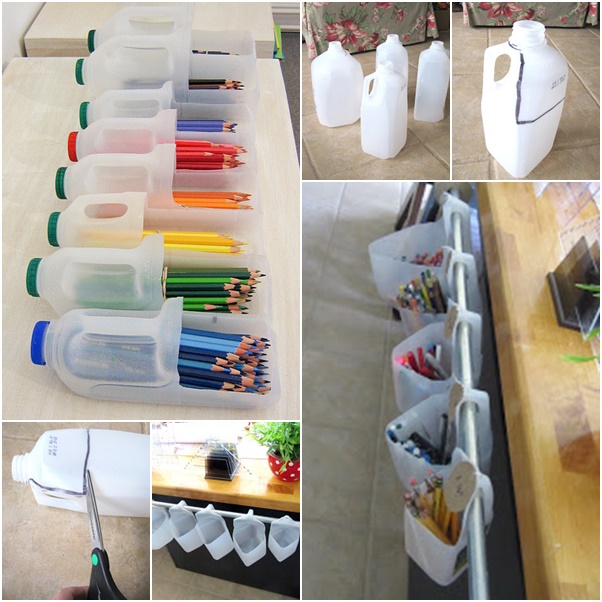 Via
3.) Recycle of Skeleton Leaves for Home Decor
Do you remember the memory of making skeleton leaves at home when your were a kid?
Taking a fresh leave and pressing it in a thick book and waited for it to dry. People still make bookmarks with skeleton leaves.
Skeleton leaves are delicate to handle and can be used in a variety of DIY craft projects.
You can purchase all kinds of artificial skeleton leaves in craft stores, but making your own is cheaper and means you can use any kind of leaf you like.
Skeleton leaves are widely used in scrapbooking and card making, decorating gifts and bouquets, and even home decorating.
Image Source
What you need is:
Soda (the one that is used for washing)

Water

Toothbrush

Saucepan

Paint spray in color of your choice

Green leaves themselves
Different leaves require different combination of soda and water.
You might have to experiment a few times to get the best result for the leaves that you have.
4.) Home made Bird Feeder out of Reuse Teacups
Bird feeder help you not only feed birds but to attract them to your place if you are a bird lover.
You don't necessarily have to go out and buy an expensive birdfeeder though.
With teacup bird feeder you will be able to create a home made brid feeder from old tea-cups
You can easily customize this project with the beads or other accessories you choose.
Not to forget to use different colors to attract more birds towards your DIY teacup bird feeder.
Via
5.) Reuse Your Old Jeans to Make Unique Planter
Your old jeans are perfect for multiple recycle projects.
You must be finding it difficult to get rid of your denim but if someone gives you a creative idea like this then who will not do it?
Tutorial
6.) Recycle Cans To Make Garden Planters
You can make your Garden more attractive by recycling used cans.  These colorful garden planters are very eye catchy.
Source
What you need is:
Cans of milk powder or tomato paste

Wire

Pliers

Water based varnish

Enamel paint in color of your choice

Primer for metal

Nail and Hammer
7.) Make Denim Apron From Old Jeans
We all spend money every year on denim. Denim jeans are very durable.  This project needs hardly any sewing work.
Even beginners can make this project successful.
So if you have a pair of old denim jeans, Don't throw it out!  recycle it into a cute Denim apron with this DIY idea.
Tutorial
What you need is:
1 pair of jeans

1/2 yard cute fabric

Matching thread

Scissors

Iron

Sewing machine

Ruffle foot (optional)
8.) Recycled Wooden fruit Crates to Make Shoe Bench
Have you ever thought of using recycled wooden fruit crates to create a home made unique piece of furniture for your home and improve your interior design?
Its very cheap and not time consuming.
What you need is:
Fruit Crate

Paint Spray

Cotton Foam

Material

Stapler

Wheels (Optional)

Wooden Panel
Check out the full tutorial handimania:
Don't forget to share these diy recycling crafts with your friends. Share the happiness.