Have you ever created something just because it looked fun? Or just for fun?

Recently I checked these DIY project ideas

that certainly fall under the

fun" category

. 
Sometimes, the home decor we love in stores is just a little out of our price range. Here are some smart home hacks that even kids can help you with.
From a simple night lantern to making a concrete tool, here's a few do-it-yourself projects sure to make you smile.
These are the kind of simple projects for the laziest and most inept of crafters. Even if you can barely operate a drill, you can do most of these projects — and in less than an hour.
1.) Transfer a Photo onto a Slab of Wood
readymade.com
2.) DIY Stool Using Old Magazines, Two Belts, and a Pillow
apartmenttherapy.com
3.) Turn Clothes Hangers Into Shoe Hangers
epbot.com
4.) DIY Sharpie Mug
abeautifulmess.typepad.com
5.) DIY Mason Jar With Christmas Lights
pinterest.com
6.) DIY Braclet with String and Hexagonal Nuts
honestlywtf.com
Click here for a more detailed tutorial.
7.) DIY Body Pillow: Sew Five Pillow Cases Together to Create This One
pinterest.com
8.) Letter Bottles With a Hot Glue Gun
imgfave.com
9.) DIY Mail Holder out of Window Shutter
jacquelinezinn.com
10.) DIY No-Sew Pillow Cover
organizeyourstuffnow.com
Click here for the full tutorial.
11.) DIY Photo Ladder
Creative-ambitions
12.) Stack PVC Pipe/Paint Cans as Shoe Storage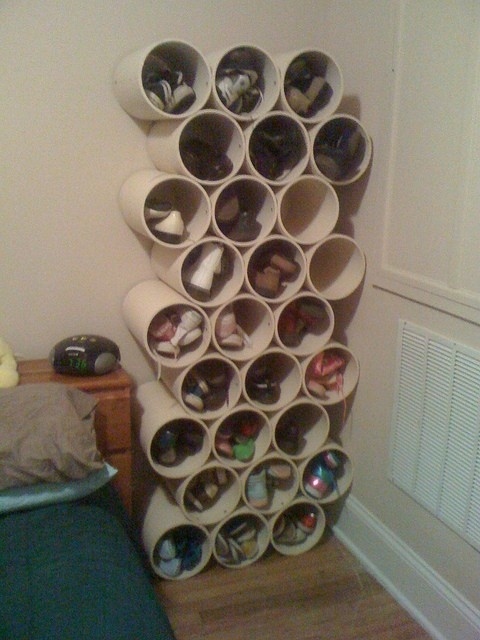 pinterest.com
13.) Convert Inexpensive Frames Into Chalkboard Signs
Paint the frames, and then paint the glass with chalkboard paint.
flickr
14.) DIY Bike Rack out of Wooden Pallets
lowtechatmo
15.) This DIY Night Lantern
BuzzFeed
16.) DIY Couch From Wooden Pallets
cuartoderecha.com
17.) DIY Travel Flat Iron Holder Out of a Pot Holder
yourcreativejuices.blogspot.ca
18.) DIY Bookshelf With Two Ladders and Planks of Wood
indulgy.com
19.) DIY Nail Polish Key Covers – with this you can easily 

tell your keys apart.
abubblylife.com
20.) DIY Heart-Shaped Ring Out of Wire
ispydiy.com
thenailasaurus.com
Click here for the full tutorial.
22.) Use Bookends as Floating Bookshelves
pinterest.com
22.) Glitterize Anything With Mod Podge and Glitter
Mix the Mod Podge with glitter and paint it on stuff.
(Glitter wine glass source: The Sasse Life)
23.) Renovate Your Shoe Soles With Nail Polish
fashionlushxx.com
Click here for the full tutorial.
24.) Glue Corks into a Picture Frame to Make a Bulletin Board
simplyem.blogspot.com
25.) Screw Cheap Furniture Knobs Into Wood for a Necklace Holder
visiblymoved.blogspot.com
Click here for the full tutorial.
26.) Ramekins, Coffee Beans and Tea Lights
The warmth of the candles makes the coffee beans smell amazing.
media-cache-ec9.pinterest.com
(Via:Buzzfeed)
 These DIY crafts are fun and easy – and you'll actually want to make them.  
So dont forget to share with your friends by clicking on below buttons