40 DIY Ways To Host The Best New Year's Party Ever: Part II
As we are looking forward to celebrate a new year party, its time to keep start your new year party decoration planning in advance.
It doesn't take much to have a fabulous New Year's Eve celebration. 
Instead of dropping big bucks on some fancy shindig in the city, try throwing your own New Years bash right in your own living room!
Grab your scissors, your creativity, and get ready to do-it-yourself! Hosting a New Year's party is a great opportunity to use your creativity.
If you are planning to give a Do-it-yourself touch to your new year decoration then, here is a wonderful collection of DIY party ideas that are sure to give family and friends a pleasant surprise.
Browse the collection below and check these cool ideas or use them all and rock the party of the year. Cheers!!!
1.) Hang tassels off your balloons.
Tutorial
2.) Paper Cube String Lights
Tutorial
3.) Wrap cardboard numbers in tinsel.
Tutorial
4.) Glitter Spike Balls
Source
5.) Some glowsticks, which made for really fun dancing pictures.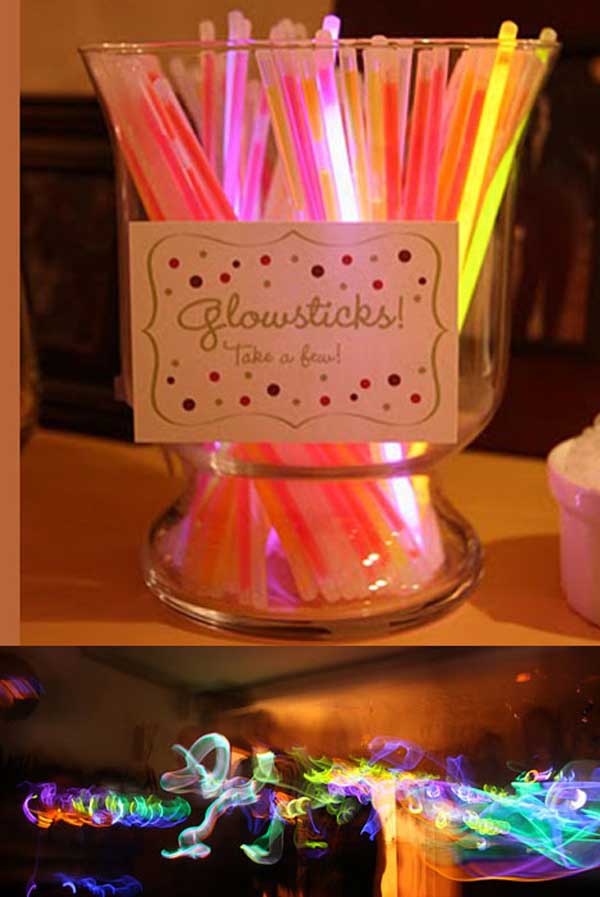 Source
6.) Free Printable New Year's Party Hats
Tutorial
7.) New Year's Eve Ball Kid's Craft
Tutorial
8.) Glitter New Years Candles Decoration
Tutorial
9.) Make your own confetti poppers.
Tutorial
10.) Diy Glitter Holiday part hats.
Tutorial
11.) Accordion Clocks + Countdown Champagne Corks!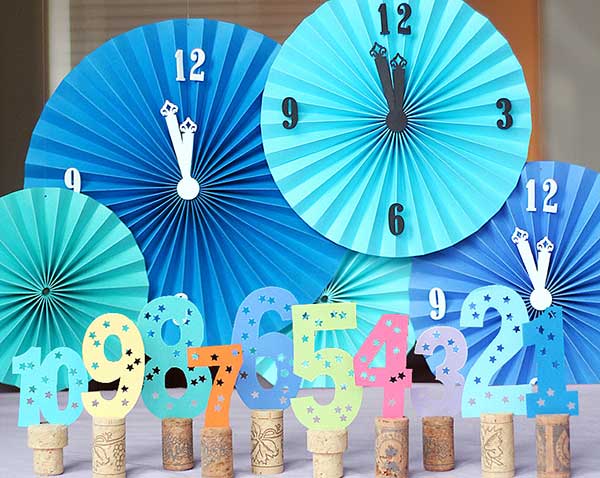 fiskars.com
12.) New years eve glasses
Tutorial
Source
13.) A tray of ice cream, complete with lit sparklers.
Source
14.) Spa

rkly Cake Toppers
15.) Party backdrop: wrapping paper behind foil fringe.
Tutorial
16.) It is a stunning background for photos, or a cocktail or dessert bar.
17.) Easy DIY New Year's Eve Garland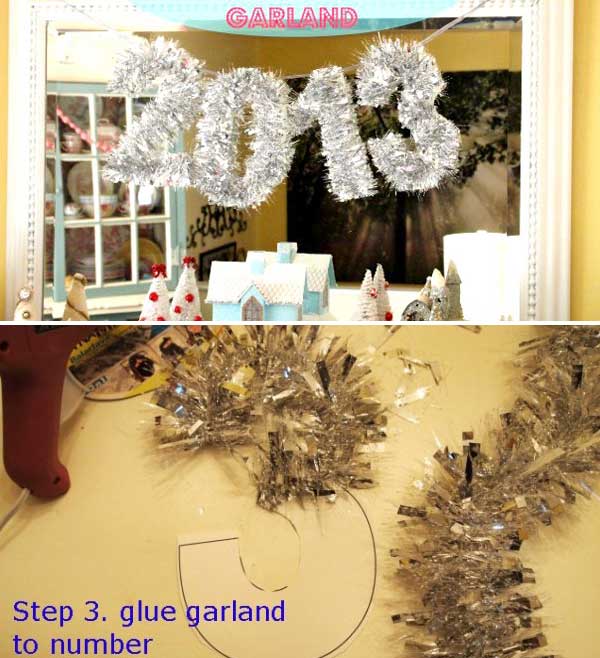 Tutorial
Source
18.) Thumbtack Candles
www.sparkandchemistry.com
19.) Cut circles out of paper to create clocks for your cupcakes.
fiskars.com
Source
20.) New Years Eve Party Napkin Rings.
Source
21.) Gold & Silver Leaf Champagne Stemware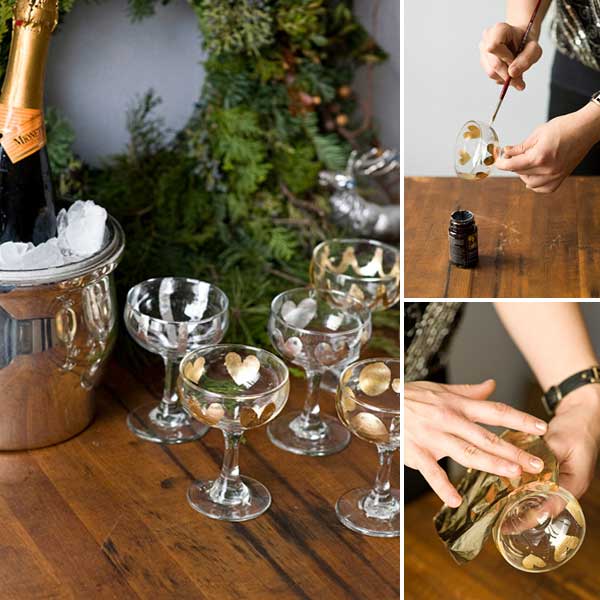 Tutorial
22.) Balloon Ceiling
Source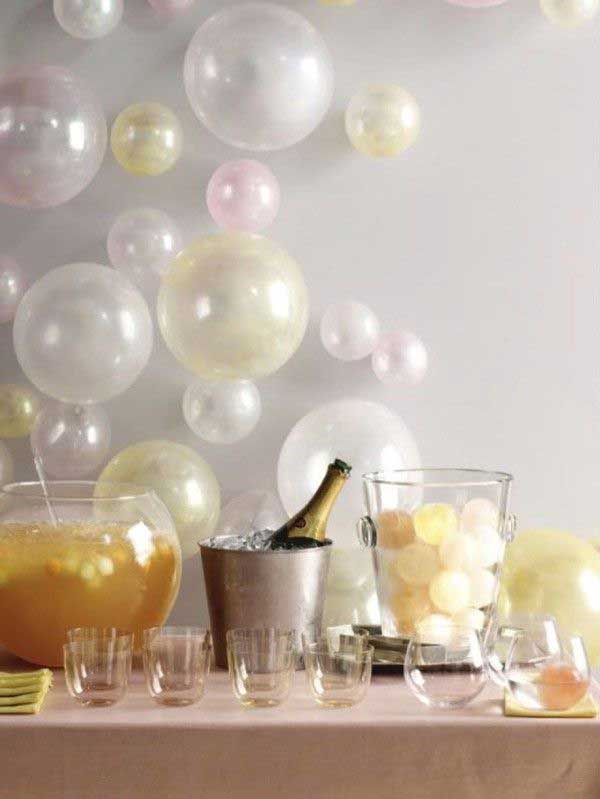 Source
23.) Shimmering New Year's Streamers
Source
24.) Spray-paint bow-tie pasta to make an easy garland
25.) Countdown Toast Glasses
Source
26.) DIY Glitter Disco Ball
Tutorial
27.) Dip feathers in gold paint and glitter.
Source
28.) Keep these stars as table decorations.
minieco.co.uk
29.) Serve gold-spun cotton candy.
cooking-books.blogspot.com
30.) Hang giant tissue paper pom-poms from the ceiling.
thoughtfullysimple.com
31.) Spray-paint a doily onto a lightbulb.
abitofbeesknees.blogspot.com
32.) Make easy origami stars from strips of paper.
minnamayblog.com
33.) Tape giant confetti to your walls.
weebirdy.com
34.) Glue silver coins onto mounted Styrofoam letters.
justinesmith.net
35.) Use glittery marshmallow stars if you're serving hot chocolate.
yummymummykitchen.com
36.) Frame your mirrors with starry string lights.
Buzzfeed
37.) Take a paint pen to some shot glasses.
hannahandharper.tumblr.com
38.) Top your drinks with these sequined star stirrers.
confettipop.com
39.) Cover your cookies with edible metallic dust.
psimadethis.com
cakeappreciationsociety.com
40.) Make a colorful chandelier out of paper.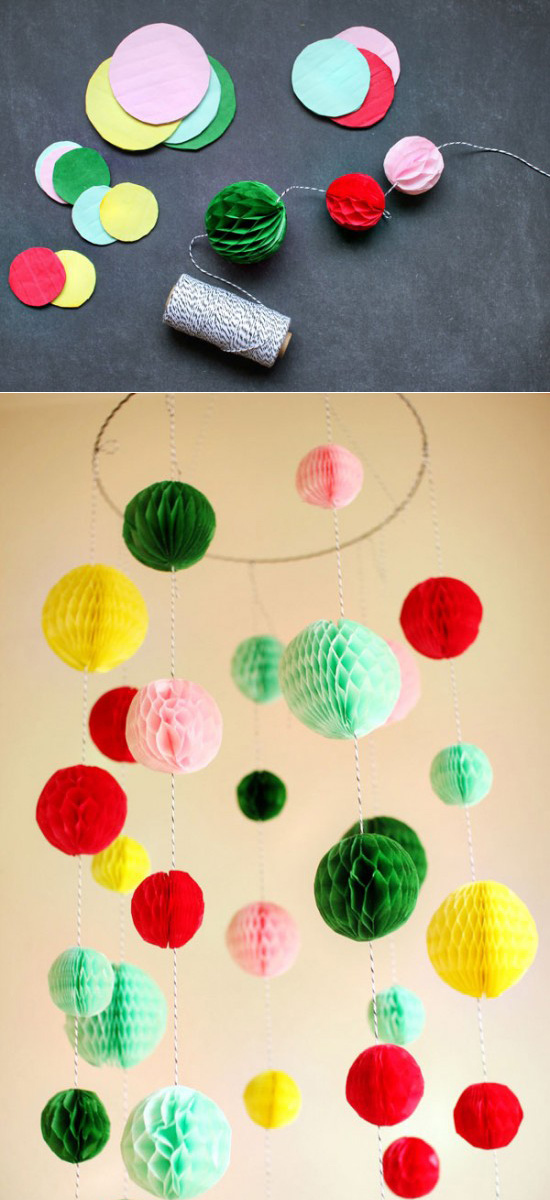 onecharmingparty.com
Be creative and make your own party decorations. Kick off your 2015 New Year's Eve party with these ideas.
And hey don't forget to share by clicking on the below buttons.