28 DIY Statement Necklace Ideas To Try
Jewellery is a weak point of almost all ladies out there.  Every girl is constantly on the hunt for

new, creative, and crazy ways

 for style statement.
Beading and jewelry designs have always been popular among the crafting community, but the past few years have seen DIY jewelry become bigger than ever.
Some people assume that they need loads of expensive material or tons of patience to work with tiny pieces of material.  It may may be true for those that make fine and artisan jewelry.
But here you will find simple ways to make beautiful necklaces that you can wear proudly.
These DIY necklace ideas allow you to personalize your jewelry pieces with whatever you like, creating a unique necklace that will no one else have.
Necklace is a very important, because it's easy to add to any outfit, and can often be the one thing that takes your outfit from standard to striking.
Here are 28 beautiful necklaces for your next DIY Jewelry Project. Enjoy!!
1.) DIY Ribbon Wrapped Chain Necklace

Tutorial:ispydiy.com
2.)
3.)
Source
4.)
5.) DIY Nautical Rope and Chain Knot Necklace
6.) DIY Crystal and Rope Necklace
7.) DIY Crystal Flare Necklace
8.)
 beadandcord.com
9.) DIY Double Chain Necklace
Tutorial:ispydiy.com
10.) DIY Colorful Statement Necklace
Tutorial:operation-diy.blogspot.com
11.) DIY Braided Bead Necklace
Tutorial:fashionlovespeople.com
 

12.) DIY Knotted Necklace
Tutorial:operation-diy.blogspot.com
13.) DIY Gold Chain Necklace
14.) DIY Chain and Ribbon Necklace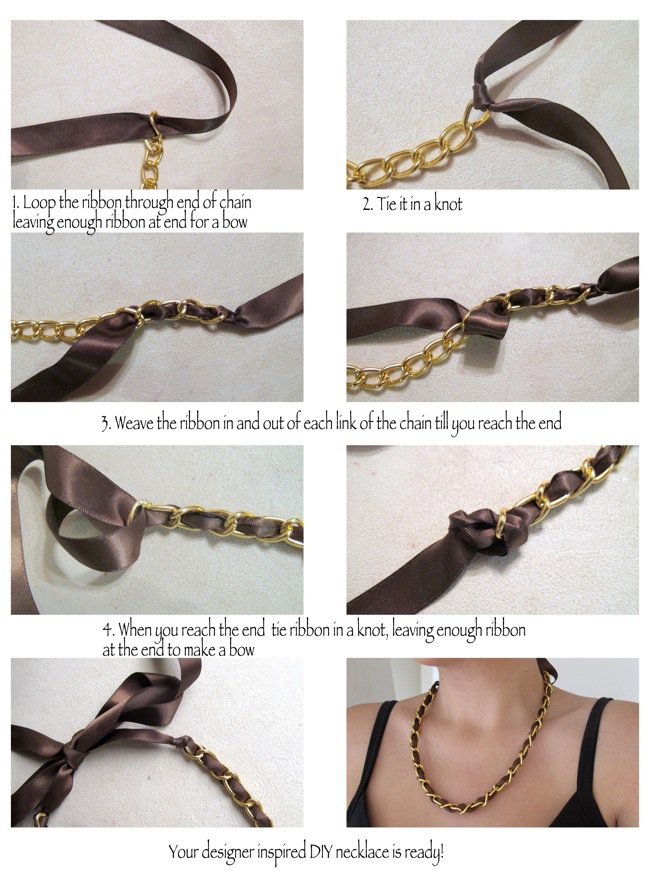 Tutorial:makeupandmacaroons.com
15.)DIY Parachute Necklace
Tutorial:makeitandfakeit.com
16.) DIY Statement Necklace

Tutorial: frugal-nomics.com
17.)
18.)
Via:stylemotivation.com
19.)
Source
20.)
Via:stylemotivation.com
21.)
Source
22.)
23.)
24.)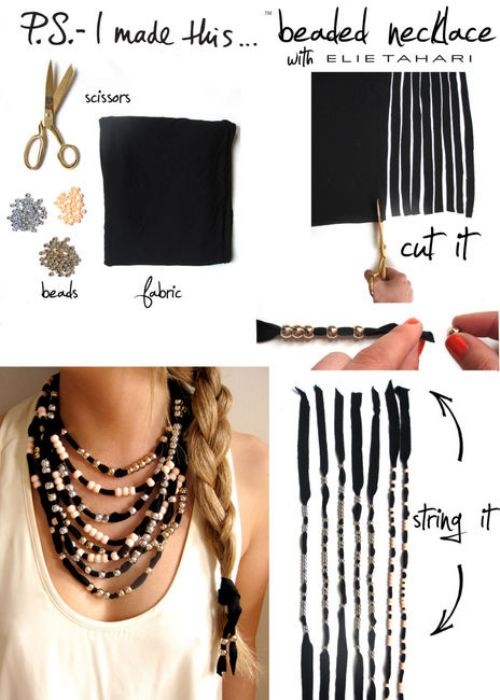 Via:stylemotivation.com
25.)
26.)
Source
27.)
28.)

Source
 Now when somebody asks you where you bought your necklace, you can reply proudly, I made it!
Share these ideas by clicking on the buttons below.